Low Code v/s Custom Software Development Solutions – Which Weighs Better?
Updated
December 7th, 2022
 "The most important single aspect of software development is to be clear about what you are trying to build."– Zjarne Stroustrup
Comparisons are always worth a read be it technologies, industries, mobile devices, entertainment media or anything under the Sun. Each has its own characteristic that shines and some that prove to be unimpressive. In the fast-paced era of digital transformation, what matters most for all is time. Enterprises want results faster and more effective. Custom software development solutions have already carved a niche for themselves around the globe, proving their finesse in almost all industry segments.
But, technology has never ceased to amaze. Since almost the last decade, there has been a spread of low code software development that has been getting popular, but does it really deliver what it is supposed to? Research has proven that the demand for low code development is sure to increase in the coming years but what is interesting is to see how it competes against our traditional custom software development and what the future holds in store for each one of them.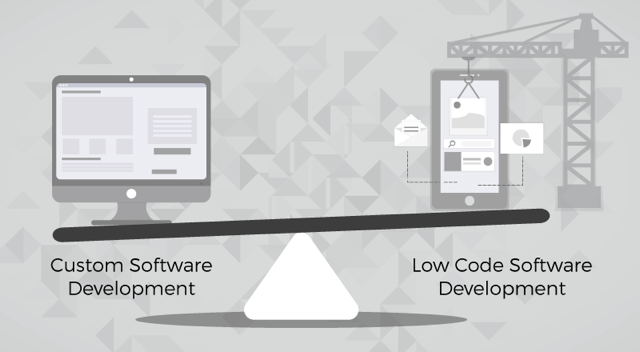 Custom software solutions are known to all for offering the best of client experience, they don't need any introduction. It does not need to prove its supremacy around the globe. But, low code software development is relatively a new term. Let us see what it means:
Low Code Software Development – A Relatively New but Troublemaking Way to Software Development
"All that glitters is not gold" – so rightly said. Though low code solutions may look attractive, does it really offer what it promises? Before we compare this with custom software, let us understand the primaries of low code software. Also known as no-code or rapid application development (RAD), this mode of software development has been popular because of certain characteristics:
Drag n drop functionalities
Model-driven development
Wizard-based workflows
Speeded app development and deployment
Quick resource access since doesn't require detailed technical expertise
Easy for non-technical people to initiate business changes
Faster time-to-market
Does low code software development live up to the expectations of the industry? Is it able to fulfill the promises that it makes by offering the above features? How do custom software development companies compete with this new way of software development? It is surely interesting to watch a comparative view between the two, with important parameters as the comparison criteria.
"Software is a great combination between artistry and engineering." – Bill Gates
Custom Software Development v/s Low Code Software Development – A Precise Comparison
Features

Custom Software Solutions

Low Code Software Solutions

Software Development

Users develop their own modules by using functionalities like drag n drop
The focus is more on what modules offer rather than user needs
Faster to develop but not flexible enough to incorporate all business workflows
Higher learning curve

Timeline Management

With the latest DevOps and agile methodology, developing custom software is much faster than before
If processes and schedules are well planned, it can take lesser time and be right on schedule
Third party integrations will be faster since they would be planned

Low code development is faster and gives a product in a short span
It may be faster but does not possess the flexibility to operate as per user wishes
Third party integrations will require more time as they fall beyond the modular coding

Budgeting

Low code software could turn out cheaper since most of it is predefined but can turn out quite costly if there are changes that need a lot of updates or integrations
The cost might be on the enterprise's head in case of any technical support needed

Support & Maintenance

Updates and revisions are well managed since there is a dedicated team attending to it which understands user requirements well

It is a tough task to manage revisions in the application since there is less code and more of prebuilt components that are tough to change

Legacy Integration & Migration

Since the solution is bespoke, components that need migration and integration from legacy systems are well defined in advance

With prebuilt components, it is difficult to easily migrate and integrate third-party systems. It would have its own set of challenges, cost and time

Security and Consistency

You are in total control of the application since you know the nuances of the same
There is stability across the solution since it lies in the hands of known and unified resources

With low code, it is not possible to understand the intricacies of the already developed code
Security aspects are dicey since the stakeholders may keep varying based on ownership

Customization and Flexibility

The entire base of this approach is to have a bespoke way hence customization is easy and well handled
There is increased flexibility since revisions can be made as per user needs

Since most components are low code and pre-built, it is a challenging task to customize exactly as per business requirements
Flexibility is lesser because of less customization possible
"The task of the software development team is to engineer the illusion of simplicity." – Grady Booch
Custom Software Solutions and Low Code Software Solutions – When to Use What?
You can choose custom software solutions when:
There is a huge convert of business workflows into so the software application and there are multiple entities involved – multiple segments, geographies, departments, functionalities
There is a lot of customization needed while designing business workflows and it is difficult to adapt to solutions that are built prior to understanding what is needed
The number of employees is huge and there is a huge infrastructure to be catered to
Emphasis is more on security, reliability and flexibility of the business information that is involved
There is an increased need for third party integration and legacy migration – a lot of external applications that are must to be integrated for a complete functionality flow
The focus of management is bent upon aligning business objectives with the software solution
You can opt for low code software solutions when:
There are limited IT resources and it is difficult to find dedicated resources who can contribute
Companies are looking for minor modifications in business processes that do not involve much data transfer, integration or business complexity
There is a limited infrastructure and a smaller number of employees to cater to
The budget is very limited and it is a tough task to customize each requirement as per exact needs
On a Parting Note
"To each its own". After all, it is up to enterprises to choose from the two – whether to go in for customized software solutions or low code software. Based on a variety of parameters as mentioned above, you can choose the better of the two, as applicable to the business requirements. Custom software development has been a proven methodology for software applications and needs no proof to ascertain its supremacy across the globe. Low code software has its own set of shine but at the same time, has its challenges to overcome. Take a call, it isn't that tough!
SPEC INDIA, as your single stop IT partner has been successfully implementing a bouquet of diverse solutions and services all over the globe, proving its mettle as an ISO 9001:2015 certified IT solutions organization. With efficient project management practices, international standards to comply, flexible engagement models and superior infrastructure, SPEC INDIA is a customer's delight. Our skilled technical resources are apt at putting thoughts in a perspective by offering value-added reads for all.