Metaverse: A Next-Gen Internet Or Just Hype?
Technology is miraculous.
You might feel that you acquired knowledge of something, and that becomes nothing in the twinkling of an eye.
The story that has changed the way of our living starts from here. The first workable prototype of the Internet was created in the late 1960s and that sparked a revolution in the computer world. Internet or we would rather say, the connected world has established a new way of communicating, networking, and socializing with each other.
Internet, email, smartphones, laptops, personal computers, microprocessors, open-source software, social networking, GPS systems, LEDs, storage systems, RAM, neural networks, artificial intelligence, machine learning – these biggest inventions in computer science have changed everything for us.
Today, this story has taken a twist with the newer concept of a virtual world – The Metaverse.
What Is Metaverse: A Guide To All Your Answers
The Term Metaverse:
Let's first begin with little history of the term – Metaverse.
It was originated in the 1992 science fiction novel, Snow Crash as a portmanteau of "Meta" and "Universe."
It was written by Neal Stephson, an American author generally known for his writing of speculative fiction. In this book, humans as programmable avatars (a graphical representation of a user) interact with each other in a 3D virtual space.
An online multimedia platform such as Second Life is the first example of a Metaverse where users create an avatar for themselves and allows users to have a second life in an online virtual world. They can explore that virtual world, participate in group activities, socialize, communicate, build, shop, and trade services and virtual properties with each other.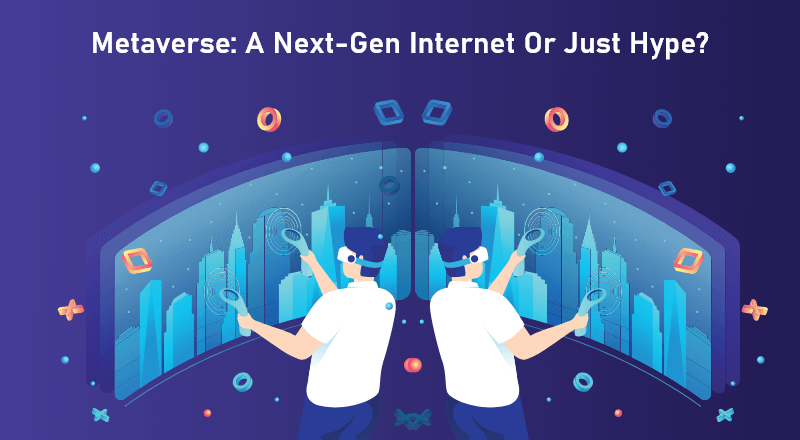 Why Metaverse Is A Buzzword?
Even if you are a non-tech person and a user of social media and any online services, you might come across this term at least once in the past few months.
Why?
There are several reasons behind that.
First, Facebook rebranded as Meta, gearing its efforts towards becoming a Metaverse company rather than being known as just social media company. It was announced during the Facebook Connect conference. Mark Zuckerberg emphasized the advancements in communication technologies and said,
"When I started Facebook, we mostly typed text on websites. When we got phones with cameras, the internet became more visual and mobile. As connections got faster, the video became a richer way to share experiences. We've gone from desktop to web to mobile; from text to photos to video. But this isn't the end of the line.

The next platform will be even more immersive — an embodied internet where you're in the experience, not just looking at it. We call this the metaverse, and it will touch every product we build."

– Mark Zukerberg, In Founder's Letter, 2021.
Facebook's rebranding as Meta has created a lot of buzz everywhere and it has got many organizations and people talking about it.
Another reason behind this is the rise of immersive technologies such as AR and VR. Also, NFTs and blockchain metaverse have drawn significant attention worldwide, acting as a fuel for Metaverse awareness.
According to Statista, the global augmented reality (AR), virtual reality(VR), and mixed reality(MR) market is forecast to reach 30.7 billion US dollars in 2021 with projected growth of close to 300 billion US dollars by 2024.
With VR headsets, smart glasses, and AR experiences, the tech industry is moving towards more immersive and evolved social experiences.
In addition to this, Microsoft announced the acquisition of Activision Blizzard, the maker of video games such as Candy Crush and Call of Duty. They said it was the first step into exploring the new digital world – Metaverse.
So, we have got an idea that Metaverse is not limited to only games. The actual Metaverse meaning is more than that and tech giants envision Metaverse as a successor to the internet.
What Is Metaverse? Is It A Successor To The Internet?
Like all buzzwords, Metaverse's definition is yet not clear. It has different opinions and visions.
The term isn't new and gaming companies like Epic Games and Roblox have launched products that reflect the idea of Metaverse. A huge number of people spend time in virtual social spaces created by Roblox and Fortnite. One more example of Metaverse is Decentraland, a 3D virtual world where users may trade virtual plots of land, estates, and other digital assets as NFTs backed by the Ethereum blockchain.
Source: giphy.com
On the other side, tech giants like Meta, Microsoft, Google, And Apple investing big money and resources to make Metaverse a reality. With non-fungible tokens (NFTs) and cryptocurrencies making headlines, the virtual world and virtual platforms are all set to witness a high growth rate in the upcoming years.
According to Bloomberg, the Metaverse is on the path to becoming an $800 billion market by 2024.

Source: bloomberg.com
Metaverse is not a new idea. It existed for decades. What has changed then? Understanding of the term, the scope of the term, and reimagination of the Metaverse as the next big technology.
So, let's break it down in simple words.
Metaverse simply means a more immersive and interactive platform where your avatar interacts with other avatars.
At present, the Metaverse exists in the form of video games. But, in broad terms, Metaverse has the potential to overlap physical and digital lives in a graphical-rich, immersive environment. This environment lets users socialize, shop, play, and work.
In 2020, Mathew Ball, a venture capitalist published a detailed essay on Metaverse, titled The Metaverse: What It Is, Where to Find It, and Who Will Build It.
He says,
Just as it was hard to envision in 1982 what the Internet of 2020 would be — and harder still to communicate it to those who had never even "logged" onto it at that time — we don't really know how to describe the Metaverse. However, we can identify core attributes.
When thinking about the evolution of the internet, Metaverse rightly fits into the context, thanks to the rise of AR and VR.
According to Meta (formerly Facebook), Metaverse is the next evolution of social connection.
There is no such universally accepted definition of Metaverse but in Mathew Ball's words, Metaverse is,
"The Metaverse is a massively scaled and interoperable network of real-time rendered 3D virtual worlds which can be experienced synchronously and persistently by an effectively unlimited number of users with an individual sense of presence, and with continuity of data, such as identity, history, entitlements, objects, communications, and payments."
Metaverse is more than the virtual world and its applications can go beyond gaming. The virtual world also does not suffice the true definition of the Metaverse.
While the definition of Metaverse is still on the way to clarity, Metaverse does matter. Here's why.
How Can Metaverse Change Our Lives? What Are The Possible Applications Of Metaverse?
Broadly saying, Metaverse will become the gateway to digital experiences.
Internet is not just an online experience but it consists of a wide range of protocols, technologies, languages, people, devices, contents, and platforms.
In a similar fashion, if the potential of the Metaverse will be truly uncovered, it will involve more companies, people, devices, technologies, and so on. Actual Metaverse may take a longer time to come into existence – may be years or decades.
It will be bound to change our lives in many ways.
Let's see some examples.
Pandemic has shifted the entire mindset of working and introduced remote work and teleworking. This environment created a massive change in the workflow, commute, relocation, and even hiring. With the use of Metaverse, employees and companies can recreate office space without having to need to be physically present at a particular location.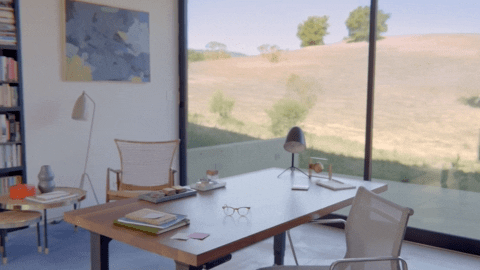 Source: giphy
This new paradigm will allow employees to stay where their families are and this way, they can have a more collaborative and improved work-life balance. This will hugely impact commute, relocation, and working.
However, the global workforce needs some physical connections also, but it can eliminate the requirement of traditional working culture.
Metaverse will create newer trends in the healthcare sector. These trends will have the potential to impact healthcare on an individual basis. Metaverse involves the use of AR, VR, and AI – these three technologies will create a more connected and immersive world.
Source: giphy.com/gifs
Healthcare in Metaverse creates new channels for delivering care that can improve outcomes and lower costs. These healthcare trends are Telepresence, digital twinning, and blockchain. Blockchain can be used to manage and govern highly valuable and sensitive healthcare data.
AR and VR have entered the education industry with a promise to make learning engaging and immersive. Now, Metaverse will take this experience to the next level. Learners will have a more immersive and most-advanced learning experience.
Education will have no geographical as well as language barriers, and students will experience more realistic and visual content than ever before. Virtual universities and classrooms will open new doors to self-learning and interaction.
Metaverse will significantly change experience in real estate. Real estate agents can arrange a virtual tour of properties for buyers using VR. This real-time virtual experience can be improved by adding more elements to it such as light, sound, and other ambiance-related factors.
Another big shift coming for the Real Estate world is, buying and selling properties in Metaverse. Many celebrities and leading organizations now own land in the Metaverse world. You can buy and sell virtual properties in Metaverse using NFTs. NFT and Metaverse are being extremely popular as people are using NFTs within Metaverse to trade many items.
We don't know how this goes further but one thing we know is this: the Metaverse will become more diverse and interesting in near future.
Metaverse will change how shoppers shop – the same as what the Internet did. The Metaverse will allow users to have a more engaging and immersive shopping experience. It will provide a unique opportunity to users to envision and use products like never before.
Metaverse will create experiences that allow users to try something in a virtual room before buying it. More shops and brands have their store in the Metaverse. Users can recreate their looks, items, furniture, or space before buying. Many use cases are yet to be explored but smart adaptive technology and unique experience will hugely impact retail games for real.
Metaverse can hugely impact manufacturing, defense, finance, and many more. While the complete Metaverse is yet to be created, here are some traits/characteristics that make Metaverse potential technology.
Metaverse Characteristics:
Metaverse is open and decentralized – no single entity owns it
Metaverse is persistent – it exists regardless of time, place, and location
Metaverse is synchronized – An experience that exists constantly in real-time
Metaverse is concurrent – Anyone can be a part of the Metaverse and participate in another event at the same time and with anyone
Metaverse is interoperable – One Metaverse world can be connected to other worlds and you can share your data, assets, and items across experiences
Building The Metaverse: Challenges Ahead
Metaverse is not just a virtual game or a virtual world.
The Metaverse will not be created by one company. It's a collaborative effort, created by people all over the world. There will be devices and digital solutions that make this happen.
But some potential issues slow down the development and discovery process.
Here are some challenges of Metaverse.
We still have a vague idea of what the actual Metaverse will look like, and how it will function. We have to wait until we reach there and use it in real-time. It's quite obvious that when you are experimenting with something, you are less sure about the outcome; that's the case with Metaverse.
Yes, games are there that entered the Metaverse world but, it will take a longer time to reach the final stage – become a successor of the internet.
Verification And Identity:
In the future, if Metaverse happens to be true and fulfills its promise, one of the main challenges it will face is real identity. In Metaverse, one can use numerous elements and features that resemble the user. The main challenge lies in identifying the real personality behind diverse facial features, voices, and graphics.
You are who you are – this will become problematic to prove in a virtual environment like Metaverse. This authentication problem will be a bigger problem, and we will witness new solutions to address this identity issue.
Metaverse highly depends on AR and VR devices. The role that mobile phones have played in the wide-scale adoption of the internet seems impossible to fit in the Metaverse scenario. This is because; AR/VR devices are not that affordable, portable, and lightweight.
Metaverse, in this case, is far away in hardware accessibility. It requires years to develop affordable and high-quality VR devices for immersive experiences.
Everything is virtual. This means more data and more tools for governance. Now, Metaverse is not limited to only the password and email data of users, it will now store your behavior, connections, interactions, and many such things.
This will require more data storage and data security strategies for every user. Data breaches and violations will be a bigger concern in the adoption of Metaverse.
Addiction And Mental Health:
Having a virtual identity in Metaverse can lead to increased addiction and mental health issues. It will create some health problems due to constant attention and a sedentary lifestyle.
When Metaverse fully unrolls, we are bound to see some pros and cons related to it. It's early to say what advantages and disadvantages it will have when it comes to the use of the technology.
Metaverse: Will You Spend Time In Metaverse?
Sooner or later, new technological advancement takes its place in our lives. We are not sure how Metaverse will impact our everyday actions and activities; we are sure that it is happening.
A lot of tech giants have shown interest in developing it and supporting this years-old idea with purposeful recreation.
Metaverse is coming; predictably and unexpectedly.
Despite its risk and challenges, it is on the way. However, it can create new opportunities, social networks, transform business models, and a new world of accessibility. This entirely depends on hardware, application development, and data infrastructure.
We are eager to see what Metaverse brings to the table. Are you?
SPEC INDIA, as your single stop IT partner has been successfully implementing a bouquet of diverse solutions and services all over the globe, proving its mettle as an ISO 9001:2015 certified IT solutions organization. With efficient project management practices, international standards to comply, flexible engagement models and superior infrastructure, SPEC INDIA is a customer's delight. Our skilled technical resources are apt at putting thoughts in a perspective by offering value-added reads for all.