Microsoft PowerApps: Here Are The Answers To All Your Questions
"Our Power Platform – spanning Power BI, PowerApps and Flow – enables anyone in an organization to start building an intelligent app or workflow where none exists. It is the only solution of its kind in the industry – bringing together no-code/low-code app development, robotic process automation and self-service analytics into a single, comprehensive platform. And it enables extensibility across Microsoft 365 and Dynamics 365 as well as the leading third-party SaaS business applications."
– Said Microsoft CEO Nadella in a press statement
On 4th February 2014, Satya Nadella was announced as the third CEO of Microsoft after Bill Gates and Steve Ballmer. Over the years under his leadership, Microsoft emerged as the fourth largest tech giant and covered its lost market by embracing cloud technologies and open-source community.
Earlier, he stated that the world is about cloud first, mobile first. And he helped Microsoft reach the position of leading cloud service provider today.
He delivered the results.
Congratulations, Satya Nadella! Microsoft got its groove back.
Information technology is at the core of how you do your business and how your business model itself evolves, says Satya Nadella.
While every organization is paying attention to so-called 'digital strategy', technology giants are offering more sustainable and innovative technology solutions to the businesses.
In this post, we are exploring Microsoft's Power Platform.
What Is Microsoft Power Platform?
Microsoft Power Platform wraps 3 different entities into one platform.
PowerApps – less code, great apps in no time for the web, Android & iOS devices
Power BI – real-time, interactive data visualization BI tool
Microsoft Flow – Powerful workflow automation with the no-code approach and easy integration
For tech company like Microsoft, there are several things must such as:
Products/services must have user-friendly UIs
In order to remain competitive, products have to deliver exceptional results
Easier-to-use can be a key factor in the popularity of software/service
Microsoft offered the same thing through this powerful platform. Over the years, Microsoft's innovative products/services are used by millions of people across the globe.
This time, Microsoft targeted 'anyone-can-use-it' strategy and designed an innovative platform to make app building easier like never before.
Among these 3 tools, PowerApps caught our attention and we thought to explore it in detail.
PowerApps: Reduce Application Development Cost And Effort By 70%
PowerApps are designed to be used internally for your business apps.
Here are some facts from A Forrester Total Economic Impact™ study of PowerApps and Microsoft Flow Commissioned by Microsoft June 2018.
Note: This study is based on interviewed customers and applied to a composite organization with 2,000 employees who have access to PowerApps and Microsoft Flow.
Reduction in application management and maintenance effort by 38%
Decreased application development cost and effort by 70%
Improved business process efficiency on average by 15%
Here's The Introduction To PowerApps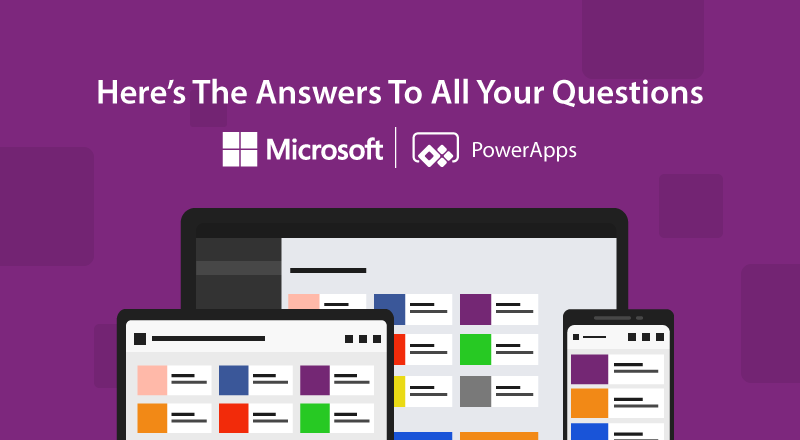 PowerApps acts as Platform-as-a-Service. It is built in Azure and a part of Office 365.
The purpose of PowerApps is to simplify the app development process for business users. PowerApps allows developers to build a web or mobile applications using Dynamic 365 and Office 365 with drag-and-drop functionalities.
Put it simply, PowerApps is a collection of apps, services, connectors, and data platforms that help developers and non-developers to create, manage, and share business apps.
Moreover, PowerApps platform equipped with built-in, enterprise-level data store feature called as Common Data Service (CDS) which enables easier data storage and management for various on-premises and online data sources including Dynamic 365, SharePoint, Excel, Office 365, SQL Server, and many more.
What Can You Do With PowerApps?
With PowerApps, you can create two types of Apps:
Canvas Apps: Canvas apps are crafted for customized experiences with a blank canvas and suitable data source of your choice. Canvas apps can be built for web and mobile applications.
Model-driven Apps: These apps are component-focused and don't require the code. You can add components and create responsive apps that can run on a variety of devices and platforms including web and mobile.
In Simplest Terms, PowerApps Helps In:
Connect apps to data sources like Salesforce, Dropbox, Google Drive, Sharepoint, and so on
Create interfaces that can perform CRUD operations
Create basic apps from readymade templates
Share custom business apps with your team in the organization
Customize your existing business apps
How PowerApps Works? Where PowerApps Runs?
Basically, PowerApps facilitates app creation for business users by offering many templates, connectors, and third-party applications.
The important feature of PowerApps which makes it popular among developers is its data connectors. It lets you allow perform CRUD operations quickly and supports majority on-premises data sources.
What Do You Need To Run PowerApps?
As we have discussed, there are two types of apps you can create with PowerApps, here are all the answers to the questions regarding PowerApps.
Once the app is created, you can share that app with your team or members in the organization with the help of PowerApps platform.
In order to run Canvas App, installing PowerApps from App Store or Google Play is necessary to step
For the model-driven app, install Dynamic 365 from App Store or Google Play
Many organizations are leveraging PowerApps and Microsoft Flow to automate workflows and simply reduce cost and time in development. As PowerApps provides a range of connectors and flow enables automation of workflows, making app development simpler and faster.
What PowerApps Can't Do? How It Is Different From Others?
PowerApps are intended to be used inside the organization.
It reinforces scalability, robustness, and faster performance and simplifies business app development. PowerApps, together with Microsoft Flow and Power BI is proven as the best solution for small business as it scales when your business grows.
PowerApps can't be shared with everyone out there means it can't be used publically.
Additionally, it provides 'no-code' functionality so any additionally JavaScript or HTML cannot be added. This feature overall increases the speed of development but at the same time restricts developers to use only inbuilt templates and connectors.
How Can You Avail PowerApps Platform?
PowerApps comes with selective Microsoft Office 365 plans.
Dynamics 365 Enterprise Applications and Enterprise Plans include PowerApps Plan 2 which can be used to create and run custom applications.
PowerApps, a low-code development platform for business users is already proving its potential for many enterprises. Here are some of them:
"PowerApps" empowered us to build a merchandising app in-house with our existing skillset. Enabling us to save hundreds of thousands of dollars immediately." – Eric McKinney, Cloud Services Manager, G&J IT Pepsi
"PowerApps has allowed us to solve complex problems faster. We can utilize our volunteer network to re-engineer business processes in a way that was simply not possible earlier. "-Nick Gill, Training Specialist at the American Red Cross
Who Are Using Microsoft PowerApps to Modernize App Development?
Standard Bank
TransAlta
Leonardo Global Solutions
Autoglass
SNCF
IPS (Integrated Power Services)
National Trust
DriveTime
(Source)
Microsoft PowerApps: Want To Leverage It For Your Organization?
If you are already a Microsoft Enterprise User, Power Platform can reduce time and efforts significantly and enable a rapid, secure, flexible, and efficient approach to the app development.
Watch this space for more posts on PowerApps as we are exploring Power Platform and its advantages for enterprises. You can share your feedback via comments below and help make this post a good read for Microsoft PowerApps.
SPEC INDIA, as your single stop IT partner has been successfully implementing a bouquet of diverse solutions and services all over the globe, proving its mettle as an ISO 9001:2015 certified IT solutions organization. With efficient project management practices, international standards to comply, flexible engagement models and superior infrastructure, SPEC INDIA is a customer's delight. Our skilled technical resources are apt at putting thoughts in a perspective by offering value-added reads for all.