Mixed Reality Technology – The Future of Virtual and Augmented Reality is Here
Updated
December 20th, 2022
"Believability is a core design principle in Mixed Reality"- Cris Derr
The world is absolutely engrossed in the novel and exciting future technologies, Virtual Reality (VR) and Augmented Reality (AR) being the most popular ones. You put on some hi-tech gadgets and you are into a different world altogether, interacting with the world around you. It is not only limited to entertainment, but there is also much more to offer now. And, to add icing to the AR-VR cake, comes a wonderful merger of the two – Mixed Reality technology (MR), also known as Extended Reality or Hybrid Reality. It is a seamless intersection between Augmented Reality Development and Virtual Reality Development and combines the best of both virtual worlds. MR is all set to transform the world by offering virtual services that make the physical world talk to the digital in such a smooth manner that it all seems real. Of course, it has its own set of challenges but then what is a niche technology without any challenge. Before we delve deeper into the use cases of mixed reality, let us understand the three different technologies in detail and their basic differences.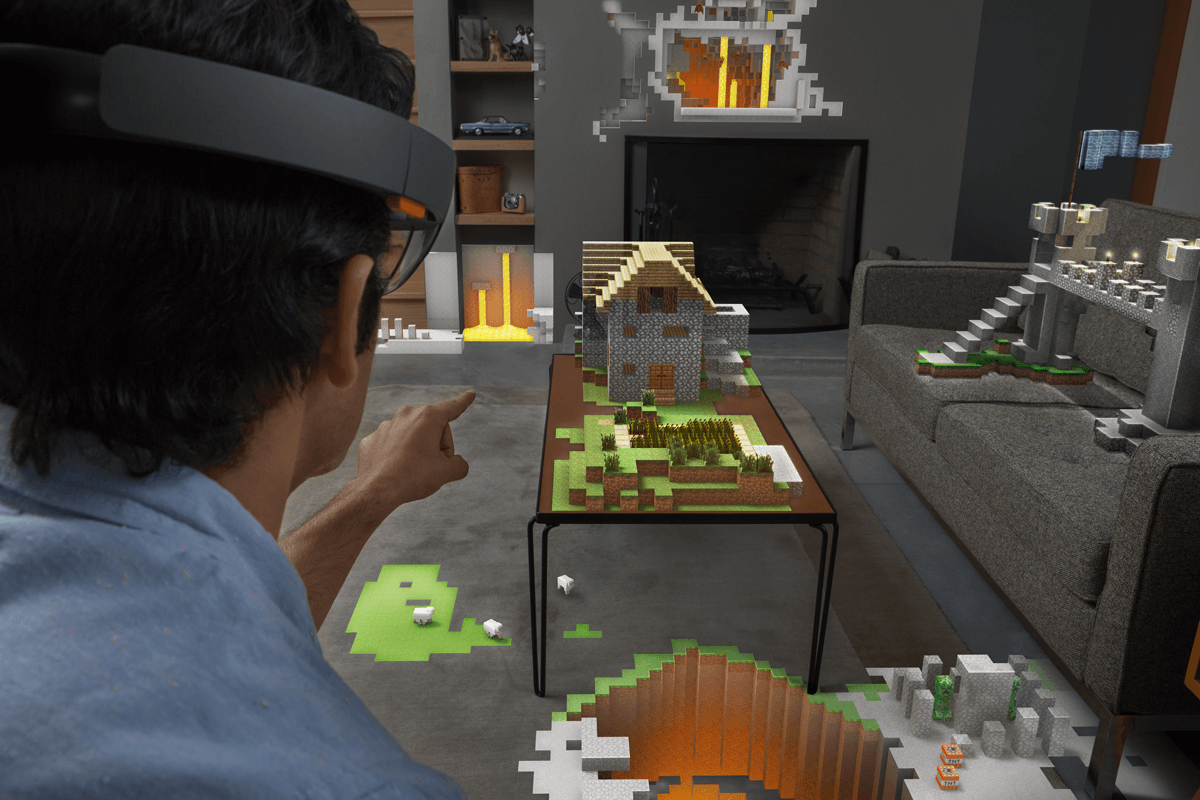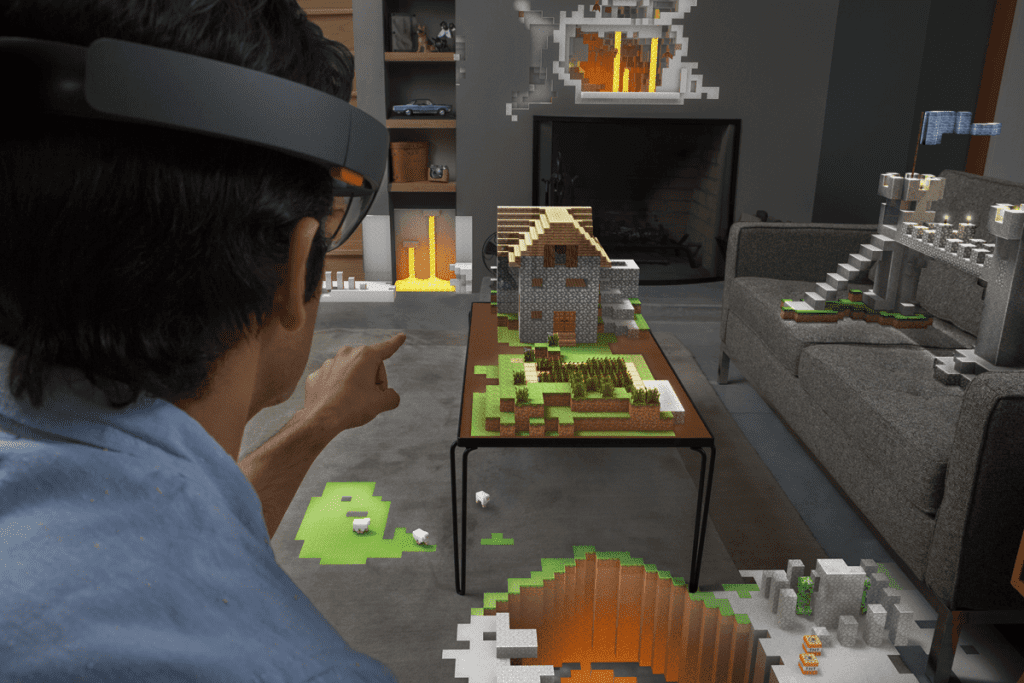 Image Courtesy: Flickr
A Glance into Different Digital Realities & Associated Future Technologies
Virtual Reality
Virtual Reality showcases an artificial environment that is developed through a software solution. Dominated by sound and sight, it appears in front of the user in such a way that the user feels it is real and believes in it. The easiest example of VR is a 3D image that can be explored through the computer in terms of movement and voice modulation. VR is used for simulating a real-time environment in the arenas of training and education. It also plays an important role in gaming scenarios.
Augmented Reality
Moving a step further, comes AR which has proven its worth in our daily lives as well as almost all industry segments. It brings across the elements of the virtual world into the real one, augmenting the visual, sound and feel effects of things around us. It acts as a bridge between the real and the virtual arena. The graphics, sound and touch components of AR are appended into our original world to offer an augmented user experience.
Forecast augmented (AR) and virtual reality (VR) market size worldwide from 2016 to 2022 (in billion U.S. dollars)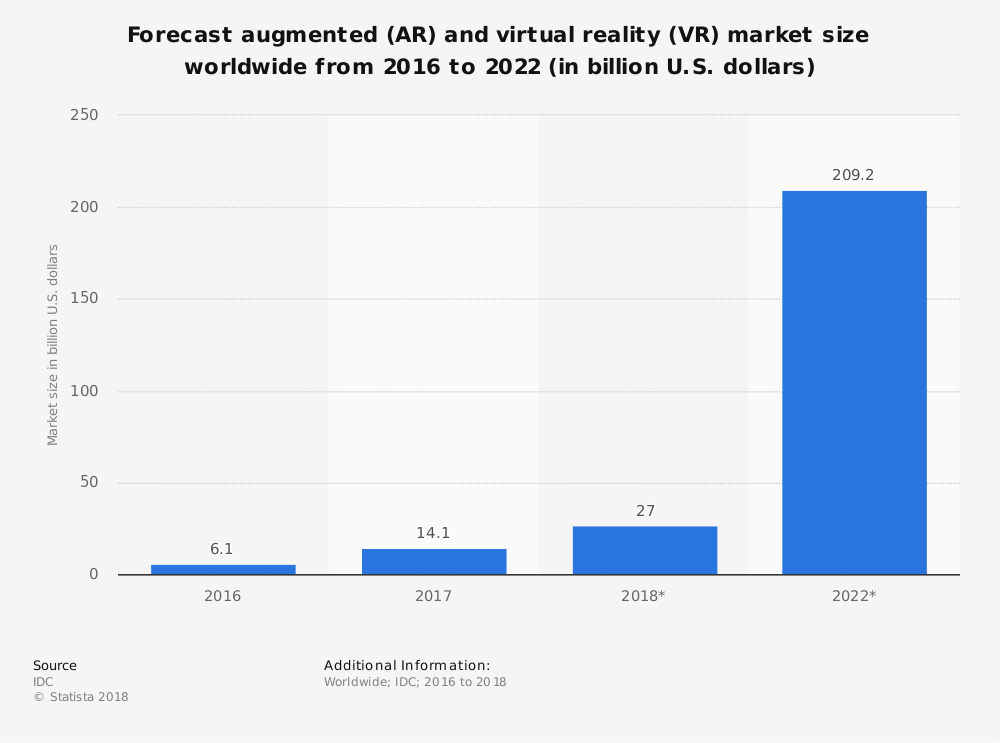 Mixed Reality
Mixed Reality creates a user forum wherein the physical and digital elements are merged in a way that facilitates interaction amongst the real and virtual world. It possesses characteristics of both – VR and AR but goes a step further by offering the best of both.
Thinning the boundaries between the physical and virtual world, it offers a combination of all, offering a hi-tech reality experience:
Human and computer communication
Human and environment interaction through conventional reality
Computer and environment collaboration through insight
A Comparison Between Virtual Reality, Augmented Reality and Mixed Reality
As defined by Wikipedia,
Virtual reality (VR) immerses users in a fully artificial digital environment.
Augmented reality (AR) overlays virtual objects on the real-world environment.
Mixed reality (MR) not just overlays but anchors virtual objects to the real world and allows the user to interact with the virtual objects.
Virtual Reality (VR)Augmented Reality (AR)Mixed Reality (MR)
Digital environments that shut out the real world
Fully artificial environment
Complete immersion in the virtual

environment

Offers freedom of movement in the digital atmosphere with sound effects
Special hand controllers can be utilized for the enhanced

experience

For e.g. – VR gaming has been very popular by playing and watching sports and immersing into a virtual sports arena
Virtual objects overlaid on the real-world environment
Real world enhanced with digital objects
Digital content on top of the real world
Special AR handsets can be used wherein the digital content is displayed on a small screen
For e.g. – Pokemon Go where people all over the globe rush with their smartphones in search of small virtual creatures
Virtual environment combined with real world
Interaction with both – real world and virtual environment
Digital content interacts with your real world
The user remains in the real world and digital content is appended onto it. For e.g. – Microsoft Hololens
It is also possible that the mixed reality starts with the virtual world and the digital environment replaces the real one but remains connected. For e.g., Windows mixed reality headsets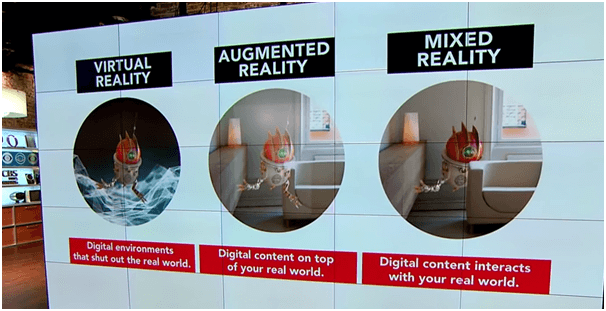 Image Courtesy: Medium
Real Life Use Cases of Mixed Reality Technology
Training Engineers in the Aircraft Industry
Mixed reality can be used in the aircraft industry for training engineers involved in repairing engines. While undergoing training, they are no longer required to extract the engine out of the aircraft. The engineers wear special headsets through which they can view the holographic image of the engine and with various image and voice features, can understand the engine in-depth.
Helping Workers in Construction Industry
MR can help senior supervisors in the construction industry to convey to workers about what part of the equipment is not working or what work is yet to be complete through virtual signals. Workers, through their headsets, can view technical diagrams and come up with a solution to the same.
Online Learning in an Enhanced Way
Wherever space is a constraint while education and learning, MR comes to the rescue. Replication built learning is ideal for learners who are keen to explore but have less space to cover. MR makes them feel like there is ample space available with everything around feeling real and that too at a near distance.
Scrutiny in the Manufacturing Industry
With the help of mixed reality headsets, scrutiny officers can have a look at the real-time information for various components and can get actual insight into those components.
Reviewing Designs in Advance
Before building the designs, designers can, through this technology, intermingle with the new products. They can have a look at the digital archetype and understand the risk areas that could create a problem as well as identify the missing links. This could help speed up the entire process of designing and developing the product.
Geographically spread teams can leverage this technology by taking part in simulated video meetings wherein they can see a huge 3D version of the product being made, along with features related to language translation etc.
In near future, doctors can use MR for various activities that allow MR imaging instead of actual objects. It could be surgical or educational.
Assisting the supply chain in Shipping & Logistics Industry
Through the smartphone or smart glasses, the entire details of the shipping lots can be obtained, queries can be solved, and answers can be displayed.
Marking Virtual Attendance
Virtual events are in today. Remote attendance can be marked in a virtual exhibit hall during sessions or during actual conferences being held. Visitors in the exhibitions can talk to the vendors during the specified timings.
Users can map the images to physical objects through the sensors in the wearables that map the physical world and make up a holographic display.
A Futuristic View Towards Virtual Reality Development & Hybrid Reality
Unbelievable but true, there is a lot in store for the future that Mixed Reality has to offer. Here are some of the highlights to look for:
Holographic projections and an interactive virtual display will garner increased focus
MR will offer cost-effective processing power facilities and vision/image recognition competencies
Big data and cloud computing will play a significant role in advanced MR technologies
Mixed Reality will change the communication between human and computer and take it to a new level altogether
Mixed Reality will become one of the sought-after global industry in the coming 5-7 years
MR will dominate almost all industry domains apart from gaming
Camera-based smartphones, mobile devices, and smart eyeglasses will substitute headsets
Technology giants like Microsoft (Windows Mixed Reality – WMR, Edge browser) and Mozilla (Firefox Reality browser) will bring in advanced state-of-the-art MR products that will escalate the popularity of MR
Challenges Encountered in Mixed Reality Technology
Offering a Real-Time Virtual Space Deceptively
The real challenge lies in constructing a virtual space exactly in line with the real world so that there is an equal balance between the two, giving the users a deceptive experience that looks real. Though it sounds simple, this turns up to be quite a tough task to achieve.
Programming Experiences to Make Them Look and Feel Real
It is a tough task to program and sequence experiences so that the basic goal of offering sensory trick is fulfilled. There is a lot to take care of while offering this level of user experience. The real effect of MR can be felt only if the users can experience a larger virtual world in terms of their own visualizations.
Figuring Out What Exactly the Program Needs to Achieve
There is a primary requirement to first analyze what exactly is the output needed through the MR software program. Once that is analyzed, it becomes easier to build the program. It is a challenging task to identify the algorithm that will give way to the blended AR – VR output. And then taking it a step further, it is equally important to strengthen, optimize the algorithm so that it gives a seamless experience.
Interesting Go-throughs on Mixed Reality
On a Parting Note, Looking at the Future
MR is not just hype. It has been proving its mettle by extracting the best of both virtual giants – Virtual reality and Augmented reality. The varied kinds of applications that are working around MR are simply amazing and offer us an exceptional experience. Imagination and invention know no boundaries and that is what Mixed Reality technology has proven. This is a beginning to a technologically dominated future. What to expect in the coming years is unimaginable. Surely, an interesting technology space to keep watching for.
SPEC INDIA, as your single stop IT partner has been successfully implementing a bouquet of diverse solutions and services all over the globe, proving its mettle as an ISO 9001:2015 certified IT solutions organization. With efficient project management practices, international standards to comply, flexible engagement models and superior infrastructure, SPEC INDIA is a customer's delight. Our skilled technical resources are apt at putting thoughts in a perspective by offering value-added reads for all.