The Ultimate Guide To Online Higher Education
Harvard University, a popular and world-recognized education institute offered 67 free online courses to help every aspirant who wants to learn or master new skills during this COVID-19 lockdown.
Self-quarantine and social distancing have forced people to shift to the online mode of education. As schools and colleges are closed and unlikely to open sooner, educational organizations have to adopt a virtual mode of teaching and rethink their approach towards education delivery.
Covid-19 is reshaping the entire education industry.
We are analyzing the in-depth impact of COVID-19 on retail, education, industry 4.0, and so on. We have published comprehensive articles on the impact of coronavirus on these industries. Our recently published guide on school eLearning covers benefits, limitations, predictions, and also includes how COVID-19 has made students and teachers shift to digital.
Here, in this guide, we will talk about online higher education with its benefits, disadvantages, role of technology in higher education, and COVID-19 impact.
Online Learning: From Where It All Started And What's Next For Higher Ed?
Farnam Jahanian, President of Carnegie Mellon University, once said,
"The unprecedented pace of societal change makes the need for reform more urgent. There is great pressure on higher education as the engine of progress in a knowledge-based economy."
Technology is transforming every sector, skill, and job. There is a continuous need to update what and how students learn. Technology-driven economies require a quick shift to new skills and jobs. The global workforce has to be skilled enough to fulfill the demands for technology-induced disruption. Colleges and universities are playing a huge role in preparing the next-gen task force. Corona pandemic has skyrocketed Online education & eLearning solutions as education institutes are forced to shift to virtual for academic continuity.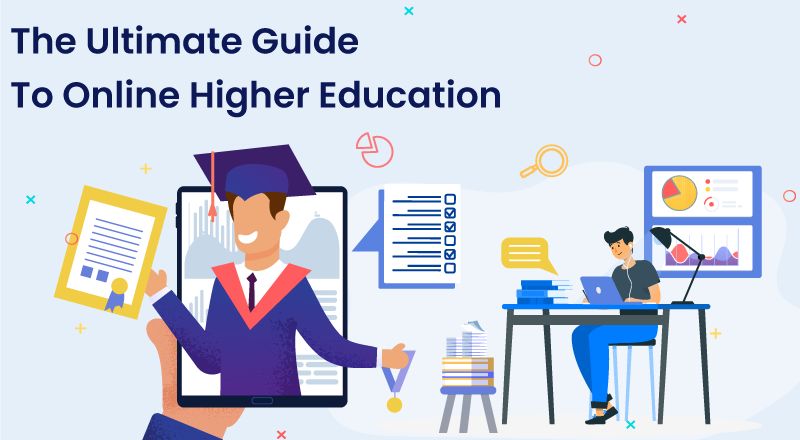 History Of Online Higher Education:
The history of online education has many origins; it all started with the dawn of the internet and communication technologies.
In 1858, The University of London becomes the first university in the world to offer full degrees through distance learning.
The term "distance education" is first used by the University of Wisconsin-Madison in a pamphlet.
There were many universities and private education institutes that offered distance learning and "studies at home" programs to encourage correspondence courses.
The first accredited online graduate program was offered by Nova Southeastern University in 1985.
In 2013, the University of Florida became the first online-only public university.
Talking about the present, 98% of public universities and colleges are offering some form of an online program.
Over time, with the help of technologies, theory, and educational structures, there were many developments and enhancements made, making quality online education possible.
Good Read: eLearning Apps & Software – There Is A Lot Happening In The Future
Explore Benefits Of Online Learning For Students:
Online learning is affordable, accessible, and available.
These are the most favorable reasons behind the popularity of online education. Read on to find out what attracts students to prefer online learning.
Online Courses Are More Convenient:
This convenience comes in many forms. They don't need to visit the college/university campus or follow any fixed schedules. They can obtain education anytime, anywhere. They don't require to stick to a college/university routine, instead, they can master skills or learn new skills with their ongoing job, career, or other responsibilities.
Flexibility Creates Opportunity:
Flexibility is crucial to everyone in this hyper-connected 21st century. Learners will be able to study during their own time and pace. They can continue their ongoing jobs, other academic schedules, and accountabilities. This flexibility appeals to learners as it creates more opportunities to identify their potentials without putting any other thing on hold.
As everything is virtual, there is no commuting cost associated with it. It is cost-effective compared to campus education because it is easy to attend and there is no application and other fees. Also, easy access to the online material is an added advantage, saving your hefty cost on books.
Meet People Across The Globe:
Geography is no longer an obstacle to learning and accessing the best educational material. When you enroll in any online classes, you may meet people from different backgrounds, cultures, and environments. This networking helps overcome challenges and establish a unique level of a bond between classmates and instructors.
There is a wide range of subjects available for a different group of people. Whether you are a professional, high school graduate, college graduate, or simply want to enhance or learn skills, online education is ideal for everyone. From biology to space science and from technology to tools, there are online educational sources for every subject.
Technology has provided a lot of opportunities to educators also. More and more courses are being designed online and there are many benefits of it.
Here are some benefits of online education for teachers.
Online Learning: Benefits For Teachers
They can go ahead at an individual pace
They can save a lot of time by eliminating the commute to a physical place
They can track student's progress online with the help of better tools
They can utilize the best resources available on the web to design the content
They can access a wide variety of modern teaching/learning platforms
Educators can incorporate interactive, immersive, and innovative technologies to make education effective and fun
Teachers are at the center of educational systems. While technology-driven education makes learning easier and fun, there are several challenges faced by educators in making a successful online program.
Challenges Faced By Educators: Area Of Concerns
Due to the virtual classroom environment, there is no face-to-face communication. Sometimes, this trait is not effective enough to better connect with students.
Difficult To Track Practical Knowledge:
There are many tools and technologies to track the progress of students but educators won't have real-life practical information about students' performance. What they have gained and how they are applying in the real world is difficult to observe.
It is important to ensure having the proper equipment to make remote teaching effective. Not just reliable internet but proper webcam, headphone, laptop/pc help them make most of the virtual teaching.
In remote education, students can belong to different parts of the world. While they have the flexibility to learn anytime, anywhere, it is quite difficult for the instructor to cop up due to different time zones. Sometimes students need an immediate solution to their queries and delay in that cause results in ineffective learning.
Practical Tips For Students And Teachers To Make Online Education Effective:
Tips For Educators:
Choose Effective Teaching Methodology:
How will you deliver the content? What suits your students most? Live class at a specific time or self-paced learning? Choosing the right blend of teaching methodologies help achieve great engagement and better outcomes for your students.
An effective learning management system has best-designed courses, interactive sessions, simulations, and graphical information that help students stay engaged throughout the program. You can lock/unlock videos, materials as per progress, add gamification, and decide the length of sessions based on the complexities of the topic.
Communication is a critical factor in making a successful education program. While it is not possible to have face-to-face communication, make sure your students know how and when to contact you. Give them feedback and instructions whenever necessary. Give them plenty of chances so they can speak for their queries and troubles. Educators need to engage students as much as they can to make it fun and easy to attend without getting them bored.
Eventually, you will figure out what works best. Administrators can support teachers to deliver best and teachers can ensure students have the best resources that help them grasp faster and better.
Think Of Ways To Motivate Students:
Every student learns differently and at a different speed. Being a teacher, your goal is to motivate students to they can stick to the course from start to finish. Motivate them in different ways and involve them in every discussion and methods so that they can get the full benefit of online classes without physical presence.
Tips For Students:
Choose A Quiet, Distraction-Free Study Location:
This is very important. Stay-at-home environment locations are often full of distractions. With the right software and hardware setup, build a study atmosphere that encourages productive behavior.
In any online study, self-discipline is the key to achieve success. Prioritize your tasks and give dedicated hours to online study in case of self-paced courses. In scheduled live sessions, stay away from distractions during that time so that you can take full advantage of this mode of learning.
A long-term plan with equal attention to the subjects and lessons help make this journey easier. Stay organized and self-monitor your progress with customized strategies that will work. Explore your subject, raise questions, and be regular to create a perfect classroom atmosphere. Communicate with the teacher and other students, more and more.
Building Enhanced Digital Education Systems Amid Corona Crisis:
There is much more that needs to be done.
Universities, colleges, students, and teachers – no one was prepared for this pandemic and emergency remote teaching. Universities must make quick decisions and adapt to this new normal of education. Many universities are offering their online courses along with regular offline schedules. And several universities haven't considered any online activities yet. Organizations that lack the necessary infrastructure, experience, and budget to explore remote mode are facing difficulties.
On the other side, online education platforms are observing a surge in new joiners and a range of topics to be explored.
From April to May, there were 10.3 million enrollments in courses on Coursera, up 644% from the same period last year.
At this time, preparing for the future is a strategic decision. Higher Ed institutes must embrace digital capabilities to achieve resilience.
What are your thoughts? Share with us.
SPEC INDIA, as your single stop IT partner has been successfully implementing a bouquet of diverse solutions and services all over the globe, proving its mettle as an ISO 9001:2015 certified IT solutions organization. With efficient project management practices, international standards to comply, flexible engagement models and superior infrastructure, SPEC INDIA is a customer's delight. Our skilled technical resources are apt at putting thoughts in a perspective by offering value-added reads for all.