Planning a Startup Business? Our Startup IT Solutions & Services Are the Key
"A startup is a company working to solve a problem where the solution is not obvious, and success is not guaranteed" – Neil Blumenthal
Startups are the face of the future. As technology advances and as young talent gets more enterprising, there are increasing number of startups in different industries showcasing success. For a seamless and guaranteed success path, what is of vital importance is implementation of startup IT solutions that can assist in realizing the dreams of the startup stakeholders and convert them into sustainable startup solutions. Software development for startups and embedding technology is the key to attain best of productivity and profitability. How to ease technology build in startup solutions is of course a challenging task.
Right from conceptualization to conclusion, startup IT service providers are focussed on converting the client's state-of-the-art ideas into sustainable solutions, within the specified budget with a deep understanding of the agility involved. These startup IT services & solutions showcase precise technology empowered accelerators, business representations, accomplished pool of resources, consistent procedures and deep knowledge that support startups in envisaging, intellectualizing and implementing their business necessities converting them into fulfilling endeavours. Be it a mobile app startup or a startup for the education domain or any other, there is a 360-degree support available that encourages the client to move over hurdles and challenges.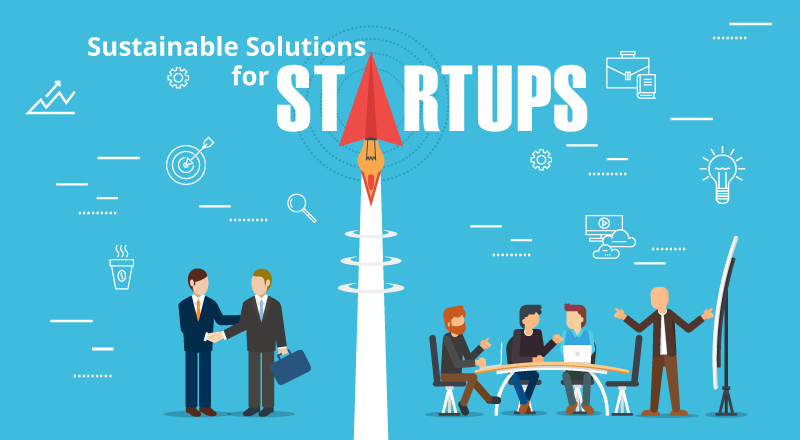 4 Distinct Startup Funding Models in Which Startup IT Solutions Can Assist
Whatsoever may be the industry domain, startups will need funding assistance to get going with their business. Following are the different financing models that are popular for startups and for each one of them, startup IT partners have their way of helping, to garner optimum benefits and success:
If the organization goes in for bootstrapping with limited funding, via a POC or with the least of requirements through a MVP, the startup IT partner is right there to assist in maximizing the RoI.
Whenever a startup incubator or accelerator is chosen as the finance media, the IT partner supports throughout with a comprehensive IT solution, right from conceptualization till implementation.
Recommending the most suitable architecture and capable technical stack for the startup venture comes as a primary responsibility of the IT solution provider whenever the startup has chosen an angel / seed fund-based venture. And of course, a 365 x 24 x 7 support is always there.
If the startup is backed by a Venture Capital firm, nothing like it. And to add to the positives, the startup IT partner is right there to offer complete product optimization and continuous support & maintenance.
Why is SPEC INDIA an Ideal Startup IT Partner?
SPEC INDIA, over the last 3 decades, has been involved with a multitude of industry domains all over globe, handling a variety of tools and technologies, each having their own way of working. Our dedicated pool of IT experts has a competent experience is leading technologies which has been successfully implemented in several industry areas like sales & distribution, education, media & entertainment, advertising, BFSI, energy & utilities, manufacturing, retail & FMCG, healthcare, supply chain & logistics, travel & hospitality to name a few. There are certain obvious reasons why SPEC INDIA is undoubtedly, a perfect choice as a Startup IT consulting service partner, for a startup organization to fulfil their aspirations successfully and simplistically.
Condensed 'Go-to-market' sequences
Applied scalability
Faster RoIs
Flexible & Agile models of engagement
Technology empowered accelerators
While SPEC INDIA has been a successful and single stop IT partner to a largely spread clientele across the globe, it has been a great assistance to many startups with its well-defined set of strategies, processes and ecosystem in place. Here are the major areas of work that SPEC INDIA indulges in with utmost sincerity and diligence, while setting up a startup to success:
Product Conceptualization
MVP and Prototype
Architecture Design
Startup Product Development
Quality Assurance
Product Re-engineering & Migration
SPEC INDIA, as an experienced and enthusiast IT partner, has proficiency and keen interest in Startup IT Consulting.  We handhold lead startup organizations to build a range of technological solutions and help them right from the initiation of novel ideas till they get implemented as sustainable solutions, all within the stipulated budget and time. Our Startup IT Solutions showcase flexible and agile models of engagement and maximized RoI as our USPs. We offer round the clock support and maintenance, assisting our startup client handle any kind of challenge that comes along the way.
SPEC INDIA, as your single stop IT partner has been successfully implementing a bouquet of diverse solutions and services all over the globe, proving its mettle as an ISO 9001:2015 certified IT solutions organization. With efficient project management practices, international standards to comply, flexible engagement models and superior infrastructure, SPEC INDIA is a customer's delight. Our skilled technical resources are apt at putting thoughts in a perspective by offering value-added reads for all.