Top 10 Predictive Analytics Examples Impacting Industries Worldwide
It all begins with data and ends with data. Data has been a crucial driving force for all our business segments. Business intelligence and analytics have proven to be an ideal technology to extract and analyze the finest out of hordes of data.
Adding a feather to its cap comes the latest technology on the block which is a prime ingredient to BI – Predictive Analytics. BI takes a peep into the past, and analyses that data and predictive analytics looks at future trends. There are many predictive analytics examples that are live proof to its significance and increasing popularity.
As we witness data analytics, there are majorly four categories of which predictive analytics is one important aspect:
Descriptive Analytics/Reporting – What happened?
Diagnostic Analytics/Analysis – Why did it happen?
Predictive Analytics/Future Action – What will happen in the future?
Prescriptive Analytics/Monitoring – What to do next?
Most industry domains around the globe have been implementing predictive analytics as a major component of the work plan. Effective and robust tools are coming up to fulfill the needs and there are many examples of predictive analytics that are proof enough.
Before we go into details of different examples of predictive analytics, let us understand the fundamentals of predictive analytics in detail.
What is Predictive Analytics?
Predictive analytics encompasses a variety of statistical techniques from data mining, predictive modeling, and machine learning that analyse current and historical facts to make predictions about future or otherwise unknown events. – Wikipedia
Predictive analytics is an integral part of business intelligence that assists organizations in enhancing their operations, increasing client satisfaction levels, coming up with new market opportunities, managing costs effectively and anticipating risks, and working accordingly.
As we wonder what predictive analytics is, it is an integrated arm of data science that makes use of modern statistical methods, data modeling, machine learning, deep learning, and other AI technologies for coming up with futuristic trends and patterns, strategic decisions depending upon the vast amount of historical and real-time data collected.
Predictive analytics can be performed manually or with machine learning algorithms. It makes use of various data patterns to identify the correlation between variables. It assists in lessening the risks associated with the business by predicting futuristic outcomes.
Different predictive analytical models such as classification models, time series, clustering forecasts, etc. assist in predicting futuristic and insightful data in different ways.
How Does Predictive Analytics Work?
The entire work of predictive analytics is based on statistical and mathematical models, existing data, and historical data. This data is utilized to create mathematical models that will retrieve key trends and patterns. The same model is utilized on existing data to predict what will happen next and thereby decide further course of action.
As you apply this method to your business, you must identify the exact problem areas that need to be looked at and identify the target groups. Next comes the identification of data accessibility. You need to check if you have adequate data to create a predictive model. It is important to ensure that the data collected is clean and structured with coverage of a certain period.
Further, predictive analytical models must be created based on user requirements and algorithms. You should be able to identify trends and patterns from the operational data to get predictions. You can then act according to the insights that have been offered through predictive analytics.
Benefits of Predictive Analytics
A better understanding of client requirements and expectations
Reduction in risks with an appropriate mitigation plan
Elimination of inefficiencies and lesser errors
Streamlining of work operations
Increased profitability and productivity
Maximized revenue and return on investment
Optimization of marketing and advertising campaigns
Better functioning of different activities like inventory management etc.
Easy detection of fraud or any type of malicious attack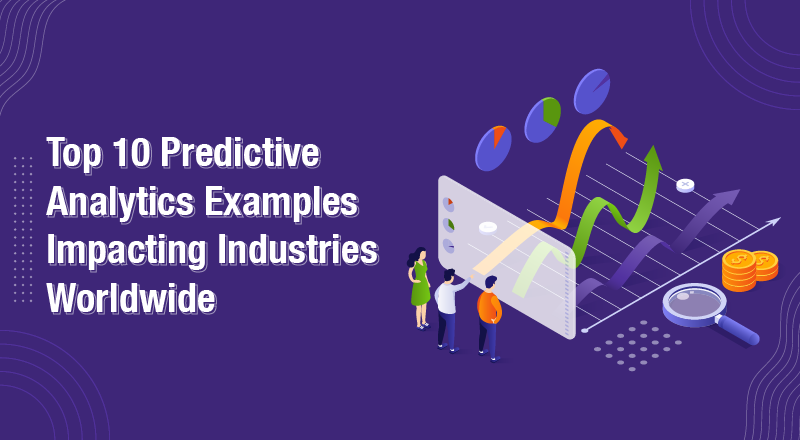 Best 10 Predictive Analytics Examples
Predictive Analytics in Retail
Predictive Analytics in Healthcare
Predictive Analytics in Real Estate
Predictive Analytics in Supply Chain Management
Predictive Analytics in Marketing
Predictive Analytics in Food Delivery
Predictive Analytics in Education
Predictive Analytics in Weather Forecasting
Predictive Analytics in Sports
Predictive Analytics in Financial Modeling
Let's have an overview of these Predictive Analytics Examples to know more about them.
Predictive Analytics in Retail:
The retail sector is one of the most leveraged industry segments as far as predictive analytics and its capabilities go. Retailers monitor their business, client needs, and behavior, market trends, future requirements, etc. through this approach. Predictive analytics in a retail segment can help in many activities like market analytics, sales forecasting, client bifurcation, inventory management, etc.
It helps in pre-sales and post-sales segments assuring you client loyalty and an increased client base. The advanced algorithms help in finding out the buying and selling trends, patterns, and market conditions. Based on that, organizations can come up with personalized approaches to ensure better client retention and loyalty through predictive marketing, supply chain, and inventory.
Predictive Analytics in Healthcare:
The healthcare segment is an ideal place to implement predictive analytics on a huge scale since there is ample data being collected and analyzed. Leveraging predictive analytics here can help big time in getting optimal results in terms of good patient care, better hospital/clinic administration, online consultation, futuristic trends, effective patient treatment, cost savings, etc.
Predictive analytics in healthcare helps in managing and monitoring multiple activities like appointment scheduling, management of doctors' timing, accessibility of patient records instantly, easy administration of medicines and other supplies, online availability of doctors, preventive treatment for diseases, predict disease outbreaks, enhanced diagnosis, and treatment, etc.
Predictive Analytics in Real Estate:
As an ideal predictive analytics example, real estate has been one industry where there has been ample data that can be leveraged by predictive tools. These tools facilitate brokers to offer effective rates for homes without any objection. Real estate data analytics can be of great help to brokers, buyers, owners, and all relevant stakeholders for further processing.
There could be situations where predictive analytics can be carried out to find out house owners who are looking to sell instantly. It can also help in mix-matching buyers and sellers with its intuitive data aggregation to ensure a correct combination that can lead to good real-estate business.
Supply Chain Predictive Analytics:
As a predictive analytics example, the supply chain industry can garner a lot of advantages like the latest and accurate information, efficient operational areas, thorough decision-making, real-time information from disparate sources, the secure layout of operations, etc. Efficient areas of operation are identified for which there is constant monitoring of futuristic operations by our team.
Various risk factors can be assessed for better management of the supply chain. The information about how much quantity to buy, stock reorder level and when to stop buying is what comes out easily through predictive analytics. The associated statistical models precisely forecast the upcoming activities which helps the entire task force make the right decisions.
Predictive Analytics in Marketing:
The marketing industry needs key metrics for tracking all its activities and predicting the future. Data that can help is lying in different places and hence collating the data, analyzing it, and performing predictive analytics is crucial. This includes looking at customer engagement, website clicks, databases, online website information, visitor interaction, and much more.
Predictive analytics in the marketing segment can help in ascertaining the best time to pitch products to the customer, lessening customer churn time, understanding the buying pattern of the visitors, judging the best possible prices, offering customized options to clients, and creating newer avenues for increasing revenue.
Predictive Analytics in Food Delivery:
Right from order placing, delivery time, price comparison, order dispatch, inventory management, and stock reorder levels, there is so much happening in the food delivery sector. There is data all over which can be made of best use through predictive analytics models. The output from the analytics can be utilized to enhance operations and increase profitability.
As an ideal example of predictive analytics, the food delivery industry can avail facilities such as intelligent and futuristic predictions about visitors, a list of food items that can be used most during weekdays and weekends, driver demand details, customer satisfaction levels, in-demand food items, promotions/discount schemes to attract more clients.
Predictive Analytics in Education:
The education sector is one that entails multiple activities that include a variety of data. Thanks to business intelligence and predictive analytics, the bulk of data can be leveraged to offer valuable insight into various workflows like recruitment, admissions, syllabus management, examination schedules, result declaration, student feedback, enrolments, etc.
The models can help in assessing students' wise performance, their areas of interest and areas of improvement, further course of action, and the type of support universities and education bodies can offer to better their careers. There can be a detailed analysis of the financial portion of these bodies and their possible financial contributors soon.
Predictive Analytics in Weather Forecasting:
Weather forecasting is a prime area wherein predictive analytics has helped lots in the last few years. Forecasts now, with predictive analytical models, are precise, and detailed, and encompass a long period. This helps the meteorological teams in coming up with accurate weather forecasts for different geographical locations.
All the data that is collected through different mediums like satellites, systems, etc. is fed into these predictive models to come up with a perfect representation of the temperature, clouds, rain, atmospheric details, and other weather patterns. Even harmful weather conditions like cyclones, tornadoes, hurricanes, etc. can be predicted with the assistance of predictive analytics.
Predictive Analytics in Sports:
Data analysis through predictive analytics is getting popular in the sports sector now. There are data analysts who are hired by specialized teams in sports to compare and assess the players' performance and assist teams in performing well in their upcoming matches. These predictive models help analysts in reviewing past and present performance, compare them and come up with different suggestions for their betterment.
Data from these models help in predicting the value and performance of players and attributes that play an important role in their performance. There are key metrics like scoring, performance, speed, time, health parameters, etc., and comparisons between different matches that can help analysts in taking valuable decisions for upcoming matches.
Predictive Analytics in Financial Modeling:
The finance sector is a happening and important sector, be it any industry, or any business. Financial teams are in dire need of detailed analytical solutions that can help them take the right decisions. Predictive analytics is of great help to the financial sector for assessing risks, assigning resources, garnering more revenue, optimizing workflows, maintaining cash flow, and taking insightful business decisions.
Predictive analytics algorithms work best for the financial sector in forecasting the company's futuristic working health. Sales, expenditure, and revenue can be estimated to take correct decisions. These models help get rid of uncertainties in the system, getting in more stability and accuracy.
Predictive Analytics Examples: The Wrap-up
Irrespective of the geography, location, industry segment, or size of the industry, business intelligence services are an integral part of all types of businesses. Predictive analytics, as a key arm of BI, can work wonders in most domains, as listed above. Examples of predictive analytics are proof enough to prove its supremacy and significance.
As days go by, there are sure to be more such predictive analytics examples that can showcase its proficiency in handling data to showcase futuristic trends and patterns. Time will only tell! We wait and watch for predictive analytics to unleash its own potential to the fullest!
SPEC INDIA, as your single stop IT partner has been successfully implementing a bouquet of diverse solutions and services all over the globe, proving its mettle as an ISO 9001:2015 certified IT solutions organization. With efficient project management practices, international standards to comply, flexible engagement models and superior infrastructure, SPEC INDIA is a customer's delight. Our skilled technical resources are apt at putting thoughts in a perspective by offering value-added reads for all.