How Remote Teams Became A Necessity For The Digital Ecosystem?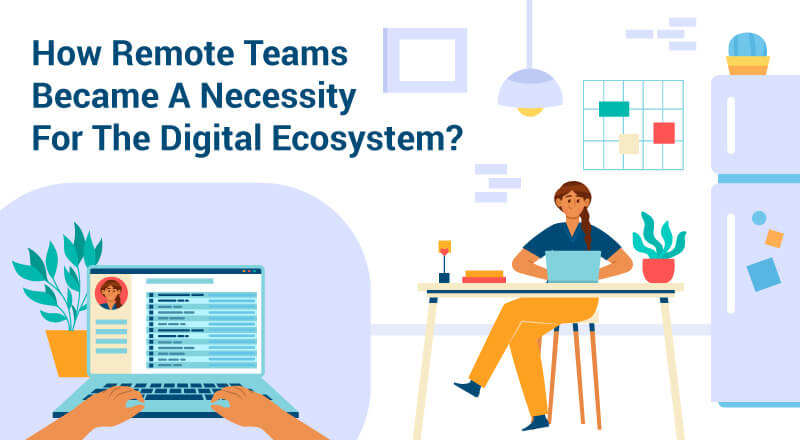 We all are witnessing a never-before crisis that has severely affected all the countries and continents. The COVID-19 virus has put the world on 'pause' mode and caused radical changes in everything including every sector and every life. Businesses and industries are forced to change their working models to remain operative in this coronavirus outbreak.
Along with travel and transportation restrictions, governments implemented social distancing to minimize the virus spread. Countries entered in lockdown mode and people are turning to digital to normalize their lifestyles from education to entertainment and from shopping to working from home.
Organizations with a Digital-First Strategy are now able to operate by adopting a virtual environment while those who are yet to transform their businesses, facing financial and operational challenges.
Digitization has become savior amidst this crisis with its various ways that help people collaborate, work, remain social, and perform business operations.
This includes:
Ability To Work From Home: Employees are able to work from home due to a fully-digital work environment
Telehealth: Use of communication technologies to access better health care services
Remote Learning: Schools can organize virtual classes and training sessions to facilitate learnings
Virtual Events: Interact, engage, and join virtual meet-ups or gatherings with the help of virtual event platforms and live streaming
One thing is clear that digital transformation has proven its significance to handle such a worldwide pandemic by playing a crucial role in communication and business operations. Thanks to technologies like cloud and other collaborative tools, hiring remote teams to build digital presence becomes a trendsetter. Leveraging global talents with diverse skillsets to achieve digital goals is proven lucrative, cost-effective, and hassle-free.
Let's understand what remote team is and how it is helping companies in such situations.
What Is A Remote Team?
A remote team includes team members who are committed to a common organizational goal and have their own set of objectives to be fulfilled as per their skills.
Members or employees are not geographically co-located and can work from home or in different locations. There is a need for constant collaboration and timely reporting to get the desired result without any hassle.
Outsourcing your project idea to dedicated remote development teams also helps you lessen the burden of management, allowing you to focus on business enhancement.
The team may include Consultants, Architects, Designers, Developers, QA professionals, and Continuous Change Experts – all are dedicated to transforming your idea to reality.
How Remote Team Culture Is Helping Organizations
As more and more global talents are being hired for different skillsets and companies are employing flexible work programs, the remote working environment is bearing the fruit of productivity, efficiency, and flexibility.
Due to flexibility and work-life balance, employees across the world prefer remote working to focus on work as well as their lives.
Benefits Of Remote Teams For Employees And Organizations:
Working from home or anywhere becomes an attraction for employees as they can flexibly work from anywhere, anytime
Increase in employee satisfaction as they can manage work-life balance
Employees prefer flexibility over higher-paying jobs in this digital-first environment
Higher performances and increased productivity yields greater results
Flexible working hours increase productivity, performance, and satisfaction
Office-free environment results in less distraction, interruption, and stress
While the advantages of remote work differ from person-to-person, cons are also there.
Limitations Of Remote Teams Are:
Lack of collaboration and control at times
No face-to-face interaction and higher attention on communicative tools
Difficult to collaborate due to different time-zones and geographically-dispersed teams
Lack of employee engagement and transparency
The high cost of technologies due to round-the-clock support and maintenance costs
Socially-distant team results into lack of trust and differences
Effective and optimum use of communicative technologies plays a key role in remote team management.
SPEC INDIA's Remote Team: Ensuring Transparency, Collaboration, And Continuity
Amid this coronavirus pandemic, we have successfully adopted the early WFH environment to make sure we follow every possible measure to prevent the virus from spreading further.
To keep our commitment of service intact, our infra team has walked the extra mile to establish a VPN (Virtual Private Network) to easily access and work through the same office machines. This indicates our strict adherence to security guidelines in the time when all employees are working remotely.
It is quite obvious that working remotely increases the chances of data breaches and security violations. Allowing VPN access, rather than personal PCs/laptops will keep our 'Security Is A Priority' strategy at the center.
Our Smaller Efforts To Bring Bigger Impact In Remote Environment:
Regular Meetings: Our regular meetings and discussions help every team member stay harmonized and focused. This increases a sense of collaboration among employees and establishes virtual team culture.
Communication Tools: There are plenty of communication tools like Skype, Zoom, Slack, and emails that help us stay connected. Always-on mode, one-on-one meetings, or virtual team gathering help us operate effectively and timely.
Timely Reporting: Managers, executives, and everyone else in the team shares work-in-progress, keep track of completed and unfinished objectives to remain ahead in timelines and deadlines.
Encouraged And Engaged: Formal and informal communication among employees, the rhythm of meetings, working hours, and support of each other along with the CEO's visionary approach help our teams encouraged and engaged in this difficult time.
While no one knows when will this end and when will we be able to get back to normal, working remotely seems the only possible option to keep our business running. In the middle of this uncertainty, one thing is certain, and that is our uninterrupted, quality, and timely services to our clients across the world. We appreciate your support and our employees' spirits to get the wheels moving.
SPEC INDIA, as your single stop IT partner has been successfully implementing a bouquet of diverse solutions and services all over the globe, proving its mettle as an ISO 9001:2015 certified IT solutions organization. With efficient project management practices, international standards to comply, flexible engagement models and superior infrastructure, SPEC INDIA is a customer's delight. Our skilled technical resources are apt at putting thoughts in a perspective by offering value-added reads for all.