A Roadmap to Success – Vehicle Tracking Software for Logistics
Nothing less than an automated log book of sorts, vehicle tracking system keeps a watchful eye on everything; the fleet, the drivers, the cargo and the passengers alike. This system turns into a versatile idea that could be implemented in any industry wanting to keep a check on the on-goings on the field.
The growing importance of this concept brings out interesting ideas and GPS vehicle tracking systems roll out other innovative use cases making it a most watched out for concept.
Logistics operations co-ordinate, synchronize and transport both raw-material and finished goods between the corresponding locations. They can easily be classified as one of the most unpredictable exercises undertaken many a times.
Operating in diverse conditions; catering to a diverse clientele right from Retail, FMCG, Courier Services, Schools, Hospitals, Emergency Services right up to something as risky as the Rescue Operations and the Armed Forces; logistics operations certainly need constant monitoring and security at all times. A vehicle tracking software powered by GPRS value adds to enterprise solutions for Logistics in the most conducive manner.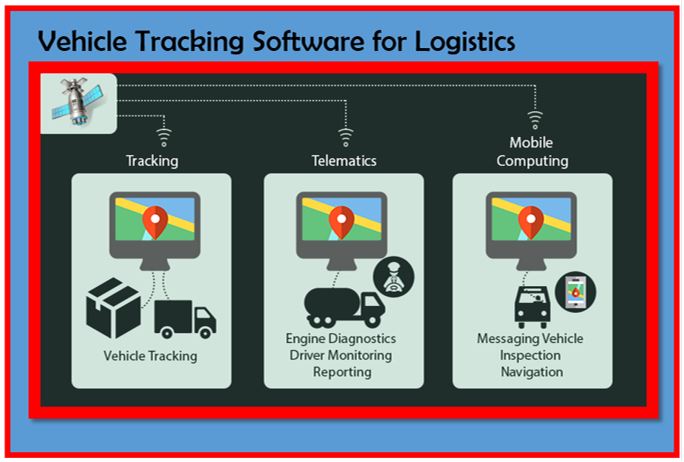 Features for a Vehicle Tracking Software customized for a Logistics Company
The feature list for a VTS complementing Logistics setup is a little more than demanding.
Vehicle Monitoring
Vehicle monitoring is the key to a comprehensive VTS. Putting all vehicles under a scanner helps keep them safe and secure with expected behaviors.
Real time visibility of vehicle co-ordinates
Monitoring speeds & fuel status
Ensuring authorized use of vehicle
Keeping check on vehicle health
Notifications like alarms & alerts for violations
Ensuring security and protection for drivers, vehicles & assets
Vehicle Mapping
A VTS pin points the exact location of a vehicle on the map and ensures further security and efficiency of the system.
Locate vehicle on maps establishing grid references & names of location
Route tracking and analyzing
Geo fencing & geo zoning
Personalized maps for preferred routes
Real time Contingency Plans
Emergencies when combated successfully go a long way in providing a safe experience to both the passengers and drivers. It keeps customers awaiting cargo, assured as well.
Traffic updates & notifications with re-routing options
Weather updates and suggestions for alternatives
Time estimations & comparisons between routes
Fleet Maintenance
A fleet in perfect order reduces inefficiencies and directly co-relates to decrease in costs. Fleet maintenance is always better when it has less human intervention.
Automated maintenance schedules with predictive analysis
Logical plans to inculcate correct usage
Report fuel over usage, speed violations, braking and other parameters
Keep a track of maintenance histories
Generate insights to maintain a better fleet
Driver Management
Recruiting drivers, training them to reach the enterprise's expectations of conduct and vehicle handling can be a huge nightmare. At the same time, it is the logistics company's responsibility to assure a safe work experience to these employees on the go.
Engage drivers with prerequisite experiences
License verification
Driver allotment for tasks
Route planning & assignment to driver
Driving pattern records & behavior analysis
Driver feedback integration
Handling health emergencies, accidents & breakdowns
Hours calculation and linking with invoicing
Route Optimization
Optimized routes reduce time spent on the roads by both the drivers and the fleet, increasing efficiencies manifolds.
Routing engines with appropriate algorithms to optimize resource usage
Route generation
Travel time recording for constant assessment of routes designed
Asset Tracking
Assets on the field for a logistics company are the cargo being freighted and the vehicles themselves. Keeping a track of these valuable assets is not only necessary but inevitable.
Inventory management inbounds & outbounds on the go
Delivery confirmations
Vehicle whereabouts
Appropriate Alerts for Managers & Drivers
Automated alerts for various conditions helps the company to provide better service to the customers as well as provide a conducive user experience to the employees as well as the customers.
Speeding alerts
Ignition on in idle time alerts
Excess stoppage alerts
Contingency alert
Alerts for Landmark pointing
Late start alerts
Security Support
Keeping the assets and the users safe and integrating these features into the system helps minimize security breaches at all ends.
Geo fencing set up
Notifications when vehicle exits the fence
Emergency buttons for both drivers & passengers
Remote vehicle management in case of emergencies
Reports & Dashboards
Intuitive reports and dashboards generated from past records, history, statistics and predictions offer a comprehensive view into the on-goings and offer profitable suggestions and deviations to the processes.
Route history
Real time locations
Delivery details
Driver day start & end
Driver behavior
Fuel efficiency & mileage
Fleet status & location
Fleet monitoring
Fleet activity summaries
Integrated Apps
Intuitive apps can be integrated into the VTS for better collaboration between back-office, drivers on road and the customers awaiting cargo. Apps could be for customers to enable mobile based check-in when customers are travelling on the fleet or record of receipt of goods through digital signatures and code scanning.
In a Nutshell
VTS is a strong example of technology put to use for real life usages. Evolving with the technological advances, VTS becomes stronger by constantly integrating into itself newer concepts like the wearables, augmented reality, and more with fleet tracking apps and other approaches.
A strong VTS system brings advantages to the Logistics operations like all other industries it caters to.
SPEC INDIA, as your single stop IT partner has been successfully implementing a bouquet of diverse solutions and services all over the globe, proving its mettle as an ISO 9001:2015 certified IT solutions organization. With efficient project management practices, international standards to comply, flexible engagement models and superior infrastructure, SPEC INDIA is a customer's delight. Our skilled technical resources are apt at putting thoughts in a perspective by offering value-added reads for all.