Role Of Artificial Intelligence In Cybersecurity
Posted
September 14, 2020
The rise of the AI is inexorable.
Artificial Intelligence has become a part of everyday lives in some form or the other. It has massive potential to drive innovations and considerable improvements in this data-driven world. From predictive analytics, chatbots, to assistant-enabled homes to self-driving cars and cybersecurity, AI is everywhere.
It has become viable for almost all sectors. We have embraced Artificial Intelligence Services in various ways. As we are more and more engulfed in the virtual world and becoming technology-driven, risks of cybercrimes and breaches increasing at an exponential rate.
Cybersecurity is one of the biggest concerns of modern society. Cyberattacks and cybercrimes are happening now and then and affecting individuals, businesses, and government bodies all over the world. Organizations must deal with security threats to their digital assets including hardware, software, data, and infrastructure. The need for cybersecurity is critically important like never before.
Here, in this article, we are talking about the use of AI in cybersecurity and what role does AI play to prevent cyber threats.
Let's get started.
According to Cybersecurity Ventures, the cost of cybercrime is projected to reach $6 trillion annually by 2021, up from $3 trillion in 2015.

Source: cybersecurityventures.com
By 2020, security services are expected to account for 50% of security software delivery.

Source: gartner.com
The global information security market is forecast to grow at a five-year CAGR of 8.5% to reach $170.4 billion in 2022.

Source: gartner.com
68% of business leaders feel their cybersecurity risks are increasing.

Source: accenture.com
It is predicted that 100% of large companies globally will have a CISO (Chief Information Security Officer) position by 2021.

Source: cybersecurityventures.com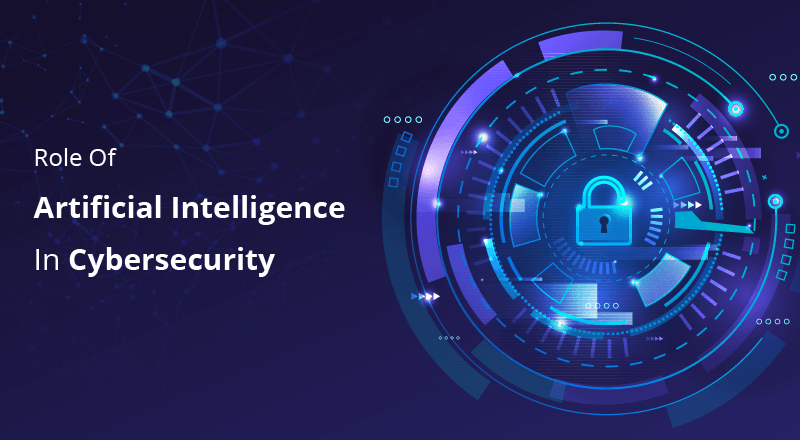 Artificial Intelligence In Cybersecurity: A Boon Or A Bane?
There is a strong business case of using AI in cybersecurity – three in five firms say that using AI improves the accuracy and efficiency of cyber analysts.
This is one of the important findings in the new report from the Capgemini Research Institute, Reinventing Cybersecurity with Artificial Intelligence.
Nearly one in five organizations used AI pre-2019. Now, almost two out of three organizations planning to employ AI by 2020.

Source: capgemini.com
AI in cybersecurity is certainly a boon for organizations as it enables organizations to predict threats and continuously observe for anomalies. Deployment of AI solutions will help organizations to better protect passwords and authentication policies. With the use of machine learning algorithms and AI-enabled prevention controls in place, organizations can track, monitor, detect, and prevent threats and vulnerabilities before they cause exponential damage.
How AI Can Help Improve Cybersecurity?
According to the Capgemini report,
Fraud detection, malware detection, intrusion detection, scoring risk in a network, and user/machine behavioral analysis are the five highest AI use cases for improving cybersecurity.
AI and ML Solutions are redefining how organizations handle cybersecurity and ensure customers' trust in the time where users are taking control of their data and privacy.
Big giants like Google, Amazon, Facebook, Apple have heavily invested in AI tools to combat cyber threats and data breaches.
Here are several ways AI and ML are playing a significant role in improving cybersecurity:
AI and advanced machine learning algorithms assist organizations in identifying threats, intrusion, and any malicious activities. The use of AI software to detect threats is not new as the majority of the cybersecurity firms deployed AI algorithms to automate investigation and identify indicators of attacks. Real-time detection of deviations and change of behavior helps organizations to respond faster and in an intelligent way.
Many AI-enabled intrusion detection software are used at the network level to ensure better network security. As AI tools are capable of self-learning and identifying patterns, they are quick enough to observe hundreds of objects including files, IP addresses, phishing links, visitors, and a vast amount of data. AI is faster than human detection as humans are not capable to scrutinize millions of sites and addresses. Real-time detection and automated processes help companies respond with speed and efficiency.
Businesses can use AI to mitigate the risk of DDoS and phishing attacks. In traditional ways, it can take days or even months to find breaches and take actions to respond. By using AI-driven security methods, companies can establish an automated and efficient way to prevent attacks before they happen rather than taking actions after potential damage. AI algorithms are programmed to process a large amount of data in seconds which is not a possible case for humans. AI tools are widely being used in anomaly detection – a process of identifying rare and suspicious observations, items, or events that differ from the majority of the datasets.
Gmail is using AI to block 100 million extra spam messages daily.
AI can help in the behavioral analytics of the users. With this ability of AI, algorithms can self-learn users' behavior and create a pattern regarding usage, time, and platforms. This behavior includes login times, IP, address, typing and scrolling patterns, and timings. AI-powered tools consistently monitor and real-time data and can immediately detect irregularities in data or behavior, reducing the chances of potential damage.
AI Cybersecurity: Why It Must Be Embraced By The Organizations?
The benefits of using AI cybersecurity are quite clear because of AI's versatility and ability.
This is one of the critical factors in cybersecurity as timely action must be taken to combat threats and attacks. With AI, companies can detect threats faster than ever before. They can deploy software for continuous scanning and advanced threat detection techniques.
With AI, the overall time taken to detect threats and breaches is reduced by up to 12%.

Source: capgemini.com
For example, PetSmart, a US-based specialty retailer, was able to save up to $12M by using AI in fraud detection.

Source: zdnet.com
AI can drastically reduce the time and resources involved and save your digital assets from potential risks.
AI Can Become Friend Of Companies' Security Teams:
There is a wide range of advanced AI tools and solutions available that can investigate, predict, scan, and continuously check for vulnerabilities at every level of the organization. AI tools can be deployed at authentication, network, and analytical level. These tools continue to get better and better and if put to work with human cyber analysts, rather alone, can give the best result to secure data, networks, and resources.
There is no way humans can match AI's accuracy when it comes to processing huge chunks of data and identifying uncommon activities or scenarios in minutes. It is also possible that the AI program is given the wrong input or itself programmed in the wrong way, resulting in unexpected breaches.
AI's Self-Learn Capability:
AI algorithms can learn over time and spot the differences from regular behavior. Deep learning and machine learning algorithms are capable to recognize patterns and changes and gradually learn about those. AI's self-learn capability helps security teams to quickly spot differences in regular network traffic.
What Are The Limitations Of AI In Cybersecurity?
AI can help prevent cyberattacks but in reality, AI is a double-edged sword.
Here is why:
AI-supported CyberAttacks:
Yes, AI can be used maliciously also. Many industry leaders and thinkers predict that AI-supported attacks will be more dangerous and a real threat to the industry. Hackers and attackers are leveraging AI to make more intelligent attacks and malware programs. As technology advances, more and more apps are using AI-enabled authentication processes such as face recognition, biometrics, voice-controlled home automation, and so on. They can also use AI as a weapon to learn about the system's weaknesses, users, and behavior. With the use of AI, various types of undetectable attacks can be integrated with the system's security environment and those are even not noticeable by the team.
It's Not Always Accurate:
AI-driven cybersecurity solutions are not always 100% accurate. Sometimes, these solutions may not recognize the difference between malicious or general activity. Often, these types of software create alerts and alerts must be investigated by humans to ensure accuracy. AI solutions for cybersecurity must be used with human analysts together to ensure a safe, secure, and hassle-free environment.
In WhiteHat's "AI and Human Element Security Sentiment Study", nearly 60% of professionals are more confident in cyber threat finding verified by humans over AI or machine learning.

Source: whitehatsec.com
The use of smart AI software to prevent cyberattacks requires a considerable amount of time, resources, and management that will increase overhead. Human analysts must be hired to handle these tools appropriately and wisely.
Work From Home Increases Cyber Security Risks: How AI Helps Businesses Minimize Risks?
The global pandemic has put everyone in global quarantine. Work from home has become new normal to survive amid this epidemic. Remote working has its own perks but it leads to increased security risks for the majority of businesses. Government systems and even small organizations can be targeted from anywhere and disrupt the entire market and economy. The importance of cybersecurity has become even more crucial with the transition to the remote workplace.
Organizations are deploying AI-powered systems to combat breaches and malware attacks. Corporate networks and communication mediums are vulnerable and easy to access as employees are using VPNs, online communication channels, and insecure networks in the WFH ecosystem. In such situations, hackers and attackers are using various ways to attack and acquire sensitive information.
A large number of companies are implementing AI solutions to minimize risks against emerging cyber-attacks and threats.
What's Next?
Cybersecurity is a big concern for businesses. Security is vital like never before and enterprises must protect their data, infrastructure, and users to remain competitive. As the adoption of AI in cybersecurity increases, organizations need to monitor and manage AI bias in their environments. Businesses need to prioritize cybersecurity efforts and AI helps to identify risks faster and better than humans can. With AI and predictive models, organizations can anticipate, prepare, and prevent potential threats before they take place.
FAQs Related To AI Cybersecurity:
How AI is used in Cybersecurity?
AI can help organizations detect cyber threats ahead of their time and therefore, reduce the chances of potential harm and strengthen security.
What is Artificial Intelligence in cybersecurity?
AI in cybersecurity is the use of AI-driven security solutions deployed at various levels to ensure security and detect potential security threats.
How will AI affect cybersecurity?
AI helps reduce cybersecurity crimes by analyzing a massive amount of data faster and constantly checking for threats using advanced AI software.
How AI is contributing to the cybersecurity process?
The use of AI to prevent threats will be one of the best practices in the years ahead. It reduces response time, and minimizes risks, and prevents potential security breaches in time where security is a priority.
SPEC INDIA, as your single stop IT partner has been successfully implementing a bouquet of diverse solutions and services all over the globe, proving its mettle as an ISO 9001:2015 certified IT solutions organization. With efficient project management practices, international standards to comply, flexible engagement models and superior infrastructure, SPEC INDIA is a customer's delight. Our skilled technical resources are apt at putting thoughts in a perspective by offering value-added reads for all.