Migration From Salesforce Classic To Lightning – How To Make The Switch Easy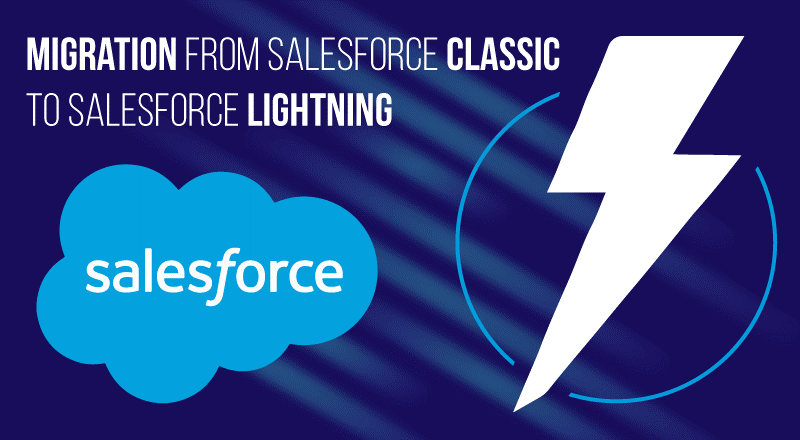 "To improve is to change; to be perfect is to change often." – Winston Churchill
'Change is the only constant' – don't we know that, and haven't we experienced this all these years? There are some things that get better with age but there are numerous that need to be looked upon, for better and enhanced performance. The software industry is one such. IT software solutions need to be migrated to newer versions, for enhanced user experience and increased productivity.
Salesforce has been one of the most popular and foremost cloud-based CRM solutions across the world that has countless success stories that have been producing enduring client relationships, receiving more business, harvesting increased productivity and maximizing RoI. Amongst Salesforce development & customization services, Salesforce Classic had been the front runner till date but now the globe looks at Salesforce Lightning for a lightning experience to boost productivity, optimize operations, and build apps fast.
Before we plunge into understanding the details of migrating from Salesforce Classic to Salesforce Lightning, let us first understand the what is Salesforce Lightning and migration is inevitable in today's fast-moving era.
What Is Salesforce Lightning?
Salesforce announced the launch of Salesforce Lightning, an open source framework, around 2014 as the next-gen version of the software solution, a leap ahead of Salesforce Classic. This saw a huge rise of organizations moving on from the classic version to the latest one and experiencing a hike in productivity and profitability. While the classic version pushes forward the responsiveness of desktop or mobile app, the newer one moves ahead and broadens opportunities for developers.
True to its name, this novel version of the Salesforce software offers a lightning experience and assists sales representative perform better and sell faster. It comprises of a set of functionalities, tools, and technologies that helps users in easy customization with least efforts.
Just like any Salesforce loyal, there is a question that crops us – 'Should we migrate to Salesforce Lightning?'. The answer looks positive and the steps to be taken are quite challenging. But if done with care, assessed well before plunging in, it is a mission that can be accomplished well.
Why Is Salesforce Migration From Classic To Lightning Required?
Maintaining and supporting the classic version can prove to be costlier than planned and may also lead to ineffective output
With industry standards, rules and regulations continuously on a change drive, it is difficult to ensure that the old systems remain in sync
Latest advancements in technology may not support the classic system and hence prove to be a roadblock
Business process efficacy may reduce with older versions not able to cope
Security aspects and privacy levels may get compromised with classic versions
Software migration is sure to offer enhanced efficiency, agility, performance and cost-effectiveness
The go-to-market time will be fastened with business processes getting more efficient and productive
Migrating to a higher and better version will ensure elevated levels of customer satisfaction and loyalty
How Superior Is Salesforce Lightning As Compared To Classic?
Here are certain key features that verify the fact that Salesforce Lightning is worth going in for:
Access To Advanced Einstein (Wave) Analytics Reporting
Salesforce Lightning leverages the potential of Einstein analytics reporting that depends on its own database and continuously gets updates from the live database, each hour. The reports generated through the classic version depended on standardized reporting types to create lists, charts, and graphs. In the latest version, the modern dashboards are competent enough to showcase more data and detailed reports, with drill down facility, detailed metrics, and export facility.
Security Gets More Prominence
The newer Lightning components showcase security in a positive light. Owing to these components, there are rare chances of security breaches and lesser coding needed. One security feature – LockerService separates Lightning components so that there no communication with each other, thereby, safeguarding against nasty attacks. Even user permissions are managed in a different way, with higher authority access given separately with unique sign-in.
Salesforce Lightning Is Recommended, Free And Has No Hidden Cost
As always, Salesforce looks for the best for its users and hence recommends using the latest version. It is not only about having the latest functionalities; it is also about aligning the organizational goals with that of Salesforce's and expand together. There are no separate costs involved while switching to the newer version. The entire set of functionalities come with the release, free of cost. Hence, Salesforce Lightning can be leveraged with no hidden expenses.
Salesforce Lightning Is Simplistic To Use With An Enhanced Look And Feel
A new look, easy to use, user-friendly, simple navigation and much more – the latest version is a user's delight. As per reports, end users have experienced an increase in sales conversions and better customer experience. The entire look and feel of the Lightning version are modernized, reports offer insightful data, layouts are well spread. There is a drag and drop facility to create pages with ease and speed.
Impact On Various Components Is Well Managed
Components such as user interface, business processes, third-party app exchange apps, custom code, and user training will be impacted and effected upon. Unlike the classic model, these components are well defined and handled in such a way that implementing Salesforce Lightning is an easy and interesting task. There is no need to import data, re-form customized fields and arrange for security models.
A Thorough Checklist Be Followed For A Seamless Salesforce Migration
Have you assessed all your organizational needs as compared to what is being satisfied through the classic version?
Have you conducted a gap analysis, comparing all the features of the classic version as against those being offered in the Lightning one?
Have you planned a testing schedule for the Lightning version prior to choosing it as your final option?
Are you able to convince your end users about the change? Are they happily ready to move on?
Is your approach to migration a stepwise approach? One at a time.
Have you outlined your goals for a transition?
Have you charted out all your existing and new processes, after discussion with your teams?
Is your integration plan set in place, along with different business workflows?
Are you rolling out your first version amongst a limited set of users only?
Are you well equipped with thorough documentation on the Lightning version?
Have you worked upon your data management and migration plan?
Some Challenges Along The Way
There is no revolution without challenges. Here are some hurdles that can come along the way while migrating from Salesforce Classic to Lightning, but of course, these can be handled well, with the above-mentioned checklist:
Training the users to the new look and feel of the system will need some more time
Lightning takes a little longer time in showcasing changes and hence will take some more time in showcasing any change done
Since Lightning is still coming up, there are certain features that may be missing, and users may have to wait
JavaScript buttons are not maintained directly by the Lightning version, though there are alternative solutions that can help
Salesforce Has Never Ceased To Amaze, Lightning Is No Different
Salesforce solutions have been an integral part of many organizations, varying in size, segment, and geography. It is obvious that users are excited to use the latest version of Salesforce Lightning. The only thing that needs to be taken care of, is, it isn't as easy as a mere switch. There is much more to it. And, it can be worked out smoothly, by following the above-mentioned checklist and an efficient and experienced Salesforce Development & Consulting Company, to partner with. Go in for Salesforce Lightning and brighten up your business.
SPEC INDIA, as your single stop IT partner has been successfully implementing a bouquet of diverse solutions and services all over the globe, proving its mettle as an ISO 9001:2015 certified IT solutions organization. With efficient project management practices, international standards to comply, flexible engagement models and superior infrastructure, SPEC INDIA is a customer's delight. Our skilled technical resources are apt at putting thoughts in a perspective by offering value-added reads for all.