Salesforce Configuration vs. Customization – A Comparison To Comprehend
"Customer relationship management (CRM) manages your business's single most important goal – satisfying your customers. A highly effective customer relationship management system will encompass and enhance all aspects of customer interface, from sales and marketing to customer service." – Salesforce.com
CRM forms the core heart of any business. It works as the connecting link between the organization, customers and even prospects. A good CRM solution would encompass all necessary information required to maintain an effective relationship with clients. One big name in the world of CRM software solutions is Salesforce – the world's no. 1 CRM. Considered a 'customer success platform', it is customizable, robust and flexible nature makes it most sought after, for organizations worldwide.
For leveraging the optimum out of Salesforce applications, there are basically two options available:
Salesforce Configuration
Salesforce Customization
Both these concepts are popular but understood interchangeably. Organizations find it difficult to choose which one to opt for. Let us go into stepwise details of what each of these means and when should you be using what.
45 Amazing Salesforce Statistics and Facts – Worth a Read
What Do These Terms Mean, For A Salesforce Solution?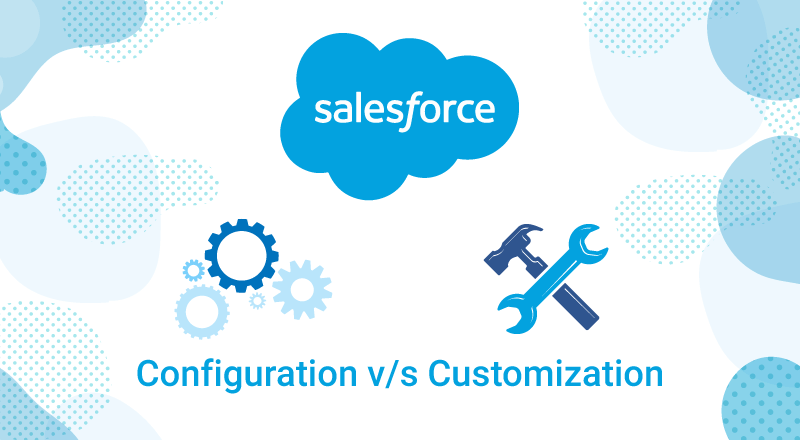 Salesforce Configuration
Salesforce configuration focusses on everything that you can do, inside the system, without a lot of customized coding. You can do most of it yourself, of course, with some external help. It is basically configuring your needs to the system, not changing much of the basic structure. Here are some of the key characteristics of a configurable Salesforce application:
It means offering user-defined values that will empower certain features/modules to start operating
You can hire expert Salesforce administrators to help set up initial settings within least possible time and budget
You can work with the admin panel to alter switches and setups in the programs, with the help of an admin expert
You can integrate new fields, modules, surveys, workflows and reports by simply altering settings in the Salesforce panel
Customers can get what they want by simplistic configuration and buying a pre-defined application of Salesforce
Salesforce Customization
Salesforce customization talks about dealing with the custom development of code to develop features that can seamlessly integrate with your workflow and business processes. It is a step further to Salesforce configuration and is applicable for cases where configuration doesn't serve the purpose. Here are certain major features of customizing a Salesforce app:
It involves developing features/functions that aren't available as a part of the original application
Catering to certain actions that aren't achievable with configuration and needs some custom code
Addition of triggers on the object for performing a few actions
Generation of a vCard from a given contact by addition of Apex code
Can be done as an in-house project or by consulting an expert Salesforce partner
Needed for organizations having a huge number of sales representatives and sales channels
Turns out to be complex since CRM is new to the entire office setup
Will prove fruitful once the configuration is done properly and only then customization is opted for
Pros & Cons – Salesforce Configuration & Customization
Salesforce Configuration
Pros
Cons

Can support distinctly different kinds of customers and users
Enables different kinds of business to grant access to employees the way they choose
Enables high-end flexibility
Can be reused for better needs and operations by customers
Prevents duplication of code
Can maintain all the logic in one place in the code

Complex to build
Need to consider all different options and build all of them
Needs inter option dependency
Difficult to test stability as there are multiple chosen paths
Testing becomes complex as each interrelated component will need to be considered
Salesforce Customization
Pros
Cons

Easy to build as it caters to exactly what the customer asks for
No need to come up with own solution and offering a variety of options
Higher customer satisfaction since it directly takes care of what the client needs
Doesn't affect the rest of the application
Targeted on a single customer base
Usually used for customized websites and systems integration

Tough to maintain
Gets difficult with the customer as they feel they can rule what is needed
Could get into unnecessary customization, even if not needed
Chances of application and teams losing out on focus and vision
Risks the future scalability of the application
List Of Items That Can Be Configured / Customized In a Salesforce Solution
Salesforce Configuration
Salesforce Customization

Adding objects / fields
Adding tabs/apps
Creating profiles/setting permissions
Workflows & custom reports
Validation rules
Email templates
Page layouts/record types
Integrating email clients
Data verification
Gamification

Apex classes / triggers
VisualForce pages / components / emails
Build donation pages
Build lead capture forms
3rd party integration
Create lightening components
Build custom partner portals
Use CSS to alter the page look
Use JS for adding capabilities
Optimize the design and functionality
A Salesforce Solution Checklist That Needs To Be Answered Prior To The Choice
Does your Salesforce administrator have knowledge about coding, or do they just manage admin functionalities?
Do you have in-house development resources or are you going to outsource your development work?
Have you approached the end limit to the configuration but have more to develop?
Do the out-of-the-box functionalities fulfill your purpose?
Can your business processes be accomplished with configuration?
Do you need to do everything inside the system, without much custom coding or you need to involve custom coding to build certain features that aren't a part of the initial program?
Do you have enough budget and time to build customized applications over the initial one?
Is your infrastructure capable of imbibing newer tools and technologies to carry on customization?
Have you judged your business objectives and how close they are to the available Salesforce solution?
Are you well versed with the competency and skills of the Salesforce team that you have?
When Should We Choose Salesforce Configuration?
You can choose Salesforce Configuration when
You want to leverage the in-built tools, functionalities, and modules to the finest
You want to apply your business processes to the Salesforce application, the way it is in the application
You have multiple customers and different options available for them
There are a variety of user segments that will use the system for a long time
There is a limited time, budget and expertise available
When Should We Choose Salesforce Customization?
You can choose Salesforce Customization when
Business procedures cannot be attained through workflows and validation rules
There is a need for 3rd party integration
Standard reports aren't enough to get needed information
End users are still not comfortable with the configured platform
You have only one customer whose needs are to be catered and who has strict timelines
There is devoted timelines, budget and skilled expertise available
On A Parting Note
To each its own. Choose, either way, both have their own set of pre-requisites to choose from. Both, Salesforce configuration and customization are vital for organizations to achieve their business goals. Depending upon the above-mentioned parameters, circumstances and basic requirements, companies can choose on which one to opt for. The best way is to go in for configuration at first and attempt to do it at its best. After optimum configuration, if the organization feels there are still more components that need to be present, for best usage, go in for customization and append the missing ones. That sounds like the best way, but then, you can always differ. If the organization has a vision of customization right from start and is competent to do it, why not!
Understanding how to configure or customize CRM isn't easy. It needs an expert Salesforce service company to help do it, the best. Taking help of a good Salesforce customization and development partner will surely be helpful to companies to take their business to a totally next level.
SPEC INDIA, as your single stop IT partner has been successfully implementing a bouquet of diverse solutions and services all over the globe, proving its mettle as an ISO 9001:2015 certified IT solutions organization. With efficient project management practices, international standards to comply, flexible engagement models and superior infrastructure, SPEC INDIA is a customer's delight. Our skilled technical resources are apt at putting thoughts in a perspective by offering value-added reads for all.