Top 10 Startup Trends For 2021 – Fulfilling The Vision
"It's not about ideas. It's about making ideas happen." – Scott Belsky
Startups are exactly about making ideas work, not just listing them down. It has always been a challenging task taken up by bright and foresighted individuals or groups of people to kick start fulfillment of their vision and mission, attending to all pros and cons that come their way. Technology Startups have been the fundamental stone of success for many organizations worldwide, which have a big name today. And technology has played a key part in facilitating startups to fulfill their vision and mission.
Last year 2020 gave us all, a tough time. More so, for the startups who just began. Because of the pandemic, there were many variations in the way the world operated. This led to a big blow to startup organizations that had just begun their business journey.
Good Read: Tech Trends 2020 For Startups
Now, with the year starting with a bright shine, the new 2021 startups are moving towards stability in an accelerated and motivated manner. Opportunities are now knocking on doors; new businesses are blooming and startups are in vogue again.
Let us have a look at the key trending ideas for startups in 2021: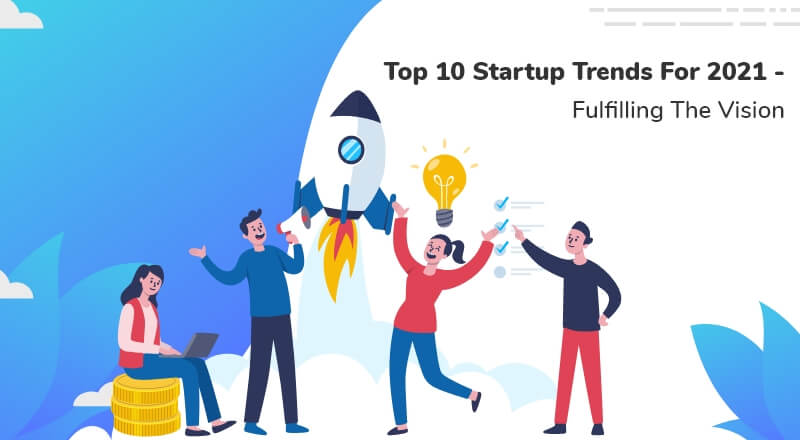 Startup Industry Trends For 2021
Enhanced digital awareness and acceptance
Changing points of business focus
Social indulgence will attract business
AI getting more prominence for startups
'Work from home' will be in vogue
Robotic technology will spread its utilization in startups
Virtual health and wellness startups would be in demand
5g and high-speed internet to be the need for startups
Ecommerce and online education startups go strong
Complete virtual startups will be witnessed increasingly
Enhanced Digital Awareness And Acceptance:
Because of the new normal, digitization has gained much more traction than before. The year shall witness augmented digital acceptance by startups worldwide. It will include adopting the newest digital technologies and seamlessly integrating with third-party platforms, for the best of functionalities to be embedded in the solutions. For startups to function at par with the technology trends, there will be a fast implementation of necessary technical skills including software, hardware, and human resources.
Changing Points Of Business Focus:
As startups build their business, their focus areas are bound to see a change this year. There will be an increased focus on a variety of areas like international rules and regulations like GDPR, cybersecurity, marketing of brands, reliability of software, work from home operational ease, etc. It will be beyond mere business profits and productivity. The focus will increase its view to embed much more than the thought of. Business sectors like healthcare and fintech will have an upper hand in attracting popularity.
Social Indulgence Will Attract Business:
With changing times, all businesses are looking into creating a different way of connecting to customers/prospects. There is an inclination seen towards more indulgence by startups in social issues, offering more corporate social responsibility. Businesses are contributing more towards social matters that are directly connecting them to the end-users, bringing in a two-way advantage – contribution to society and increased business focus. Today's modern-day clients are also looking for organizations that have a bunch of social ethics and a good work culture.
AI Getting More Prominence For Startups:
AI has marked its presence in almost all industry segments, startups are no different. As it begins to influence businesses, startups have been leveraging AI to the best now. AI isn't an easy task and hence there are organizations still not comfortable but with time, ML and AI are sure to assist startups to establish themselves faster and in an effective manner. These modern technologies will help startups establish a modern infrastructure, leaving behind obsolete systems.
'Work From Home' Will Be In Vogue:
The pandemic has paved a new road to the concept of working remotely. It did exist earlier but never did we all realize that remote working could also yield the same amount of productivity as on office premises. Business startup trends are moving towards a confident task force operating from their own premises. Startups are also keen to stick to this model of working so that they can lessen other expense areas, especially when they are in the beginning phase. Security does remain a concern but startups have learned to handle that with modernized tools.
Robotic Technology Will Spread Its Utilization In Startups:
Though considered a challenging and difficult technology, robotics has emerged as a much-needed technology in the startup sector. The year shall witness increased use of robotic techniques to accelerate establishing the business and refining processes, depending upon the current global scenario.
Virtual Health And Wellness Startups Would Be In Demand:
The situation has called for an increase in virtual services and hence startups are focussing more on areas where such online services can easily be provided. The health and wellness segment is one such area that has shown great demand over the last year and continues to do so. Be it telehealth, telemedicine, home fitness products, health supplements, etc., startups are indulging in every aspect possible to allure users, with a comprehensive online setup accompanied by attractive delivery schemes and effective payment methods.
5G And High-speed Internet To Be The Need For Startups:
5G was already in demand and with the new way of working, the need for the same is felt much more. Startups are beginning to adapt to high-speed internet technologies as they begin to build their business. Business owners feel the need to have good speed connectivity for their functioning so that their processes can execute to the best possible output, even if it means allocating a little extra budget for the same.
Ecommerce And Online Education Startups Go Strong:
With the online world much in demand, two sectors that have continued to stay amidst news are the eCommerce and online education sectors. Both have showcased increased adoption globally and hence startup entrepreneurs are keen to invest in these areas to come up with effective solutions. Though they do have their share of challenges their way, startups are finding these sectors lucrative and hence, this year is sure to witness newer avenues in this direction.
Complete Virtual Startups Will Be Witnessed Increasingly:
Due to the pandemic creating a new remote working culture, business owners are working hard towards establishing business ventures that can completely operate in a virtual manner. Startups are trying to catch the positive part of the pandemic by working towards a remote working environment that has its own pros. Working with the latest technological and communication tools will be a catalyst for startups to successfully launch their businesses virtually.
Good Read: Importance Of MVP For Startups Explained In 200 Words.
As A Parting Note
Tech startups are one of the most volatile, happening, challenging yet profitable industry segments and the year shall witness newer and brighter achievements. Entrepreneurs will be seen either investing in startups or planning to start their own. Much brighter is the future of tech startups in the year going on and that is clearly visible through the 2021 startup trends discussed above. It is time that the newer league of business entrepreneurs takes over!
SPEC INDIA, as your single stop IT partner has been successfully implementing a bouquet of diverse solutions and services all over the globe, proving its mettle as an ISO 9001:2015 certified IT solutions organization. With efficient project management practices, international standards to comply, flexible engagement models and superior infrastructure, SPEC INDIA is a customer's delight. Our skilled technical resources are apt at putting thoughts in a perspective by offering value-added reads for all.