Tech Trends 2020 For Startups
In ancient times, the land and money were important assets. Today, a great idea is added to that list.
Yes, the idea that focuses on problems more than solutions wins heart of the people. Startup IT Solutions & Services are increasing at the rate of knots but the number of startups failures is also increasing despite the tech world is erupting with innovative and game-changer technologies.
With 2019 saying goodbye and 2020 is gearing up to be a year of sustainable technologies, we are here again with our comprehensive, insightful, and enjoyable 2020 trends series covering various aspects, technologies, and perspectives that will redefine 2020.
Owing to a very dynamic and customer-centric landscape, the startup world is likely to witness several significant shifts towards automation, intelligence, and continuous evolvement using modern tech stack in 2020.
While writing this, we are taking every perspective into account so you can get a clear idea of what's next for the startup world.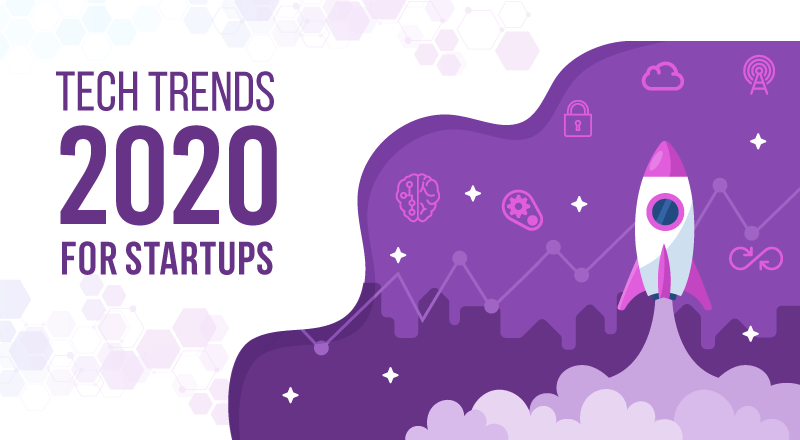 AI, Automation, and IoT Will Be Major Attractions
1. Automation To Impact All Industries
What we have dreamt for years is in reality now. Yes, automated jobs and robots replacing humans in some of the areas are showing up and it will be a major trend of 2020.
Unlike hyped-and-faded-away trends, this time, automation solutions will be more comprehensive, offering end-to-end automated processes that reduce human hours and cost.
Automation must be implemented keeping human intervention at the center to address challenges that machines can't solve alone.
2020 will be the year of the man with the machine rather man vs. machine.
It is obvious because human involvement is essential to overcome the limits and challenges of automation. Thus, the newest technology wave will create more human-touch job opportunities that can cater to the modern world needs along with intuition, empathy, and agility.
Automation and machine learning are also mentioned in Gartner's top ten strategic trends for 2020.
The worldwide market for Robotic Process Automation (RPA) services will reach $12 billion in 2023 according to Forrester.
Enterprises are adopting RPA through cognitive technologies like machine learning, natural language processing (NLP), and speech recognition to automate manual tasks. Major adopters of automation and RPA will be utilities, manufacturing, telecommunication companies, and finance organizations.
2. Business World, AI Is Taking The Forefront
Yes, AI is on its way to becoming mainstream tech like mobile.
According to Adobe's 2019 CIO Perspective Survey, nearly 80% of chief information officers at U.S. companies have plans to increase artificial intelligence (AI) and machine learning usage in the upcoming year.
Forrester predicts that 53% of global data and analytics decision-makers have implemented, are in the process of implementing, or are expanding implementation of some form of AI.
AI startups ecosystem is already soaring high with its potential to attract entrepreneurs and capitalists from all over the world. We will be observing the rise in drones, autonomous vehicles, AI assistants, AI-powered systems, AI-driven IoT systems, and so on.
AI with RPA and IoT will set a new benchmark altogether to help enterprises analyze, automate, measure, and monitor the tasks in 2020.
3. Infrastructure And Communication Will Be More Advanced Than Ever
When we consider communication technology, 5G is likely to hit the market in the next year.
The 'smart' ecosystem comprising connected devices, communication channels, and AI-driven data processing will enable the newest opportunities.
5G is entering the market, offering high-speed data transfer and information processing in real-time to make machine-to-machine communication easier like never before.
It will entirely redefine network and communication infrastructure.
Agility driven concepts like DevOps will help startups to deliver quality solutions faster, paving the way for accurate, secure, and faster software delivery.
IoT will be broadening its horizon with more smart, faultless, and AI-driven devices that will foster deep technology integration in every industry.
Now, we are moving towards more specific technology trends of 2020 for startups
Internet of Everything (IoE):
Representing a more advanced stage of IoT(Internet of Things), IoE includes people and processes as an important part of the whole system. IoE will enable hyper-connectivity and vision of connected, collaborated, and intelligent systems powered by smart devices and data-driven management.
AI-As-A-Service:
Similar to other software as a service, enterprises can leverage Artificial Intelligence without investing much money to make data-driven decisions. Major cloud providers have started offering comprehensive AI stack that can be used without deploying any cognitive computing or machine learning provisions.
DevSecOps:
Any enterprise, small or giant, can't ignore the importance of security in the upcoming days. Keeping security at the center, approaches like DevSecOps will be getting more popular as it mandates security as a shared responsibility at every level and among everyone in the team.
Information/Data Security:
Protecting digital data of users is the first thing enterprises will need to ensure. People become aware of their privacy concerns, making enterprises to take serious actions towards data security in 2020.
Microservices and Cloud:
Cloud has reshaped entire infrastructure and will continue to do so. The usage of the cloud continues to reach greater heights because of flexibility, cost-effectiveness, and scalability it does offer. 2020 will see more of microservices architecture that makes it easier to develop complex systems faster and with great efficiency.
Apart from all of the above, there are some key drivers of the startup economy that have made things easier for the entrepreneurs. It is a fact that due to cut-throat competition entrepreneurs have to go the extra mile to bring innovation in the ideas they undertake.
What Is Important For Startups In 2020?
In the past, it was quite difficult to scale up your business but in the 2020s, scalability will remain an important factor to drive growth for the startup world. With groundbreaking cloud structure and innovative software development patterns like microservice and serverless, startups can easily scale their business.
Pay-as-you-consume and hassle-free addition of resources help startups to focus on ideas rather than the management of infrastructure and resources.
You might have started with a waterfall or iterative model for software development and you can easily switch over to modern approach like agile and DevOps.
There is a number of frameworks, patterns, and tools to choose from, giving you flexibility so that you can meet your needs precisely staying in your budget deadlines.
Appeal To Global Audience
The dominance of technology is increasing in every corner of the world. We are no longer limited to serve a specific region, country or mass. Startups of 2020 have to develop solutions that appeal to a global audience having multi-channel, multi-language, and multi-domain experiences.
2020 will be a year of hyper-personalization. Voice recognition, facial recognition, AI-driven marketing, wearable devices, and AI assistants will help understand your customers better. Advanced analytics and predictive analytics in real-time enable superior customer experience and increase user engagement and brand loyalty.
According to IDC, by 2021, 15% of customer experience applications will be continuously hyper personalized by combining a variety of data and newer reinforcement learning algorithms.
Security Is Strategically Important
Data security becomes a new requirement of today's users.
The ever-increasing number of data breaches and violations got users' attention and people become more conscious about their data usage and rights.
Laws like GDPR, CCPA(California Consumer Privacy Act) and other data security regulations by various countries have mandated security a top priority while building software.
In the upcoming days, the security of data will play a major role in the success of any next-gen and also established organizations.
Startup Trends 2020: Be Ready For Agility, Accuracy, And Affordability
The year 2019 has observed massive changes in the tech industry right from fall of cryptocurrencies to the popularity of innovative concepts like microservices. Also, devops has been making headlines for the last two quarters.
Now, in 2020, to aim suitability and innovation together, startups need to focus on ideas that will create a better ecosystem, healthcare, education, and learning with the help of modern and extraordinary technologies.
Are you ready?
SPEC INDIA, as your single stop IT partner has been successfully implementing a bouquet of diverse solutions and services all over the globe, proving its mettle as an ISO 9001:2015 certified IT solutions organization. With efficient project management practices, international standards to comply, flexible engagement models and superior infrastructure, SPEC INDIA is a customer's delight. Our skilled technical resources are apt at putting thoughts in a perspective by offering value-added reads for all.