Enhance Your Supply Chain Processes With Warehouse Management System
"Supply Chain is Like Nature; it is All Around Us." – Dave Waters
'Are you in a supply chain and logistics industry zone?'
'Is the correctness of your inventory a question?'
'Do you continuously face varying supply chain needs and compliance rules?'
If yes, then you need a comprehensive warehouse management system (WMS). Being a very strong part of supply chain and logistics IT solutions, an ideal warehouse management system is competent to address these hurdles and offer a real-time warehouse infrastructure that is trustworthy and robust.
In any supply chain and logistics industry, the inventory and warehousing functionality is highly significant since it acts as a connecting link between the suppliers and the clients. More than before, warehousing now holds a higher value and hence needs to be looked at, with enhanced focus.
Most of the inventory lies at the warehouses and hence competence of the warehouses plays an important role in determining the effectiveness of the entire supply chain. Also, the warehouses are in charge to bundle, pack, a label based on client needs and thereby, satisfy most of the marketing and purchaser needs.
"Worldwide sales of warehouse automation technology (robotics, logistics, etc.) reached $1.9 billion in 2016 and are expected to reach a market value of $22.4 billion by the end of 2021." – Tractica
Warehouse Management System: An Overview
"A warehouse management system (WMS) is a software application, designed to support and optimize warehouse functionality and distribution center management. These systems facilitate management in their daily planning, organizing, staffing, directing, and controlling the utilization of available resources, to move and store materials into, within, and out of a warehouse while supporting staff in the performance of material movement and storage in and around a warehouse." – Wikipedia
A warehouse management system is the foundation stone of a supply chain and logistics industry unit. It primarily manages different aspects of storage, distribution, inventory, materials management, auditing, etc. There is too much to manage and hence there is an incessant need for a WMS to assist these organizations. Without the help of a comprehensive WMS, it is a challenge for the industrial units to achieve excellence in their business processes. They need a standardized set of customized processes to fit their business unit and gelled into a single solution – the warehouse management system.
"44% of respondents state that the Amazon effect is having a dramatic impact on their logistics, supply chain and transportation operations. To stay competitive in the shipping world, businesses must utilize shipping software which can help streamline outgoing shipments to customers." – Forbes
How Does WMS Work in a Supply Chain & Logistics Chain?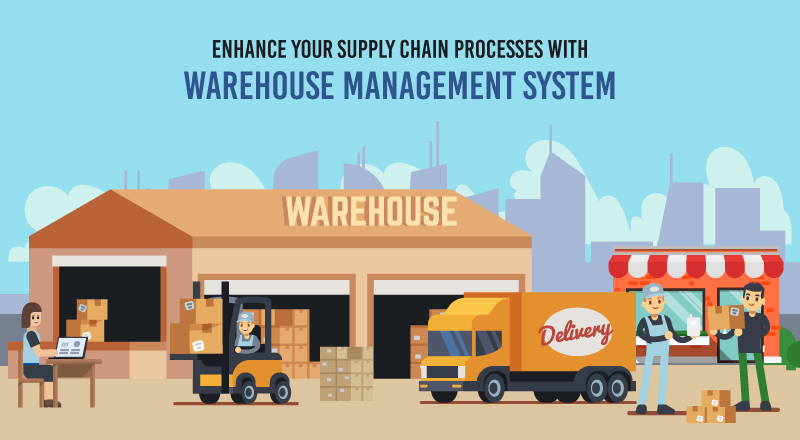 The warehouse management procedures rely upon the physical built-up of the organization and the system that manages the entire physical unit. The WMS focuses on the inventory functionalities at different levels and with different parameters like SKU, carton, pallet, etc. It also offers to adopt different mechanisms of inventory management such as first in first out, last in first out, etc.
Operationally, it also handles the different sets of processes like inventory allocation, the process of picking up products, packaging them ad then shipping them off. This assists the management in scheduling and managing all operations for a variety of groups and teams, based on work distribution and trends being followed, including resource allocation.
Here are a certain core set of functions that the WMS handles in a supply chain and logistics setup:
Functionality
Details
Stock Availability and Taking

Facilitates stakeholders to know the availability of stock and restock levels
Ascertains the minimum and maximum reorder levels
Helps maintain the stock at the right time at the right place
Prevents overstocking of goods
Saves big time on spaces and inventory

Product Placement

Helps in placing products effectively with maximum space utilization
Makes use of different criteria such as convenience, heaviness, and demand
Guarantees seamless functioning of warehouse procedures

Cycle Count

Needed to maintain the health of the inventory
WMS starts off the daily cycle count depending on user needs

Report Generation

Generates various reports based on inventory, shipments, transactions, and other parameters
Offers a huge bulk of information for future enhancements
Helps in businesses fulfilling their objectives

Following Accurate Business Rules

Important to follow business rules such as FIFO
Confirms timely order completion and delivery
The effective and fast transport system
Top Reasons Why WMS Is Vital for Supply Chain Management
Inventory Management and Maintenance
Being one of the vital components of the supply chain industry, inventory management is one important area that needs to be focused upon. A good WMS aims at augmenting the inventory management process by reducing inventory levels, enhancing order completion, and lessening order cycle time. It looks at almost all vital activities in the warehouse and helps organizations go into the deepest details of each unit for better performance and inventory correctness.
Inventory maintenance and management thus, become much swifter, efficient, and simplistic. It becomes easy for the distributors, vendors, customers, wholesalers, and all relevant stakeholders to grab the exact position of the warehouses, the stock inventory, replacement details, and its location.
Client Experience and Accurateness
After all, customer happiness is what we aim for, at the forefront. The warehouse is an integral element when it comes to ensuring customer satisfaction. From the warehouse, the client gets the orders fulfilled and the exact product that is needed. A warehouse management system helps big time, to organize, track and deliver shipments faster and better. With this, orders are sure to be precise and on time. Management and tracking of different strategies like shipment paths, task allocation, real-time tracking, and monitoring, etc. are handled in the best way possible.
Enhanced Organizational Efficiency
The warehouse functionalities and their performance have a direct impact on the productivity of the organization. Due to a competitive WMS, there is sure to be increased effectiveness, reliability, and quality control in all procedures involved. The movement of products, through the system, would be faster, efficient, and accurate. Owing to the right information at the right time, it is easy for the workers to offer a better work output.
Thanks to WMS, there are augmented sales, increased profit margins, accurate order delivery, and happier customers and business owners. This creates a direct impact on maximizing the return on investment by fastening and simplifying processes, making them more accurate.
Seamless Integration with Other Systems
Multiple systems are working together to give a proper output. A WMS is essential for covering up all warehouse-related functionalities, which are prime to this industry and further, integrate seamlessly with other involved systems.
Make the Most of Festive Times
The best part about getting seasonal business right is that the customers get what they need, at that time. And if it is known prior, it becomes easier for businesses to work accordingly. Working with a WMS will help make the most of festive times by tracking the complete production procedure and observing customer needs. Without any extra expenses, with the help of this solution, organizations can leverage their potential to garner maximum results. Profits can escalate and so can the RoI.
Certain risk factors are involved while executing any supply chain business. This solution helps in ascertaining those risk factors, well ahead of time, to mitigate them or solve them as early as possible. With the assistance of the real-time information collected, the demand and supply ratio can be worked upon.
Transparent And Accurate Working
This is a huge advantage that a warehouse management system comes with, it offers a lot of transparency and an accurate working mechanism to all stakeholders involved. Procedures involved in this industry are all open to stakeholders and hence there is real-time information available as and when needed. Even the customers can leverage the potential of data to their best.
How to Choose the Best WMS for Your Organization?
There are multiple warehouse management systems floating around. Choosing the ideal one for your organization is a tough call. Here are certain checklist options that will help you make your decision in a fast and accurate manner:
Is the proposed solution functional and simple?
Is the system flexible, adjustable, and scalable?
Are all your warehouse functionalities being met in the proposed system?
Are all dynamic functionalities being fulfilled?
Is the system offering you a return on your investment concerning customer satisfaction, product supply, warehouse management, etc.?
Is the system flexible enough to easily integrate with other systems?
Is there enough domain knowledge and technical expertise available with the service provider?
Are all cost factors properly accounted for, while calculating the budget?
Are all important warehouse processes like order management, inventory calculation, product packaging, and shipping, etc. covered properly?
Warehouse Management of the Future – A Peep into It
Warehouse management systems are in vogue today and will continue to rule the supply chain and logistics industry in the future to come. Yet, it won't remain the same. Here are certain key trending happenings that will enhance the WMS experience for all involved stakeholders:
Smarter technologies will get in. Artificial Intelligence will change the way WMS operates, bringing in different gadgets like drones, robots, etc.
Internet of Things (IoT) will garner more emphasis on the physical and digital world coming closer
Augmented reality will attempt to offer a visually appealing experience to the customer, increasing business multi-fold
Smart wearables, devices, and connected devices will increase warehouse effectiveness
The warehouse will leverage the potential of the cloud and its characteristics like its flexibility, elasticity, transparency, scalability, and manageability.
At the Bottom Line
As an integral part of the overall supply chain management solution, an effective, flexible, and feature-rich Warehouse Management Solution (WMS) gives out a comprehensive solution to all the warehouse management and control actions. It can mechanize and modernize procedures, excellently accomplish complex processes, improve productivity, and control all the happenings with superior agility.
Planned to streamline distribution management, inventory management, and all the warehouse operations right from the process of shipment receiving, inventory, to shipment unloading, a WMS is the face of the future, especially for the supply chain and logistics industry. No wonder, it forms the core part of the chunk of logistics and supply chain software solutions.
SPEC INDIA, as your single stop IT partner has been successfully implementing a bouquet of diverse solutions and services all over the globe, proving its mettle as an ISO 9001:2015 certified IT solutions organization. With efficient project management practices, international standards to comply, flexible engagement models and superior infrastructure, SPEC INDIA is a customer's delight. Our skilled technical resources are apt at putting thoughts in a perspective by offering value-added reads for all.