Top AI Trends Set To Rule 2021
"Predicting the future isn't magic, it's Artificial Intelligence" – Dave Waters
Artificial Intelligence (AI) and its bouquet of salient features have been touching upon lives of all, on a personal and professional front. AI has been instrumental in leveraging other robust technologies like Big Data, Machine Learning, Robotics, and the Internet of Things. AI clubbed with these technologies has been an indispensable ingredient in the world of technology, be it any industry, any size, and geography.
And adding fuel to the fire is the current pandemic situation. The global spread of Covid-19 has acted as a catalyst for all to embrace technological advancements, as much as they can. The use of AI and its associated wings has increased multi-fold and users are realizing the worth of the same.
Here are some AI-based statistics that prove the undisputed growth of AI in current times and the future years to come, the impact of AI on industries and businesses:
The AI industry market size is projected to be $266.92 billion by 2027 at a CAGR of 33.2%.

Source – fortunebusinessinsights.com
By 2025, 95% of all customer interactions will be powered by AI

Source –  financedigest.com
Around 72% of decision-makers believe AI will be the business advantage of the future.

Source- PwC
Before we venture into the key AI trends of 2021, let us have a quick look at what AI is.
What Is Artificial Intelligence?
Artificial intelligence (AI), is intelligence demonstrated by machines, unlike the natural intelligence displayed by humans and animals – Wikipedia
Artificial Intelligence focuses on a set of procedures, technologies, and concepts that aim at facilitating computers to think and act as humans do. It is an innovative concept that aims towards making computers smarter by performing activities barring human intervention.
AI includes a variety of working areas like mathematics, computer science, machine learning, philosophy, and linguistic capabilities. It is majorly divided into 4 areas – reactive machines, the theory of mind, limited memory, and self-awareness.
A wide array of industry segments is leveraging the potential of AI, Machine Learning, and Big data, some of which are healthcare, education, retail, transportation, manufacturing, advertising, entertainment, shipping and logistics, and more.
Key Features Of Artificial Intelligence:
Automates simple and repetitive tasks
Replicates human understanding
Futuristic and supports data ingestion
Real-world modeling
Quantum and cloud computing
Efficient statistical calculations
Top Companies Using Artificial Intelligence
Netflix
Amazon
Google
Uber
Tesla
Apple
Twitter
Facebook
Pandora
Cogito
AI has been a rewarding technology for the globe, thanks to its wonderful contribution, as follows:
AI is of great aid to the business economy, thanks to its effective blend of humans and machines. AI-driven equipment and machines like facial recognition, pattern identification, etc. are all set to lessen routine errors, boost productivity, speed, and agility.
It has been controlling and supervising various everyday tasks, supplanting humans with chatbots to offer 24 x 7 support and extend physical assistance with robots.
AI-driven smart homes are leveraging the power of AI, conserving big time on electricity, energy and guaranteeing a secure, full-proof infrastructure.
AI has aided people to capture new opportunities, create newer channels for revenue generation, improve the style and standard of living for a common man.
AI has been augmenting the procedures and functionalities engaged in a range of industry segments.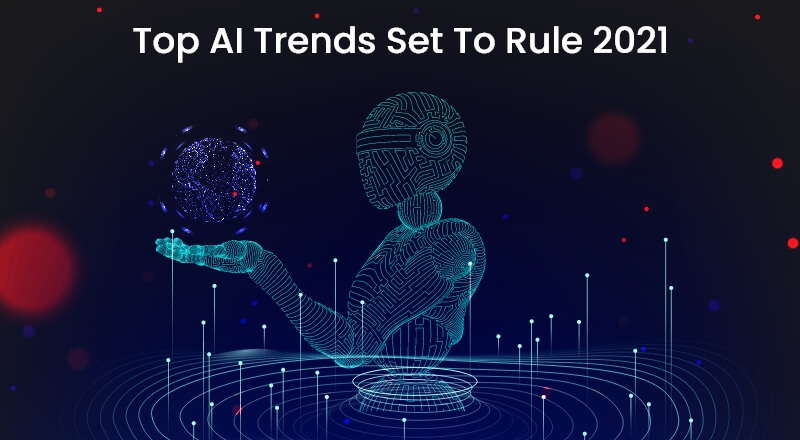 Key Artificial Intelligence (AI) Trends For 2021
AI-enabled chatbots and conversational AI take a leap forward
AI-enabled chips will be more in demand
The requirement for automation and enhancement will increase with workplace AI
Early detection and prevention activities
AI is offering Big Data Analytics a new meaning
Robotic Process Automation/Intelligent Process Automation is bound to enhance its limits
A great leap in benefits for the healthcare segment
Natural Language Processing (NLP) shall gain more significance
AI with the Internet of Things (IoT) will make great news
Quantum AI will gain more importance
Edge computing clubbed with AI will offer good results
AI-enabled Chatbots and Conversational AI Take A Leap Forward
Human-like interaction is increasing, thanks to chatbots and conversational AI picking up pace. Of course, there are drawbacks in there, but they offer a great deal of support that relieves the human race of that burden. The coming year shall see a great demand for conversational AI chatbots – chatbots that offer a great personalized experience and understand what the customer needs perfectly well, in perfect adherence with AI-based technologies.
Chatbots have already been in existence but the coming year shall now see more interaction between the bot and the client. Chatbots will be seen handling complicated tasks such as delivering emails, coordinating meetings, etc. by leveraging NLP and ML to offer an almost human-like experience.
AI-enabled Chips Will Be More In Demand
As the need for AI increases, a hardware technology to keep up with the AI functionalities is a must. AI-powered chips have been working quite strongly at offering different AI-related activities like ML, NLP, computer vision, object detection, speech, and facial recognition, etc. they are able to manage a high-end processing speed that a normal CPU cannot.
More number of organizations shall invest in AI-powered chips over the next year, for garnering increased speed and agility. These chips are great at enhancing the performance of all AI-based applications, offering detailed predictive analytics and different calculations supported by AI-based algorithms.
Requirement For automation And Enhancement Will Increase With Workplace AI
With the new normal way of working from home, the need for monitoring and managing activities from the workplace will become necessary. AI will increasingly assist organizations for various activities like AI for health tracking, client augmentation, document extraction, etc. AI will help companies to automate their needs and garner results effectively and effortlessly.
The coming time is calling for a hybrid workforce that will consist of the human workforce along with automated chatbots. AI-powered devices and chatbots will help in creating an efficient and collaborative environment for working.
Early Detection And Prevention Activities
AI has been helping organizations in detecting fraudulent activities and helping them prevent the occurrence of those. Especially in the current pandemic situation, AI has proven useful by detecting non-adherence of strict rules, monitoring the high temperature of people, monitoring social distancing through drones, and thereby, implementing preventive measures to do the needful. Even cybercrime and malicious attacks can be monitored and prevented, well ahead of time. The coming year shall see more digital data being exposed and chances of phishing attacks shall increase.
At such times, AI will help a great deal in fighting cyber threats and offer good end cybersecurity. There will be preventive measures that can be taken to avoid such cybercrimes. Deepfake, a popular AI technology, has been doing great rounds recently. It leverages the power of AI and its deep learning feature to come up with images of fake events, fake videos, and audios. It utilizes artificial neural networks and synthetic media elements to generate these fake outputs. Even facial recognition is helping the police in finding out criminals and there is better surveillance.
AI Is Offering Big Data Analytics A New Meaning
In a world surrounded by data, Big Data has a deep meaning. Collecting a variety of data and analyzing the same with modern-day methodologies is what gives a meaningful output and that is being enhanced by using AI tools and techniques. In different facets of the industry segments like healthcare, finance, entertainment, etc., we can see the implementation of AI in Big Data techniques. AI has been instrumental in leveraging technology in different areas where data plays a great role.
Robotic Process Automation/Intelligent Process Automation Is Bound to Enhance Its Limits
Robotic process automation (RPA) has been increasingly leveraging the AI tools and algorithms to perform repetitive activities with ease. It can assist organizations by doing the tasks multiple times and thereby save on time, efforts, and energy. It is more like a software robot that is used in different areas like invoice preparation, bill payments, scheduling shipments, etc.
It offers a combination of human interaction with technology to perform complicated tasks with ease. This way, resources can focus on their areas of work rather than wasting time in performing repetitive activities. Intelligent Process Automation is also being extensively used to leverage AI technology in different arenas where data is of prime importance.
A Great Leap In Benefits For The Healthcare Segment
As much as almost all industry segments are enjoying the benefits of having AI in their day-to-day functioning, one industry that will witness a great leap in benefits is the healthcare segment. Especially, during the pandemic, AI has been instrumental in helping the healthcare segment is managing and monitoring activities in a detailed, fast manner.
With the help of AI-based tools and algorithms, healthcare professionals are finding it easy to monitor a wide range of automated activities related to measures to prevent diseases, patient monitoring, administrative functions, etc. Advanced algorithms in AI have the capability to predict the future outcomes in the healthcare segment, thereby, helping stakeholders to act proactively.
Natural Language Processing (NLP) Shall Gain More Significance
NLP has been one of the prime foundation stones to exercising AI measures in organizations. With different devices like Amazon Alexa and Google Home, NLP has been encouraging the use of voice in the interaction of humans with robots, thereby making things faster and more effective.
There are many organizations who are leveraging this technology and the coming year shall see more of it – even YouTube has been using a novel speech recognition technology to understand the video captions.
AI With The Internet of Things (IoT) Will Make Great News
AI coupled with IoT has been offering exceptional real-time information by connecting AI algorithms with different interconnected devices. AI and IoT are both powerhouses of technology and can work wonders. It is still the start of this merger and the year shall see increased usage of this combination.
Smart home devices like Google's Nest will be used on a larger scale to boost effectiveness. AI applications will also help in finding out errors in IoT devices and hence there will be a delivery of accurate results.
Quantum AI Will Gain More Importance
Quantum computing is basically exploiting the incredible laws of quantum mechanics to deal with information. Quantum AI will gain more prominence in the next year as quantum computing will help in solving problems easily and offer effective solutions. Quantum AI has been an interdisciplinary arena that concentrates on developing quantum algorithms for enhancing computational activities within AI, including ML related areas.
Edge Computing Clubbed With AI Will Offer Good Results
Instead of processing data in the cloud or data centers, edge computing offers data processing at the edge, at which it had originated. Edge devices like sensors, edge routers, and others act as small data centers for the storage and communication of data. This real-time data processing clubbed with AI has been much effective and its implementation has been increasing over time. Edge computing has been helping in saving time and offering a quick service to clients.
The Future Of Artificial Intelligence Is Bright In 2021
AI clubbed with ML, IoT, cloud computing and other technologies feel like magic. It is tough to comprehend how far can the benefits of AI go and what is in store for the future. AI has been supporting the 'new normal' that we all are leading, and it will be interesting and advantageous to see how well it will enrich its utilization.
You will have to see it, experience it to believe it! The new year is sure to offer a bright futuristic vision for Artificial Intelligence development and the whole globe shall benefit from this
SPEC INDIA, as your single stop IT partner has been successfully implementing a bouquet of diverse solutions and services all over the globe, proving its mettle as an ISO 9001:2015 certified IT solutions organization. With efficient project management practices, international standards to comply, flexible engagement models and superior infrastructure, SPEC INDIA is a customer's delight. Our skilled technical resources are apt at putting thoughts in a perspective by offering value-added reads for all.