Top 13 Simple And Innovative On Demand Mobile App Ideas
Updated
September 4th, 2023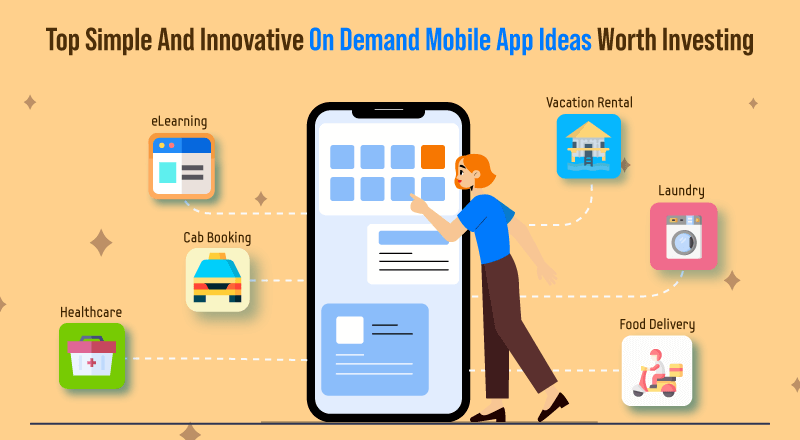 Have you ever thought of becoming an entrepreneur, but were confused with what goods, products or services to offer to people across the globe?
If yes, then this article will help you with ample business ideas that you can ponder upon, and choose one for your targeted audience.
You must have heard a famous saying –
"Necessity is the mother of Invention."
Well, this proverb perfectly fits with the article "On-Demand Applications Ideas." Mobile smartphones and apps have become an integral part of our life. And with the Uber for X model, the demand for mobile apps mounts up.
Below is a graphical representation of how much consumers are spending on mobile applications.
Now that you know there is a huge demand for mobile applications, it is obvious that building mobile apps would be a worthy investment.
And considering real-time app penetration the ideal question would be-
Why is On Demand App Development In Vogue?
On-demand apps offer agile services with just a few clicks. It has a wide range of verticals that caters to different requirements for different persons. For instance, Airbnb as an accommodation app for travelers, Uber as a cab rental app for riders, Walmart grocery as a grocery delivery app for housewives, and many more.
Affordability, customizability, and contact-less delivery of goods & products are some of the potential benefits that an app owner can offer to its users. Now there comes a question who are the users of on-demand mobile apps – the present generation, i.e., millennials are the largest consumer of on-demand mobile service apps.
And this assures the bright and nascent future of Uber for X models.
Let's understand What is on-demand mobile service app's market share and future?
Good Read: Understanding On-Demand Apps – The Next Generation Technology
Market Analysis For On Demand Services Ideas For Business
M-commerce is potential in accelerating on-demand applications. With its quick and effective service, it has gained a lot of attention. Also, push notifications, location tracking and flexibility are a cherry on the cake.
As per market research, the on-demand app market is predicted to grow by $1574 Bn during the coming 5-year term, i.e., 2020-2024.
Mobile app user retention ratio & busy lifestyle is also one of the major reasons for sprouting up the demand for it.
53% CAGR will be the reason for accelerating the market growth of on-demand apps.
However, it is also said that the top contenders of this economy hold the majority of the share base. So, if you are convinced and would want to build one-such on-demand applications, then here is the list. It includes all the potential on-demand services that surely have a bright future.
13 Potent On-Demand Ideas Worth Investing
On Demand Grocery Delivery App
On Demand Cab Booking Apps
On Demand Food Delivery Apps
On Demand Alcohol Delivery App
On Demand Laundry App
On Demand Video Streaming App
On Demand Vacation Rental App
On Demand e-learning Apps
On Demand Healthcare App
On Demand Home Services App
On Demand Surprise A Friend App
On Demand Pet Care App
On Demand Talent Hiring
On Demand Grocery Delivery App:
Grocery is a giant vertical that has stepped into the on-demand service industry. It is an industry with a horde of users. Amid the outbreak and nationwide lockdown, the grocery was the first essential that everybody looked for. And this has increased the demand for grocery apps as well.
This gives a ray of hope that there might be disruptions into other spheres or verticals, but demand for groceries will never be eradicated.
If you are planning to build a grocery application, then you must go through a comprehensive guide for on-demand grocery app development that contains detailed analysis and statistics. This will help you understand the importance and nitty-gritty of it.
How Does It Work?
As a startup or entrepreneur, you can build an on-demand grocery app and allow the grocery vendors to connect to your app. In this way, you will have a vendor base and then when someone wants to purchase groceries, they can place an order through the app.
Your executives will pick up the order from the grocery store and deliver it to your user. In this way, you can earn a commission.
And if you're a grocery storekeeper and want to leverage digital transformation, then you can build an app for your customer base.
Quick delivery, quality groceries, affordable pricing, contact-less delivery are the values that make the vertical stand out differently.
Wallmart Grocery App, Grofers, BigBasket, Beelivery, Instacart are popular On-demand Grocery Apps.
On-Demand Cab Booking Apps:
Do you remember when did you last went out to hire a cab or taxi? No, right? Well, the on-demand vertical has transformed our lives and made it so simpler that we are empowered to do a lot of things with just our handy devices.
It is worth mentioning Uber, whenever there is a discussion on on-demand services. Uber has played a pivotal role in the success of on-demand applications. You can simply book a cab from your app by selecting a number of passengers and destinations. The rest is assured by the cab booking application.
Also, you can integrate payment gateway so that a user can easily make payment through their Wallet, Debit/Credit card, Paypal, or Amazon Pay.
How Does It Work?
Build an on-demand cab booking app with customer, driver, and admin panel. Here, the cab owner or aggregators will register themselves by updating their personal details, car details, etc. It ensures safety for the passengers.
Also, you can integrate features like sharing, budget, or premium with different car types. Users can book rides based on their preferences and avail the services.
Uber, Lyft, Ola, Gett are popular On-demand Car Sharing Apps.
On Demand Food Delivery Apps:
Online food delivery is another vertical that has witnessed tremendous growth. It has overpowered on-demand services with its effective and enticing features. People feel relaxed with food delivery apps as they don't have to wait at the takeaway counter.
Different food delivery marketplaces have stepped into the industry and have gained a massive number of users in a very short time. It has not only benefited the foodies but also has attracted small food startups, hotels, restaurants, and cafes.
In the recent survey, there comes a report on restaurants mounting up the revenue with the increase in online food delivery.
60% of restaurant operators have seen a massive increase in profit and online food orders.
Smartphone and app orders will reach to $38 Bn industry by the end of the year.
Also, it is expected that online food ordering will see a huge growth of around $365Bn by 2030. Undoubtedly, this industry is worth pondering upon to invest and build on-demand food delivery apps.
An Interesting Case Study: Feature-Rich And Customisable Food Delivery App
How Does It Work?
The food ordering application will have a restaurant panel wherein different restaurants can register themselves and pay a part of the commission to the app owner on every order.
Marketplaces like Zomato and Swiggy are perfect examples of it. Quick & quality delivery of food at your doorstep is the key USP of the online food ordering apps. Here, you will act as an admin accepting and passing orders to restaurants.
After preparing, your executives will pick up and deliver the order to the users who placed it. For payment, you can integrate different gateways such as Debit/Credit card, Wallet, etc.
List of restaurants to select from, thousands of dishes to choose and free access to the ambiance of different cafes or food places are some of the outstanding features of on-demand food ordering apps.
You can build your food ordering app and start serving delicious dishes to the foodies out there.
Zomato, Postmates, Ubereats, Swiggy are well known On-demand Food Ordering Apps
On-Demand Alcohol Delivery App:
Alcohol is something that a majority part of the world requires. An application that delivers alcohol to their doorstep could become the first choice for many of people globally. It is totally worth it to invest in building alcohol delivery applications.
Demand is rapidly increasing and that becomes an opportunity to expand the vertical. It is the most popular on-demand service in the US. Be it a house party, event, or function, you can order alcohol through an app with just a few taps.
There are many existing real-time alcohol delivery applications that have a large number of users using it. It is convenient, quick, and an out-of-the-box idea.
How Does It Work?
If you are running an alcohol shop, then you can build an app for yourself. Here, you will be the seller and buyers will place an order and you have to deliver them.
Another way around is if you plan to build an app for alcohol delivery, then you can collaborate with the like-minded who are already running the business.
Get their brands on your platform, employ a few delivery guys, and start earning. You can integrate a payment gateway in the app through which a user would be able to pay via Debit/credit card, Paypal, Amazon Pay, Wallet, etc.
Drizly, Instacart, Buttery, Klink are some of the popular On-demand Alcohol Delivery Apps.
On Demand Laundry App:
In the era of mobile apps, laundry application is not a new magical word or innovation. But yes, it is vertical and has huge demand with millions of users across the globe. This is a daily routine task that gets ignored because of a busy schedule.
As an entrepreneur, you can build laundry apps and relieve people from the stress of washing clothes amid other important tasks.
How Does It Work?
You have to build an application through which a user would register himself/herself. As and when they want to avail of the service, they will request it. Your laundry executives will pick up clothes from the doorstep and deliver it once it gets washed.
Also, you can integrate add-on features like ironing and other customizing options. In addition, notify users with offers, discounts, and help them with scheduling pick-up and delivery time for the clothes.
Assure your users with neat & tidy clothes, and high-quality washing and grow your business gradually.
Cleanly, Rinse, Flycleaners, Tide Spin are popular On-demand Laundry Apps
On Demand Video Streaming App:
Whenever we talk about Video streaming apps, the first thing that comes to mind; Netflix & Amazon Prime. Undoubtedly, these applications have entirely changed the way of watching either movies, series, concerts or Live shows from anywhere and at any time using the Internet.
Televisions are replaced with videos streaming apps and that reminds me of Mark Zuckerberg stating
"Zuckerberg identified augmented-reality glasses or contact lenses as the logical end goal for this AR technology. Once realized, he said, such gadgets would render televisions, smartphones and other current hardware useless."
Well, we don't know what time it takes to completely replace the televisions but yes people are slowly & gradually preferring video streaming apps.
Device flexibility, convenience, downloading, and marking favorites are a few of the benefits that add value and worth a time and cost investment. Therefore, it is advisable to ponder upon building video streaming apps and allow users or community to spend their leisure time.
How Does It Work?
There are APIs for video links that need to be integrated into the on-demand video streaming apps. This will allow the user, who has registered to the app to play the video or download it using the internet.
It is simple and convenient in this busy scheduled life. Users can binge-watching their favorite movies, series, or concerts on their week offs. Also, it has an option to download the shows.
Netflix, Hulu, Amazon Prime are popular examples.
On-Demand Vacation Rental App:
Who doesn't love spending leisure time with their near and dear ones? And that too far from the home country would be exciting and thrilling. In this scenario, travelers would be seeking accommodation for stay.
Here, vacation rental apps play a significant role in guiding and booking the best place in an unknown city or country. There is a lot of hype of vacation rental apps as they afford stays and homely feeling.
To evident the worth of vacation rental, below is the graph showing an increasing number of users across the globe.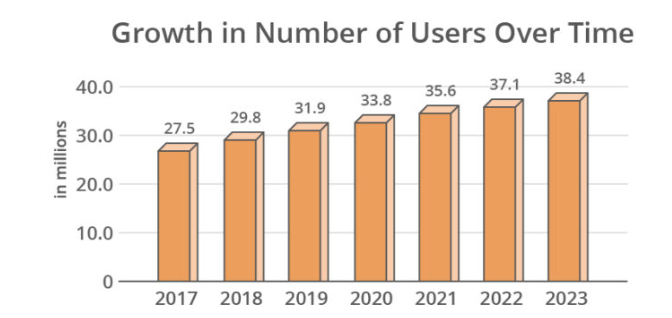 How Does It Work?
Build a vacation rental app where hosts and guests both need to sign up. The host will list his/her space by stating amenities and fixing per night price. Also, they can mention the additional facilities, which they will provide to the guests.
On the other hand, guests will book a place using the platform paying it upfront. After a successful payment, both the parties can chat with each other through the app. The application consists of a chatting option.
Moreover, you can integrate the rating system for both parties. And verify the users for security purposes as this involves property renting. It will create loyalty & safety towards the brand.
Airbnb, Booking.com, VRBO, HomeAway are popular On-demand Vacation Rental Apps
On-Demand e-learning Apps:
COVID-19 has locked everyone inside the doors. And it has become mandatory to maintain social distancing. Now the question arises, will it impact the economy and different sectors of it?
Well, there is nothing that can stop progress. Amid all the crisis like a pandemic, lay-offs, and increase in deceased numbers, there lies an opportunity, i.e., Digital transformation.
Adapting digitalization could be an opportunity created in crisis and the same thing has happened in the education sector. It has not only transformed the way of delivering education but has also innovated a demand for it.
E-learning has been massively promoted and has gained a lot of attention. It has not only helped during the pandemic but is also a boon for the family where the parents are working. In their busy schedule, the parent would definitely leverage e-learning apps for their children.
It has witnessed potential growth and the below image shows the prediction of 1.75x times market share of the e-learning sector.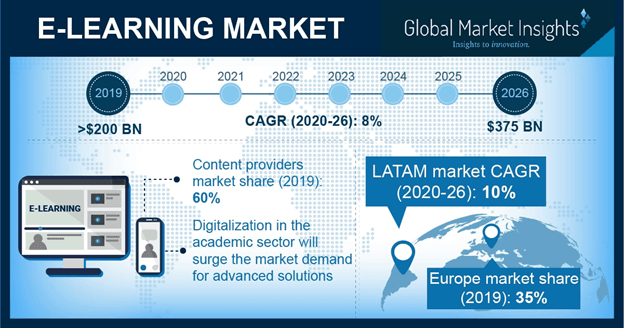 Now that you know it is worth investing in building an e-learning portal, you should know what different services you can offer to your users.
Hire Tutors:
Hire tutors could be either a separate feature in your e-learning app wherein parents can hire personal tutors for their child or children. Tutors have to update their profile, add expertise and charges. In this way, parents can connect with the tutors and understand how they can shape the future.
Upload Tutorial Videos:
Another way of earning money is by adding tutorial videos to your e-learning platform for different subjects. Here, there will be a recorded video on a particular topic that can help students watch and learn the subject.
How Does It Work?
Build an e-learning app with features like mentioned above and collaborate with tutors. As a tutor, if you are planning to build, then you can add features like mentioned above, and also have an online discussion or doubt solving session.
And as an entrepreneur, if you are planning to build then you can allow the tutors to register themselves on the app and update their profile with expertise. Here, you can act as a mediator between parents and tutors, and earn a commission for offering online service or platform from both the parties.
Udemy, Unacademy, Byju's are well known On-demand E-learning Apps
Good Read: School eLearning Guide: Benefits, Best Practices, Limitations, And Covid-19 Effect
On Demand Healthcare App:
What if I tell you that an on-demand Healthcare Facility would be witnessing exponential growth in the coming future? Well, it might find you lame but the research evidence it to be the next worth investment vertical.
Here are the 5 major losses that the healthcare industry has suffered by not adopting On-demand Healthcare Facility:
This shows how important it is to transform the Healthcare Facility digitally. Also, the outbreak of the pandemic has made it an emergent and dire need for facilities to avail through mobile apps.
If you are seeking an idea, then this is the best time to turn the crisis into opportunity. Undoubtedly, there are numerous health care apps in the market but what makes your app stand out from others depends entirely on which services you choose to feature.
Some core services that you can either integrate or build a separate application:
Nursing App:
Nursing apps are one of the on-demand healthcare facility applications that offer nurses on a real-time basis. If there is a senior citizen at home and suffering from medical conditions, then there is a requirement for someone to look after and take proper care. In this scenario, nursing apps could turn out to be an effective on-demand application.
Doctor on-demand:
Gone are those days when you have to wait in queue for appointments, examine yourselves and wait for the treatment. Doctors on-demand is another effective feature of the on-demand healthcare vertical that allows you to book an appointment over the app. Consult the doctor and discuss the problem over an app either through video calling or chat options.
Pharmacy Delivery:
Prescriptions written by doctors are not easily understood unless you have a professional degree. And purchasing medicines from brick and mortar requires you to spend a lot of time, which is again an arduous task.
Pharmacy delivery applications quickly deliver medicines and medical equipment at your doorstep with just a few taps. You need to upload the prescription and select the nearby registered pharmacy and their executives will deliver the order.
Time-saving, flexibility, pocket-friendly, and convenience are the strong pillars of Pharmacy delivery apps
Lab Testing App:
Lab testing application is another wonder in the field of healthcare. It gives relief to the patients as they don't need to visit the laboratory amidst suffering from illness. With the use of applications, they can schedule their lab testing and book an appointment. The lab technician will reach the patient's place and get the samples from the patient.
Well, there are many other apps as well like TeleHealth & Telemedicine, Remote Monitoring, etc. It entirely depends on your research and how broad you want to build your applications.
How Does It Work?
Again like any other on-demand apps, healthcare facility also requires registration from a hospital domain, i.e., doctors, laboratories, nurses, etc. Your planning to build an app will require different sets of functionalities to offer services to patients.
You can get in touch with the Trusted Mobile App Development Company and share your ideas. Our industry experts will understand your idea provide you the prototype and will also explain you the insights.
HealthTap, Doctor on Demand, Zoc Doc, Cerner are some examples of On-demand Healthcare Facility Apps
On Demand Home Services App:
Home services is a ubiquitous vertical. It has numerous services that include Plumbing, Carpentry, Maid, AC servicing, Two and four-wheeler servicing, Electrician, Gardening, Salon, Beauty parlor, Babysitting, and the list goes on.
Building an on-demand app that offers a wide range of services under a single roof would be highly astonishing as it eases the task of seeking professionals for different household activities. You might don't know but marketplaces like Urban Company, Zimberr have acquired huge funding in their series of funding rounds.
Stakes of different companies into the vertical shows the potential of the on-demand house service. This strongly predicts a bright future of the vertical.
How Does It Work?
The professionals need to register themselves with their charges and expertise on the app's professional panel. Just like every other on-demand app, you will be accepting the professional service requests and allotting it to the expert.
Users can avail of the service as and when required by paying through applications. As an app owner, you need to verify the professionals so that it can create loyalty and trust towards the brand.
Multiple & economical services, professional experts, quick problem resolving experience are a few parameters that shape the online home services applications.
Urban Company, Zimberr, HouseJoy, Helpr are some examples of On-demand Home Service Apps
On-Demand Surprise A Friend App:
In the busy and hectic schedule, we might forget our near and dear one's birthdays or anniversaries. For those people, on-demand surprise a mate app would be highly preferable. Users just need to select the gift, customize it, select a gift wrapper, and add a message with the delivery address
How Does It Work?
Build an app displaying various things that can be gifted on different occasions to the user. Add customization options so that users can do it on their way and allow them to enter the address of delivery.
On the other hand, you could allow the gift shop owners to register and be a member of the app. As and when the order comes, you can delegate an executive to pick up gifts from the specific shop and deliver it to the address mentioned by the user.
Winnie OyeGifts are its examples.
On Demand Pet Care App:
Pet care is something for which every pet owner is extra cautious. They rely only on experts who know how to train, treat, and discover them. Pets are lovely and need proper attention and care.
It is advisable that pet parents should only take care of their pets but in some of the other circumstances, you can hire professional pet caretakers who can excellently train your pet.
Also, vet doctors are high in demand. Anything that happens to pets would require vet expert advice. For this, you can also build vet expert apps that treat your pet in case of illness or emergency at the doorstep.
How Does It Work?
You have two options: either you build a pet care app and integrate vet expert features into it or build separate applications.
For the Petcare app, you need to allow pet caretakers to signup on the app and register themselves with their expertise in training pets. Also, the charges and number of hours they will spend with your pets.
For Vet experts Apps, you can build an app wherein vet professionals can register and offer medical services to the pet for whom pet parents are seeking.
Moreover, you can add features in-app related to pet products delivery that can save the time of pet parents in shopping products related to their pets.
Wag, Rover are examples of it.
On-Demand Talent Hiring:
You might have witnessed unemployment news every now and then during the pandemic. Many big sharks have laid off their employees due to cost-cutting and that has broken all the records of the unemployment crisis.
But as said "Nothing lasts forever" – this time shall pass soon and everything will be back to normal. But the demand for professionals is never going to end.
Businesses, Industries, and entrepreneurs would be requiring the professionals once they resume the operations and that is the time when they would be opting for the on-demand talent-hiring apps.
Building an app with a one-stop solution by bringing all the professionals under one roof would be an excellent piece of work, you could accomplish with the inclusion of manpower and technology.
How Does It Work?
You have to build an app with a separate interface for professionals where they can sign up, create their profile, list down the expertise and availability (Full-time, part-time or hourly basis).
A different interface for Employer, Company, or Organization who can view profiles, shortlist, contact professionals and schedule the meeting.
Everything should be done through your applications and once finalized can start their tenure. In this situation, both employers and professionals have to pay to create a profile on the platform. For eliminating the chances of frauds, you can verify both the parties with mandatory documents.
Fiverr, Upwork are popular On-demand Talent Hiring Apps
On Demand Apps: The Wrap-Up
Undoubtedly, on-demand apps are avengers of today's technological world. Numerous on-demand apps serve specific verticals, and that brings a new and distinguished wave of the totally independent economy.
Based on market review, analysis, and the future of on-demand applications, it is highly suggestible to build on-demand service applications. These top 13 on-demand apps have dug a strong pillar in the app development industry.
Still, confused? Don't worry, we at SPEC INDIA have a horde of tech ninjas who can turn your ideas into a virtual platform. Connect with us and witness your idea shaping up to deliver an amazing experience to a large group of users.
SPEC INDIA, as your single stop IT partner has been successfully implementing a bouquet of diverse solutions and services all over the globe, proving its mettle as an ISO 9001:2015 certified IT solutions organization. With efficient project management practices, international standards to comply, flexible engagement models and superior infrastructure, SPEC INDIA is a customer's delight. Our skilled technical resources are apt at putting thoughts in a perspective by offering value-added reads for all.