Top 12 WMS Benefits That Prove Its Worth And Popularity
A quick survey:
Are you facing trouble in communication between the warehouse and customer service?
Are you having difficulty finding out where the goods for delivery are?
Are there ineffective processes around your warehouse?
Is your customer unhappy with delays and errors?
Is there no visibility into warehouse operations productivity and efficacy?
If most of them are a 'yes', you really need a Warehouse Management System! Today's modern organizations must redesign their working methodologies to embed effective software solutions to have smooth and beneficial operations.
Warehouse management is an integral part of the successful execution of businesses like eCommerce, retail and FMCG, manufacturing, and more. It includes integrating warehouse functionalities with the working task force, along with all major processes like sales, IT, and engineering.
And this can be achieved best with a Warehouse Management System (WMS). It is interesting to observe the amount of WMS benefits that an organization can enjoy. It is wise to invest in a good WMS and keep monitoring work at any time at all different levels and get the finest productivity.
Through this write-up, we tend to go into details of a WMS and explore the Warehouse Management System benefits.
What Is Warehouse Management System?
Gartner defines a warehouse management system (WMS) as "a software application that helps manage the operations of a warehouse or distribution center (DC)." WMS is ideal for managing and monitoring warehouse operations and getting in enhanced visibility to all operations. It takes care of operations like inventory management, product, and stock refill, in and out stock status, picking, packing, shipping, etc.
As an ideal software, that facilitates effective operations and centralized management in the supply chain and inventory, there are many benefits of WMS. A WMS could be a standalone software or an integral part of an ERP system working well with other modules. It also tracks the exact location of all units all the while, starting from the loading of the product to its shipment to the actual destination.
What is Warehouse Management System aimed for?
A WMS aims to simplify the complications of warehouse management by embedding all major processes in the system, to smoothly execute all daily operations of a warehouse. It also integrates all associated processes bringing more strength and robustness to the entire warehouse functionality spectrum. The goal of WMS is to offer better inventory and shipment precision, reduce costs, increase efficiency, and better product and material management.
Warehouse Management System Features:
Effective warehouse design for optimized inventory distribution
Tracking and monitoring of inventory through barcode readers and RFID tags
Picking and packing of products
Receiving and put-away of inventory
Shipping and labor management
Yard and dock management
Worker performance
What Does a WMS Do?
The major job of a WMS is to assist businesses in automating, maintaining, and monitoring their warehouses with thorough storage and workflow mechanisms. No wonder, the world witnesses a lot of Warehouse Management System benefits and enjoys the same.
It helps in tracking all items in inventory, managing the supply chain, and generating a variety of reports with the help of modernized technologies like RFID tags, serial numbers, barcoding, etc.
It communicates effectively with all involved departments in real-time, to keep the entire workflow at an informed level, offering customers great service. It helps in lessening costs, increasing productivity, offering the latest information, and garnering service.
It communicates effectively with all involved departments in real-time, to keep the entire workflow at an informed level, offering customers great service. It helps in lessening costs, increasing productivity, offering the latest information, and garnering service.
Who Needs a WMS?
We often wonder looking at the benefits of a Warehouse Management System that who would be the target audience for such a software solution. The users of a WMS could be a warehouse or a distribution center task force. Usually, all those businesses that keep a warehouse for stocking and distributing products need a WMS.
But industry segments like manufacturing, retail, FMCG, Food and Beverages, and Healthcare are more inclined towards implementing WMS, for better monitoring of their warehouse activities. Each segment has its own benefits encountered from WMS, but now, with the modernized operations, it is a must.
How Does Warehouse Management System Software Work?
The entire process of managing processes includes the following processes:
Receiving, checking, and logging in all products verifying the apt quality and quantity
Associate proper RFID tags and barcodes to items
Shift products from the current area to the accurate storage location
Arrange inventory for faster pickup through easily accessible locations
Get the products as per the sales order
Pack and ready the product for shipment with a precise packing slip
Prepare final sales order, ensure delivery with the apt vehicle and ideal time
Monitor, manage and maintain the yards and warehouses based on standard norms
Types of Warehouse Management Systems
There are many Warehouse Management System benefits that attract businesses to implement it based on their needs. But each organization has its own peculiarities. Based on the deployment mechanism, implementation style, and other parameters, WMS can be categorized into different types, as below:
An independent WMS that is enriched with features that are tailored to suit client requirements and reporting needs
Integrated/ERP Module WMS:
An add-on software component from your current ERP system that will seamlessly integrate all software components
The organization is responsible for maintaining all the hardware and software components and hence has total control over things
Applications are hosted on a remote server, and it is fast to implement, easy to upgrade and simple to use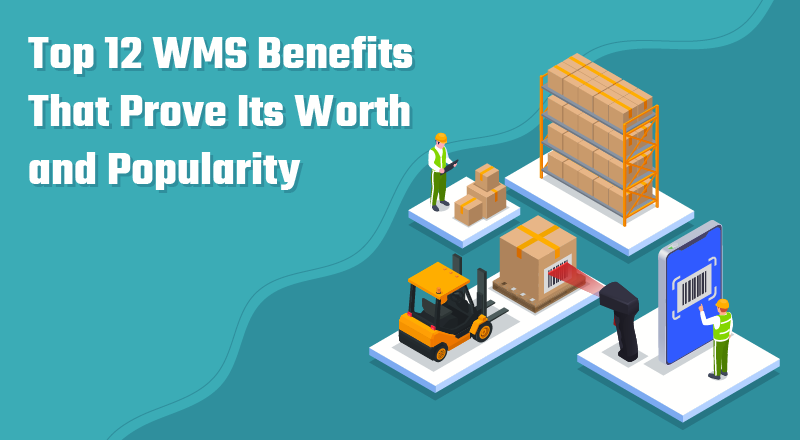 12 Vital WMS Benefits To Consider
Real-time Management, Replenishing, and Optimization of Inventory
Enhancing Efficacy Levels of Employees
A decline in Waste Items
Savings on Time and Money in Processing and Delivery
Effective Communication Between Warehouse Staff and Clients
Better Safety and Security of Items
Business Growth with Scalable WMS
Speedier Order Delivery and Execution
Fewer Emergency Conditions Leading to Stability
Insightful Demand Forecasts and Analysis of Futuristic Trends
Easy and Timely Traceability
Data-Driven Analytics and Decision Making
Let's have an overview of the Warehouse Management System benefits mentioned above.
Real-time Management, Replenishing, and Optimization of Inventory:
Warehouses need to keep a real-time stock of all inventory items so that whenever an item is unavailable, there is no problem with orders, and it can be restocked. One of the major advantages of the warehouse management system is that it manages and monitors inventory in real-time.
WMS has an inbuilt competence to track inventory and assist employees in taking stock of items. They can view details regarding upcoming orders and keep replenishing inventory accordingly. Even problems like overstocking can be avoided and upcoming orders for the overstocked items can be revised accordingly.
Enhancing Efficacy Levels of Employees:
With the implementation of software solutions, employees are sure to enjoy the benefits of a Warehouse Management System. They can perform their activities with ease and efficacy. Owing to automated solutions, employees can have a transparent idea about the stock and inventory levels.
There is clear detail about all processes with reports that can help take important decisions at all levels. Employees are bound to be more productive and enjoy working with the help of WMS. Right from the workers to the top management, there is synchronization and collaboration between teams.
A Decline in Waste Items:
A WMS can monitor, stock, and manage inventory effectively and hence there will be lesser occurrences of products going to waste or spoilt. Proper inventory management can help in a smooth flow of items out of the warehouse, in a timely manner. Even over-ordering can be avoided by checking the inventory.
Logistics can be better tracked and monitored with the implementation of WMS. This leads to optimal usage of products and hence less wastage of items. Employees at the warehouse will have a complete idea of what is lying in the inventory and in what order. They can track the inventory status.
Savings on Time and Money in Processing and Delivery:
Just like other software solutions, WMS also plays a big role in helping users save time and money. All the benefits that WMS gets along, directly impact the budgeted cost and the project deadlines involved. Errors that can be avoided or minimized directly impact the amount of money and time involved in it. There is a reduction in the total production and processing costs.
WMS offers a great deal of support to employees in the arenas of shipping and stocking. Users can now save themselves from understaffing or overstaffing. This affects the turnover of employees and revenue directly. Of course, detailed training is a must for all employees and if done thoroughly, there is no looking back.
Effective Communication Between Warehouse Staff and Clients:
Having safe and effective communication between warehouse users and the customer staff is a must. Without it, there could be a lot of hassle and confusion. Instead, having a WMS could lead to complete transparency between the warehouse and the client side. Both can easily perform their actions in real time and leverage the data for further actions.
Tracking orders, fulfilling them, getting feedback, and abiding by shipping procedures is a part and parcel of WMS and will surely benefit the rapport between the clients and the solution provider.
Better Safety and Security of Items:
An effective WMS produces reports at regular intervals that speak of the irregularities in the system. This makes it easy for management to keep a track of the security aspect of products. Any and every upheaval is treated timely as per requirement and hence the safety of the warehouse and its components is taken care of, regularly.
Especially in high-risk categories like edible items, pharmaceuticals, and high-value items like jewelry, having a stringent security regime is a must. And that can be implemented easily with a warehouse management system.
Business Growth with Scalable WMS:
As your business expands, warehouse management is sure to become more complex and demanding. Implementation of a warehouse software solution is the right choice to automate all involved processes and streamline them, for the finest results. One of the major benefits of a Warehouse Management System is scalability.
Organizations that are sure of growing far and wide must take up WMS with all features, whether they are being used currently or not. Soon, once the business expands, those features can be of help and will be smooth to implement.
Speedier Order Delivery and Execution:
Customers are always looking for faster delivery of products, be it a small non-significant item or an important one. To have a quick delivery schedule, WMS is the right choice. The modernized tools and technologies that are a part of WMS can be of great help in speeding up order execution.
The barcode scanners, item tags, barcode printing, labels, etc. used in the WMS are of great help in fastening the entire process of order delivery. Teams can pick up products and deliver them to the customer in the stipulated time, with ease and accuracy. WMS can ensure the least latency time.
Fewer Emergency Conditions Leading to Stability:
With automated warehousing processes, transparent figures and reports being circulated regularly, real-time availability of stock of data, effective ordering mechanism, and efficient taskforce to manage and monitor the warehouse, there are least chances of any emergency conditions in the warehouse.
In warehouses where there is a fast movement of goods, customer service is crucial, and a WMS can be beneficial in ensuring that the workflow does not get disturbed in its processing and completion. Even unexpected demands in inventory can be managed with ease since all the information is lying at the tip of the finger, through the application.
Insightful Demand Forecasts and Analysis of Futuristic Trends:
Owing to the variety of reports generated by WMS and the real-time information that it collates; it can offer intuitive forecasting about the demand patterns that can help in taking futuristic decisions. Business owners find it easy and effective to study the data in reports and extract important trends and patterns out of it.
Warehouse owners can study the inflow and outflow of inventory and manage the demand-supply ratio with ease. If there is an extra demand for products, they can be ordered well in time to avoid delay. If some of the items are being underused, ordering of those can be stopped timely, to avoid oversupply.
Easy and Timely Traceability:
Traceability is very vital for warehouses where products are scattered across locations and there could be times when an urgent need for finding some products may arise. At such times, WMS can help big time by helping trace the product through the solution. Be it barcode scanning or RFID tags, it is fast to find the product through its lot numbers and serial numbers.
Even the reports that are generated from the WMS can assist in ensuring the traceability of products, anytime, anywhere. A warehouse can be easily managed and maintained through the warehouse software's traceability feature.
Data-Driven Analytics and Decision-Making:
A modern-day WMS offers in-depth data analytics that can be of great assistance to businesses in analyzing their performance in product delivery and how efficient they are in their work. WMS comes up with core metrics that offer a transparent and detailed view of the business.
There could be different types of metrics like inventory status, sales table, revenue figures, comparison between last year and this year, reorder level, stock status, supply chain and logistics details, inventory budget, and many more. These metrics can help analyze data lying at different levels – wholesalers, retailers, customers, etc.
As We Wrap Up: Selecting the Ideal WMS Is Crucial
When businesses need to choose the ideal Warehouse Management System software, there are certain parameters that must be taken care of much in advance, here are they:
Hardware, software, infrastructure, and implementation costs
Licensing fees
Maintenance and IT labor
There are multiple WMS that are popular around the globe. Here is what you must consider while choosing the best of them, for your organization:
Identification of a list of functionalities and WMS requirements that can enhance productivity, manage inventory, and enhance customer satisfaction
List down the WMS benefits that the top management would want to achieve
Create a formal procedure by jotting down user needs, visiting client sites for formalizing the basic requirements of the system
Have a proper process organization before implementing the Warehouse Management System software
Offer detailed training and documentation to the user team working on the WMS
Strategize the maintenance phase with experienced resources post implementation
Detailed Vendor evaluation based on experience, expertise, and skills of the software vendor
Good Read: ERP vs WMS: Comparing Two Popular Business Solutions
SPEC INDIA's Warehouse Management System Software is constructed with the objective to streamline distribution management, inventory management, and all the warehouse functions right from the process of shipment receiving, and inventory, to shipment unloading.
The Warehouse Management System benefits facilitate the real-time exchange of data, comprehensive reporting, and whole administration that eventually helps companies to develop performance and security around all the channels.
SPEC INDIA, as your single stop IT partner has been successfully implementing a bouquet of diverse solutions and services all over the globe, proving its mettle as an ISO 9001:2015 certified IT solutions organization. With efficient project management practices, international standards to comply, flexible engagement models and superior infrastructure, SPEC INDIA is a customer's delight. Our skilled technical resources are apt at putting thoughts in a perspective by offering value-added reads for all.