CSR With Pinch Of Health – SPEC INDIA @ Motif TTEC Charity Walk 2020
Updated
September 30th, 2022
As a leading global BPO / KPO service provider with over 50,000+ employees, Motif, now called TTEC, has been organizing a variety of humanitarian activities to encourage the spirit of social awareness, good health, charity, and togetherness.
For the 18th year consecutively, the Annual Motif TTEC Charity Walk has been attaining its objective of creating health consciousness and obtaining funds through public involvement. This charity walk has been a particularly awaited annual event on the city's social agenda. Every year, new trusts / NGOs are identified to be benefited from the charity amount.
Motif TTEC Charity Walk – The Journey So Far:
73,000 Walkers, 257 Sponsors, Raised Rs. 7.33 Crores, 55 NGOs benefited
SPEC INDIA has always given prime importance to its corporate social responsibilities and with a firm conviction of 'giving back to society', we @ SPEC INDIA have been the principal sponsors of this event for over 12 years.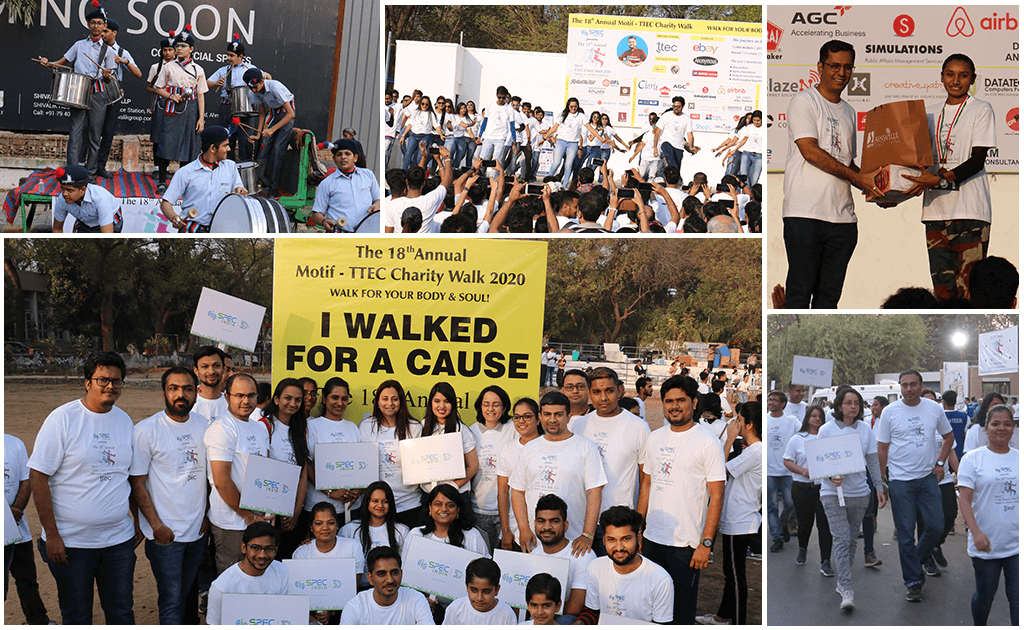 This year, the charity walk was organized on the 23rd of February 2020. It was a 4 km – 7.5 km run from L D College of Engineering. We feel elated to have had a footfall of around 100 participants, keen to share their enthusiasm in the early morning hours, with SPEC INDIA's 30+ years journey banners and placards, all the way.
The carnival studded ambiance during the walk was contagious, with around 4000 participants, 4 school bands, TTEC cheerleaders on camel carts, drummers, guitarists, cheering volunteers, fun, dance, and games with a popular RJ from Radio Mirchi and more.
With SPEC INDIA being the chief sponsor, our senior colleagues presented awards to winners in various categories.
The recipient NGOs of the charity walk, this year were:
Works in urban slums of Ahmedabad for the welfare of women, and supports children through creative & innovative education concepts
Caters to community development projects including education & health of children, rehabilitate the homeless and create awareness on local literature and well-being
Founded in 1912, provides holistic school, technical, sports, and cultural education, rooted in Gandhian ethos
Since 2006, helps de-notified and most deprived tribes get citizenry rights, education, livelihood & housing support
The society is what we are. We @ SPEC INDIA stand by our moral values to extend our resources for the progress of our society from where we earn name, fame, and prosperity. Congratulations SPEC INDIA for the exemplary teamwork and we look forward to many such more CSR events in the future, to emphasize our support to the poor & the needy.