Rejoicing 2017, Welcoming 2018 with a Week Full of Christmas Festivities – Enjoyment in the Air @ SPEC INDIA
Updated
September 30th, 2022
It is surely the most wonderful time of the year. As SPEC INDIA enters the fourth decade of its existence, we welcome the New Year with dreams, aspirations & determination, leaving no stone unturned in making the festive season memorable for our employees.Three cheers to the creative and enthusiastic SPECTORIOUS team @ SPEC INDIA, who planned a wonderful Christmas Week Celebration, to make the festive week fun, exciting and unforgettable for all.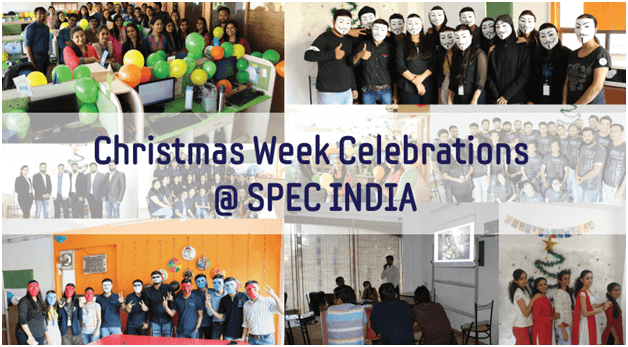 Christmas Décor @ SPEC INDIA–The Adornment Says it All
What you see is what appeals to you the most. The week-long celebrations started with all enthusiasts decorating their own office space with an assortment of Christmas décor – Christmas trees all over with balloons, …..
Secret Santa – A Surprise Gift is Always Welcome
A 3-day celebration of 'Secret Santa' pumped up a lot of happiness and fervor in the entire office premises, with everyone receiving delightful gifts from their Secret Santa. It is always a pleasure to receive wonderful surprise gifts, however old we may turn, isn't it? With each person secretly delivering gifts to their assigned person, everyone got their share of happiness & excitement, that too, with a tint of amazement.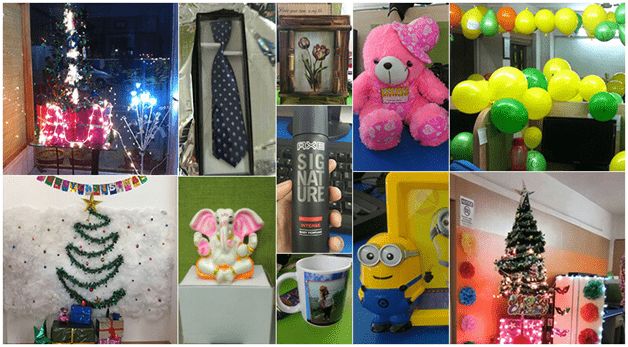 Day Wise, Theme Wise Celebration – To Each Day Its Own
Starting from Monday till Friday, each day had its own significance, with innovative themes to celebrate that day. Each SPECalite poured in their own novel ideas to make the most of these days – Red & White day, Balloons or Chocolate day, Group day, Twins day and Mask day – doesn't that sound very interesting?
Yellow, blue, orange, green balloons – each having their own meaning, were spread out all over the premises with everyone gifting each other balloons as per the color code. Even the chocolates had their own fun-filled meanings to convey.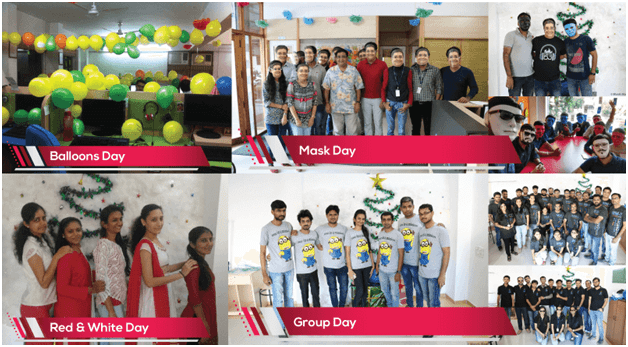 Towards the end of the week, all prizes were announced, and the entire SPEC family had a nice get together with everyone rejoicing the wonderful week they had. As the New Year begins, all teams, with a fresh, happy and positive mind, are geared up to perform their best with optimum productivity.
SPEC INDIA is sure to witness a fast-tracked growth in the year 2018 and wishes all a very Happy and Prosperous New Year.
Excerpts from the CEO's New Year Message to the SPEC Team
"2018 is HERE!!! The best of what life has to offer. Happy New Year to you & your family. Today is the first blank page of a 365-page book. Let's All, Write a Good One. We celebrated our 30 Years at the dusk of 2017 and have arrived at the 1st day of 2018. 30 Years passed and as we embark in the 4th decade of our renewed journey, we will change for the better in the way we work. SPEC is an entity of its people, for its people & by its people. "
"We will continuously – as a SPEC team endeavor, continue to make our 4th-decade journey more fulfilling and enriched, where most businesses, including us, are busy anticipating what the New Year will bring in terms of industry developments, growing trends, and hidden surprises."
 – Milind Shroff, CEO, SPEC INDIA