Quarterly Newsletter April 2021

As Your IT Partner We have The Right SPEC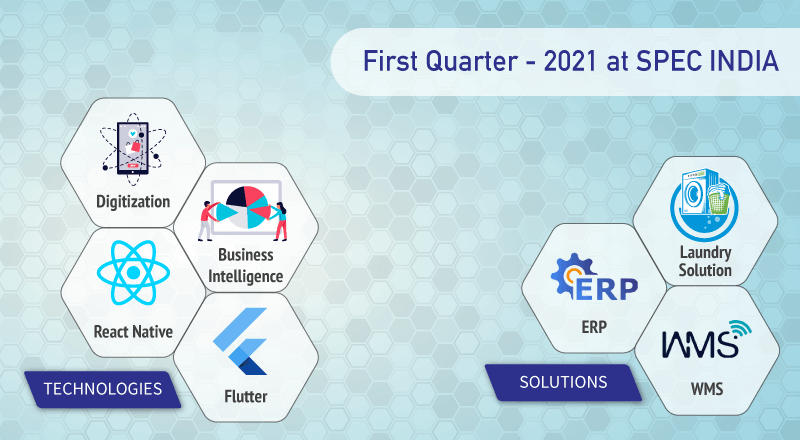 The first quarter of 2021 happened to be an encouraging one, with multiple achievements in the digitization arena. We @ SPEC INDIA continue to focus on our organizational goals, with our task force working diligently from home.
We recently implemented a live, mobile-based, on-demand laundry management system for a leading laundry service provider, focussing on effective and convenient management of their day-to-day laundry operations. This solution has been helping the client in processes like garment pickup, labeling clothes with barcode, processing garments, laundry PoS, and delivery at the client's location.
Yet another achievement has been the successful implementation of a full-fledged ERP solution for a leading industrial enterprise. The mobile ERP system has been cloud-based, scalable, customizable, and integrated. It focuses on significant modules such as Accounts, HR, Production, Sales and Distribution, Purchase, POS, Advertising, Fixed Assets, Transportation, etc. This solution offers easy installation, mobile readiness, interactive UI/UX, high-level security, geo-fencing, intelligent dashboards/reports, and much more.
The need of the hour is taking up digital initiatives and our task force has been focussing stringently on pioneering solutions, Warehouse Management System (WMS) being one of them. We are currently developing WMS for a client. This solution has been designed especially for the simplification of distribution management, inventory management, and warehouse-related activities. This software has been offering real-time data exchange, comprehensive reporting, and assisting companies to enhance their performance and security.
Business Intelligence has been our primary forte and our skilled task force leaves no stone unturned in exploring the newer facets of this wonderful technology. Our teams have been garnering expertise and experience in modern-day BI concepts like SaaS BI, Predictive and Prescriptive analytics, real-time data analytics, Collaborative BI, embedded analytics, data security.
Our technical teams have been working hard with a mobile focus, on projects in the two most popular technologies – React Native and Flutter. We have proven expertise in both, and our projects have been leveraging the best of these technologies. Salient features of React Native – optimum speed, beautiful user interface, competence, etc., and those of Flutter – flexibility, easy coding, graphical enhancement, etc. have been encouraging our developers to offer their best.
We @ SPEC INDIA have been committed to being primary sponsors of the Motif TTEC Charity Walk for over 12 years and this year, though faced with challenges, did not stop us from contributing to society. Our zealous task force participated in the virtual walk-in Feb' 2021, celebrating the spirit of good health and humanity.