Quarterly Newsletter October 2021

As Your IT Partner We have The Right SPEC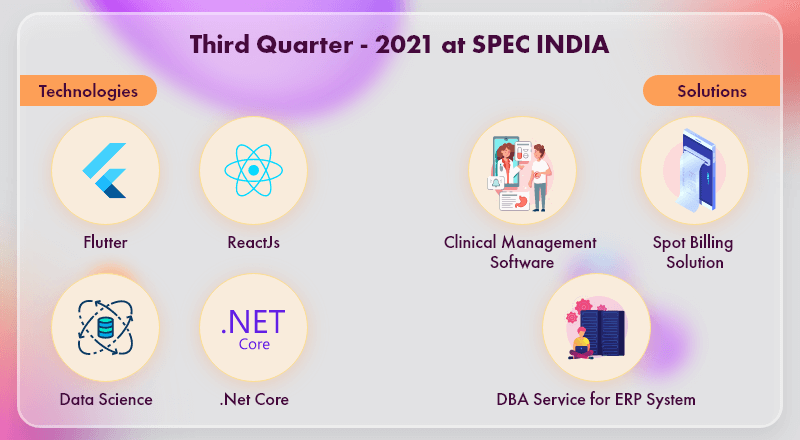 With India and the globe seeing a bit of relief from the pandemic, we @ SPEC INDIA are feeling good about having a glance of the old normal, along with limitations as per the new normal. Our taskforce is even more enthusiastic to create innovative and state-of-the-art software solutions and offer the best of IT services to our esteemed clientele, world over.
Our quarter highlight has been successful execution of SQL DBA services for one of the largest ERP systems of a popular retail & FMCG giant in India. Looking at their 24*7 business critical applications being accessed across the country; our skilled team implemented a robust solution that offered benefits like active DBA monitoring of highly transactional databases, enhanced performance of business-critical applications, automation of scheduled backups, smooth operation of ERP system, weekly and monthly monitoring of database with detailed statistics.
We recently implemented a fully integrated, clinical management software for a prestigious UAE based client. It showcases a seamless workflow starting from appointment scheduling, capturing patient information, patient diagnosis, medicine prescription to billing and invoicing. Effectively integrating all stakeholders involved, it eases the workload with its intuitive workload and navigation flow. It offers well-timed and enhanced patient care, digital medical records, timely insurance claim processing, queue management and an almost paperless clinic.
Our well-tried and tested spot billing software solution has been much in demand, owing to the current need of contactless billing. The spot billing cum invoice system has been effective for catering to billing process for different firms like electricity, gas distribution etc. Users get instant meter reading and recording, invoice generation, invoice printing and payment collection, through a secure third-party integration.
SPEC INDIA is known to garner expertise over newer technologies, keeping the knowledge base and experience over old technologies, intact. On the technology front, our teams have been working on different projects in modern-day technologies like Data Science, React Native, .NET Core, Flutter, NodeJS, Tableau, Power BI, ReactJS. In parallel, there have been successful implementations in old technologies like Java, .NET MVC. that form the crux of our software capabilities.