Who Is DevOps Architect Described In 200 Words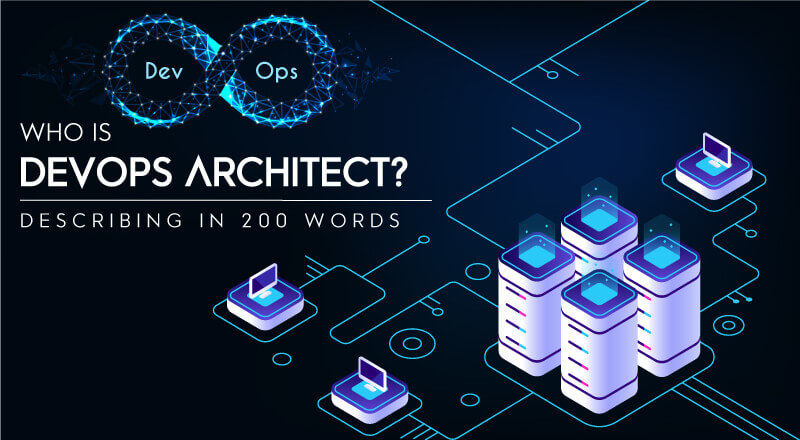 As DevOps and DevSecOps are rising in popularity among software developers and tech organizations, roles like DevOps Architect and DevOps Engineer are also gaining traction.
A DevOps Architect is responsible for setting up a DevOps pipeline to speed up software development with quality and security.
Roles and responsibility of DevOps Architect include:
Designing, executing, and streamlining DevOps practices
Re-defining development architecture and strategies that aligns with DevOps
Addressing complexities and consistent observing 'DevOps Environment'
Leading and help teams to achieve DevOps goals in a smoother way
It is a broader role that requires people with hands-on experience in DevOps, configuration, management, automation, and must possess leadership skills.
The key to successful DevOps is to create a 'DevOps' culture and DevOps architects are the ones who do the same.
42% of companies are keen on adding DevOps skills to their hiring portfolio, according to the 2017 Open source job report from Linux.
DevOps architects skillfully handle collaboration between teams, facilitate end-to-end communication, look after suitable devops culture, solve operational issues, and closely monitor a DevOps culture.
In the simplest terms, DevOps architects ensure that the DevOps objectives are met through the best DevOps practices, tools, and mindsets.
A Good Read: What Does Exactly A DevOps Architect Do?
SPEC INDIA, as your single stop IT partner has been successfully implementing a bouquet of diverse solutions and services all over the globe, proving its mettle as an ISO 9001:2015 certified IT solutions organization. With efficient project management practices, international standards to comply, flexible engagement models and superior infrastructure, SPEC INDIA is a customer's delight. Our skilled technical resources are apt at putting thoughts in a perspective by offering value-added reads for all.