Alteryx vs Tableau: Comparing Two Data Analytics Tools
Updated
December 7th, 2022
Data is revolutionizing the way business is done and interpreted. Data visualization is a key ingredient in extracting the most valuable information from heaps of data. With the help of ETL tools, data visualization helps business stakeholders take appropriate decisions and insight into data. Alteryx and Tableau are two globally popular and industry-standard software tools for data analytics, data consumption, and data visualization.
Many organizations are leveraging their potential to garner optimum knowledge from their bulk of data. Be it Tableau or Alteryx, both tools have been dominating the software industry for a few years now and have stiff competition. Organizations have been analyzing them based on costs, skills, simplicity of use, brand recognition, etc.
Before we go into the details of Tableau vs Alteryx, let us have an individual peep at the two technologies.
What Is Alteryx?
Alteryx is an American computer software company based in Irvine, California, with a development center in Broomfield, Colorado. The company's products are used for data science and analytics. The software is designed to make advanced analytics accessible to any data worker. – Wikipedia
Alteryx is a known data analytics platform that assists organizations in accelerating data-based business decisions around a variety of industry segments. It is competent to create faster outcomes, deep and insightful information, better decisions based on the self-service analytics and data science capability of oneself. Its data exploration and profiling capabilities turn data into insight.
Data scientists and analysts can easily prepare, blend, and analyze data with multiple low codes, no code building blocks with reusable workflows. Deployable predictive models can be created with enhanced and expert ML algorithms. A convergence of multiple tools into a single platform can be done for insightful data analytics. Outputs could be in various formats like documents, dashboards, enterprise apps, intelligence systems, etc.
Prior to the pandemic, Alteryx was considered to be a high-growth company, with five-year revenue growth of 56% per annum. In 2020, Alteryx achieved much more modest revenue growth of 19%, reporting shorter contract durations and above normal churn in mid-sized enterprises.

Source: nasdaq.com
Key Alteryx Features:
Data analytics to help in business problem solving
Fastens and automates processes
Facilitates predictive and geospatial solutions
Effective data exploration and data preparation competencies
Search for data assets and deploy directly to production
Read and write data in various data files, REST APIs, databases, etc.
Prebuilt predictive models for data science solutions
Drag and drop tools to geocode and map locations
Can power reports and dashboards in Qlik, Tableau, Power BI, ThoughtSpot, etc.
Enhanced user experience and community support
Who Uses Alteryx?
VMware Inc, Lorven Technologies, JPMorgan Chase, Bank of America, Confidential Records Inc., Living Spaces, CoEnterprise, Abbott, Accenture, Adidas, BBC Worldwide, BookMyShow, etc.
What Is Tableau?
Tableau Software is an American interactive data visualization software company focused on business intelligence. Tableau products query relational databases, online analytical processing cubes, cloud databases, and spreadsheets to generate graph-type data visualizations. The software can also extract, store, and retrieve data from an in-memory data engine. – Wikipedia
Tableau is a popular and comprehensive Business Intelligence platform that is secure and scalable. It helps organizations in rethinking their data strategies to extract the optimum out of it. It is easy for organizations to establish a smooth connection with data through competent AI and ML features, data management, and storytelling. Thanks to the efficient Tableau community, there is a lot to learn and expand knowledge base.
Analysis of data with Tableau is fast, simple, and attractive since it caters to users of all kinds and has relevant tools and analytics for everyone. Being a Salesforce company, it helps users see and understand data with its self-service analytical capability. Since Tableau Prep is the new-age ETL tool that facilitates data extraction from different sources, transformation and loading it using joins, aggregations, etc., there is a comparison between Tableau Prep vs Alteryx.
Key Tableau Features:
Easy creation of interactive visualizations
Precise, powerful, and secure analytics with data algorithms
Unified platform for connection, sharing, and collaboration
Fast and seamless creation of interactive dashboards/visualization
Simplistic and fast connection with disparate data sources
Wholesome view of data through dashboards
Live and in-memory data
Seamless connectivity to live data sources
Robust and comprehensive security system
Creation of customized mobile layouts
What Companies Use Tableau?
Nike, Skype, The New York Times, Citigroup, Coca-Cola, The World Bank, Amica, GMMB, ACT, Amazon, BNP Paribas, Carnegie Mellon University, Deloitte, Forbes, Google, Honeywell, etc.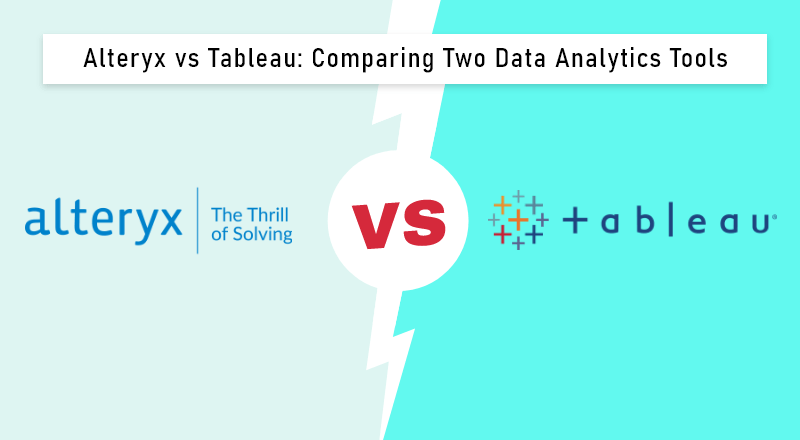 Alteryx vs Tableau: A Vivid Comparison
| | | |
| --- | --- | --- |
| Parameters | Alteryx | Tableau |
| Key Characteristics | Data access, manipulation, cleaning, blending, process automation, and documentation. Feeds data to other software tools like Power BI, Snowflake, etc. | Data visualization, dashboards, online consumption, distribution of information. Consumes data from other software tools like ERP, CRM, Snowflake, Azure, Redshift, etc. |
| Product Details | A smart data analytics platform merging disparate data from various sources to extract the best of data | An online BI application that extracts data from disparate sources and assists organizations in taking decisions |
| OS Compatibility | Compatible with Windows, Android, web-based | Compatible with Windows, Android, iOS, and web-based |
| Scheduling and Collaboration | Users can schedule a trigger for the application and data can be centralized and accessed through the cloud or network | Fresh extracts can be availed with executing workflows. Tableau facilitates data centralization through the cloud or network |
| Ease of Use | Less learning curve, with easy drag and drop interfaces | The minimal learning curve, with simple features |
| Data Connectors | Connects well with sources like Salesforce Einstein Analytics Output Tool, Adobe Analytics tool, etc. | Connects well with sources like Apache Drill, Actian Matrix, inbuilt data connector, etc. |
| Creation of Workflows and Charts | Creation of workflows is effective with data in chronological order, by dragging the tool in the main canvas | Creation of charts can be done by dragging needed areas and arranging them accordingly |
| Flexibility | Flexible for data blending | Flexible for data visualization |
| Tool Type | Alteryx is a modern-day BI software with major components like gallery, server, and designer | Tableau is a visual analytics platform that creates attractive visual analytics in the form of dashboards and reports |
| Free Trial | For up to 30 days | For up to 14 days |
| Security | Integration of any type of security features is possible | Robust competence of SSL/TLS is used for encrypting transmissions |
| Data Source Integration | Can integrate about 200+ data sources | Can integrate about 90+ data sources |
| Mobile Deployment | Deployment with Android, iOS version not possible | Deployment with Android, iOS version possible |
| ETL Competencies | It has inbuilt ETL capabilities | ETL capabilities are through Tableau Prep |
| Flexibility | There is a lot of data blending flexibility while utilizing the tool | There is a lot of data visualization flexibility while utilizing the tool |
| Technical Expertise | Needed on a higher level since it involves blending and integration | Needed on a lower scale since most data is already polished and ready for use |
| Data Preparation and Representation | Considered an apt tool for preparing data and not for data representation | Less flexible when it comes to preparing data and more for data representation |
Tableau vs Alteryx: What To Choose?
Organizations can choose Alteryx when –
There are multiple data access locations from data that must be integrated and merged
Data needs cleaning prior to undergoing business intelligence processes
There is a need for data automation and documentation for manual data
There is more involvement of geospatial queries
Predictive models need to be created and automated for finding futuristic views
Organizations can choose Tableau when –
There is a larger audience to view the data
Data must be sliced and diced to extract errors
There are huge groups who must utilize data with ease
Maps are needed to show data with zoom facility, dynamic filter, and drill-down
Also Read: Tableau vs Power BI: Comparison Between Top Two BI Tools
Alteryx vs Tableau – The Conclusion
Alteryx and Tableau complement each other and can be utilized together. Raw data can be imported into Alteryx, processed, and transformed data can be exported into Tableau for designing dashboards and reports. Alteryx is good at obtaining data in a usable format while Tableau is good at data visualization. They both fill each other's gaps and hence are considered a good combination too. Alteryx and Tableau are pricey products and hence cost-effective alternatives could be Power BI for Tableau and Python or R for Alteryx.
As we observe the above-mentioned differences between Tableau and Alteryx, it is tough to take a call on which one to choose. Finally, the decision depends on many parameters like what type of skills are available, what is the budget, what is the timeline of the project, etc.
SPEC INDIA, as your single stop IT partner has been successfully implementing a bouquet of diverse solutions and services all over the globe, proving its mettle as an ISO 9001:2015 certified IT solutions organization. With efficient project management practices, international standards to comply, flexible engagement models and superior infrastructure, SPEC INDIA is a customer's delight. Our skilled technical resources are apt at putting thoughts in a perspective by offering value-added reads for all.