Android 11 Beta Is Here, With Focus On People, Controls And Privacy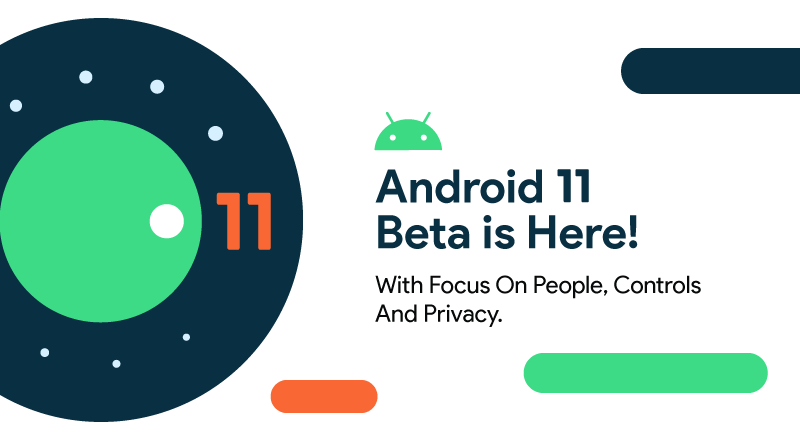 The effects of Covid-19! Google cancelled its annual developer conference – the much-awaited Google I/O 2020. Instead, they live streamed the launch of yet another Android version – the Android 11 Beta on June 3, 2020.
The launch unveiled Android 11 Beta, newer features for the developers, users of the Pixel phone, and a series of 12 talks on various aspects of Android. The final release of Android 11 is slated for the third quarter of year 2020.
Android Services have never ceased to amaze. The throng of developers that are hardcore Android loyalists keep looking for more and Google is not disappointing them ever. But, looking at the current global scenario, they have chosen to unveil their latest version through a series of short video clippings and web pages. Developers can choose to look at them at their convenience.
Android 11 Beta – Key Features
Android 11 Beta is available on Pixel 2, 3, 3a, or 4 devices.
The newer version of Android has its complete focus on three main areas –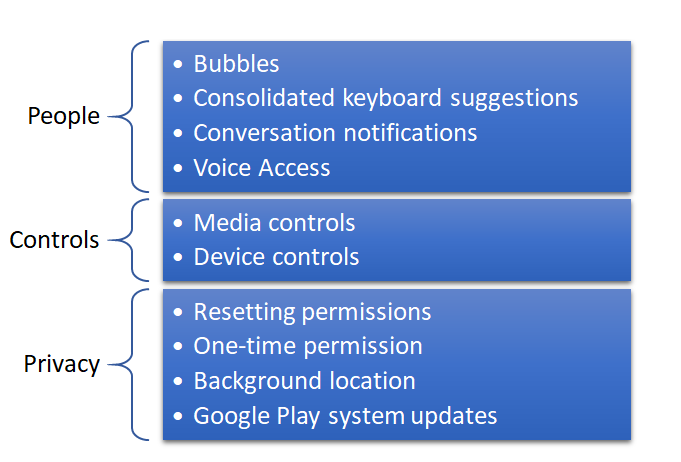 People
While multitasking, Bubbles assists users to have the conversations available. The messaging and chat applications are supposed to utilize the Bubbles API on notifications in the newer version. There can be texting threads that can pop up like a little bubble and float over other apps.
Autofill applications and Input Method Editors (IME) facilitate Consolidated keyboard suggestion to safely give context-oriented entities and strings straight into the IME's suggestion strip
Conversation notifications are seen in an individual area at the top, showcasing features like conversation as a bubble, conversation shortcut on the main screen or having an alert / reminder
For users accessing voice controls regularly, this new feature now has an on-device visual cortex that will perceive the content and context on the screen and offer relevant labels and access areas
Controls
Media controls helps you to transit the output device for audio / video. It could be either speakers, TV, headphones, or anything else. As of today, it can be enabled from the developer options but with the beta release, it will be ON by default.
Device controls assists users to control and avail the devices that are connected. Long pressing the power button will showcase the device controls at that time. A new API will have to be utilized to show in the controls.
Privacy
There are chances of auto resetting all permissions of applications that have not been utilized for a long time. Whenever the app is used again, it can request for the permissions again.
Single time access and permission can be given to an application, to the device's camera, microphone etc. It can request for permission again, whenever the app is utilized.
To avoid misuse, programmers will now have to take approval for accessing background location in their application. There are double the number of modules that are updatable for the core OS components to devices in the Android space. These modules will assist in security, privacy, and consistency for developers.
Redesigning of Google Play Console to have more of a successful run with newer features as management options, new acquisition reports, new guide on policy alterations etc.
Other Important Features
Compat testing is made easier for developers by adding a new UI in developer options to allow toggling between changes for testing
Pixel devices to showcase other strange theme-based icon shapes.
The dark mode will have other enhanced alternatives for scheduling.
There are other developer productivity enhancements that can help developers speed up their entire process. E.g. wireless ADB debugging, more nullability annotations on platform APIs, ADB incremental for faster installs of large APKs etc.
Launch of Jetpack Compose Developer Preview 2 – the new modern UI toolkit, with a variety of features asked by developers
Videos that are showed as a picture in a picture, can be resized.
If the headphone connectivity is on, the airplane mode will not turn off the Bluetooth connectivity.
Android Studio 4.1 Beta and 4.2 Canary have newer features, as demands from developers – easy debugging, improved device testing, simpler machine learning, quicker build and deployment, effective games tooling.
Google's Project Mainline gets 12 extra modules. It is the key service that allows updating the main system components over the air without any wait for manufacturers.
11 weeks of Android for continuing the discussion, with a novel developer concept every week.
How To Install Android 11 Beta?
You can install the latest beta version via the Android Beta program. You can get early builds through over-the-air updates on limited devices. Google offers an over-the-air update, the final SDK, and the official Android emulator, if you have any previews installed previously.
As of now it is limited to only the Pixel devices, but the coming week may see it available for more devices.
You need to enroll again to enjoy the Android 11 features even if you have earlier enrolled in the Android 10 Beta program
Enroll your eligible mobile phone by visiting the Android 11 beta site, through any device that has your Google account
Once you enroll, you will get the message that the software is ready to be installed, you can check it manually or wait for some time to receive the message. It, sometimes, takes about a day to enable your software installation.
Download the software and the device will start the installation process. That is, it! As simple as ever.
Awaiting The Magic Of Android 11 Beta To Spread Around
All Android releases have had their own share of popularity, loyalty, and success. We are sure Android 11 would follow the same path and lead the popularity chain of Android much ahead.
Developers have started experimenting on the latest release and within a short time, we await the launch of the major version, on other devices, with pomp and pleasure. Android, amongst the mobile application development stack, has been a preferred choice of millions, it is here to stay and serve them all!
SPEC INDIA, as your single stop IT partner has been successfully implementing a bouquet of diverse solutions and services all over the globe, proving its mettle as an ISO 9001:2015 certified IT solutions organization. With efficient project management practices, international standards to comply, flexible engagement models and superior infrastructure, SPEC INDIA is a customer's delight. Our skilled technical resources are apt at putting thoughts in a perspective by offering value-added reads for all.