Top 30 Datadog Competitors Offering Best Of Monitoring And Analytics
In the world of modern monitoring and security, Datadog has been a leading name for over a decade. Founded in 2010, it has been adapting Cloud Monitoring as a Service. The organization that has created it is a fast-growing one and there are popular clients like Samsung, Comcast, Dream Works, 21st Century Fox, and many others who are leveraging the potential of this technology.
Though it has been doing well, owing to a wider technology spread, there are many Datadog competitors that have been offering effective services. These alternatives must be assessed based on different parameters like application monitoring, networking and infrastructure monitoring, integration and deployment, service, product competencies, support facilities, etc.
Before we analyze the popular Datadog alternatives, let us quickly glance through what does Datadog do.
What Is Datadog?
Datadog is an observability service for cloud-scale applications, providing monitoring of servers, databases, tools, and services, through a SaaS-based data analytics platform. – Wikipedia
Datadog is a well-known, cutting-edge monitoring and analytics tool that IT teams and DevOps teams utilize, for determining performance metrics, performing event monitoring for infrastructure, and implementing cloud-based services. It can perform effective monitoring of servers, tools, and databases.
It helps users see inside any stack, at any scale, any app, and anywhere. It has been one of the pioneering tools to have a focus on infrastructure monitoring. The perfect merger of monitoring app performance, infrastructure, logs, and user experience is what makes it special.
Datadog Features:
Uniform monitoring across apps, services, and systems
Team collaboration and easily usable search facility
Complete API access and visibility into modernized applications
Flexible and interactive dashboards with slice and dice graphs
Multiple turn-key integrations
Proactive monitoring of user experience
Analysis and exploration of log data
Alerts and notifications on critical issues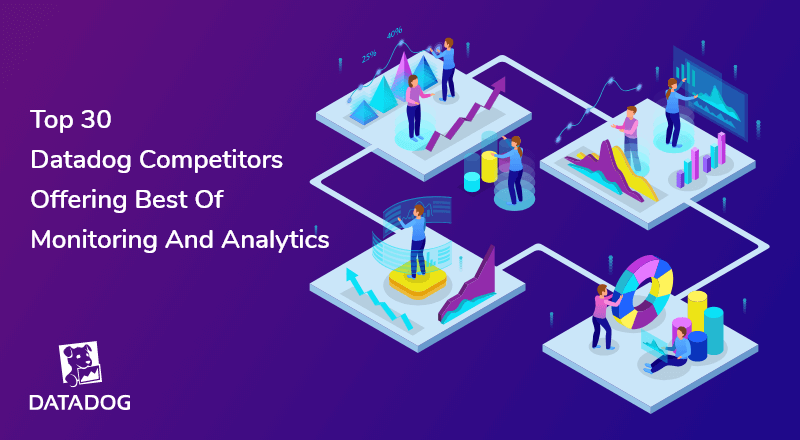 30 Datadog Competitors, You Need To Know
Nagios
SolarWinds
Dynatrace
LogicMonitor
Sumo Logic
New Relic
AppDynamics
Splunk
Atatus
Instana
Loggly
Scout APM
Raygun
AppOptics
Stackify Retrace
Elastic APM
Azure Monitor
Amazon CloudWatch
LogRhythm NextGen SIEM
Prometheus
Graphite
Sentry
Kibana
Honeycomb
Bugsnag
Ghost Inspector
Honeybadger
Lighthouse
Rollbar
SSL Checker
Let us now have a further look at the above Datadog alternatives:
Nagios:
Nagios is an industry standard in IT infrastructure monitoring, and it manages the network for issues created by overloaded data links/network connections or via monitoring routers/switches, etc. It has great core functionalities and caters to your monitoring needs. As an open-source system, it executes periodic checks on critical parameters of the network, application, and other resources. It offers an alert to users whenever something goes wrong and issues another alert when the issue is resolved.
SolarWinds:
SolarWinds is a known set of IT management software and remote monitoring tools that are meant for system administrators and network engineers. It offers system management tools for infrastructure and network monitoring to multiple organizations globally. It helps in detecting, diagnosing, and resolving network-related issues and outages. As one of the world's leading producers of IT management software, SolarWinds has many products that are focused on network/systems/database/IT service/application management and IT security.
Dynatrace:
Dynatrace is a modernized and comprehensive platform that simplifies complicated clouds with observability, automation, and intelligence. It offers features like smart AI assistance, accurate answers, realistic AIOps, business analytics, user experience, and more. It is known for optimization of client experiences, faster innovation, and modernization of IT operations. It offers real-time insight and a topology map into the complete application and leverages AI for determining the complete stack from browser to containers, application, cloud, infrastructure, etc.
LogicMonitor:
LogicMonitor is a popular, completely automated, cloud-based infrastructure monitoring platform for enterprise IT and managed services. As a SaaS-based tool, it offers performance monitoring that gives agile teams the full-stack view of executing applications and services on the complicated infrastructure. There is monitoring for all sorts of environments, ranging from on-premises to cloud-based. Application management is easier with features such as flexible dashboards, reporting, role-based access control, etc. It integrates well with other major integration tools.
Sumo Logic:
Sumo Logic is a popular cloud-based, machine data analytics platform that offers the best of cloud log management, monitoring, real-time visibility into infrastructure through its tools. It helps in taking data-driven decisions and thereby lessens the time to find out security and operational problems. Enterprises find it efficient in creating analytical power that converts regular operations into decision-based operations. Its continuous intelligence platform assists in the automation of collecting, ingesting, and analyzing infrastructure, security, IoT information.
New Relic:
New Relic is one of the most liked cloud-based instrumentation platforms that assists its users to build flexible and dynamic software solutions. It is SaaS-based and is considered ideal for enterprises to create good software. Its set of tools serve many purposes like enhancing user experience, DevOps implementation, management, and monitoring of systems on-premises, cloud-driven, or hybrid. New Relic offers key features like Full Stack observability, applied intelligence, Telemetry data platform. These features offer great visibility of all applied data for the entire infrastructure.
AppDynamics:
AppDynamics is an effective application performance management solution that offers the competence for real-time business performance visualization. It offers a great user experience by monitoring all lines of code, assisting resolution of issues, and monitoring app performance. This offers a detailed insight into the business performance and is a useful platform for software-based enterprises. Its comprehensive monitoring works well with other software like Kubernetes, Docker, Azure, AWS, etc. It uses root cause analysis, driven by AI, to manage and resolve errors.
Splunk:
Splunk is considered as a Data-to-Everything platform that assists enterprises in detecting and resolving issues in real-time. It manages the cloud-based data to fasten the process and secure the data. It is a modernized monitoring platform for cutting-edge applications that has no limits for its data and services. It offers infrastructure monitoring, app modernization, and IT service monitoring. The security features include effective defense systems depending on industry-based information.
Atatus:
Atatus is a flexible, unified, monitoring tool for servers, websites, apps, and logs that is SaaS-based. It is highly scalable and offers full-stack transparency for all types of applications. As an application performance and error tracking solution, Atatus offers a detailed view of all related metrics that help offer good quality software. It provides all details of the errors caused making it easy to rectify them on time. Its key features include monitoring of applications, their frontend and backend performances, and user satisfaction levels too.
Instana:
Instana is leading enterprise observability and APM for cloud-native environments. Its software solution is mainly targeted towards implementation in monitoring and managing software performance in a microservices architecture. Powered by IBM, it is a fully stacked technology that manages and monitors application performance and availability to its best. It implements CI/CD, agile, and DevOps methods with ease and is targeted towards offering the best user experience with the least outages.
Loggly:
Log analysis and log management by Loggly are some of the leading options today, for fast data visualization, data organization, and application monitoring. It is an easy-to-use, SaaS-based tool that brings logs from anywhere in the infrastructure at a unified location and users can perform activity tracking and trend analysis. It has prominent features like metrics, log collection, processing, app health monitoring, trend monitoring, dashboards with KPIs, flexible visualization, alerts, and error detection, etc. Loggly shows good integration capabilities with DevOps tools and hence sharing information across teams is easy. There is good monitoring support for cloud-based environments and applications.
Scout APM:
Scout's Application Performance Monitoring tool offers the best of features such as Rails/Elixir/Django/PHP Laravel monitoring that makes it simple for developers to do their best instead of wasting time on debugging. It assists in the early identification of errors and real-time regression. It has intuitive dashboards, detailed event logs, deep tracing logic and can effectively monitor applications in other technologies. It offers troubleshooting features that help in finding out the problem areas that are slowing down the applications and infrastructure.
Raygun:
Raygun is an application monitoring tool for web and mobile apps that offers a window into the way users are using the applications and infrastructure. It helps in the early detection of errors, prior to its release. As a cloud-based platform, it offers error, crash, and performance monitoring through which team scan gain comprehensive transparency into errors, right on time. It helps to monitor all user sessions for performance enhancement. The APM services that it offers help in finding out hurdles in the code with quick analysis and repair mechanisms.
AppOptics:
Though AppOptics is a well-known tool under the SolarWinds umbrella of APM tools, it is mentioned as a separate alternative as it has certain metrics that are quite useful in finding out errors and resolving them. It offers effective application performance management and server monitoring for application scalability, lesser downtime, and lower utilization of resources. It offers support for popular tools and plug-ins, with a dashboard feature that showcases observability and tracing.
Stackify Retrace:
Stackify's Retrace is an easy-to-use, SaaS-based solution that is basically for application monitoring, errors, logging, metrics for applications in the preproduction and postproduction stages. It offers a good deal of visibility into different performance measures and integrates application performance results to obtain a complete diagnostic. Users can view all logs at a single place, track and monitor all apps and server metrics via dashboards. Automatic log queries can be configured and there is good support for different languages.
Elastic APM:
An application performance monitoring tool built on the Elastic Stack, Elastic APM is ideal for monitoring, detecting, and finding out complicated app performance problems and thereby, creating a stable and secure application. It monitors in real-time and collects information depending upon response time for requests, HTTP requests, database queries, etc. There is the retention of time-dependent data and data can be organized with visualization as needed.
Azure Monitor:
Azure Monitor is a good APM tool that assists in maximizing the performance and accessibility of services and applications. Users can easily collect, analyze, and act on data from the on-premises and cloud-based infrastructure. It showcases the performance of applications with errors that are playing a role in the effectiveness of the applications. Azure Monitor, as the name suggests, is good at monitoring and finding out network problems without logging into the virtual systems. Users can garner complete control over the Azure network.
Amazon CloudWatch:
Powered by Amazon, Amazon CloudWatch is a popular application and infrastructure monitoring tool that helps in collecting, accessing, and correlating data on a unified platform from all possible applications, resources, services, etc. As a monitoring service for AWS cloud resources, it performs monitoring of log files, sets alarms, and manages changes in the resources. The resource could be on-premises, on AWS, or on both. CloudWatch helps in moving a step further beyond monitoring and going into observability.
LogRhythm NextGen SIEM:
LogRhythm's NextGen SIEM platform offers complete security analytics and log management with fast search and response to errors and threats. Security processes become more mature and better aligned to technology, procedures, and teams. It is highly popular amongst medium-sized organizations. It is meant to lessen the cyber risk and operations threats since it quickly detects problem areas. It associates advanced analytics and behavioral analytics, network detection, and response and security orchestration, automation, and response.
Prometheus:
A known systems and service monitoring system, Prometheus is an open-source tool that offers a complete service area with a dimensional data model, effective time-series database, flexible query language, and modernized alert approach. It has powerful queries, great visualization, efficient storage, simplified operations, accurate alerting, multiple client libraries, and integrations into third-party systems. Powered by Cloud Native Computing Foundation, it has been created for systems monitoring and dynamic service-oriented architecture systems.
Graphite:
Graphite is an effective, time-series monitoring and graphing tool, meant for the enterprise. It executes easily on any type of hardware and cloud-based infrastructure. It is free and open-source, collecting, monitoring, and graphing numerical time-series information. It is powerful when it comes to time-series metrics collection. It is considered ideal for effective performance, stability, and robustness. As an open-source, visualization tool, it stores time-series data and displays graphs based on user demand.
Sentry:
Sentry offers application monitoring that assists developers to take note of performance issues effectively. It tracks errors and monitors performance with all popular languages. Error tracking can be done with full stack traces and asynchronous context. Users can have a look at what is needed, solve errors faster and understand the frontend and backend in a better way. It is used as a crash reporting platform that offers a detailed, real-time view of the production environment with information about crashes and how to fix them.
Kibana:
Kibana is an open-source, free, data visualization and exploration tool that facilitates users to visualize the Elasticsearch information and navigate through the Stack. It is utilized for time-series analytics and application monitoring through salient features like pie charts, histograms, line graphs, geospatial information etc. Kibana is a browser-based user interface through which users can track query loads to grasp the way requests are flowing. You can build visualizations easily and instinctively.
Honeycomb:
Honeycomb is a popular software debugging tool to observe and correlate events in distributed systems. It can assist in solving problems quickly and offers various approaches that make it easy to perceive complicated relations within the systems. Honeycomb has a faster incident response, locates errors quickly, and optimizes performances for a better user experience. It has a faster feature release and embeds observability into the code.
Bugsnag:
Bugsnag is an error monitoring and application stability management tool that efficiently monitors applications' stability so that proper data-driven decisions can be made. Users can then decide whether to create newer features or handle current errors that have occurred. It sends bug notifications to users instantly so that they can handle the issues easily and quickly. It helps in the identification, prioritization, and replication of bugs in a time-effective manner.
Ghost Inspector:
Ghost Inspector is a comprehensive testing solution that does automated testing for web apps and websites. It offers a flexible toolset that helps in garnering good quality assurance. It creates a variety of browser tests without much coding involved and thereby, lessens the chances of error occurrences. There is a provision to record tests and check for specified workflows in the application. It supports simple, codeless test automation and is an easily usable tool, equally viable for novices and experienced testers.
Honeybadger:
Honeybadger is an exception, corn, and uptime monitoring tool that is used by developers looking to offer good quality, error-free applications. It can easily be installed in the web application and deployed too. It can focus on inaccessible sites, detect frontend and backend issues, manage, and monitor scheduled activities. It makes the production stack easy by merging all types of monitoring activities into one, making it simple and effective.
Lighthouse:
Developed by Google, Lighthouse is an automated tool for enhancing the quality of web apps and web pages. It has a simple workflow and execution of performance audits, accessibility audits, progressive web apps, etc. Users just need to provide the desired URL and there will be suggestions on improving the performance and accessibility. It can be executed from Chrome DevTools or a Node module.
Rollbar:
Rollbar is a known, cloud-driven bug tracking and monitoring tool that helps users get the real-time feed and alerts for errors whenever they occur. It has good support for diverse programming and languages and different frameworks. It can either be cloud-based or on-premises. It helps developers in discovering, predicting, and solving issues with its continuous code improvement platform. It has an automated response system that can make users happy and productive.
SSL Checker:
A Secure Sockets Layer Checker is a tool for thorough verification of an SSL certificate on a web server. As a security protocol, it executes on top of TCP and offers an added layer of security. There is authentication on the website that offers thorough security. It ensures if an SSL certificate is valid, trustworthy, and secure or not. It offers automated client authentication and extensibility, server authenticity, and safety with convenience.
Summarizing It Up
The world of modernized monitoring and security tools has been surrounded by many a strong contender – Datadog being one of them and the other Datadog competitors, as mentioned in the article above. All of them are highly competitive and it takes an organization a lot of analysis into its own parameters like requirements, budget, skilled resources, etc. to decide which one to choose. It is like choosing the better out of the best!
SPEC INDIA, as your single stop IT partner has been successfully implementing a bouquet of diverse solutions and services all over the globe, proving its mettle as an ISO 9001:2015 certified IT solutions organization. With efficient project management practices, international standards to comply, flexible engagement models and superior infrastructure, SPEC INDIA is a customer's delight. Our skilled technical resources are apt at putting thoughts in a perspective by offering value-added reads for all.