Digital Transformation Is Not Only About Technology But Also About The Mindset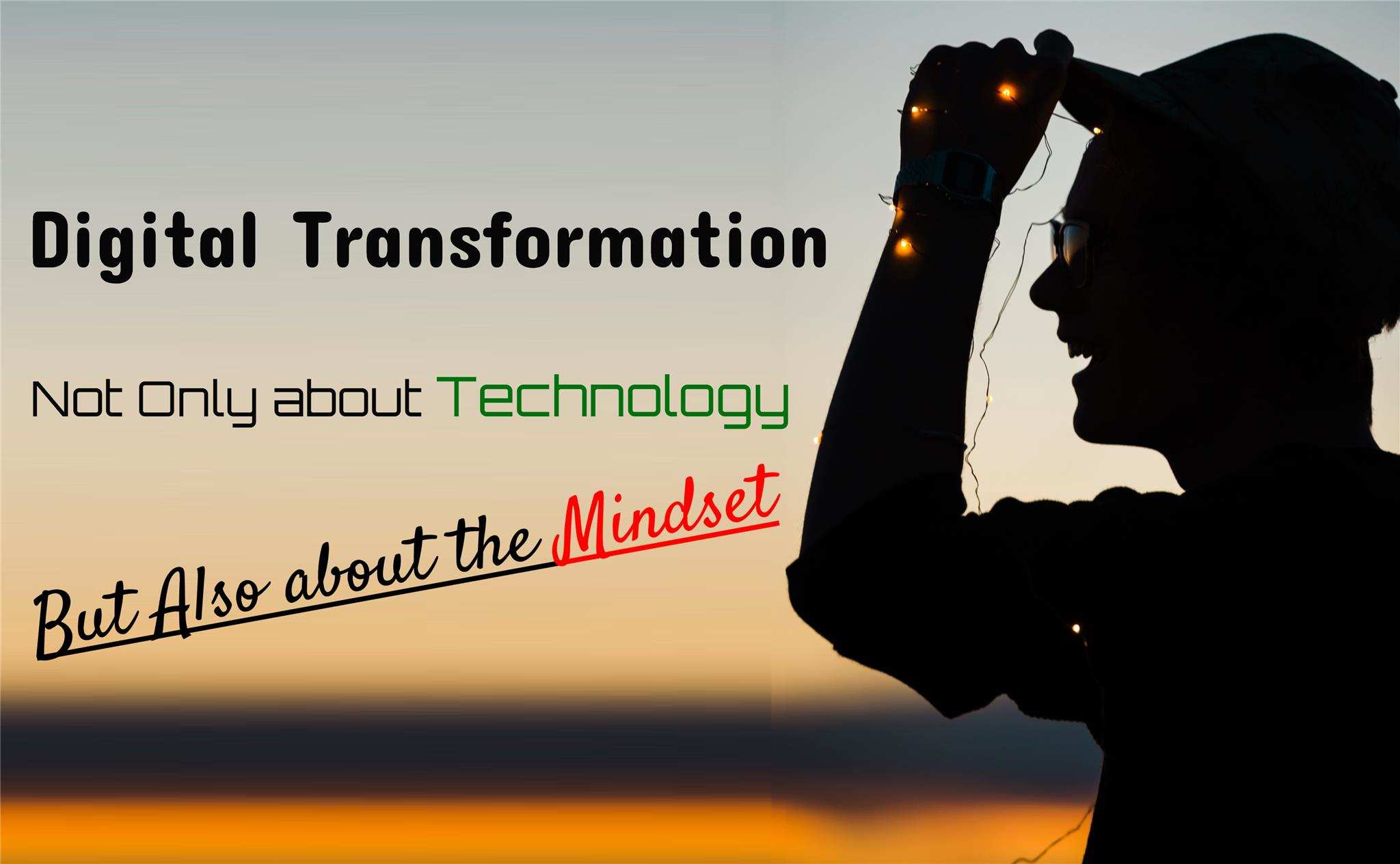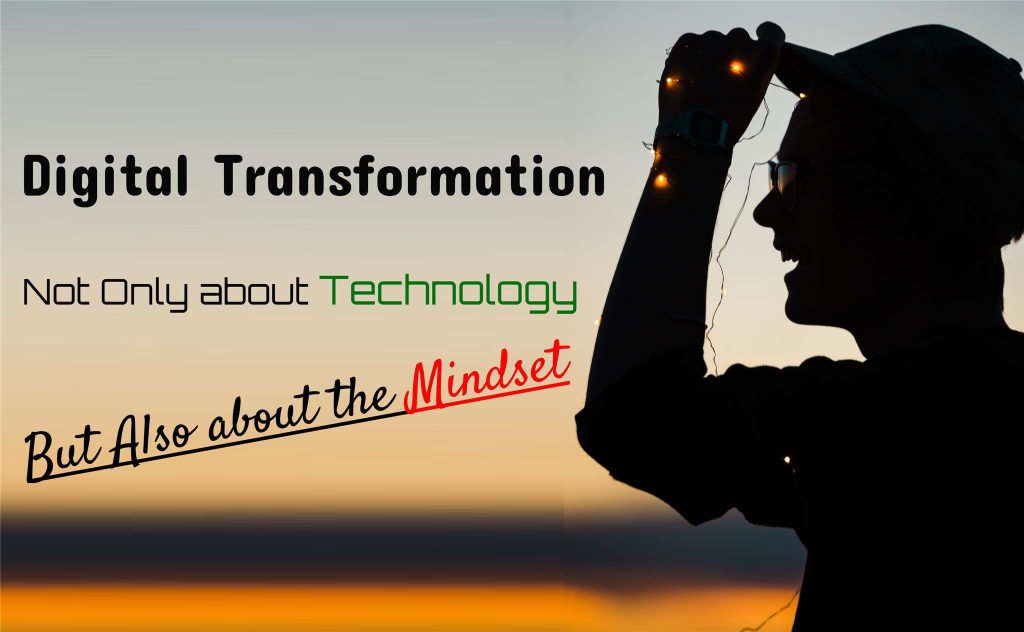 Imagine yourself without smartphones, tablets, and computers, can you?
It would not be an extravagant statement if we say that technology runs our lives at the moment.
We are witnessing a biggest technological shift which has already transformed the way we live and work. In a race of building a better future, technologies have been changing a whole perspective with automation, speed, and efficiency.
According to the report from International Data Center, worldwide spending on digital transformation technologies including software, hardware, and services is expected to reach nearly $1.3 trillion in 2018. This forecast indicates an increase of 16.8% over the $1.1 trillion spent in 2017.

"Technology is anything that wasn't around when you were born. "
– Alan Kay (Computer Scientist)
Over recent times, the evolution of technologies has a dramatic impact on our lives. Right from the basic math calculator to the use of artificial intelligence, humankind has adopted the technology-driven mindset, be it any business segment.
Insights from IDG's 2018 state of Digital Business Information stated that 95% of start-ups have digital business plans compared to 87% of traditional enterprises founded 50 years ago or later.
More from that report,
49% of IT executives say Internet of Things (IoT) plays a key role in their digital business strategies.
55% of startups have already adopted a digital business strategy compared to 38% of traditional enterprises.
89% of enterprises have plans to adopt or have already adopted a digital-first business strategy with Services (95%), Financial Services (93%) and Healthcare (92%) leading all industries.
"Technology made large populations possible; large populations now make technology indispensable. "
– Joseph Krutch (Writer)
Digital transformation no longer remains a topic, a strategy to expand the business or just the advancement of technologies. In fact, it is now a broad spectrum that deeply influences the whole world. But here, we are discussing how people are reacting to the dramatic growth of digital transformation over the years.
Digital Transformation Is A Global Phenomenon: What Is The Mindset Of People?
One thing is clear; digital transformation is not all about embracing technology changes, it is a complete transformation.
Removing the entire manual chain of work, be it a routine lifestyle or business, digital transformation is a way forward to automation. People become more aware, conscious, and knowledgeable through easy, usable, and accessible digital solutions.
At present, the expansion of technologies such as AI, machine learning, big data, and IoT threaten people that AI will replace their jobs.
For example,
Millions of people may need to upgrade or learn new skills in this time of workforce automation.
One study from the McKinsey estimated that between 400 and 800 million individuals could be displaced by automation and need to find new jobs by 2030 across the world.
Contradictory to this, Gartner's report says that AI will create 2.3 million jobs in 2020 while eliminating 1.8 million jobs globally.
Unfortunately, such statistics of job-losses create a negative impact and also make it difficult to differentiate AI and automation in an employment scenario.
The truth is, human and machine, both need to work together to achieve the desired state of automation, efficiency, and rapidity.
There is no doubt that technology will replace human tasks that are redundant, autonomous, and laborious.
Digital Transformation Is Less About Technology, More About People
We all know that a wide range of software and hardware products made our lives simpler and easier like never before. As digital transformation becomes mainstream matter, you need to pay attention to its usage, benefits, and effects.
A number of business sectors have been witnessing the biggest technological shift including healthcare, education, retail, entertainment, travel, construction, utilities, and manufacturing. Every workflow, process, management act is being carried out with the help of the technology.
When it comes to business, technology is playing a game-changer role. Processes become agile, effective, cost-savvy, and time-savvy. It enables the end-to-end digitalized flow so that you can target other significant factors of your business, rather than being occupied into routine task management and overall monitoring.
Quality Of Process Should Be The Key Outcome of Digital Transformation
"If we continue to develop our technology without wisdom or prudence, our servant may prove to be our executioner."

– Omar Bradley (General, US Army)
In this digital-driven era, successful digital solutions are the only ones that built with an aim to be a problem-solver. We are observing the rise of an on-demand model, big data, automated supply chain management, and robotics process automation (RPA). There are many misconceptions prevailing about automation and artificial intelligence but one should not forget that technology is invented to make human life easier. It can't match the human brain in terms of insights, creativity, and emotional intelligence.
How To Create Environment for Successful Digital Environment?
This is very important for any business professionals who have already adopted or planning to adopt a digital way of conducting business,
Analyze and identify areas of your business where technology can help minimize time and efforts
Consider the customer-centric scenario to recognize the problem and digital-driven solution
Prefer quality over quantity at every level of the software development process
Train everyone in your organization and make them understand Dos and Don'ts of working in a digital environment
Spread a word or market your product/services through offline-online channels
Engage with your customers and employees to create a better customer experience
Perspective matters. Keep the aforementioned factors in mind in order to achieve a successful digital transformation. Remember, human intervention is of prime importance regardless of the degree of automation technology can achieve.
Science and technology revolutionize our lives, but memory, tradition, and myth frame our response.
– Arthur Schlesinger (Historian)
We hope you enjoyed reading this post!
SPEC INDIA, as your single stop IT partner has been successfully implementing a bouquet of diverse solutions and services all over the globe, proving its mettle as an ISO 9001:2015 certified IT solutions organization. With efficient project management practices, international standards to comply, flexible engagement models and superior infrastructure, SPEC INDIA is a customer's delight. Our skilled technical resources are apt at putting thoughts in a perspective by offering value-added reads for all.