Digital Transformation: Primary Accelerator Of Businesses Post COVID-19
There is so much happening! The whole world is getting affected under the pandemic. Covid-19 has spared none. It has altered our lives – personal and professional, the way we live, we eat, we work, everything. But is the effect all for the negative or is there something positive happening too? There is one big arena that is getting an accelerated push owing to the crisis and that is Digital Transformation.
We are all hearing of recession, unemployment, mortality, depression etc. all over and amongst these dark clouds, comes the silver lining – increased digitization, online collaboration, remote functioning, cloud-based solutions and more. This is all thanks to the force that has pushed digital transformation in a big way, in these times of concern.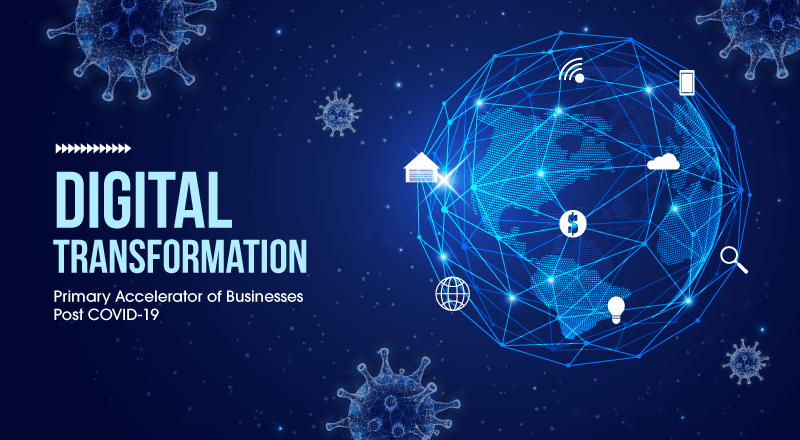 How Digital Transformation Becomes Indispensable Due To COVID-19?
Priority To Novel Digitized Methods & Tools
Now that the pandemic is not showing any signs of going away completely, organizations will have to run their shows based on different digitized techniques and tools. Looking at this, demand to purchase newer ways of technical help is increasing. Companies are understanding that instead of spending over aesthetics and entertainment, for business to grow, now is the right time to invest in better ways of technical working and digital transformation.
Data Rich Businesses Are Profited
Data was, is and will always remain an integral part of a successful business through digital transformation. The Covid-19 crisis has acted as a catalyst in using data in companies, to flare up a positive business outcome. Those who treat data as their prime fuel to business, those who offer a great personalized experience to their users will rise, the others may see a setback. Digitized data is helping companies get a detailed insight into their business performance and thereby, chalk out a profitable path ahead.
The Security Aspect Becomes Increasingly Important
As the administrative officials come up with newer applications, the need to have a tight security over data has increased rapidly. Data privacy is of utmost importance and catering to that is a goal, all organizations must follow. Organizations are now ensuring a seamless collaboration between procedures and technologies being leveraged. Also, the extremely popular Work from Home (WFH) scenario and remote teams command a deep look into the security aspect of organizational data and that is where security tools and technologies play an important role. Security those places with digitally rich solutions is the apt key.
Organizations Get More Agile
As the crisis goes on, organizations are looking more at their technical competencies that can give a direct effect on business outcome. There are novel business patterns coming up that are solely dedicated to attaining organizational objectives, rather in working from office for a stipulated number of hours. Agile is the new way of working, everything is getting digitally connected and the outcome must be positive. That is what matters.
Enterprise Security Getting More Attention
With almost everyone working from home, enterprise level security is sure to be compromised. Stakeholders are worried about that and hence, it is a must that they adopt high-quality security tools and technologies to ensure a completely secure mechanism of data exchanged between the organizations and people working from home. For e.g., companies that have never done this before are now investing in tools to support elimination of unauthorized access via multi-factor authorization, single sign on process etc. Their sole aim is to protect remote workers and their organizational infrastructure from sophisticated cyber-attacks.
Higher Focus On Network Connectivity and Inter-Personal Communication
There is no option but this – focusing more on a good network connectivity between all teammates and with the company infrastructure – servers, hardware etc. Owing to the crisis, top management of all firms are now concentrating on offering the best and secure way of communication, file sharing, chat options, video calling and more. To a certain extent, they also need to worry about network connectivity at the employee's home space. After all, that is a part of their seamless daily operations.
Hiring More Of Digital Experts
IT leaders are witnessing a need to increased digital transformation over the last few months and the coming months will demand the same. IT experts are looking at hiring more of IT expertise to be able to manage their digital drive in the organization. Companies are now hiring dedicated resources pertaining to IT sectors like agile delivery, DevOps, cloud architects, data scientists etc.
Increased Investment In Data and Analytics For Customer Retention
With such a fragile business scenario, losing out on customers is big fear businesses have. To maintain customer loyalty, attract new customers and increase their satisfaction level, companies are looking more at Business Intelligence Solutions, Big Data, and Analytical Techniques. These data analytic methods are powerful enough to offer in-depth client insights and feedback.
Industry 4.0 Gaining Momentum
Industry 4.0 is the medium to promote smart manufacturing by leveraging newer technologies like industrial robots. Owing to the crisis, many manufacturing units had to completely close business or run it at an exceptionally low scale. As the crisis lowers, these industries are adapting the Industry 4.0 revolution to fasten their lost profits and enable a less-human working environment. This industrial revolution is helping organizations boost their productivity levels and have a good control over their procedures. Getting prepared for the future, companies are moving towards a faster adaptation to this model of working.
Availability Of Scalable And Flexible Systems
Since there is no end-date being seen, organizations are getting prepared for a fully scalable and flexible system. There is a focus on getting the entire infrastructure built in an extendable manner, being able to adjust size and quantity of components, depending upon current demand and situation at that time.
Investing In Online Collaboration Tools
There are multiple online collaboration tools available across the globe, that focus on modern-day, secure, and scalable communication between stakeholders – employees, managers, partners, customers etc. Based on the need and available budget, companies are selecting their desired tools to ensure a seamless working experience and business profits.
Formation Of Agile Business Plans
The entry of the pandemic has left all detailed business plans into shatters. Now is the time when enterprises, big and small, are making agile business plans that fit their criteria. Action plans are being focused for a shorter period, rather than planning for years together.
Cloud-based Technologies Are Getting Implemented Ever More
Anyways, cloud-based services were popular and a case of interest for many. With the changing times, the need for the same has been recognized. Adoption of cloud services, specially hybrid cloud, has seen a steep rise over the past few months and the future shall see more of it.
Telecom Service And Internet Providers Will Be Valued More
Never, have we all realized the importance of telecom service providers and Internet providers, as in these last few months of crisis. Clients are valuing this facet of the industry much more than before. Also, the service providers are finding newer ways and means to offer the best of service, in a fast, unparalleled manner.
More Of Telehealth And Telemedicine Applications Being Used
Digitization in the world of healthcare and fitness has increased manifold. Telehealth and Telemedicine have found an increased client base, from all over the world. Doctors attending to patients online, video calling in cases of health issues or emergencies etc. have become the new normal. With the help of latest technologies like AI and AR / VR, the gap between doctors and patients has reduced a lot and seems the future will witness more usage of these medicinal apps.
Lesser Touch-Based Technologies Are Picking Up Pace
With the need of the hour, access to no-touch applications and platforms is increasing. Payment through QR code scanning without any sign-in or debit / credit cards is the latest that everyone has adapted. Hence, these technologies will pick up pace and showcase innovativeness.
Online Customer Support Is Getting Innovative And Necessary
Before the pandemic too, online customer support was an essential ingredient to good online business. But, with this global change, it is becoming essential for all organizations to have a superior and technical online client support mechanism. Technical support is getting better and faster through latest mechanisms like chatbots, online virtual assistants and tech support personals.
Re-defining Digital Technology In Organizations
Businesses have realized and valued the importance of digital transformation in recent days. In all aspects of functioning, organizations are, with open arms, embracing different digital initiatives, to keep up with their business pace. This is leading to increase in profitability and productivity. Of course, the learning curve is taking its time but those with a vision and a mission can achieve their target, seamlessly.
Hoping For A Brighter Tomorrow Soon
"This shall pass away" and so shall the Covid-19 crisis.
The positive effect that it has brought along in the digital transformation arena, is here to stay and accelerate further. With the partnership of dedicated IT solution and service providers, there is a lot the world must benefit, from these positive effects. Let us, together, pray for a healthy tomorrow, with a vanished pandemic and a bright digitized globe!
SPEC INDIA, as your single stop IT partner has been successfully implementing a bouquet of diverse solutions and services all over the globe, proving its mettle as an ISO 9001:2015 certified IT solutions organization. With efficient project management practices, international standards to comply, flexible engagement models and superior infrastructure, SPEC INDIA is a customer's delight. Our skilled technical resources are apt at putting thoughts in a perspective by offering value-added reads for all.