eLearning Apps & Software – There Is A Lot Happening In The Future
"Technology can become the wings that will allow the educational world to fly farther and faster than ever before – if we will allow it."
Jenny Arledge
Technology has spread its wings all over, all geographies, all domains, all segments are smitten using technological advancements in some or the other way. Life has become simple, reachable and more productive, thanks to these progressions. A similar effect has been widely and increasingly observed in the education industry, owing to eLearning. eLearning Application Solutions have been predicted to grow multi-fold over these years and is considered one of the most happening genres in coming times.
"Tell me and I will forget. Show me and I may remember. Involve me and I will learn." This is the fundamental behind one of the most innovative and successful mediums of imparting knowledge to multifaceted audiences – eLearning. It is all about leveraging the potential of electronic equipment to impart education, not limiting to the physical boundaries of the classroom. Especially with the Gen X, getting educated through eLearning Apps & Solutions and that too, in an interesting fashion, is quite thrilling and motivating. Call it distant education, online learning, computerized learning, electronic education – it means the same. The future of educations surely lies in the safe hands of eLearning apps.
eLearning is omnipresent, thanks to the genuine benefits that if offers – scalability, consistency, capacity, higher knowledge retention, time and money saving, maximized RoI, flexibility. What more do we want? No wonder, it has opened its arms to all leading innovations today and is unleashing its potential to the maximum.
"The most important principle for designing lively eLearning is to see eLearning design not as information design but as designing an experience."
Cathy Moore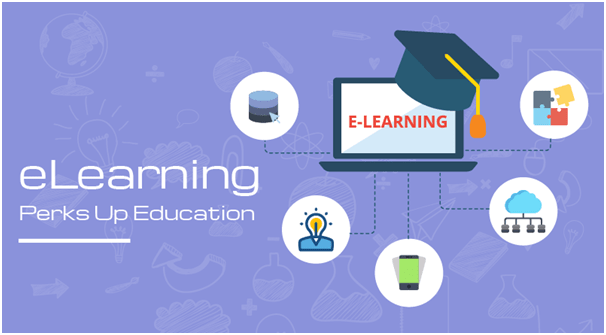 eLearning & Business Intelligence
When it comes to training and learning, eLearning has grabbed the market and corporate eLearning is the in thing today. As its popularity advances, it is followed by the natural course of challenges. And the technology to the rescue is our very own Business Intelligence Services, which owing to its amazing skill of culling out visually appealing reports/dashboards, from the huge bulk of information, has proved to be of great assistance to Corporate eLearning. This tech-savvy combination unleashes the true potential of eLearning through BI.
eLearning & Big Data
Big Data has evolved over these years and encompassed almost all domains under its innovative, effective and smart wings, the education, and eLearning sector being no exception. There is hardly any education app development that is barring Big Data Services. But, what is more, interesting is to judge how that must be happening and why is Big Data touted as the latest techno mantra behind the success of the eLearning sector. The future of eLearning has brightened with the assimilation of big data services. This data is being assimilated through different systems like content management systems, learning management systems, social networking websites and more.
eLearning & Digitization
eLearning application solutions have globally replaced the traditional chalk & blackboard, pen & paper classrooms. eLearning delivered by various mediums take students to virtual classroom environments with engaging & flexible experiences, emphasizing digitized technology on the education sector. The market for eLearning & mLearning by internet and gadgets will grow by 6% every year Approaches like BYOD & mobile technologies give a further impetus. Digitized education is the new normal in learning – ushered in by the Gen X.
eLearning & Gamification
There is just no limit to the way technology is advancing and Mobile Gamification is just one of the evident proofs. The way it has spread itself over the eLearning domain is mind-blowing. eLearning has reached yet another level altogether, owing to Gamification with Mobility as the backbone and there is much to look for, in this area. Gamification in eLearning is bringing a paradigm shift in which education is being perceived, all over the globe, especially by the modern generation. The major goal of gamification in education to make it more fun and appealing, by putting in attractions like badges, awards, points etc.
eLearning & Cloud Computing
Cloud-based learning has become increasingly popular since they turn out to be highly flexible, cost-effective, reachable and advantageous. These flexible solutions have taken up the market by storm. Cloud computing is all about how you do computing and not where you do computing. It is responsible for bearing the entire weight of storing, maintaining and managing the entire infrastructure, on its shoulders without individuals having to worry about the same. There is ensured constant availability of information, round the clock, with utmost security. The cloud-based educational apps increase the trend of eLearning lessening the online training budgets.
"Learning and innovation go hand in hand. The arrogance of success is to think that what you did yesterday will be sufficient for tomorrow."
William Pollard
The eLearning apps and solutions are the key elements to bridge the gap between the fast-paced technological advancements and the skill level as possessed by stakeholders. In order to match up to both, it is essential to move along with the globe and go in for eLearning solutions.
SPEC INDIA, with its bouquet of enterprise business offerings and expertise in Education App Development, has been servicing a widespread elite clientele all across the globe, with its eLearning Apps & Software Solutions. Our mobile-based apps showcase Bring Your Own Device (BYOD) enhancing the usage of enterprise mobility thereby improvising productivity and enabling enterprises to realize a faster RoI.
SPEC INDIA, as your single stop IT partner has been successfully implementing a bouquet of diverse solutions and services all over the globe, proving its mettle as an ISO 9001:2015 certified IT solutions organization. With efficient project management practices, international standards to comply, flexible engagement models and superior infrastructure, SPEC INDIA is a customer's delight. Our skilled technical resources are apt at putting thoughts in a perspective by offering value-added reads for all.