Google App Engine Collaborates with NodeJS – Icing on the Cake
"The cloud services companies of all sizes…The cloud is for everyone. The cloud is a democracy."– Marc Benioff.
As simple as its name and as useful as its features, cloud computing has been ubiquitous in almost all communities today. The cloud computing has carved a niche for itself and has begun to transform the face of the enterprises, becoming an important tool for the industry. Cloud Application Development is all set to rule today and tomorrow. Providing its users, a massive amount of storage and computing power, the cloud is bent upon augmenting business results all over the globe.
Google Cloud Platform, powered by Google, is a comprehensive suite of Google cloud computing services that execute on Google's own products like Google Search and YouTube. It offers IaaS, PaaS and serverless computing infrastructure. Around 10 years back, it announced Google App Engine, an innovative platform to develop and host web apps in Google-managed data centres. With this, it made its entry into the cloud computing arena. Since then, Google App Engine has been reinventing various ways and means to enhance its utility, technology and popularity and has been doing wonders. It has been popular as the apt PaaS for Java app development.
Amongst the plethora of technologies ruling the developer community, there is one which is unsurpassed and has carved a niche for itself. It is NodeJS – one of the fastest growing enterprise development platform. NodeJS app development services are at the apex today because of its suitability and flexibility factors for developing and implementing network apps that are real-time, multidevice and data-driven. The enterprise surely has a bright future with NodeJS application development. Considered as an apt development tool that can compete heavily in the world of technology driven environment, NodeJS has been proven to a suitable choice for enterprises all over the globe.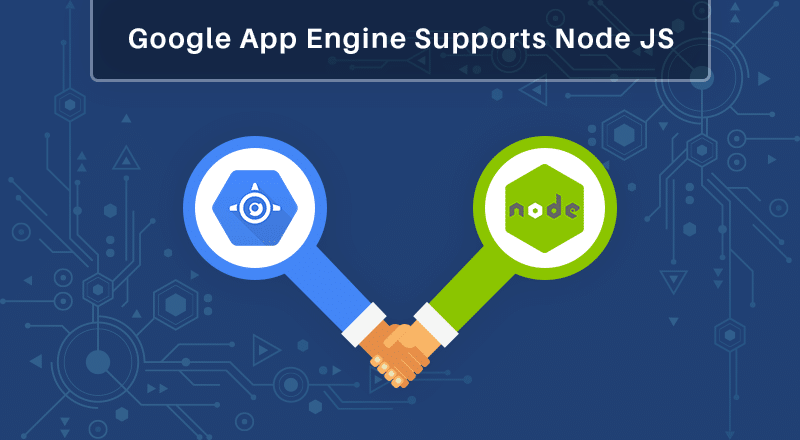 Google App Engine and NodeJS – A Collaboration to Look For
Google Cloud has proclaimed its support for the popular cross-platform NodeJS runtime in the standard App engine environment, to enhance its Google app engine solutions & services. NodeJS facilitates server code to be well written in JS. To make this a developer's delight and ensure it is a simplistic process, Google is working hard on making this collaboration with Node web development services work at its finest. Deploy a NodeJS code on GAE and enjoy the experience.
In the latest Google I/O conference held recently, the top heads of both organizations announced a previous of NodeJS on the GAE standard environment. With the help of recently announced gVisor sandbox container runtime, NodeJS will execute securely in the GAE standard environment. This environment with NodeJS ensures that you get a native node runtime environment. The service, being fully managed, Google will ensure all things modern and strengthened. The latest buzz is that Google is sure to make NodeJS 8.x available for Google Cloud functionalities soon. The runtime is dependent on V8, Google's opensource high-end performance JS engine.
Why is the Collaboration of Google App Engine and NodeJS Raising Excitement Bars?
Google Cloud Development Services, being one of the most yearned for around the globe and NodeJS Development Services, being one of the highly robust, versatile and innovative one's world over – their association with each other is bound to bring out some eye striking advantages:
Owing to the app engine standard infrastructure, there are better occurrences of lessened deployment time. This is because NodeJS apps scale instantaneously based on the traffic on the web. The app engine instantly scales to 0 when there are requests flowing in and scales up requisitely as soon as the traffic upsurges.
Native Developer Involvement
After all, the basic purpose of any new programming tool is to offer developer's an enjoyable and simplistic experience. And that is what NodeJS on GAE does. The novel NodeJS runtime has no constraint on language or API. Hence, it becomes easy to go in for a native developer involvement.
There is a highly secure HTTPS URL that can be utilized in your own customized domain along with an automated single click generation of the certificate. There is a provision of automatic updating the OS and versioning the same in an automated manner, leaving no hassle for the developers.
SPEC INDIA has been offering Cloud Application Development Services to a multitude of industries, spread across the globe and has garnered expertise in developing and implementing the best of cloud-based solutions. Making the most of the cloud, our state-of-the-art Google App Engine solutions & services ensure increased profitability and productivity with business efficacy to its maximum.
SPEC INDIA, as your single stop IT partner has been successfully implementing a bouquet of diverse solutions and services all over the globe, proving its mettle as an ISO 9001:2015 certified IT solutions organization. With efficient project management practices, international standards to comply, flexible engagement models and superior infrastructure, SPEC INDIA is a customer's delight. Our skilled technical resources are apt at putting thoughts in a perspective by offering value-added reads for all.