Why Hire Offshore Developers for Increased Productivity?
It isn't easy for organizations, big and small, enterprises and startups to do multitasking and yet deliver results. Amongst the different business engagement models that are popular, the advent of offshore software development has changed the scenario.
This novel trend is increasing the demand to hire offshore developers so that organizations can focus on their own work in a cost-effective manner with the availability of experienced developers and no hassle of managing teams in-house.
In parallel, there are challenges attached to it. Organizations will have to be well-equipped with well-defined methodologies to ensure smooth execution. This write-up focuses on what offshore development means, what are the benefits if you hire offshore developer when to hire, and the best practices to be leveraged for offshore development teams.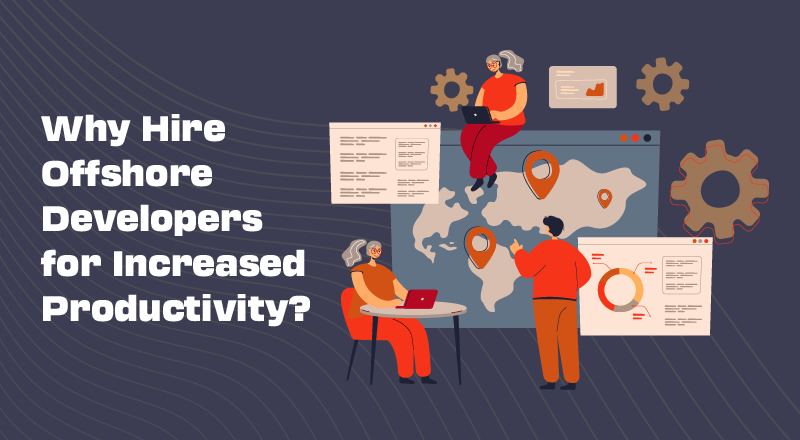 What is Offshore Software Development?
Offshore software development is a popular business approach wherein organizations hire offshore developers from other locations to offer development and technical support. The assistance could be varied depending upon the business requirement – it could be comprehensive for the entire project or for specific processes like coding, design, software development, website, mobile app development, product development, QA and testing, support, maintenance, etc.
Also Read: Dedicated Development Team: A Detailed Guide
For most organizations, to hire offshore development team works out well because of the proficiency and value of the quality that they bring along. Those qualities are difficult to find if you go in for local resources, wasting a lot of time, effort, and money. Organizations tend to look for offshore developers either by contacting known people, or search engines, searching for teams on social media sites, or through conferences and seminars.
What Does the Offshore Development Team Do?
An offshore development team oversees getting a blend of soft and technical skills with insightful experience to manage desired tasks in the project such as designing, coding, implementation, testing, support, etc. The team may work from a distant location or be a part of yet another team. But they are supposed to tag creativity and professionalism to the project.
When you hire offshore development team from different countries, the model of working is bound to be creative, diverse, and challenging, since all of them have their own view. That is where the projects will garner more productivity, imagination, and optimal output.
11 Key Reasons to Hire Offshore Developers
Is it recommended to hire offshore development teams?
Why so?
Can't organizations do without it?
Does it offer a big deal of benefits?
These questions are frequently asked, and the best answer is to go in for an offshore development team.
Let us run through the various benefits that organizations can avail, once they hire offshore developers:
Leverage Global Technical Talent:
When organizations hire an in-house technical task force, they have a limitation on expertise and experience. Once you hire global talent from other geographies, focussing on their technical proficiency, it makes a big difference in the business output and functioning of the projects. It offers a competitive edge over the others and the in-house users can then focus on their own core areas, instead of bothering about the technical part.
Less Operational and Infrastructural Costs:
Having hired resources does have a direct impact on overhead costs that could include supplies, office rent, insurance, infrastructure, added benefits, etc. When organizations evaluate different factors like location, resource demand, proficiency, and experience, it is evident that the cost factors involved in offshore development turn out to be restricted and hence benefit the business profitability.
Grab Modern Market Opportunities:
Now that you have a well-equipped and trained task force, it is easy for your organization to look for modernized market trends and patterns. It is viable to grab those opportunities and attempt to take up newer projects with advanced technologies like AI, ML, Blockchain, etc. The offshore team would be capable of fulfilling those demands and hence take you a step ahead of the rest, in the industry.
More Flexibility and Scalability:
With the hiring of teams, organizations have the flexibility to select resources as per their needs. They have even scale resources up and down as per the need of the project, with ease. This increases the stability factor in the project. Offshore developers ensure a tailored approach that garners a collaborative approach between team members and hence offers increased scalability and flexibility.
Increase Team Size Instantly as Needed:
There may be times when the need of the hour calls for more expert resources in the team. Having an offshore partner can help in getting such professional resources instantly with tried and tested experience. If not, getting in-house experience is a tough task in terms of taking responsibility and delivering results. Even customer satisfaction may be affected in case of delay in getting more task force.
Reaching Organizations Goals with Faster Turnaround Time:
Once you hire offshore developers, they come with their pre-defined set of technical expertise and professionalism. They just need to get acquainted with the project and the organizations to get started. Hence, getting returns quickly and that too, in an effective manner, is sure to happen. The go-to-market time is much faster since the task force needs no training technically.
Enhanced Quality and Productivity:
Since offshore developers are well-trained in the latest project execution methodologies and engagement models, they are quick enough to deliver the best results in a short span of time. This ensures complete quality, security, and productivity output along with saving time, effort, and costs. In-house teams can then increase their productivity output by focusing on their core functionalities.
Fewer Development Risks Involved:
Having an in-house team can increase risks related to the development and other phases since you are responsible for the task force and their activities. Hiring talented developers from trusted partners helps you lessen development risks since they are proficient in their work and accountable for their business output. Even if there are challenges, they have their senior task force to solve it for them, leaving the burden away from your shoulders.
Augmented Business Growth:
The above factors such as the availability of a skilled task force, focus of in-house teams on their core work, less involved costs, and risks lead to the organization offering increased business growth. With the business stakeholders providing a complete focus on their core workflow, objectives, and activities, it is viable to grab more opportunities, deliver results and thereby, carve a niche for themselves in the industry.
Robust and Increased Data Security Protocols:
For any organization, ensuring privacy and security of data is most important. Hiring offshore resources can ensure a completely secure setup and infrastructure with well-defined rules and regulations that they are aware of. Since these teams are technically proficient, they can implement and monitor security protocols in proximity and ensure that no data is compromised. They can implement the latest security mechanisms to avoid any type of malicious attacks, cybersecurity threats, phishing activities, etc.
Adaptation of the Latest Tools and Innovative Skills:
The world is going towards a radical technological change and there is no way we can stay back. With the offshore resources highly competent with advanced technologies, tools, cloud-based services, collaborative tools, and innovative mechanisms, it is easy for them to implement it in projects, thereby, elevating the organization's achievements in a competitive manner.
Who Benefits the Most as You Hire Offshore Developer Team?
As we look at the target audience who can benefit maximum as You hire offshore developer team, here are the possible companies/users:
Startups with a limited cost model
Organizations lacking technical expertise
Businesses who need faster go-to-market
Companies needing scaling of resources
Organizations who wish to focus on their core areas
Users who wish to stay a step ahead of the rest
When to Hire Offshore Developers?
How do you come to know that it is high time to opt for offshore software development?
Here are certain pointers that can help you finalize and go in for it:
When you see that there is less technical talent in the teams
When you need super-specialized roles to be played in the project
When the project complexity and challenges are high and need expert skills
When the project deadlines are tight and must be adhered to
When you need software consulting and support for your project
When you don't wish to spend much on inhouse hiring
When your business needs scaling of resources
When the productivity level of the in-house team is going low
Hire Offshore Developer: Best Practices to Follow
As you go in for an offshore software development team, here are certain key guidelines that can play a pivotal role in extracting the best out of the team:
Ensure that the offshore team and your business stakeholders are in sync with each other so that they work towards a common objective
Since the team is not in-house, it is important to track their activities through a common tool that is being operated by all
Build a collaborative partnership with the entire team including all team members for a healthy and effective output
Create smaller chunks of specialized teams for better control, visibility, and productivity
Assign roles and responsibilities to each for taking ownership of their own assignment
Have regular meetings through video conferencing to stay updated on the happenings
Use modern software development tracking tools for regular and better project tracking and planning
As We Wrap Up
As you set to hire offshore developer for your team, there are certain parameters that are involved – project management, project deadlines, training and hiring, development costs, testing and QA, budget estimates, availability of skilled resources, service and infrastructure costs, geographical location of projects and team members.
As simple as it seems, selecting an ideal software organization as your hiring partner is the most important task and hence must be focused upon. Here are certain pointers that can help in selecting the right IT partner when you hire offshore development team:
Robust and standard security mechanisms
Smooth collaboration and business workflows
Fluency in the language being spoken at the project
Proficiency in technical skills and quality assurance
Proven experience, references, achievements, performance
Comprehensive bouquet of services and technologies
Recognized quality and regulation standards
Flexible engagement, hiring, and cost offerings
As an offshore service provider and IT partner, SPEC INDIA synergizes the requests of enterprises across the globe, widening technically competent and experienced resources ready for the IT services needed.
With accessible contemporary infrastructure and cutting-edge technology, our concerted global service delivery offers cost-effectiveness and efficiency with defined & on-time services that stand a class apart. Project success is assured with well-structured project strategies and effective communication workflows.
Our flexible business engagement models are designed to cater to global clients across a varied set of industries, with a characterized level of control, consistency, and flexibility. We are ready to assist you in selecting your offshore hiring requirements and help you hire offshore developers for your project. React to us and leverage the skills of our competent task force!
SPEC INDIA, as your single stop IT partner has been successfully implementing a bouquet of diverse solutions and services all over the globe, proving its mettle as an ISO 9001:2015 certified IT solutions organization. With efficient project management practices, international standards to comply, flexible engagement models and superior infrastructure, SPEC INDIA is a customer's delight. Our skilled technical resources are apt at putting thoughts in a perspective by offering value-added reads for all.