Industrial IoT (IIoT): Higher Productivity. Higher RoI
The world around us is getting smarter and more connected as the Internet of Things (IoT) has become the cornerstone for most of the organization.
Gartner predicts a larger amount of "connected things" by 2020. According to Gartner, there will be over 25 billion by the end of 2021. (Source: Gartner)
Some of the top industries leveraging IoT Solutions include:-
Manufacturing
Smart Cities
Healthcare
Transportation
Agriculture
Although IoT is disrupting many industries, it seems that manufacturing is one i.e. benefitting the most.
According to the report, the manufacturing industry is spending the most on IoT development compared to the other industries.
Do you know the reason?
It is because,
IoT automates, fasten and streamlines the manufacturing process with the advanced sensors and provides manufacturers with real-time information.
IoT in the manufacturing industry has got its own concept; it has its own name: The Industrial Internet of Things.
Industrial IoT is transforming the industry by redefining the way machines interact with each other.
IIoT refers to the extension and use of IoT in industrial sectors and applications. Many people get confused with the IIoT and IoT as both of them makes the use of sensors to enhance the operational process.
Although it seems to be same, they are different in general usage. Before understanding their core difference, let's first quickly go through the basics of Industrial IoT.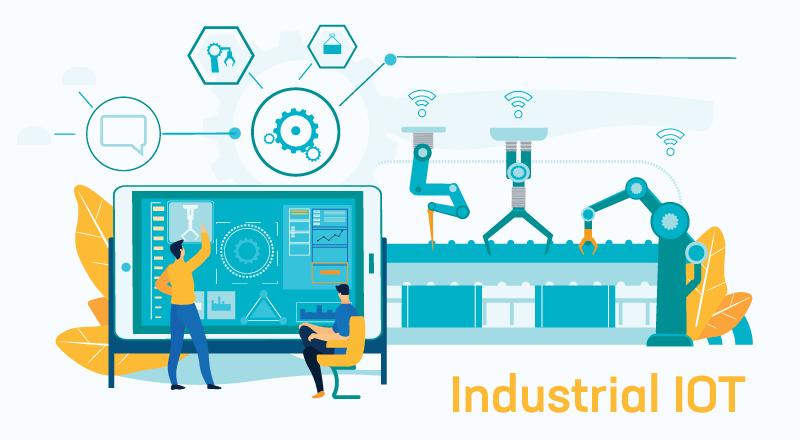 What Is The Industrial Internet of Things?
Industrial IoT is a term used to describe machine-to-machine communications where machines interact with other machines, objects, and infrastructures in order to produce data.
The huge volume of data gets generated and that data gets processed and analyzed by using technologies like data analytics and artificial intelligence, resulting in meaningful actions. It even makes the use of smart sensors and actuators to enhance the manufacturing processes and analyze the data in real-time.
Integration of IIoT can give industries a more accurate view of how their operations are moving along and help them to make decisions fasters and more accurately.
Some of the top companies like IBM Corporation, Intel, Schneider Electric SE, General Electric Company, Emerson Electric, etc are implementing Industrial IoT to improve and optimize their business operations.
With the above definition and explanation, you may have got the general idea of Industrial IoT.
But how it is different from IoT? Let's find it out.
IIoT vs IoT: How They Are Different?
IIoT is commonly used for the industrial purpose such as manufacturing, supply chain monitor and management system while IoT is used commonly for consumer usage and rely on mobile devices to connect smart home devices, smart cars, etc.
IoT is focused on the convenience of individuals like automating day-to-day household processes and IIoT is focused on efficiency, monitoring, and security of the operations.
Since IIoT is developed to handle critical machines, it uses precise sensors, advanced controls and location-aware technologies to track the operations. While IoT applications don't need extensive sensors; just basic ones can track and automate the task.
In IIoT, machine failures and break-downs can create emergency situations while IoT, on the other hand, has a low-risk impact when failure happens and doesn't create emergency situations.
The above-mentioned differences are sure to clear up the confusion between both the terminologies.
To power up smart-machines, IIoT uses a scalable technology stack which optimizes the machine's process.
What Technologies Are Used Behind Industrial IoT (IIoT)?
The IIoT consist of technologies like:
Cyber-Physical System: Integrates computing, networking, and other physical processes.
Cloud Computing: On-Demand availability of computer system and is responsible for data storage
Edge Computing: Processes data at the edge of the network instead of a centralized server.
Big Data: Capture, Manage and Processes the data
Sensors: Devices that detects and responds to the optical signals
How The Architecture Of IIoT Looks Like? And How Does It Work?
IIoT often imagined as layered modular architecture where:
Device Layer stands at the bottom of the stack and often consists of hardware like CPS, sensors or machines.
Network Layer consists of physical network buses, cloud computing, wifi, communication protocols that aggregates and transport data to the service layer.
Service Layer consists of the application that analyzes data and transforms it into information.
Content Layer is the top-most stratum of the stack and consists of user-interface devices like screens, tablets, and smart glasses.
How Does The Above Architecture Work?
Sensors, Actuators, Controllers and other hardware which are deployed in the physical layer sends data to the Edge Gateway or IoT Gateways.
These Gateways receives and transmits the information to the cloud application server where data is processed and analyzed and further data is sent to various applications for a better decision-making process.
Advanced applications like reporting, analytics, planning, etc. are accessible via smart-phones and provide customers with clear insights.
What Are The Advantages Of Using IIoT?
IIoT increases productivity, efficiency, decision-making, reduce the cost and enable an organization with real-time information and operational benefits.
Some of the benefits are:
Reduces The Downtime Of Machines
When thinking about the most obvious benefit of IIOT, improvising machine failure comes on the top of the list.
Unplanned downtime/machine breakdown is likely to occur in the manufacturing industry, which reduces their overall productivity, customer service, and affecting the business as a whole.
82% of the companies have experienced unplanned downtime over the past three years and that has Cost Company as much as $260,000 an hour.
If manufacturing industries invest in the Industrial Internet of Things (IIoT), they can gain real-time information about assets and production processes.
The specialized sensors deployed at every point, track all the parameters of the individual device and gains granular visibility across the operations. The availability of real-time machine data enables manufacturers to react to machine failures.
Easy Tracking And Monitoring Of Goods
Tracking is another perk of Industrial IoT. Manufacturers can receive insights in a way customers handle products through the use of IoT sensors in products and packaging.
Suppliers, manufacturers, and customers can use smart tracking tools to track the goods that may be damaged during transit, track the location, status, and condition throughout the supply chain. The real-time insights can help the managers to know if goods are damaged or at risk and can take immediate action to fix it.
Provides Condition-Based Alerts
The sensors deployed inside the manufacturing equipment triggers the alerts based on specific conditions like certain temperature or min/max vibration range.
Whenever the equipment deviates from its prescribed parameters, IoT sensors that are actively monitoring the machines sends alerts. This alert helps the manufacturers to conserve energy, increase operational efficiency and ensures that machines are working in their specified parameters.
Human error is likely to occur where manual operations are involved. This not only leads to hassle but also leads to serious problems like lost profits or any emergency situation.
IIoT applications can reduce and prevent errors in inventory management, operational management, and production flow. With IIoT applications, tasks are automated and there is less human intervention; companies can improve the quality, monitor events across the supply chain and track inventory across the globe.
Concerns Of IIoT
If you are planning to implement IIoT technology, you may need uninterrupted connectivity and 100% internet connectivity is difficult to achieve. The connection may get lost at some point of time either for maintenance or some other reasons. Enterprise needs to make sure to use upgraded cables and system so that there is no connectivity issue.
Gartner estimates that by 2020, more than 25% of recognized attacks on enterprises will involve IoT-connected systems, despite its accounting for less than 10% of IT security budgets
The security challenge is one of the biggest concerns. Every new device or component that connects to the IIoT can increase the security risk. As companies implement a variety of IIoT solution, they are open to vulnerabilities, insider threats, and other security concerns. Thus, the business must hold back the idea of IIoT
One of the major challenges for enterprises is Data Storage. Today, most of the companies use technology to forecast data and this data relies on past activities.
Industrial IoT helps to collect huge data that helps to forecast the future aspects of business, but it becomes necessary to use secured storage of data before using IIoT.
Although, there are some concerns but implementing IIoT can surely help to streamline the business operations.
IIoT can be used in varied areas. Let's see where:
IIoT Applications
Facility Management
Production Flow Monitoring
Inventory Management
Logistics and Supply Chain Optimization
Industrial Automation
Smart Robotics
Autonomous Vehicles
Power Management
Smart City Applications
Smart Farming and Live Stock Monitoring
Energy Consumption Optimization
However, the list is infinite. But the above-mentioned are some of the basic applications of Industrial IoT.
Is Industrial IoT a Way To The Future?
Every industry is looking to follow technology trends and implement modern technologies to streamline their workflow and Industrial IoT is one of them.
The Global Industrial IoT Gateway Market is forecasted to grow at a Compounded Annual Growth Rate (CAGR) of 13.64 percent during the period 2019-2023.
Looking at the above statistics, it seems that Businesses that will embrace industrial IoT will generate efficiencies, improve operations, and enhance product quality.
What are your thoughts? Are you planning to implement Industrial IoT for your business? If yes, we can surely help you with IIoT, IoT services and IoT solutions.
SPEC INDIA, as your single stop IT partner has been successfully implementing a bouquet of diverse solutions and services all over the globe, proving its mettle as an ISO 9001:2015 certified IT solutions organization. With efficient project management practices, international standards to comply, flexible engagement models and superior infrastructure, SPEC INDIA is a customer's delight. Our skilled technical resources are apt at putting thoughts in a perspective by offering value-added reads for all.