Meter Reading Software (Spot Billing) for Gas Utility Company
Posted
September 26, 2023
Meter reading software is a specialized application designed to collect, manage, and analyze data from various types of utility meters, such as electricity, gas, water, or heat meters.
It is most commonly used by utility companies, property management firms, and organizations that need to monitor and bill for metered services.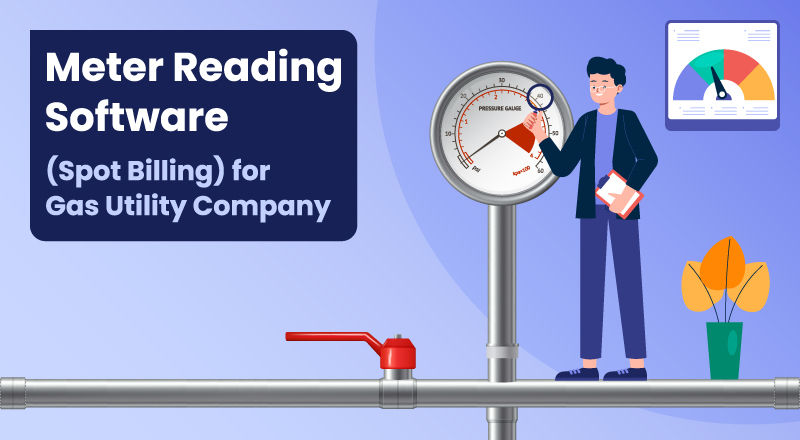 Key functionalities of the Meter Reading App:
Data Collection and Storage
Remote Reading
Data Validation
Real-Time Monitoring
Billing and Invoicing
Analytics and Reporting
Notifications and Alerts
Security and Compliance
Why Create a Custom Meter Reading Software for a Gas Utility Company?
Enterprise clients in the Utility Sector have been using SAP for its core business process for the last several years. Customer billing and invoicing were done through SAP-ISU billing. The meter reading was collected manually by visiting every customer's premises and uploaded in SAP for billing. The generated bill/invoice is again delivered to the customer manually.
In view of the growing customer base, it was felt to automate and combine meter readings and subsequent billing into one process and thus we came up with an idea to develop a Spot Bill solution
which can interact with the SAP ISU billing engine.
Features of our Spot Billing (Meter Reading) Solution:
Our Spot Billing system is real real-time online spot billing solution, in which the meter reader visits the customer's premises, records the meter reading, and issues the bill on the spot using a handheld Android Phone and Bluetooth Printer.
We have ready to use Spot Billing Solution framework which can be easily customized and delivered quickly depending upon client requirements.
Capture meter reading data by feeding the meter reading value manually or via a highly trained OCR model capable of capturing meter readings quite accurately.
The system has features to manage all master data required for bill generation and is common to all
the customers.
Easily deployed to Cloud/On-Premise Environment as per the client requirement.
Interesting Read: Spot Billing System for CGD (City Gas Distribution) Companies
Notable Benefits of Meter Reading Software:
The Overall cost of meter reading and bill distribution will be reduced up to 30% per meter
reading.
Upto 40% Savings on Backend/Admin staff
Upto 50% Savings on Stationary cost
Improved Cash flow
Reduction in Customer Complaints
Increased efficiency & better decision systems.
Savings on Per Meter Reading with 3rd Party Meter Readers due to single-trip for meter reading and bill-handover
Eliminate fraud with the help of meter reading images.
Spot Billing System Architecture and Dataflow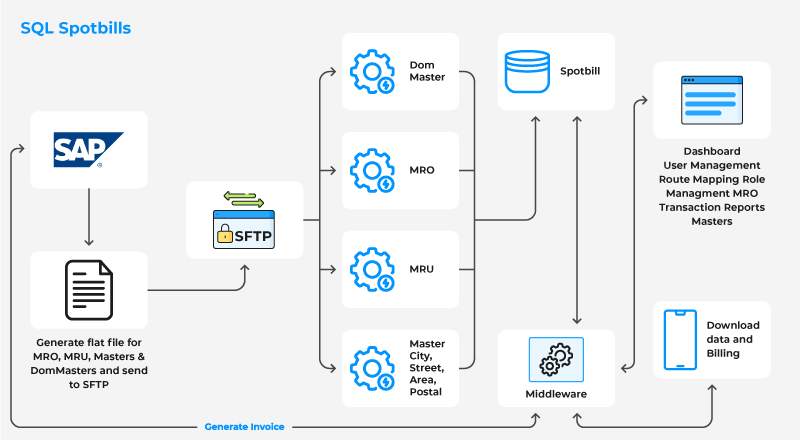 SAP System will generate flat files for MRO, MRU, Masters & DomMaster and send the same to
SFTP Server.
Import utility hosted on AWS Cloud APP Server is designed to load data from the SFTP server to the Spot Billing system and it is scheduled to run at periodic time intervals.
The utility will read the entire DOM master file & only the records that are valid are dumped in
CustomerMaster table.
MRO Import Utility is also designed to work in the same manner as DOM Master Utility.
The meter reader can get the data from the middleware and display it in the mobile application
Spot Billing System (Meter Reading App) Project Screens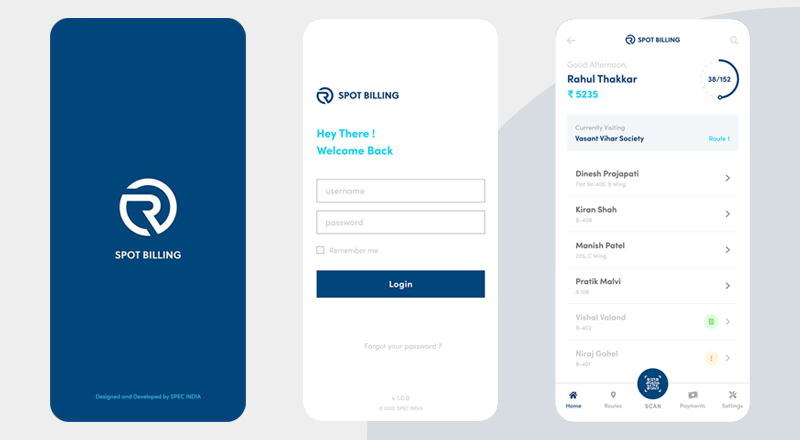 Meter Reader Route:
After successful login by the meter reader, the application will open the My Route screen which will display all the assigned routes, and the first route in the list will be selected. Below route selection, all the societies for the route will be listed.
Society Selection:
Once Route information is downloaded successfully to the mobile device, the reader will be able to see a list of societies for which he needs to complete the meter reading. He will also be able to identify printing pending records and Pending meter reading records.
The meter reader can see network signal strength by green light, and red light with connected and disconnected.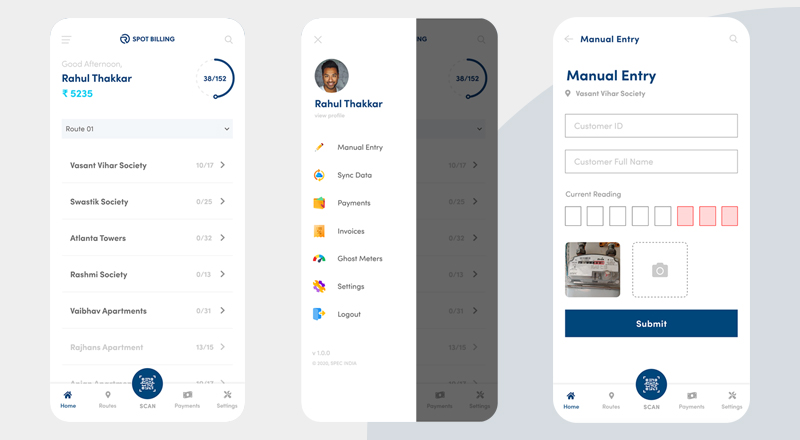 Customer Selection:
Once Route information gets downloaded successfully to a mobile device, the reader will be able to see a list of societies and customers for which he needs to complete a meter reading. He will also be able to see pending customer lists, house locked, and printing pending lists. The reader will also be able to search for customers by
customer name.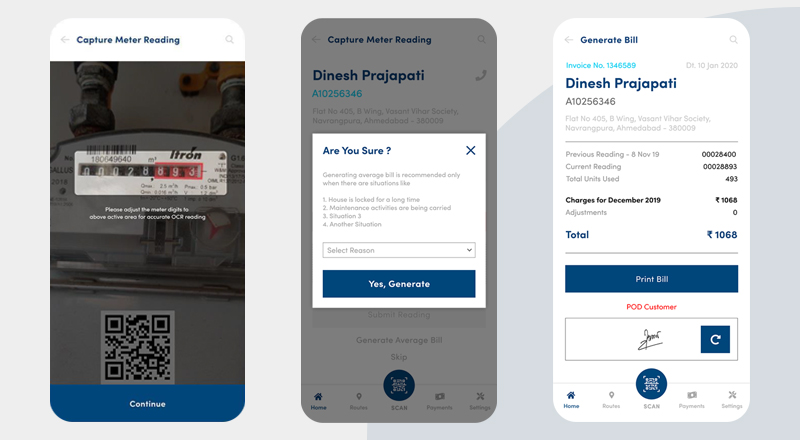 Meter Reading Entry:
Once the meter reader selects any customer, he will be redirected to the meter reading entry page. This page will be used to capture the customer's current meter reading data. Users can add meter reading data by scanning the meter reading image using OCR or manually entering meter reading data and submitting it to the server.
Invoice Printing:
This page will be used to print invoices. Once the reading is submitted and the invoice is generated, the meter reader will be redirected to the print invoice page and the invoice will be printed through a Bluetooth printer.
Web Admin Application for Spot Billing Solution
We have developed a very user-friendly and robust web application for Admin users to manage the Meter reading application.
Web Application for Admin users consists of below-mentioned features:
Admin Login/Forgot Password
Users & Role Management
Device Entry Management:
This will be used to Edit/List Device information. Whenever any Meter reader makes a call to the Middle Tier for any transaction, device Information will also be sent with it. If a transaction request is coming from the device that is not available in the device master, then that transaction will fail.
Dashboard/Reports: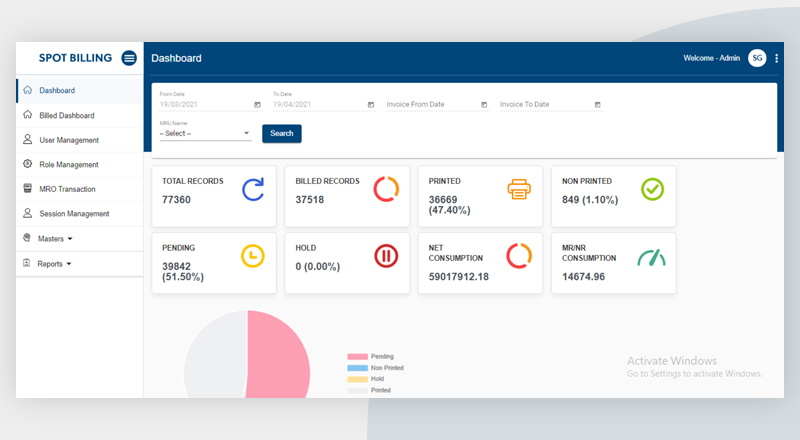 In this dashboard, the admin can view Total records, Billed Records, Printed, non-printed, Pending, Hold, with Total Net Consumption and MR/NR Consumption.
Admin can view several reports mentioned below:
MIS/Reports of Collected meter readings (along with image) and spot billing (with the amount billed) carried out.
Report of Customers to whom spot billing is done.
MRU wise, the total number of customers and the closing and meter reading in a selecting billing cycle.
MR history of a customer with details of MR document state, time, and geo coordinates.
Reports of meter tampering, unsafe installation, faulty meter. etc. as reported by a reader. ReportHouse-locked cases.
Conclusion:
Elevate utility management with meter reading software. Learn how this technology streamlines data collection, billing, and resource optimization. Contact our expert team and explore how meter reading software simplifies utility data collection, billing, and analysis.
Streamline your operations for efficient resource management by discovering the efficiency and accuracy of meter reading software. Learn how the Meter reading application streamlines data collection, billing, and resource management for utilities.
SPEC INDIA, as your single stop IT partner has been successfully implementing a bouquet of diverse solutions and services all over the globe, proving its mettle as an ISO 9001:2015 certified IT solutions organization. With efficient project management practices, international standards to comply, flexible engagement models and superior infrastructure, SPEC INDIA is a customer's delight. Our skilled technical resources are apt at putting thoughts in a perspective by offering value-added reads for all.