MVP Development For App Idea: Why To Choose And How Impactful It Is?
Updated
September 19th, 2023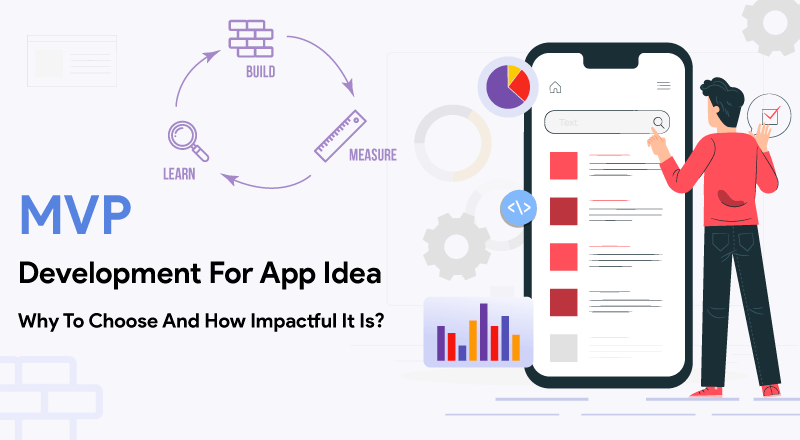 Have you ever thought of how mobile phones and apps will be a powerful replacement for all the obsolete routines? From replacing PCs, TVs, and traditional ways of shopping, mobile apps have played a pivotal role in assembling and satisfying the needs with a few clicks.
Numerous ideas have been crafted to better-functioning applications, but are all these apps successful? Well, it depends on what values it adds to the user's life. And to measure it, there are various customer approaches such as in-app activity, gathering feedback and suggestions, and many more things.
Now that you know the source of information, you must initiate the app development.
But wait, do you really think building a full application with all the features, leaving no room for improvement, investing whatever you have, and staking everything you have got in one go is a feasible way to fetch out a wealth of information? No, right?
Well, this article is the answer to all the questions mentioned above that might have crossed your mind sometime.
You must be thinking, if not building a full application, then what can be the other way around to understand the customer's point of view? MVP (minimum-viable-product) – it is a familiar term in the technological universe but may sound strange to startups or entrepreneurs.
MVP in Software Development
A minimum viable product is a software development strategy that builds a mobile application by compiling all the basic and necessary requirements that cater to the primary goal of the end-user. It is a primitive model of the final product.
Affordability, time efficiency, data collection, and users' acceptance are a few strengths through which you can sail your boat to final product development.
MVP has proven to be a boon not only to startups and entrepreneurs but also to big sharks. Facebook, Instagram, and Uber are a few examples that have leveraged the potential of MVP.
All of you might have come across the above user interface of Facebook, which gives a retro and vintage look, but this was an experiment by a social media application. This is an MVP of Facebook through which the organization has started its journey and gathered a lot of information. It has helped them to know the modifications required and users' demand for the new UI.
Similarly, Uber initially rolled out its application with basic features of booking and payment, and then slowly it has worked on feedback and suggestions. Now everyone knows Uber is one of the most famous car bookings or cab-sharing applications in the world.
This reminds the famous proverb –
"Slow & Steady Wins The Race."
Importance of MVP Development Services
To enter the market as a startup or entrepreneur with minimum investment, you must need proper guidance and a suitable plan. MVP is that strategic plan, which allows you to understand the potentiality of your idea.
Building a simple yet necessary feature-fledged application would gain your project momentum and also allow you to gather feedback and suggestions. This requires minimal investment and builds in a very short time.
Understand The Audiences' Taste:
The success or failure of your applications depends on how potential it is to add value to the users' lives. It becomes important to know the customer's expectations towards the product. And the expectations vary from customer to customer.
From affordability to time efficiency, and convenience to safety, the customer evaluates the product. If at the initial stage, your product meets the expectation, then they are likely to continue using the product.
Also, there are high chance that customers might refer products to family & friends. To collect information, you need to track the in-app activity of the user. Customer feedback and suggestion plays a vital role in shaping the application and making it a big hit in the market.
Therefore, building an MVP application for your project idea could be a clever approach towards an opportunistic business.
MVP Development Services : A Pillar Of Full Application:
MVP focuses on building an application with basic functionalities to test whether the idea helps the users in easing their tasks or not. Also, it is an ideal software development solution for all lean startups.
Here, the risks are minimal and the cost of development is also lower. MVP turns out to be the crux of app development as it is not only an ideal option from a development perspective but is also affordable and convenient.
Improvement In User Experience and Engagement:
What lies behind the success of the application is its consistency, relevance, and regular updates. And clubbing this all can boost the user experience as well as the engagement ratio. Users would turn down the use of the application if it doesn't bring anything exciting or enticing features in it.
The secret spice of improving the user experience and engagement ratio is by offering something innovative every time with updates and constant improvement. Many big sharks have already reaped the benefits of MVP by releasing improvements on various upgrades by considering the reviews received from the potential users.
MVP Evaluates Performance:
Performance is an essential factor that is prioritized while evaluating the MVP application. Users would uninstall the application if it lags or doesn't perform up to the expectation. Any use of obsolete technology might fail to achieve the expected result.
Now that you know it is mandatory to build an application using all the latest technology, you would require a tech professional who is as updated with the technology, and that you can hire from a leading Mobile App Development Company.
Security should be paramount whenever you build an application with in-app payment features. Payment gateway contains sensitive credentials that users might want to get encrypted and secured.
If your MVP app gives surety of securing the payment credentials, it might win the hearts of the users. Also, MVP could help in detecting security challenges that you might be able to fix.
In a nutshell, your app functions smoothly and delivers enticing performance from the inception of it. This could also lead to an increase in the conversion rate.
Good Red: MVP for Startups – Leading the Road to a Successful Business
Benefits of MVP in Software Development?
Concentrate On A Single Development:
MVP's main aim is to rapidly build a product with a basic feature that caters to the main idea of the product and release it. It doesn't focus on additional features at the initial level. This is best suited for lean startups and new businesses.
Therefore, it turns out to be cost-effective as it doesn't involve fancy features and lesser development time. This makes the MVP as top-priority for developers.
Collection & Analysis Of Reviews
What happens if you build a feature-rich app investing all your money and time and releasing it overlooking the aspect, motive, and customers' approach? You might face failure. The application is built for users and if you sideline them, then you would not be able to mark your place in the market.
For this reason, the MVP approach should be availed. It gives you a chance to collect and analyze the information provided by the users in the form of reviews, feedback, and suggestions.
You can scrutinize the data and understand what the user actually wants from your app, and what you have given till now. This makes it easier for you to build further advancements in the current application.
Implementing user opinion gains the trust of your user base in your idea and vision towards streamlining their lives.
Validating The Idea:
MVP helps you understand the market and audience's taste. By implementing an idea into a virtual platform, you would be able to understand how your app performs and what are its strengths and weaknesses. Also, you would be able to outperform in terms of features if they are unique and deliver excellent services.
On the contrary, if the idea is similar to what competitors offer then it might not hatch the expected result. So that is not failure but an opportunity to learn, improve, and re-work your idea.
MVP is known for being a time-efficient software development tool, and that makes it imperative for app development. It has not only helped today's startups, but also has fueled the veteran yet popular social media, Facebook.
You have an idea, share it with the developers, and build it. Run the idea in the market and grab the reviews. That's it – you don't have to wait longer and see your competitors ruling the market. This is what makes MVP stands apart from other development tools.
Another unique feature is its affordability as it only requires a minimum budget to build the basic feature applications that cater to the immediate need.
Building a bulk of apps and draining all the investment is not important if they fail to perform when put in action. So, it is advisable to leverage MVP for app development and test the idea.
The Purpose Of MVP App Development: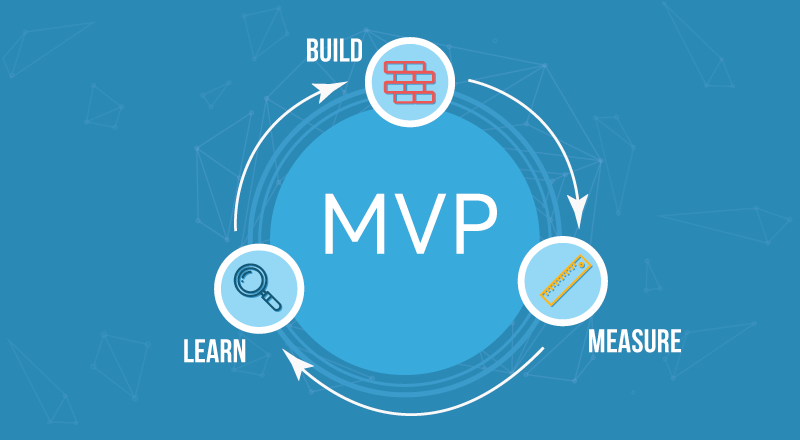 Traditionally, app development was time-consuming, expensive, and rigid. An app owner was restrained from improvements, innovations and affordability. Also, there was no focus on considering product viability and delivering uniqueness.
Looking at these loopholes and wanting to try hands-on innovations, Eric Ries, introduced the concept of MVP (minimum-viable-product) in 2011.
The purpose behind introducing MVP is to rapidly develop mobile apps with minimum investment and deliver quality products. The introducer had several concepts out of which MVP was one of the most fascinating concepts that have gained a lot of popularity with its agile development & ready-to-use product.
Moreover, you can gain more feedback from the users across the globe and invest your time in implementing those feedback. You will get to know what specifically your targeted audience requires and what they are looking for.
Additionally, you would be able to minimize the errors and build a strong base for your applications.
This clears the purpose of MVP that are as follows:
Evaluating the Concept
Advertising or promoting the potentials
Testing, Analyzing & Documenting the Reviews
And Collecting & Gathering Feedbacks
With the purpose, you must be convinced to build an MVP first and then the final product, but it might have raised your eyebrows that what are the features of MVP for app development?
Don't Run After Features, Follow MoSCoW
MVP applications are the basic structure with no rich features. It is only built with an aim to rapidly launch an app to test the product and gain the attention of the users. Also, to collect the reviews and work on it to improve it for further updates.
You can prioritize features once you are sure that your product is in demand and has a horde of users. You can then make a list of rich features that could entice the users and attract them.
Here, the MoSCoW method is popular in sorting out features for the final application. You can leverage the method for making a list of features.
The full form of MoSCoW is must, should, could and won't.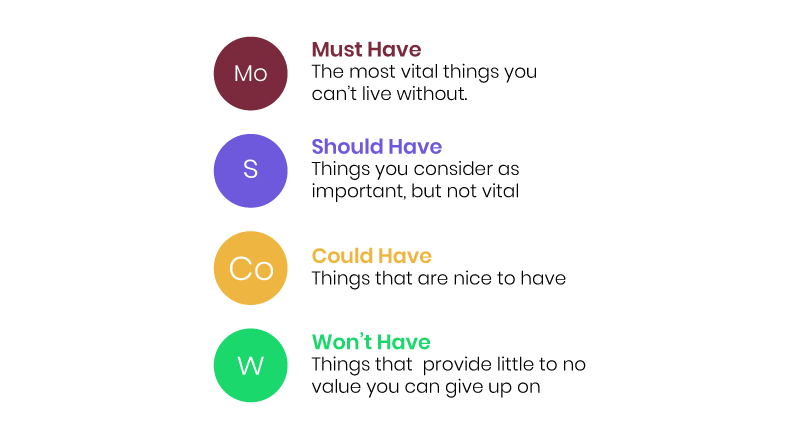 This method will help you in filtering out the features. You can plan for the features to include in the initial phase and to discard the features that are unimportant and not vital.
The second and third levels of this method are vital where the maximum of your investment could drain away, so you should be cautious while selecting the features. Also, adding ample features in one go would ask for a lot of time and investment.
On the contrary, there are a few features that should be released on reaching certain milestones, i.e., user base. These features will show its magic when reaching milestones.
MVP allows you to know the audience's tastes and preferences, which will help sort out and release the best features in the various updates.
This is how you can plan features for your application, and now let's come to the final step on building MVP for an application.
How To Build MVP For App Development?
The first and foremost step is to seek the problem faced by the audience. Then find out the solution to it. For this, a very well-known Product/market fit pyramid method would help you with collecting information.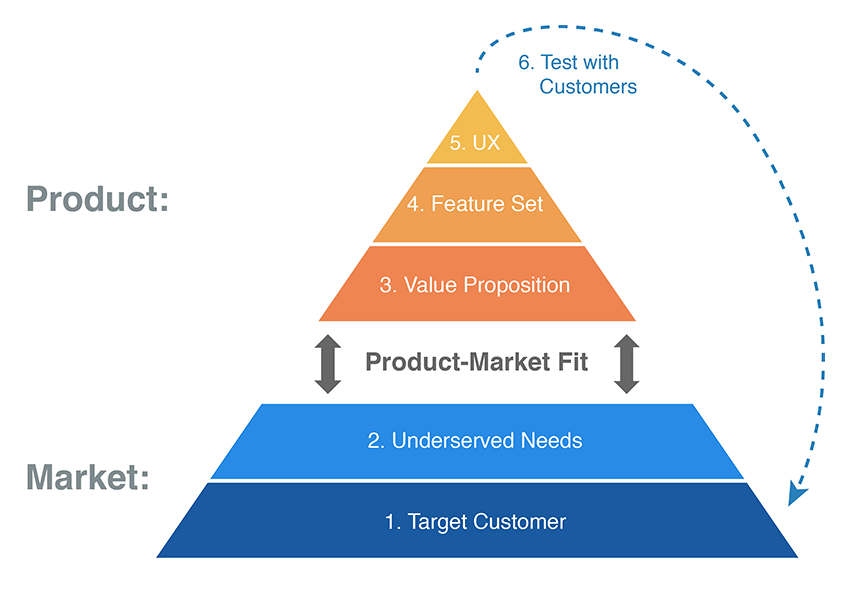 Detailed market research would provide you with a complete understanding of how the market performs. Does your product perform well? Is your product a perfect fit for the requirement?
It is mandatory to run a market test to figure out the right audience for your product.
Competitor research is also one of the major areas that you need to look for building strategies. This will help you in dealing with the different challenges that you might face while planning your application.
Understanding how a competitor performs, learning from its failure, and striving to build its success strategies are a few pillars that you need to gain from this analysis.
User flow is a very important aspect that holds the success or failure of the applications. You need to be active while designing the flow. The flow consists of the user's journey starting from opening an app to finally purchasing or availing product or service, respectively.
The flow should be swift and smooth, and there should be no glitches or system non-performance as this might lead to the loss of a customer.
Therefore, be more attentive while designing the user flow and setting up a plan for it as this will decide which features are to be included and how.
Again features are an important aspect, the users will expect some enticing and eye-catching features, which are unimportant at the initial stage from an app owner's perspective but at some point in time, you need to think about it.
This requires a proper sorting of a feature as per the priority; high, medium and low. Now that you have a properly organized list of features, you are ready with the launch of MVP with a few initial level features. Thus, it helps in releasing features at some intervals.
Know the Response From The Users:
There are certain ways through which you can gain a wealth of information on how your MVP is performing in the market. And that is very important at every point of time in business.
To stay updated and close to your customers may bring you more business. Let's have a look at the metrics through which you can acquire the response:
MRR (Monthly Recurring Revenue)
CAC (Customer Acquisition Cost)
Feedback
Active User
Signup
NPS (Net Promoter Score)
ARPU (Average Revenue Per User)
These are a few common ways through which you can know the response from the users for your MVP.
Types Of MVP Development Approaches
Another important aspect that needs to be considered while planning to build MVP for app development the types of MVPs.
Even MVP will have different types so that you can precisely work on your niche. Your interest and objective will help you in building MVP.
Let's dive deep into different approaches and understand how to select and what are its benefits.
No Product MVP:
No product means no coding approach that requires no technical knowledge as the development of a product is still an idea you are visualizing. This approach is chosen at a time when you want to evaluate the potentiality and at the same time customer's preference.
Below are two ways through which you can run a test of your imaginary product:
This opportunity comes into action when you want to test your idea. There is no building block yet you can initiate the process of showing your product by different mediums of advertising.
It is simple and not tangible yet you can aware the audience about the upcoming product. With the use of landing pages, advertising campaigns, surveys, videos, blogs, and banners, you can visualize your product to the audience.
A very well-known file hosting platform, Dropbox, initially started its operation with the help of explanatory videos. They choose this way to seed the idea of their business into the audiences' minds.
And that helped them to gain thousands of users to the site and pumped up their beta waiting list by 15 fold times.
Pre-sale aka, sell first, build afterward is a concept that is very popular nowadays. You must have seen famous mobile brands launching pre-sales of their products and advertising over different mediums of the channel.
This MVP approach has high chances of lead conversion as it requires an initial amount for booking a product. Also, this approach turns out to be a revenue-generating platform. And with the pre-sale booking, you would also be sure of the demand for your product/idea.
Apple & One Plus mobile companies are popular examples to adopt this strategy to run the business. These brands have left no stones unturned to advertise their products and have recorded a massive amount from the campaign even before physically selling a single piece.
Product-based MVP:
This MVP type ensures to deliver the primary concept of the future product. The addition of complex features will depend on how the part of the product performs. So let's see different approaches to this method.
The product that contains a recommendation as the main feature will be prioritized under this MVP approach. Here, there is no requirement of complex features and thus, you can easily develop your product by understanding the customer's needs.
For instance, a very popular accommodation rental service, Airbnb, has adapted this approach as it is a human-powered service wherein the Hosts and Guests are connected. They initially didn't have applications and deliver the same service manually.
Good Read: Concierge App Development – A Revolution For The Hospitality And Travel Industries
The name of this fascinating approach is taken from a famous movie The Wizard of Oz. There is a twist in the tale where the actions performed by the one are automated by someone but hidden from the spectator. And every spectator would consider it as magic.
Similarly, this MVP is a boon for many entrepreneurs or startups. Let's understand this by taking an example of a startup that has introduced this MVP.
Zappos-a popular online shoe retailer built by Nick Swinmurn with an idea to test the assumption and check whether people would be interested in buying shoes online or not.
This idea has given birth to Wizard of Oz MVP. The only intention behind this MVP is to create an illusion that every activity is automated and there is no human intervention, but the secret is the human is involved in executing everything.
Nick created an online platform and started posting photographs of the shoes that he used to click from the shops. Soon, he got his first order and then he went to the shop, bought the product and delivered it to the buyer.
This was the idea of Wizards of Oz was put into action.
Single-Feature MVP:
As the name explains – it is built with an idea of delivering a single feature and nothing fancy. The entire focus is on enhancing the single-core functionality of the product. The MVP should be built with respect to accomplishing users' requirements.
MLP:
MLP focuses on adding beauty to the MVP, which means retaining customers by not only offering effective solutions to the problems but also gluing them with heart-throbbing features.
Here, the intention is not only to cater to immediate needs but also to positively impact the experience. MLP is the cherry on the cake and you can improve the UI/UX by:
Designing attractive visual appeals, micro-interactions, and smooth interfaces.
Automating the flow, offering inputs and suggestions, etc
MLP's success depends on how delightful a journey you offer to your users. It can either be a smooth user interface or a precise and hassle-free achievement of the end goal. You can craft your MVP in such a way that it can induce the user to become a potential one.
Metrics To Acquire User Response & Evaluate MVP's Success
MRR (Monthly Recurring Revenue):
MRR or Monthly Recurring Revenue is a financial concept that helps to acquire knowledge on how financially active is your MVP. The income generated from MVP through different mediums is calculated and on the basis of that, the profit or loss is derived.
It is effective against SaaS products. The revenue earned from the product includes subscription charges, churns, discounts, upgrades or downgrades. One-time payment is excluded from MRR.
CAC (Customer Acquisition Cost):
As the name says, the cost needed to acquire a single customer. It has an in-depth calculation which in brief explains as, if the cost required to gain a single potential customer is higher than the revenue expected, then the idea of CAC is not profitable.
You would end up losing money and soon you need to shut down your business operations. On the contrary, if odds are in your favor, then your product becomes a massive success in the market.
This financial strategy or metric will ensure a calculative step towards the investment.
Feedback is an important metric to evaluate the performance of the product. It allows you to know the future addition/subtraction in the product. Also, it is a key indicator and a thought of a user who has manually used the product and reviewed it personally.
You should never neglect the feedback as it plays a vital role in the evolution of the product.
Active users let you know the percentage of interested and potential users. You can sort out the upcoming and ongoing active users to better understand the daily active users and monthly active users.
This is also another key metric to gauge the number of users and craft a business strategy to make the product more visible. Also, you can know the areas of improvement with the users' metric: if the active user metric increases then your product is a hit, and if it steeply decreases you need to plan better.
Signup is a part of daily active users. Another way to optimize your product by tracking down the number of sign-ups per day. Again if there are fewer sign-ups than expected, you have to seek out the loopholes and strive to fix it.
NPS (Net Promoter Score):
You must have got a chance to either rate a product or answer a question related to your journey through the product.
This is nothing but a key performance metric to understand the satisfaction of the user from the MVP. A few questions that you must have surely faced that would recall your experience are: "will you recommend it to others" or "how would you rate this application?"
The score meter counts from 0 to 10 where 9-10 are your happy and satisfied customers(promotors) and 0-6 are your one-time users also called detractors. You can leverage the key metric to differentiate the detractors and promoters and progress on your product.
ARPU (Average Revenue Per User)
The average revenue per user is a method similar to MRR. Here, you have to calculate the revenue collected from a user or a customer. Another important aspect in the field of improvement – you can make necessary modifications or release new features if the product is performing better and effective in the market.
The formula for calculating ARPU = total revenue/total user (customer or buyer, if there is a product)
So this is how you craft an amazing MVP for your application. And save billions of bucks by not investing them at once.
Last but not least, how can we forget the one who introduced the concept of MVP – Eric Ries, an early advocate of MVP and founder of the Lean Startup
Here is a video from him for your reference to wrap up in brief:
MVP App Development: Final Thoughts
MVC is nothing but testing the waters to analyze the thought process of the users towards technological advancement. Also, to measure your idea's potentiality and effectiveness, this software development tool turns out to be an ideal solution.
As MVP provides you with ample information such as market acceptance, customer feedback, areas of opportunities, and improvements, you can reap the benefits of MVC and build your idea with it.
Still, confused about MVP development services?
Don't worry.
You can connect with one of the Trusted Mobile App Development Company and share your idea of building MVP with them.
SPEC INDIA, as your single stop IT partner has been successfully implementing a bouquet of diverse solutions and services all over the globe, proving its mettle as an ISO 9001:2015 certified IT solutions organization. With efficient project management practices, international standards to comply, flexible engagement models and superior infrastructure, SPEC INDIA is a customer's delight. Our skilled technical resources are apt at putting thoughts in a perspective by offering value-added reads for all.