Oracle 18c – Next-Gen Autonomous Database
Oracle Database has created history!
Oracle database aka Oracle RDBMS or Oracle is exclusive multi-model database management system created by Oracle Corporation. In 1979 a first commercial RDBMS platform has been released and the portfolio of the organization is continuously evolving.
Oracle is highly recognized for its development and constant transformation; thus the company has released different versions which provide new features and innovative capabilities in the areas like security, development, management, and performance.
With its proven performance, reliability, and ease-of-use, Oracle database has become the first choice for web-based applications and is used by large enterprises like Facebook, Twitter, YouTube, etc.
Oracle Database 18c's aka Oracle Autonomous Database marked a change in the world of database administrators. It not only brought new functionality and improvements in the Oracle Database 12c but also simplifies and automates most of the task for the database administrators.
In this blog, we'll highlight everything that oracle 18c has stored in!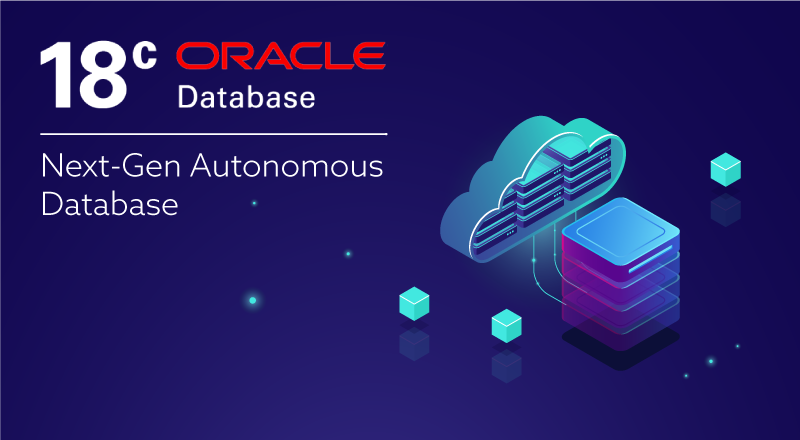 Oracle 18c – Basic Introduction
In 2017, executive chairman and CTO of Oracle Larry Ellison has officially introduced Oracle 18c as a big thing (Here "c" stands for Cloud). This autonomous database was named as "Self-Driving" as the defined services can be handled by the database independently along with data protection in any kind of failure.
Oracle 18c is latest generation database that runs in the Oracle Cloud just as it does on-premises. Users can deploy and run their Oracle and third-party applications and on Oracle Cloud without making any changes in the applications.
Oracle 18c is also known for its autonomous database and is powered by machine learning technology which reduces the human intervention, eliminates manual & error-prone task and removes the complexity of database operations through:
Self-Driving: Put an end to manual database management
Self-Securing: Protection from both external attacks and internal users. Database encrypts all data automatically to protect the database from hacking.
Self-Repairing: Automatically detects errors and applies the solution with all downtime.
Oracle Autonomous database offers adaptive machine algorithms which automatically patch, tune, backup and upgrade the system while the system is running with maximum availability.
The new features included in the 18c version are related to the following areas:
Cost-based Optimization
Performance Tuning and Diagnostics
Data Optimization
Cloud-Scale Operations
Oracle 18c – How It Evolved In The Database World?
Oracle Database 18c is "Oracle Database 12c Release 2 12.2.0.2", the name has been changed to reflect the year in which the product is going to be available.
But 18c even focuses on enhancing the features of oracles 12c release 2.
Most of the improvements are based on bringing the database to the cloud, supporting cloud-only or hybrid data management and big data operations. The old model of multiple release versions and patch set wasn't doing justice to the database.
However, the patch set doesn't contain major changes in the functionality but there're small and incremental improvements, which emphasis on three main features of Oracle Database 12c Release 2:
Multitenant Architecture
Database In-Memory
Oracle Database Sharding
Oracle 18c: Remarkable New Features Of Oracle Database
Multitenant Architecture
This release introduced the number of enhancements to existing Multitenant Architecture which are as below:
Faster Deployment of Upgrades, Updates, and Revisions – This enhancement reduces time required for Upgrades, Updates, and Revisions.
Transportable Backups – It supports the use of backup performed on PDB prior to unplugging of a new container. This results in faster relocation between PDBs and DBs.
Snapshot Carousel – This feature enables customers to define regular snapshots of PDBs which can be used for a full point in time recovery or to a specific point in time clone.
Refreshable PDB Switchover – Enables customers to create PDB, which is an incrementally updated copy of Master PDB and then we can switch over between Master PDB and updated PDB easily. So it will make easier for customers to switch workloads between CDBs.
Performance
Oracle Database 18c has provided a lot more improvements in the area of SQL, optimizations, tuning, etc. that have helped customers to deliver the database performance level expectation on single server and cluster server.
It has also provided customers to access in-memory columnar formatted data with Oracle Database In-Memory feature. This results in faster performance of transactional queries and removes the need for analytic reporting indexes.
High Availability
Oracle Database offers the highest level of availability of server (MAA Architecture). It offers an integrated set of database availability feature and the best practice blueprint which addresses common causes of planned and unplanned downtime.
Below features are enhanced in Oracle Database 12c for the high availability:
Real Application Centre
Automatic Storage Management
Recovery Manager
Oracle Secure Backup
Flashback
Active Data Guard
Online Patching
Rolling Database Upgrades
Security
This release has introduced many new security features and some of them are listed below:
Schema only accounts
Active directory integration with Oracle Database
Oracle Database Vault support for Oracle Database Replay
A user-defined Master encryption key
Use Oracle Data Pump to export and import the Unified Audit Trail
Write Unified Audit Trail records to SYSLOG
Data Warehousing And Big Data
Oracle 18c provides optimum performance, reliability, and security to transactional database as well as analytical workloads which meets the customer requirements whether database is on cloud or on-premise.
Below are the features which Oracle Database 18c provides for Data warehousing and Big Data:
Oracle Big Data Platform
Fast SQL Access for Relational, Hadoop, and NoSQL
Comprehensive Analytics and Data Science Capabilities
Big Data Cloud Service
Autonomous Data Warehouse Cloud
Application Development
Oracle Database 18c not only offers the latest generation features to the customer but also to developers in terms of integrated data management solution. These are supported by all popular application development frameworks and are in use even today.
It enables developers to build an application very quickly and help to take advantages of performance, reliability, and security as well as other non-listed features in this blog. It protects customer investment in existing development, resources and skillsets.
Application Developer Frameworks- Oracle Database provides native programmatic interfaces as well as support the development and script language
Which includes:

SQL and PL/SQL
Oracle Call Interface
Programming languages including Java, C, and C++
Scripting languages including PHP, Ruby, and Perl
.NET with Oracle Developer Tools for Visual Studio, Oracle Data Provider for .NET and Oracle Database Extensions for .NET

Oracle APEX
Oracle SQL Developer
Oracle REST Data Service
JSON Support
Oracle LiveSQL
Oracle Database on Docker
Advantages Of Oracle Autonomous Database
The key advantages with the release of Oracle 18c are:
Reduces Human Labor
No Human Error
No Manual Performance Tuning
Self-Driving Database
Self-Scalable
Self-Repairing
Reduces Complexity of Database
Upgrades and Patching is easy
Highly reliable and secure database
Reduces Operational Cost
Most efficient consumption of resources
Oracle 18c: Will It Impact On DBAs Role?
As this autonomous database can execute and handle the tasks by itself, should DBAs need to worry?
No, this Oracle Autonomous Database is just the service offered by the Oracle which needs to be managed by DBAs.
DBA administrator will need to:
Determine the services offered by Oracle
Implement policies and rules using autonomous database
Estimate the cost of services
Design IT infrastructure needed for database features
However, the list can be infinite.
To be precise, there will be more higher-level tasks for the database administrators.
Are you planning to execute Oracle Database 18c?
Oracle Database 18c offers unique multitenant architecture, dual-format in-memory column store, and native sharding; this helps the customers to work on their database, both on-premises and in the cloud.
As it offers highly-reliable and secure platform, it is easy to modernize the transactional and analytical workloads either in the cloud, on-premises or in a hybrid configuration.
What are your thoughts? Would you like to know more about Oracle Database 18c? Connect with our experts today.
SPEC INDIA, as your single stop IT partner has been successfully implementing a bouquet of diverse solutions and services all over the globe, proving its mettle as an ISO 9001:2015 certified IT solutions organization. With efficient project management practices, international standards to comply, flexible engagement models and superior infrastructure, SPEC INDIA is a customer's delight. Our skilled technical resources are apt at putting thoughts in a perspective by offering value-added reads for all.