What Is Pentaho Data Integration (Kettle): All There Is To Know
No dataset can provide answers; it needs to be refined, analyzed, and presented in a way that helps organizations to embark on the data-driven journey.
Many big data and business intelligence software made this a lot easier. Today's businesses can use a variety of tools, techniques, and technologies to ask questions to data. Platforms like Tableau, Pentaho, Power BI offer end-to-end BI services that include collection, integration, analysis, and visualization of data to simplify the decision-making process.
This post is focused on Pentaho Data Integration and explains PDI, also known as Kettle in the simplest way.
Pentaho's Data Integration capability is world-famous and loved by data enthusiasts across the world. It ensures your data, big or small, structured or unstructured, is appropriately governed and blended based on its timeliness and relevance.
Let's talk about PDI in detail.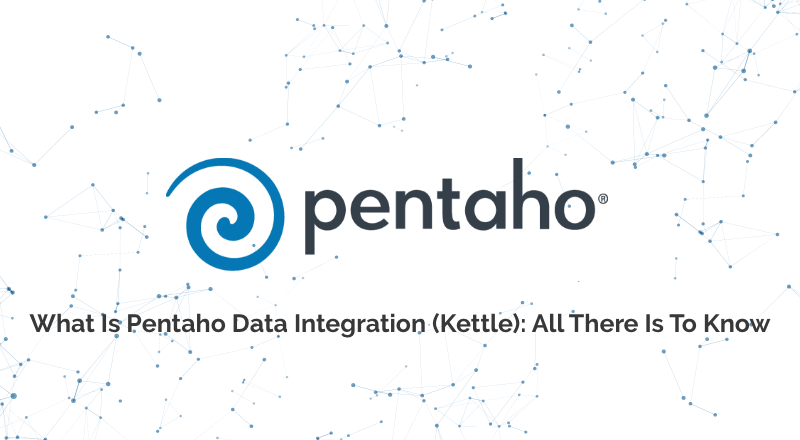 Pentaho Data Integration: Connectivity, Visibility, Productivity
Before we proceed, let's become familiar with Pentaho.
What Is Pentaho?
Hitachi Data Systems bought big data integration and business analytics company Pentaho in February 2015. Pentaho offers world-class data integration, OLAP, data mining, reporting, and ETL (Extract, Transform, and Load) capabilities.
Pentaho is a leading business intelligence platform that makes it possible for the organization to easily access data, prepare, and analyze through easy-to-use and intuitive interfaces.
Pentaho's Data Integration is very popular and it has set the benchmark for the most used and preferred component for data integration.
What Is PDI?
Pentaho Data Integration is a part of the Pentaho suite.
It offers powerful ETL capabilities (Extract, Transform, and Load) that include gathering data from multiple sources, amalgamate those into a single location, and also representing all data in a uniform format.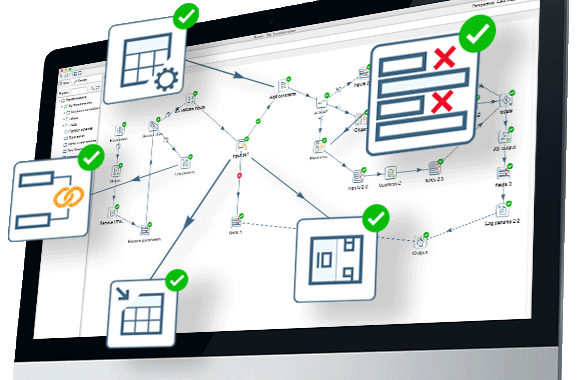 It includes many tools and software for data warehousing, data mining, and data analysis with a graphical, easy-to-use, no-code, and user-friendly GUI environment. Easy, isn't it?
A Brief History Of Pentaho Data Integration:
PDI is also referred to as Kettle.
Kettle was a powerful ETL tool based on Java. Kettle itself represents its meaning, KETTLE stands for Kettle Extraction Transformation Transport Load Environment. Matt Casters, an independent BI consultant developed Kettle and it was open-sourced in 2005.
It was acquired by Pentaho in 2006 and the name was changed to 'Pentaho Data Integration.'
There are many components such as Spoon, Pan, Kitchen, Carte – all these names are culinary metaphors given to these offerings.
Let's learn how these components make PDI a perfect solution for data integration jobs.
Here Are Key Components Of Pentaho Data Integration:
Spoon is a desktop application that allows developers to create workflows – transformations and jobs. Transformations refer to sourcing, processing, and loading the data. Jobs are used to coordinating resources, dependencies, and execution of ETL activities. Transformations and jobs are two basic file types in data integration.
Pan is the PDI command-line tool for executing transformations. Transformations can be from a PDI repository or a local file.
It is also a command-line tool for executing the jobs developed through Spoon (PDI Client).
Carte is a simple web server that allows executing transformations and jobs by setting-up a remote environment.
The most important component of PDI is Spoon. All these components are widely used for smooth, end-to-end, and hassle-free data integration.
Now, let's learn what makes PDI popular for data integration jobs. To understand this, we have to talk about key data integration challenges faced by the organizations.
Data Integration Challenges Your Business May Face:
No one can ignore this fact. To get the most out of data, you first need to identify sources and that's where a problem may occur. Data is everywhere and consolidate it all in one place becomes a challenge for most organizations. Along with that, data accuracy, timeliness, and relevancy are important factors for data integration.
Inconsistency in data formats may take a lot of time for developers and by the time developers manually format, refine, validate, and correct, data might have lost its value. Data transformation tools make this easier like never before and make data actionable by identifying base language and automatically making changes.
Sometimes you might need real-time data to meet specific demands. If your system or solution can't perform this effectively, you may end up losing opportunities related to it. This challenge becomes more complex when there are large datasets and sources. Slow performance may also become an issue when there are large datasets and multiple data sources.
Not all data is used in decision-making. Due to an ever-increasing amount of data, it often happens that more than half of the data goes unused for analytics. Quality of data must be managed to take accurate business decisions and implement data-driven strategies. Data quality management requires constant monitoring, smart solutions, and a proactive approach.
Apart from this, lack of approach to data integration and choice of wrong software may become troublesome for the organizations.
What Are The Advantages Of Pentaho Data Integration And Why PDI Is An Answer To Every Data Integration Challenge?
Here are some of the key advantages of PDI, making it a popular tool in the data analytics market.
Metadata-Driven Approach:
Pentaho uses a metadata-driven approach that allows users to specify what to do exactly and not how to do it. This allows developers to choose from a wide range of predefined plugins and widgets and tell them what to do as per requirements.
This makes developers' jobs easier and offers more flexibility in creating data manipulation jobs.
PDI offers intuitive and drag-and-drop interfaces, making it very easy to learn and use. It saves a lot of time with prebuilt components to rapidly onboard data from various sources. Developers can also add their own custom extensions easily and quickly with a plug-in architecture. It lets developers create data pipelines in minutes by using Spoon (PDI Client) which is a no-code GUI and editor for running jobs and transformations.
Large Data Volumes? No Problem:
Pentaho's architecture is capable to handle extremely large data sets. PDI is used for enterprise-level data integration, blending, and data cleansing. It is necessary to reduce the overhead of data integration and blending so that data-driven enterprises can focus on analyzing data to drive decisions. Pentaho simplifies the creation of data pipelines and processes data at scale.
Data from any source in any environment – this sums up the capability of PDI in one sentence. PDI is an extremely flexible tool that offers a range of features that include integration, ingest, and preparing of data from any source. It offers broad connectivity to a variety of data sources that include structured, semi-structured, and unstructured data whether they are in the cloud or on-premise.
Cross-platform support, use of Java, and the ability to deal with large datasets are some of the key benefits PDI offers.
Gartner recognized Hitachi Vantara for its ability to complete vision in the 2020 Magic Quadrant for Data Integration Tools. PDI delivers exceptional performance even when it comes to processing a large amount of data. Using PDI, organizations can gain real insights from data with less complexity and time. It is a Lumada DataOps Suite product that enables organizations to make good use of data, simplifying data management across the organization without any complexity and at speed.
Let's learn about some common use cases of PDI:
Common Uses Of Pentaho Data Integration:
Though it is an ETL and integration tool, it can be used for:
Data migration between different databases and applications
Integration of real-time ETL as a data source
Data cleansing with steps
Hadoop job execution and scheduling
Rapid prototyping of ROLAP schemas
Data warehouse population with built-in support for changing dimensions
Pentaho Data Integration: Handles Variety, Volume, And Velocity
The first and foremost priority of today's organizations is to become data-driven. Data fuels decisions and strategies whether it is a startup, small business, or large enterprise. Data integration, transformation, and data analytics are now an integral part of the overall business strategy. Organizations that are early to work upon data-driven strategies are ahead of those who ignored data-backed decisions in the present-day environment.
It is important to use the right business intelligence tool at the right time so that organization can make the right decision at right time. To make this reality, tools like Pentaho are what you need. Its powerful components and high performance enable organizations to unlock the real value of data. Data needs to be properly collected, cleaned, and analyzed to identify strengths, opportunities, and risks and get new insights. Pentaho is a complete suite that offers exceptional data integration, reporting, and presenting capabilities. It is capable of handling a large volume of data, processing data at speed, and work with various data sources.
Have you tried it? Which tool are you using for your business?
Good Read: Pentaho vs Talend: A Head To Head Comparison
Frequently Asked Questions:
What is Kettle in Pentaho?
Kettle is a free and open-source ETL (Extract, Transform, and Load) tool from Pentaho.
Is Pentaho Kettle open source?
Yes, Pentaho kettle is open-source. PDI comes in two editions – community and subscription-based enterprise edition.
Is Pentaho Data Integration free?
Pentaho Data Integration is an open-source and free tool.
How does Pentaho Data Integration work?
It allows developers to easily create a data pipeline using a simple GUI creator without writing a single line of code. It uses a metadata-driven approach and shared repository that enable remote ETL execution easily, quickly, and efficiently.
Spoon is a desktop application (PDI client) that is used to author, run, edit, and debug jobs and transformations.
SPEC INDIA, as your single stop IT partner has been successfully implementing a bouquet of diverse solutions and services all over the globe, proving its mettle as an ISO 9001:2015 certified IT solutions organization. With efficient project management practices, international standards to comply, flexible engagement models and superior infrastructure, SPEC INDIA is a customer's delight. Our skilled technical resources are apt at putting thoughts in a perspective by offering value-added reads for all.