How is Predictive Analytics an Impeccable Technique to Optimize Inventory Management?
Posted
September 18, 2017
"Inventory is money sitting around in another form – Rhonda Adams." Such important is the functionality of inventory management that however common or insignificant it may look, an effective and optimum management of the same is highly recommended for a successful & ROI driven business. Be it any domain – manufacturing, retail, distribution etc., inventory tracking, management, optimization and effectiveness is a must and at the same time, offers its set of challenges, owing to the multitude sets of information floating around. The right level of inventory available at the right time and the right place is what leads to a flourishing business. But, that is not as simple as it looks. There is an incessant need of technological help to make this happen and lo, here is one of the most sought after & popular technology – Predictive Analytics with Business Intelligence Consulting which will make things much easier while managing inventory.
As the globe witnesses Business Intelligence Services as a part and parcel of major business domains, each and every retailer wishes to allocate, replenish and manage inventory to its optimum. As easy as it may seem, it offers a lot of challenges such as:
Inadequate selling of goods leading to unbalanced inventory at different locations
Losing out on sale in case of unavailability of inventory at certain locations
Improper showcasing of demand and supply leading to wrong calculations for the future inventory supply
Lack of visualization in terms of statistics, performance, availability of inventory leading to wrongly taken decisions and lack of transparency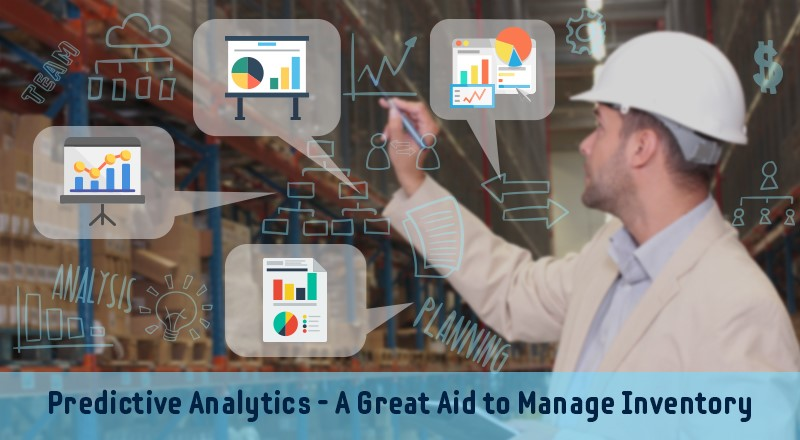 The single stop solution to garner vital betterments in inventory management is Predictive Analytics. It holds capabilities of showing details like demand forecasting, assortment planning, optimized levels of inventory & step wise product and process flow. The simplistic & transparent graphical display of information does not only provide easily understandable information but also gives you a depth into the knowledge base which is very much required for stakeholders to take further decisions regarding inventory.
5 Ways in which Predictive Analytics Helps in Maintaining Proper Inventory Levels
Identifies Items which are either Overstocked or Understocked
Most items which are needed in the enterprise have different patterns of getting consumed and hence knowing manually which items are in demand or not, are a tough job. Based on that, to come up with the stock management details or it being either overstocked or understocked is challenge which can be easily overcome though BI and analytics.  Organizations do have data with them but that cannot be considered perfect for futuristic analysis. Information obtained out of Business Intelligence Consulting can be relied upon in identification of items which are surely not being appreciated in the market or are heavily being asked for. This information turns out as a highly trust worthy information and thereby reduces the pressure on the stakeholders of manually monitoring the entire stock all the time.
Helps Arrange Inventory Appropriately
Inventory division has been a traditional process required all the time. Based on the type and usage of the items, they are classified into different sections so that maintaining them becomes an easy job, but it is not as simple as it looks. With a multitude of items, locations, warehouses at an increasing spree, predictive analytics turns out to be an ideal solution as it is easily able to flag items as per their need, provide optimum supply and demand etc. Stakeholders find it quite easy and convenient to extract the information out of these BI analytics solutions and thereby are ready to adapt to it readily.
Assists in Demand Forecasting
There are several situations when there is a demand wave which is not anticipated in the forecasting. This surely creates an upheaval in the demand supply ratio if monitored manually and if there is no futuristic forecasting done. With the help of BI, a proper calculated forecasting can be planned which caters to demand and supply, tools utilization etc. This surely helps in creating a proper forecast based on past experiences and the current inventory scenario.
Develops Process to Manage Uselessness
However much you try, there are certain items that go out of demand or use and hence remain useless. That can be managed but if the ratio starts increasing, there are chances of hampering the business growth. It can be best be judged by doing risk based analysis with the help of the BI tools so that there is a clear cut alignment of items which may lose its demand value soon and hence relevant steps can be taken well in advance. Timely action on such items can surely save the business growth from getting hampered and come up with risk mitigation procedures to avoid such occurrences in the future.
Aims to Liquidate Excess Stock
Normally, enterprises are not very keen on keeping excess stock since there is hardly any ROI derived from such items. Liquidation of stock is done based on the list of unnecessary items but at the very last moment at which there is already some sort of mismanagement in the business flow. Instead, with the help of Predictive Analytics, this can be done a level prior so that the business flow does not get touched upon at all. Inventory stakeholders can see to it that they have enough inventories to take care of certain unseen demands and at the same time, not let the cost graph rise up.
Considered as one of the major factors in the success story of any business, a thoroughly balanced management and optimization of inventory turns up as very important and affects the overall performance of the enterprise in terms of time, money and efforts. Predictive Analytics serves at its best by helping the enterprise serve their clients with the best of inventory and maximized ROI.
As a leading Business Analytics Solution Company in India, our skilled BI and Big Data resources have been implementing multiple Business Intelligence services with a multifaceted range of services, in vivid technologies that can give your organization the best of business efficiency and effectiveness. Our Business Intelligence Consulting services have been successfully implemented across a wide range of enterprise clientele, all around the globe.
Request for a Free POC to test drive our BI services.
SPEC INDIA, as your single stop IT partner has been successfully implementing a bouquet of diverse solutions and services all over the globe, proving its mettle as an ISO 9001:2015 certified IT solutions organization. With efficient project management practices, international standards to comply, flexible engagement models and superior infrastructure, SPEC INDIA is a customer's delight. Our skilled technical resources are apt at putting thoughts in a perspective by offering value-added reads for all.