QlikView vs Tableau: A Detailed Comparison Guide
"Business Intelligence is getting the right information to the right people, at the right time, in the right way." – Bill Cabiro
Businesses worldwide are generating uncountable data which can be of great use until collected and analyzed intelligently. That is where the role of business intelligence comes in. BI and analytics assist organizations in garnering the best of meaning from the huge bulk of data. It helps in discovering the potential of data with the help of smart and advanced BI analytics through cloud-based and on-premises reporting software.
This technology converts huge piles of raw data into organized chunks of valuable information and what better than effective BI tools and technologies to do so. Two popular names in the world of BI are Tableau and QlikView.
QlikView vs Tableau has been an interesting comparison, competing in this domain and offering a great set of features. All industry segments want the best BI tool suitable for their data bulks. Selecting the apt one takes a lot of studies, analysis, and organizational need to finalize. There are a lot of parameters pertaining to budget, speed, skillsets, project objectives, organization structure, etc. that must be ascertained before choosing the best too. Finally, to each its own!
But, before we perform a Tableau QlikView comparison, let us individually have a look at them, their salient features, and the organizations using them.
What Is QlikView?
QlikView is a classic guided analytics solution. QlikView lets you rapidly develop and deliver interactive guided analytics applications and dashboards.
QlikView is built on a game-changing associative engine and marks the start of a modernized era. It has changed the way businesses use data with insightful visual innovation expanding the usage of BI. The next-gen analytics of QlikView – Qlik Sense has been in the limelight because of its powerful analytical features and its associative engine capabilities. It possesses a governed multi-cloud infrastructure and helps the complete range of analytics at an enterprise level too.
As effective data analysis and visualization tool, it helps developers in getting, integrating, and processing data from different sources. It can be used for developing dashboards, data models, analytical applications, and reports.
QlikView Features And Benefits:
Data connectivity with other tools and collaboration
Interactive guided analytics
Agile application development
Scalability and mobility
Low maintenance and data sharing
In-memory technology makes it comprehensive and quicker
Data analysis and interpretation
Self-creation of dashboards
Embedded analytics and extensions
Centralized sharing of information
Dynamic and analytical BI ecosystem
Facilities complicated data analysis and sharing
Good language support
Easy analysis of data by click-through
Functions as an ETL with good scripting
Organizations Using QlikView:
TCS, Cognizant, Citigroup, Mercedes Benz, Red Hat Inc., Berenberg Bank, California Casualty, QlikTech, etc.
What Is Tableau?
Tableau can help anyone see and understand their data. Connect to almost any database, drag and drop to create visualizations, and share with a click.
Tableau is a powerful, comprehensive, and secure BI and analytics tool that helps organizations in data aggregation, enhanced visualization, insightful analysis for taking the best of data-based decisions. It facilitates revising brand-based data strategies and simplifies raw data in an explicable manner. It assists non-technical user groups also to design and create flexible dashboards. Users find the data analysis quite fast, and the dashboards and worksheets created with Tableau are effective and easy to extract.
Tableau has been considered apt for secure and accurate analytics via data algorithms. There is easy connectivity with disparate data sources and fast creation of interactive visualization. It is rich in performance saving on money and time. Users find it easy to connect, share and collaborate via a unified base.
Tableau Features:
Predictive analysis and forecasting
Data extraction and blending
Improved and profound data visualization
Versatile dashboard and reporting
Wholesome view of data
Robust and full proof security
Collaboration and sharing
Connectivity to live and in-memory data
'Ask data' feature
Mobile-ready, cloud-ready business analytics
Easy to use with a neat and clean UI
Fast and trustworthy performance
Support for multiple connections to data sources
Easy to upgrade and scale with great online support
Multi-dimensional mapping
Community support
Organizations Using Tableau:
Citigroup, Nike, The New York Times, Coca-Cola, The World Bank, Skype, Accenture, Accor Hotels, Amazon, etc.
QlikView vs Tableau: Similarities
Be it QlikView or Tableau, there are certain similarities that are observed in both, even if there are many differences that set them apart. Here are some of the common features that are observed in both:
Active user community support with lots of documentation and backing
Emphasis on data visualization and analytics
Free trial during the start
Competence to integrate different types of data from detailed data sources
Simple and flexible for use to developers
Huge and publicly traded organizations
Possess a huge list of popular clientele
Insightful and visually appealing reports
Seamless integration with a variety of data sources
High-end analytical capabilities
Mobile-compatible, cloud compatible
Can be deployed on-premises and in the cloud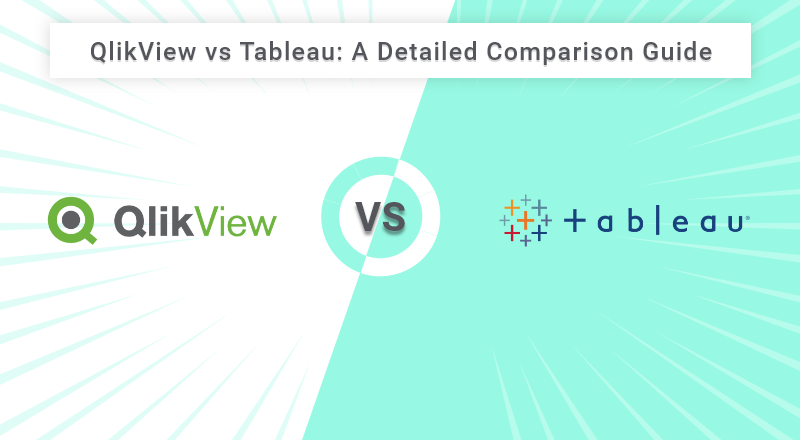 QlikView vs Tableau: A Comprehensive Comparison
| | | |
| --- | --- | --- |
| Parameters | QlikView | Tableau |
| Overview | Dashboard application offering varied features, comprehensive enterprise-level reporting features | High focus on visual analytics, novice-friendly, uses diverse graphical features like TreeMaps, Overlaps, etc. |
| Performance and Storage | Better performance with Associative model combines datasets of all sizes and hence is one of the fastest. Stores data in memory (RAM). | Good performance but not as good as QlikView. Employs cubing mechanism and are faster than RDBMS. Uses In memory and fetches from the data source. |
| Ease of Use and Learning | Easy to use and explore new features. Shows relationships and connects with ease. Active community support to fasten learning for novices. | Simple to use interface, not too cluttered. Easy creation of views and effective interface. Active community support to fasten learning for novices. |
| System Architecture | QlikView Architecture is centered around 3 parts: Front End, Back End, and Resources | Tableau Architecture is mostly centered around 3 stages: Integrating, Analysing & Visualizing |
| User Interface | Overly cluttered interface with a missing logical structure, with excessive features not regularly used | User-friendly and intuitive interface with support for drag-and-drop features, varied graphical visuals |
| Costs Involved | Involves more costs like separate mobile costs | Less expensive than QlikView |
| Deployment Options | QlikView and QlikSense for individual and enterprise, QlikSense for cloud-based and business editions too. Can choose from SaaS-based option, on-premises or cloud-based. | Tableau Desktop for individuals, Tableau Online for cloud-based, Tableau Server for on-premises deployment. Can choose from a desktop, on-premises, or cloud-based solution. |
| Community and Development Support | Active online support with the active user community. Phone support is available during business hours. | Online knowledge base available for developers and online community accessible. No phone support. |
| Key USP | Effective drill-down | Intuitive design |
| Report Sharing | Seamless integration with mobile-related technologies and social media platforms | Seamless sharing of reports through Tableau Online or Tableau Server |
| Integration with Third-party Tools | Easy integration with HP Vertica, Salesforce, Hadoop, My SQL, ODBC, MS SQL Server, R, Redshift, EC2, Impala, IBM Netezza, and many more | Easy integration with different data sources like MS SQL Server, spreadsheets, MySQL, Hadoop, Salesforce, CSV, Teradata, and many more |
| Data Warehousing Options | Has its own data warehouse, easy configuration, and deployment, can use multiple layers while deployment | Does not have its own data warehouse, easy deployment with more structured data, no need to create layers |
| Speed | Faster analysis, result delivery, and decision making | Effective and fast with online and offline sharing of reports |
| Security | Security managed QlikView Document, Section Access, Security for Script, and User Authentication | Security managed by Tableau Server, with deep integration features and promotion of trustworthy data sources |
| Data Connectivity | Possesses native connectors for different sources like Databricks ODBC, Azure Synapse connector, etc. Certain connectors that are not accessible can be downloaded independently. There is support for new sources. | Possesses inbuilt connectors for various data sources, like Cloudera, Google Analytics, My SQL, Microsoft Excel, etc. Needs partner integration for connecting to payment platforms, enterprise messaging, etc. |
| Data Visualization Capabilities | Creation of dashboards and charts showing performance of key metrics, embedding of videos directly into Qlik Sense apps, availability of OOTB animations | Automatic creation of dashboards through visualization templates, Dashboard starters, and templates, Out of the Box (OOTB) animations, etc. |
| Querying | QlikView supports additional modules, access to reports directly from Qlik Sense Hub | The Ask Data features helps in natural language queries, faster reporting, and inbuilt versioning |
| Suitability | Ideal for enterprise based and departmental solutions | Ideal for fast visualization and dashboarding features |
| Advanced Analytics | Supports bivariate linear analysis, forecasting with R, near real-time predictions, PMML, and integration with KNIME | Supports drag and drop functionality, predictive analytics, regression analysis with R, Python, does not support PMML |
| Embedded Analytics | Offers creation of web solutions for embedding multiple visualizations | Offers customization and white labeling for better-embedded analytics |
| Internet of Things Support | Qlik Data Integration Platform gets data from streaming systems and data lakes | Analysis of internet-based sensors and devices with performance metrics. |
| Mobile App Integration | Connects well to the Enterprise Server to offer visualization, administration with mobile devices | Offers searching and browsing via dashboards, needs a Tableau Server to avail the mobile app |
| Customization | Complicated for customization since needs knowledge of certain technical aspects. Not much flexibility with charts, graphs, etc. | Provides a great deal of customization in charts and graphs. Just needs a basic level of programming knowledge. Data storytelling is much easier |
| Scalability | Easily scalable especially while dealing with Big Data and handles data easily. | Scalable but not as easily as QlikView. Handles data smoothly. |
QlikView or Tableau, What To Choose?
In the world of business intelligence services, both these BI stalwarts have their own characteristics and flavors. While comparing QlikView vs Tableau, there are some features in common but there is a lot that makes them stand apart. The above comparison table is sufficient to showcase how they are unique in their own ways.
Overall, Tableau would be recommended if you need user-friendly, easy-to-use, simple, and drag-and-drop features with attractive UI and graphics. Also, if you are looking for scalability and good data visualization. QlikView would be recommended if you are looking for a powerful solution that supports a lot of BI tools and can handle huge chunks of data along with data discovery, app development, and data visualization.
Answering the burning question of 'which BI tool to choose?' is a subjective matter. While deciding on which one to choose, organizations must look at different parameters like the main objective, budget, timelines, skilled expertise, etc. to finalize the choice.
SPEC INDIA, as your single stop IT partner has been successfully implementing a bouquet of diverse solutions and services all over the globe, proving its mettle as an ISO 9001:2015 certified IT solutions organization. With efficient project management practices, international standards to comply, flexible engagement models and superior infrastructure, SPEC INDIA is a customer's delight. Our skilled technical resources are apt at putting thoughts in a perspective by offering value-added reads for all.