Rebooting the Digital Era, Now Trending in 2018
Well, thought of Digital Transformations implemented with prudent roadmaps lead the millennial enterprises to Digital Maturity. Most studies, like Gartner, tend to agree that Artificial Intelligence shall win over traditional machine mindset, which should see more research-oriented cutting-edge technologies. 2017 saw the initial days of the chatbots and 2018 is all geared for a sophisticated, immersive user experience powered by technology, specifically AI.
IoT is leading the way when it comes to the optimal use of machines & gadgets with connectivity. The focus has shifted from mere cloud-based offerings and availing services of everything.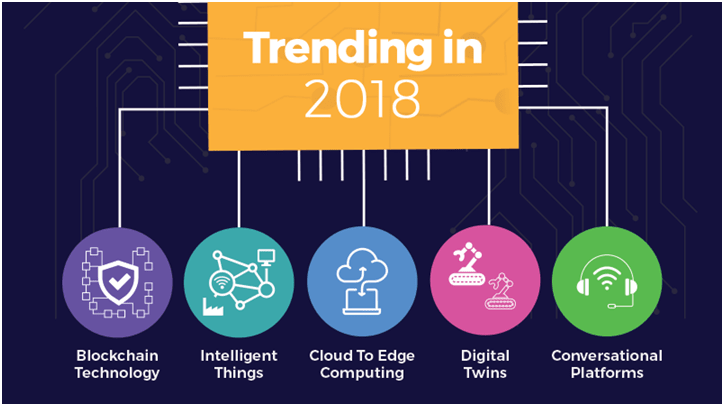 Artificial Intelligence
Artificial Intelligence, Internet of Things and Machine Learning are no longer considered fiction, and practical implementations have clearly made their way into the mainstream in the last couple of years or so. The future of AI now lies in Intelligent Things. Simply put, this is effectively a fusion of AI & IoT that uses machine learning to support interactions with the surroundings. The tech-savvy user is accustomed to smartphones or smart devices in their routine lifestyle. It is time to experience the next-gen level of interaction with machines, and the road ahead charted by intelligent things.
A part of this technology is already unlocked and visible in some of the devices already in usage. For the sake of simplicity, it would suffice to reuse the example Gartner has provided in its top emerging trends study.
Intelligent things are indeed an interesting concept, and the future should see maturity in the form of collaboration between things rather than a stand-alone approach.
Conversational Platforms with the Chatbots
The gradual increase in the number of enterprises deploying chatbots, the number of organizations believing AI is the solution to some imminent challenges, and the rise of Natural Language Processing – all are sure shot indicators that conversational platforms will continue to grow in 2018 and beyond.
The biggest challenge with conversational platforms is that the level of intelligence an enterprise can incorporate within can never be sufficient. Structured communication from the user's end is still a primary requirement with conversational platforms, hence they cannot be considered fit for complete human replacement. However, 2018 should see conversational platforms perform more tasks beyond answering simple questions, such as marketing, trend analytics or even liaise with third-party services.
Irrespective of the levels of adoption, Siri, Alexa & Google & Cortana become mainstream.
Cloud Computing
Cloud has relatively matured in the last few years and 2018 will see businesses planning a strategic shift via usage of cloud-based infrastructure. Forbes goes on to estimate that 76% of the cloud market will be effectively captured by Google, Amazon – AWS & Microsoft in 2018, and this could expand to 80% by 2020. Public cloud market may expand to well over $175 billion in 2018, a growth of approximately 20% as compared to 2017. Going by the current popularity of cloud-based offerings, enterprises may shift up to approximately 10% of their workload to the cloud, which could possibly impact telecom carriers & data center service providers in the years to come.
The front-runner in the cloud services surge is likely to remain the same – software. This shouldn't come as a surprise considering the innovations over the years, and the way SaaS has matured. SaaS is likely to account for approximately 60% of cloud-based workloads, roughly approximately 12% higher than 2017. 2018 will also see more instances of professional collaboration between analysts, cybersecurity experts, and public-private synergy when it comes to meeting the security challenges poised with the cloud. It is also estimated that storage capacity may double in cloud provider data centers in 2018, something that technology pioneers will closely continue to monitor in order to capitalize on their investments.
Blockchain
This technology deserves a bit of introduction as it is the latest on the block when it comes to emerging segment. Blockchain, simply put, is a record-keeping technique, where the users or organizations can only access the block they are authorized to, via a private key. Effectively, Blockchain helps reduce friction between businesses that have shared, commercial interests, but are not in any direct agreement for transactions. Although Blockchain is mostly associated with financial aspects, the technology is likely to enter mainstream in 2018 where it could befit a lot of areas such as complex contract management. Till 2017, the usage of Blockchain was limited to cryptocurrency transaction verification.
Come 2018, developers are looking to evaluate limits through which they could possibly push Blockchain beyond finance. The rise of cybersecurity will only serve as a catalyst to help ensure that Blockchain as a technology attains maturity.
The volume of capital raised through Initial Coin offerings (ICO) is sufficient to believe that cryptocurrency's are not just a passing fad. Blockchain can truly prove to be a trendsetter in 2018 and the years to come. Ethereum serves as the decentralized platform which consists of applications that utilize Blockchain technology.
Digital Twins
While digital twin technology has been around for quite some time now, the popularity surge is not visible yet because of the complex nature of implementation and the perception that it is limited to certain industries only. However, the success of IoT and virtual reality is bringing about a change here. Digital Twin is a digital or virtual representation of a physical object or entity or a model of a real-world process.
Today, every asset that needs to be monitored relies on some form of connectivity and a digital twin is the best resort to determine its compatibility. Digital twins go a long way in assisting with fault finding, fine-tuning, configuration optimization and improving productivity & efficiency gained from a particular technology. Many organizations have started creating digital twins before the first physical product is rolled out, as it is easy to conduct tests and determine if success parameters are met. Real-time simulation on a digital counterpart enables the manufacturer to come up with innovative techniques for asset management & maintenance. Complete simulation on a digital twin can also ascertain the safety features of the physical product, and provide decision making insights for R&D. Digital twins are becoming essential to meet customer expectations and ensure the complete user journey is an enjoyable experience.
SPEC INDIA, as your single stop IT partner has been successfully implementing a bouquet of diverse solutions and services all over the globe, proving its mettle as an ISO 9001:2015 certified IT solutions organization. With efficient project management practices, international standards to comply, flexible engagement models and superior infrastructure, SPEC INDIA is a customer's delight. Our skilled technical resources are apt at putting thoughts in a perspective by offering value-added reads for all.