Sisense vs Power BI: Which BI Tool Is Ideal For Your Project?
"BI is about providing the right data at the right time to the right people so that they can take the right decisions" – Nic Smith
The best asset for any organization is the huge chunk of data that it gathers over the years. The amount of value and information that it contains is unimaginable and that is extracted, analyzed, and utilized by business intelligence tools. The significance of BI tools has been exponentially increasing, especially after the pandemic, and two popular names that are ruling the scenario are Power BI and Sisense.
Sisense vs Power BI is an interesting comparison that is often made in the world of BI tools. Here is an article that compares them both, in terms of their associated parameters. Before we compare them both, let us individually have a look at their overview and key features.
What Is Sisense?
Sisense is a well-known BI tool that empowers organizations for the analysis and development of business trends pertaining to huge data bulks. It infuses analytics into the different streams of work that you are involved in and creates a self-service experience for getting AI-based information. It offers drag-and-drop, comprehensive BI processes that assist in preparing, analyzing, and visualizing different complicated datasets.
It is ideal for organizations that possess a lesser number of IT resources and have less experience with Big Data. With Sisense, it can now handle multiple consumers with a common server. It is a tool that helps infuse analytics everywhere. It includes data visualization, modeling, and AI analytics. It is a scalable platform that possesses different security features like disaster recovery and attack surface monitoring.
Sisense is flexible and can adjust according to the requirements of any organization – be it a small unit, startup, or large enterprise. It offers a complete 360-degree view of the information across different workstreams, hardware, and other infrastructure. It also integrates between cloud and on-premises infrastructure seamlessly. It lets you collect data from disparate sources and consolidate them into a unified repository.
Sisense Features:
Predictive analytics powered by machine learning
Data exploration with code and no-code methods
Visually appealing reports for innovative analysis
Fast and easy sharing of findings with clients and stakeholders
User-friendly interface, easy to learn for novices
Full stack data analytics with data transformation, connectors, and visualization
Embedded analytics with widgets like graphs, charts, gauges
Scalability across different layers with on-demand architecture
Leverages AI for automatic delivery of information
What Is Power BI?
Powered by Microsoft, Power BI is a highly popular BI solution to analyze and display raw data and offer insightful information. It amalgamates data visualization, business analytics, and the best ways to help you take the ideal business decisions. It offers a variety of BI capabilities like AI competencies, data connectors, and data visualization. It integrates seamlessly with Power BI and assists businesses in completely visualizing data across different spreadsheets.
Since it is designed by Microsoft, it is backed by the most competent features that can bring about the best BI facilities to organizations. There is a robust security feature that protects the data completely, end-to-end encryption, and real-time access monitoring. It is simple to use, comprehensive, and encompasses all areas of business intelligence. Microsoft's Power BI offers a platform to gather, analyze, and envision data through appealing visualization and interactive reports, enabling businesses to improve profitability and discover insights.
Gartner and Forrester have recognized Microsoft as a leader in analytics and Business Intelligence platforms, making it one of the popular business intelligence platforms. It is a tool that lets you connect with a wide range of data sources with ease and use that data to perform enterprise analytics on the go. Microsoft BI Stack contains many tools, applications, and sources for companies of any size and domain.
Power BI Features:
Lessens the total cost of ownership
Accurate and consolidated data at a single location
Handles complex and diverge data with perfection
Lessens the workload on the IT department
Consists of a suite of apps, connectors, and software services
Creation of metrics and dashboards on top of inbuilt analytics
Ad hoc reporting and analysis
Robust low code and no code functionality
Seamless integration with other Microsoft products like Cortona
Sisense vs Power BI – Companies Using Them
List Of Companies Using Sisense:
Air Canada
Airbus
Comcast Corporation
eBay
ESPN
Forbes
GitLab
Motorola
Nasdaq
Policybazaar
CTSI-Global
Skullcandy
GameDay
List Of Companies Using Power BI:
Accenture
Adobe
Air India
Bosch
Carnegie Mellon
Dextra
Etihad
H&M
Honeywell
Heathrow
Nestle
Bayer
Tools That Can Be Integrated With Sisense:
MySQL, PostgreSQL, Amazon Web Services, Google BigQuery, Snowflake, Exasol, Amazon Athena, Qubole, MemSQL, Vertica, Salesforce, Microsoft SQL Server, Amazon Redshift, Google Spreadsheets, Heroku Postgres, Zendesk, Google Adwords, Google Analytics, QuickBase.
Tools That Can Be Integrated With Power BI:
ALM Toolkit, Tabular Editor, DAX Studio, Comscore, MailChimp, Metadata Translator, Google Sheets, Microsoft Excel, Power Query, Dataflows, Azure Data Factory, Azure Stream Analytics, Microsoft SSIS, GitHub, Acumatica, Azure Mobile Management, Salesforce, Circuit ID, Microsoft Dynamics.
Sisense vs Power BI – Alternatives & Competitors
Popular Sisense Competitors:
Domo
Tableau
Microsoft
IBM
Qlik
Amazon Web Services
MicroStrategy
Looker
Oracle Analytics Cloud
Dundas BI
Popular Power BI Competitors:
Looker
Sisense
Qlik Sense
Tableau Server
Tableau Desktop
SAP Analytics Cloud
Salesforce CRM
Domo
TIBCO Spotfire
Alteryx
Interesting Read: Top Power BI Alternatives And Competitors List
Power BI vs Sisense – Analyzing The Pros And Cons
Power BI Pros:
Transformation of drill-down information into attractive visuals
Competence for filtration to a particular metric
Data analytics and visualization
Ability to import data from different sources
Secure with AI competencies and integration to different data sources
Power BI Cons:
Takes a while to learn
Inflexible formulas
Crowded user interface
Sisense Pros:
Implementation of eCube concept for best and secure usage of data
Responsive community support and detailed training material
High-speed performance with analytical utilization
Exports data to various formats like PDF, Excel, CSV, images, etc.
Data unification and mashups
Sisense Cons:
Low loading speed with a virtual machine
Correction of data errors
Heave application in terms of space taken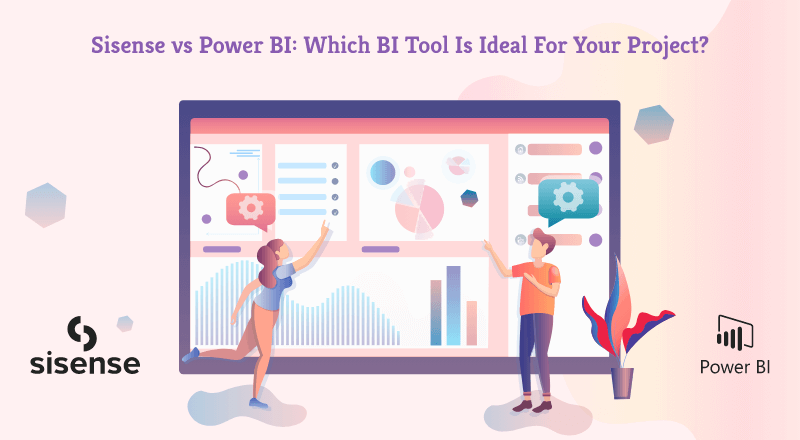 Power BI vs Sisense: Similarities
Robust business intelligence tools and user authentication process
Data visualization, governance, modeling, integration competencies
Inbuilt data connectors for integration into a single data source
Embedded and AI analytics
Creation of customized dashboards and reports
Easily usable drag and drop interface
Scatter charts, bar charts, maps, etc.
Mobile friendly with intuitive analytics
Self-service and controlled deployment competencies
Pre-created quick templates
Historical trend analysis features
Sisense vs Power BI: A Detailed Comparison
| | | |
| --- | --- | --- |
| Parameters | Power BI | Sisense |
| Overview | Microsoft Power BI transforms data into enriched interactive visualizations, making the best use of business analytics tools to distribute dashboard-based perceptions through all devices | Sisense data & analytics platform offers simple ways to mashup data from disparate sources and converts it into robust, actionable analytics applications |
| Target Customer Segment | Small, medium, and large enterprises | Medium and large enterprises |
| OS/Devices Supported | Android, iPhone, iPad, Windows, Windows Mobile | Windows, Linux, Mac, iPhone, iPad, Android |
| Pricing Models | Two paid versions – Pro and Premium | Pricing based on quote with a customizable plan |
| Benchmarking | Not available | Available |
| Predictive Analytics | Not available | Available |
| Data Connectors | Around 500 data connectors | Around 100 data connectors |
| Embedded Analytics | Power BI Embedded and Power BI Premium | Fusion Embed solution |
| Getting Started | Easy to start off because of scalable packages | Takes time to set up because of advanced analytics |
| Data Modeling Connects | Use of Data Analysis Expressions for data analysis | Makes use of ElastiCube for support to data sources |
| Data Security | Robust encryption for data for Power users and Casual users | Multi-level security for all types of users |
Sisense vs Power BI – Which One To Select?
Sisense and Power BI are two well-known names in the world of business intelligence. Both are highly recommended by top organizations, and both have their own share of goodness.
Power BI is recommended when there is a general business usage that needs scalability from small to large organizations. It is also recommended when you have advanced knowledge in Excel and related operations.
Sisense is recommended when there are huge, complicated operations and there is a need for embedded analytics. It is also recommended when there is a need to embed your dashboard into your application seamlessly.
Comparing Sisense vs Power BI depends upon organizational parameters like costing, skilled expertise, project deadlines, etc. to finalize which one to choose from. Either one you choose; it will be a good one!
Interesting Read: Power BI vs SSRS: An In-depth Comparison
SPEC INDIA, as your single stop IT partner has been successfully implementing a bouquet of diverse solutions and services all over the globe, proving its mettle as an ISO 9001:2015 certified IT solutions organization. With efficient project management practices, international standards to comply, flexible engagement models and superior infrastructure, SPEC INDIA is a customer's delight. Our skilled technical resources are apt at putting thoughts in a perspective by offering value-added reads for all.