Top Tableau Competitors Popular In 2022
Today, as all global businesses enjoy the power of Business Intelligence and data visualization, Tableau has been a market choice in the world of modernized Business Intelligence and Analytics. Companies like Tableau have a great future and have been helping make Big Data small, perceptive, and meaningful. Tableau, though a leader in BI, there are other Tableau competitors that must be evaluated in terms of deployment, features, service, product capabilities, pricing, support.
Before we evaluate the possible, Tableau alternatives let us quickly go through what Tableau is all about.
What Is Tableau?
Tableau helps people see and understand data. Our visual analytics platform is transforming the way people use data to solve problems. See why organizations of all sizes trust Tableau to help them be more data-driven.
Tableau Analytics revolutionizes the way data is utilized to get solutions out of heaps of information. It empowers its users to get the best of out the data. It helps in the exploration and management of data with a fast speed and sharing of insightful information that can bring in increased productivity and profitability. Tableau has a competent visual analytics platform that makes the best use of the collaborative, innovative, and visual interfaces for pictorial and graphical representation of data.
Tableau is apt at making its users understand and visualize data – be it data scientists, analysts, students, business owners, executives. It is considered one of the most secure, flexible, and comprehensive analytical platforms and has been revolutionizing change with a transformed data culture.
The list of customers leveraging Tableau is a long one – Verizon, Amazon, Honeywell, LinkedIn, Adobe, Ferrari, Lenovo, Lufthansa, and it just goes on.
Key Features:
Real-time data analytics
Data collaboration and blending
Needs minimal programming skills
Live and in-memory data
Robust security and interactive graphics
Tableau dashboard and advanced visualizations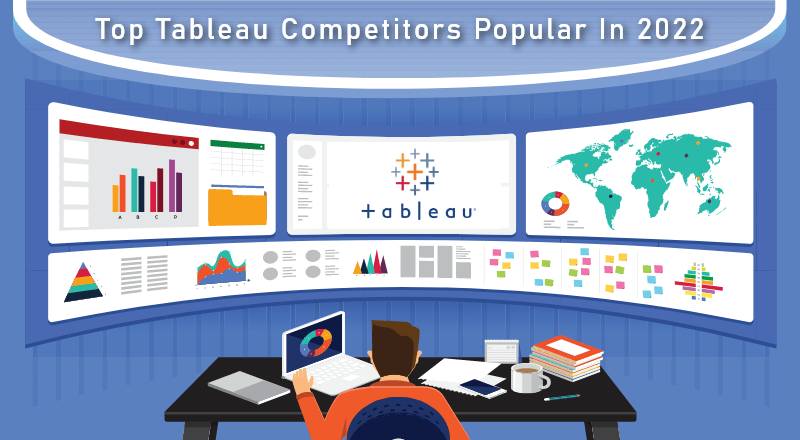 10 Popular Tableau Competitors And Alternatives
When you consider alternatives to Tableau, here are some of the most prominent names that come across.
MicroStrategy
Power BI
Sisense BI
Pentaho
Qlik Sense
IBM Cognos Analytics
ThoughtSpot
Oracle Analytics Cloud
InsightSquared
Looker
Let us now have a look at each Tableau alternative in detail.
MicroStrategy:
MicroStrategy is a popular Embedded Analytics technology that offers swift in-context intuitions and analytics for any type of application and device. It provides its users with a robust suite of BI tools and services. It seamlessly, connects big data, cloud-driven data, and the databases for an effective visualization for users. The data visualization and dashboards that are built through the drag and drop feature, are competent to merge the workflows of multiple applications.
It is easy for users to have a direct interaction within the interface through the comments panel. MicroStrategy can easily have a connection with multiple resources making it easy for stakeholders to access it. It has inbuilt data wrangling and parsing for users to easily undergo data modification and transformation. There are certain tools through geospatial services that offer users a larger view of the business and help in taking the right decisions at the right time.
Key Features:
Predictive modeling and conversion into algorithms
Row and column level security
Zero click insights, highlighting contextual information
Seamlessly connect between cloud data, big data, and relational databases
Integration of third-party, open-source statistical tools, and data mining
Creation of customized web reporting apps with SDK
Completely interactive and user-friendly interface
Effective metadata repository for business data classification
Power BI:
Driven by Microsoft, Power BI has been one of the most suggested alternatives to Tableau. Its customized reports, interactive dashboard competencies, and strong data analytics are all combined in a single platform for the best of data visualization. It offers data import from different sources like SQL Server, Excel spreadsheets, Hadoop clusters, on-premises files, etc., and then undergoes data transformation, cleaning, and visualization in a planned manner. It supports self-service BI and hence helps in culling out interactive and attractive dashboards.
Power BI offers many pre-built connectors to other software and services like Salesforce, Excel, Dynamics 365, etc. It offers team collaboration with features like sharing on the go, team commenting, etc. It is a Power Query Editor that helps in the ingestion and transformation of big data without any further skills. Publishing data stories on the web is easy and available through Power BI. It offers its mobile users a perfect real-time update through personalized notifications.
Key Features:
Native integration with Microsoft platform
Strong Natural Language Processing features
Enhanced machine learning models and algorithms
Mobile collaboration tools, QR code support, NDP integration
Creation of cloud-ready and pixel-perfect reports
SaaS option for large enterprises and on-premises for SMB
Competence to embed data in apps
Question-based analytics
Also Read: Tableau vs Power BI: Comparison Between Top Two BI Tools
Sisense BI:
Sisense BI is a well-known BI tool that creates customized analytical experience, infusing analytics everywhere. It is known for embedding actionable intelligence and revolutionizing the way of working. It helps users in importing and analyzing data for the creation of interactive reports with advanced dashboards and visualization. It makes the most of AI and ML for augmenting data analysis. There are flexible deployment categories with individual pricing models.
Sisense adapts a data-driven process that offers permission management, login tracking, creation of dashboards, and utilization of widgets. Threat monitoring and complicated data analysis are wisely performed for any number of users. It offers visualization of multiple data sources on a unified dashboard with real-time updates. Data is easily transferred between databases and the system for better statistical language compilation and usage of appropriate functions.
Key Features:
Inbuilt data connectors for databases and applications
Drag and drop interface
Customized experience and accelerated workflows
Simplified data analytics with pre-built dashboards
Data querying with in-memory analysis and live connects
AI-driven embedded analytics and data visualization widgets
Real-time monitoring of dashboards
Personalized and enhanced KPI monitoring
Pentaho:
Pentaho is a prominent business intelligence platform that presents data integration, analytics, and mining competencies. It combines the features of data integration with analytical processing offering the best of big data analytics, dashboards, data mining, visualization, reporting, and predictive analytics. Managing and integrating data from different data sources is easily done, with data sources such as Hadoop and others. There is a community dashboard editor that helps in the creation of different dashboards.
Pentaho, as a modern and powerful business intelligence software, lets you integrate data from various resources, execute real-time analysis, and help represent results in an enticing way, improving and refining the decision-making process across the organization. It is a fast and flexible tool that is competent in integrating all data types. It needs less coding and has an easy learning curve. There is real-time data ingestion from different IoT devices.
Key Features:
Competence in deploying solutions through cloud, on-premises, and hybrid
Reusable and readily usable report templates
Community Dashboard Editor for faster development
Big Data integration with the least coding skills needed
Easy and simple embedded analytics
Powerful data integration with simplicity and accuracy
Robust data visualization with customized dashboards
Qlik Sense:
Qlik Sense is the next-generation product for self-service data analytics, one of the fastest and simplest methods for data exploration and data analysis. Qlik Sense has now upgraded from QlikView as its cloud-based analytics tool. It is free for use and has fast data loading capabilities. It has interactive smart visualizations and drag-n-drop dashboard creation functionalities. Qlik family of products has been beneficial in taking proper business decisions by applying AI techniques to huge bulks of data.
It has a strong in-memory data engine – Associative Engine that provides strong calculation and aggregation. It empowers users to use the data and extract the best of patterns, connections in data. There are many customization features that are user-friendly and interactive, of most use to businesses in taking decisions. There is a conversational bot – Qlik Insight Bot that is AI-driven and answers queries with the help of natural language processing capabilities.
Key Features:
Interactive tables, objects, and visualization
Associative Engine rendering appropriate insights
Augmented analytics with context-aware perceptions
Supports edge analytics and multiple data sources
Advanced gesture-based user interface elements
Automated data integration with huge datasets
Scalability and flexibility
Self-service oriented analytics
IBM Cognos Analytics:
IBM Cognos Analytics is a complete, web-based BI suite powered by IBM, with a simple and robust visualization model. It has an effective toolset especially meant for interactive reporting, analytics, monitoring, and score carding of metrics and events. It is AI-powered and needs additional skills to implement and hence is recommended for enterprises having high-end skilled expertise. Being a self-service-driven tool, it possesses key capabilities like the creation of online and offline reports based on user requirements, anytime, anyplace.
It offers a wide range of functionalities that fetch data from disparate datasets for generating a variety of analytics. It offers good support for customization, making it easy for users to get their desired reports. The interactive nature of visualization helps users in extracting the errors with timely rectification. Information remains transparent and accessible at any point of time, anywhere. It can manage the supply chain and inventory facilitating organizations for better materials management.
Key Features:
Easy creation and viewing of business reports
Monitoring of key metrics and KPI
Self-service analytics useful for enterprise customers
Effortless connection of data with many sources
Creation of dynamic and creative dashboards
Gaining insights from pre-determined data
Identification and uncovering of hidden patterns
Flexibility of online and offline reports
ThoughtSpot:
ThoughtSpot, as founded by a team of Google Alumni, has been a popular BI and big data analytical tool that assists in exploring and sharing real-time business information, with ease and accuracy. It has been a great competition to Tableau in terms of new customers and salient features. It is a search and AI-driven analytical platform considered ideal for data and analytics leaders.
The Modern Analytics Cloud in the ThoughtSpot application helps in embedding insights into applications like Salesforce and grow business multi-fold. It becomes easy for stakeholders to search for hidden patterns and trends in the business information, thanks to ThoughtSpot. It is developer-friendly and hence embedding actionable and insightful data into applications is easy and effective.
Key Features:
Creation of interactive data applications
User-friendly and developer-centric
Self-service analytics with Search and AI
Flexible APIs drives smarter actions
Gets data insights directly into apps
Instant information available for all
Optimizes value of cloud-based data
Security and governance
Oracle Analytics Cloud:
Oracle Analytics Cloud is a self-service, cloud-native analytics platform that offers the best of analytical procedures ranging from ingesting data, modeling data, visualizing, and collaborating with data, enterprise reporting, and a complete focus on security norms and processes. It offers an AI-based platform that helps stakeholders in garnering enriched data with natural language processing capabilities and customized outputs, with a complete cloud-based support system.
Powered by Oracle, this tool focuses hard on self-driven analytics, thereby, depending less on IT departments. It also makes use of ML-powered algorithms that help users extract their needed information. Oracle Analytics Cloud creates a variety of dashboards combining data from disparate data sources. Users can apply needed filters and drag-and-drop features to carve out necessary dashboard patterns. It has a number of data connectors that help in extracting data from warehouses, databases, and different sources.
Key Features:
Real-time collaboration with analytical capabilities
Conversational analytics through NLP and data discovery methods
Predictive analytics through Markup Language
Smart mobile reporting through enterprise analytics app
Voice-driven natural language processing and voice formats
Inbuilt data enrichment through intelligent ML algorithms
Write-back mechanism updating data from dashboards in real-time
Self-service analytics with visual effects and data-driven procedures
InsightSquared:
InsightSquared is a strong, sales-driven, revenue analytics solution provider that helps its users get the best aggregation and understanding of data. It is flexible, simple to understand, and possesses a self-service architecture. Its interactive reports and sales forecasting solutions are a great benefit for business users. It is available in the HubSpot App Marketplace and has an increased number of loyalists. There is no code, and it is all self-driven, for assured revenue growth.
There are two major products in InsightSquared – Tiles and Slate, for scaling up business requirements. Tiles is basically a sales analytics tool that offers ready reports that are filled with Salesforce data for better sales forecasts. Slate is a customized tool that offers data cleansing and preparation for extracting readymade reports with no extra skills needed. The forecast can be submitted across teams by automation and streamlining of information.
Key Features:
AI-driven sales forecasting and reporting
Revenue analytics dashboard
Interactive pipeline management
Automatic synchronization and engagement
Conversation intelligence and call recording
Virtual assistance and sales coaching
Powerful sales analytics and forecasting
SaaS-based platform
Looker:
Looker is a powerful BI tool that is meant for huge organizations having skillful data analytics resources. It assists in exploring and sharing real-time business data with ease. It is a completely browser-based platform through which users can perform data analysis on data of all sizes and types, performing insightful visualizations. It facilitates data collaboration and performs platform-exclusive analytics functions. Users can make use of NLP for comparing their business settings for the creation of reports.
Looker helps you find the real power in data by driving smarter outcomes through different data-based experiences. It helps you get strong and fresh insights into data with the help of Google Cloud's data analytics platform. LookML helps define business data and extract data in real-time for dashboard generation. Looker translates that data into different SQL queries extracting the correct information without much IT involvement.
Key Features:
Modern BI and analytics with consistent analytics
Data-driven workflows for better outcomes
Customized applications with embedded analytics
Unifying and empowering teams for better decisions
Supports multiple data sources and deployment options
Maintains multi-cloud data infrastructure
Analytics and insights that can drive results
Also Read: Looker vs Tableau – A Detailed Evaluation Of Two BI Tools
As We Wrap Up
As we look at the other software like Tableau, the above list is quite exhaustive and offers a great deal of information about Tableau competitors.
This is how the Tableau competition looks like and it is up to organizations to choose the ideal one, based on their own specific parameters like budget, skills, the scope of work, project timelines, visualization scope, etc.
Finally, it is up to the organizations to understand their user requirements and then choose the best Tableau alternative accordingly!
SPEC INDIA, as your single stop IT partner has been successfully implementing a bouquet of diverse solutions and services all over the globe, proving its mettle as an ISO 9001:2015 certified IT solutions organization. With efficient project management practices, international standards to comply, flexible engagement models and superior infrastructure, SPEC INDIA is a customer's delight. Our skilled technical resources are apt at putting thoughts in a perspective by offering value-added reads for all.