Tableau CRM: Integrating Salesforce Einstein Analytics With Tableau
90% less analysis time
43% reduction in support calls
15 analyst hours saved weekly
Adopted by 16000+ Employees within one organization
This is the impact of Tableau Analytics. These success stories of Tableau show the potential it holds to optimize performance through the effective use of data. Tableau is the fastest-growing data visualization tool that allows anyone to understand data with powerful and easy-to-use features.
Tableau was acquired by Salesforce in 2019. Tableau is a widely-adopted and enterprise-wide business intelligence solution known for its interactive data visualization capabilities. Tableau offers a number of products in the data science space such as relational databases, cloud databases, online analytical processing cubes, spreadsheets, and business intelligence services at a large scale.
After one year since its acquisition by Salesforce, Tableau has recently announced that Salesforce's Einstein Analytics will be renamed to Tableau CRM.
By bringing together Tableau and Einstein Analytics, Tableau is planning to help everyone leverage data to make better decisions.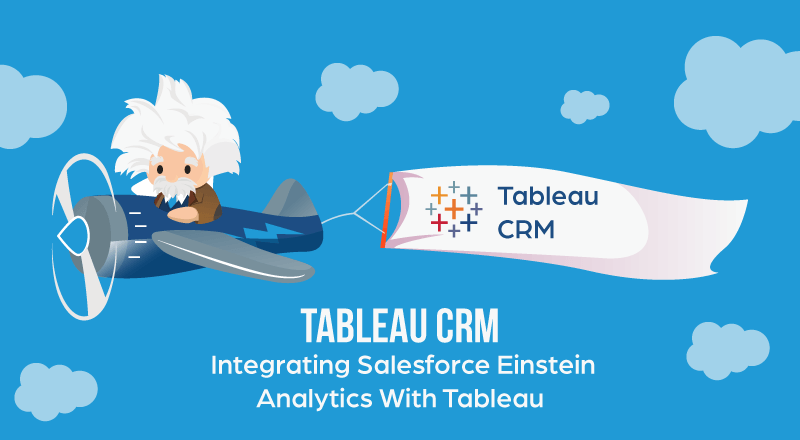 Salesforce's Einstein Analytics Will Be Rebranded As Tableau CRM: What Does That Mean For Businesses?
Tableau Software, the world's leading analytics platform has declared to bring together Tableau and Einstein Analytics, a cloud-based analytics tool by Salesforce.
"By bringing together the Tableau and Einstein Analytics teams earlier this year, and tapping into the power of the overall Salesforce ecosystem, we are putting rocket boosters on our innovation and accelerating our mission to help people see and understand data."
– Adam Selipsky, President and CEO of Tableau
For those who are unfamiliar with Einstein Analytics, let's have a closer look before we discuss this news in detail.
What Is Einstein Analytics?
Einstein Analytics, powered by Salesforce is a cloud-based platform for data analytics and data visualization that helps businesses to see beyond data, supporting the better and quick decision-making process.
By using concepts like Augmented Analytics and advanced machine learning techniques, Einstein Analytics offers quite impressive and powerful actionable insights and predictive analytics capabilities. It provides a 360-degree view of not only Salesforce data but of external data sources as well.
Salesforce's Einstein Analytics Is Now Tableau CRM
This integration will gradually reflect in the product. Tableau integrated the first such integration, Einstein Discovery in Tableau.
Einstein Discovery is AI-powered analytics that helps businesses to leverage machine-augmented analytics capabilities. This includes automatic discovery of relevant patterns, actionable and AI-powered insights, suitable explanation, and powerful analytics.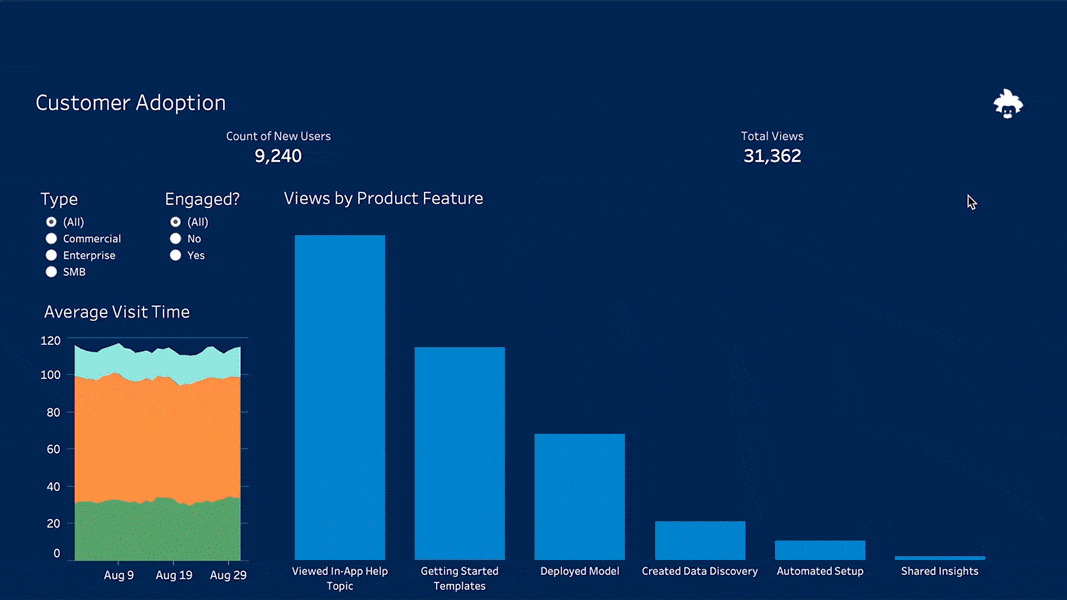 This Einstein Discovery dashboard is equipped with AI technology to generate key insight and predictive models that help businesses to look into the future and recommend the next course of action – all this without extra knowledge and effort.
Einstein Discovery Is Integrated With:
Dashboard: It improves overall outcome including suggestion, explanation, and powerful prediction in Tableau Dashboard
Prep Builder: Tableau Prep Builder also supports Einstein Discovery to make data prep easy, fast, and with integrated predictive experience
Calc: Einstein Discovery integrated with Tableau's calculation engine to get real-time predictions
There are more such integrations will happen in the future including data access capabilities, interoperability, and AI-driven analytics. Einstein Discovery, all set to launch in early 2021, is one such planned integration.
Further integration plans include:
Connecting Tableau natively to Einstein Analytics data store to take advantages of performance optimization and security
Data preparation feature that read and write to both Tableau and Einstein Analytics, making data ready for analysis to everyone
Streamlined dashboard creation through content portability between Tableau and Einstein Analytics
"We're always focused on making analytics easy and accessible to more people and organizations. Integrating Einstein Discovery's powerful predictions platform adds to the range of options for augmented analysis and helps people get more value from their data."
– Francois Ajenstat, Chief Product Officer at Tableau
Einstein Analytics was closely integrated with Salesforce. This integration helped companies to extract insights from data anytime, anywhere. Now, with the plan to integrate Einstein Analytics with Tableau, organizations can leverage the best of both tools to access, explore, and understand data without having to learn any particular skill.
Introducing Tableau CRM: Maximize Profit And Minimize Cost Through AI-Driven Analytics
Einstein Analytics has been popular among Salesforce users for the past two years. It was introduced in 2017 to provide Salesforce users with self-service, advanced, and AI-powered analytics capabilities. Einstein Analytics has empowered users to analyze large chunks of data to obtain predictive and prescriptive insights without having to hire data science experts.
Now, it is rebranded as Tableau CRM, let's see an overview and features of it.
What Is Tableau CRM?
Tableau CRM is an analytics platform and a new name of Einstein Analytics of Salesforce. Tableau CRM will combine the best of both – Tableau's visualization capabilities and the artificial intelligence/machine learning analytics capability of Einstein. This will result in a seamless experience for users while maintaining the flow and processes of both platforms.
Key Features Of Tableau CRM:
A Complete, AI-Driven Analytics Platform
Pre-Built Data Management Tools
AI-Powered Predictions And Recommendations
Prebuilt Templates To Build Apps From Scratch
Seamless Collaboration And Integration Across Framework
A Complete, AI-Driven Analytics Platform:
Tableau CRM makes it easy to spot the trends, predict events, and relevant suggestions to take action. Regardless of the skills and prior knowledge, it helps everyone understand data and get AI-based guidance on future actions.
Pre-Built Data Management Tools:
With Tableau CRM, users can effortlessly connect to a large number of data sources. Users can collect data from external systems and unify everything on one platform – these out-of-the-box connectors help users to build complete visualizations and insightful dashboards.
AI-Powered Predictions And Recommendations:
Automated discovery of trends and predictions based on AI – this is what makes Tableau loved by analysts and marketers. Powerful predictive and prescriptive analytics not only help users to look up data but also offers narrative explanations, making decision-making easier and quick for everyone.
Prebuilt Templates To Build AI-Powered Apps From Scratch:
Users can develop AI-powered business intelligence apps using the Tableau CRM platform. With built-in templates, visualization, designer, and prebuilt analytics, a team can easily build a customized app with just a few clicks. This creates a better analytics experience specifically tailored to your needs.
Seamless Collaboration And Integration Across Framework:
Tableau CRM offers easy integration with third-party apps and tools. Sharing of dashboards and records makes collaboration easy across teams. Powerful embedded analytics and real-time alerts, notifications help teams to speed up self-service analytics and actions.
Tableau CRM will simplify analytics and make jobs easier for teams such as sales, marketing, HR, finance, admins, and analysts. Tableau CRM helps every industry and every job role with advanced and easy data analytics. The most beneficial industries are manufacturing, retail, healthcare, financial, and government bodies.
Tableau Is Driving Impact For World's Leading Organizations:
There is a huge number of organizations who are using Tableau to make intelligent decisions using data.
Verizon
Red Hat
UNC Health
Whole Foods Market
Nissan
USAA
St. Mary's Bank
Cisco
Lenovo
LinkedIn
Intel
Seagate
GoDaddy
The list goes on. Data analytics has become a top priority to make decisions that drive business success. Tableau maximizes the potential of data to make smarter, real-time decisions that take the business a notch higher than those who don't leverage.
Tableau CRM, formerly known as Einstein Analytics is equipped with powerful features that not only help see beyond the data but establish data-driven culture across organizations and across teams.
Are you using Tableau in your organization?
Have a look at our Tableau Live BI Visualizations.
SPEC INDIA, as your single stop IT partner has been successfully implementing a bouquet of diverse solutions and services all over the globe, proving its mettle as an ISO 9001:2015 certified IT solutions organization. With efficient project management practices, international standards to comply, flexible engagement models and superior infrastructure, SPEC INDIA is a customer's delight. Our skilled technical resources are apt at putting thoughts in a perspective by offering value-added reads for all.