Top Business Intelligence & Analytics Trends 2020
Global Business Intelligence (BI) Market To Set Phenomenal Growth From 2020 To 2029: – SAP, IBM and Oracle
Business Intelligence and Analytics Services has taken afore seat with entrepreneurs getting smarter and intelligent. The importance of analyzing data intelligently is understood by all. And, technology is all set to support this understanding with increased offerings day by day. We have witnessed technology trends of this year getting fulfilled and hence looking forward to the coming year's trends is quite an interesting watch!
As we get close to the year 2020, there are many developments being observed that will take a forefront in the coming year. These trends play a key role in a strong decision-making process as we witness the soaring heights of the BI environment. Recognizing and analyzing these movements are a sure-shot way of understanding the market pulse and grabbing the flow of the BI scenario.
BI Will Never Cease To Rise Higher
The way the internet was popular and now is an indispensable ingredient of our lives, BI has carved its place in the life of businesses as a central, vital element for success and progress. The world is leveraging the potential of this technology and as it spreads wider, the demand for different BI tools is bound to increase.
Be it cloud BI, mobile BI, self-service BI, Embedded BI – BI service providers are leaving no stone unturned in exploring newer avenues to offer the best of solutions. Major cloud service providers like AWS, Azure, Google Cloud and many more are trying their best to have the world enjoy the power of business intelligence and the benefits attached therewith.
Before we plunge into the world of trends that are showcasing BI as a top shot, let us just glance through certain key statistics that are self-explanatory and explain why BI will keep rising high:
According to Microstrategy
By 2020, 90% of large enterprises will be generating revenue from data-as-a-service
By 2020, more than 40% of data science tasks will be automated, resulting in increased productivity and broader usage by citizen data scientists
By 2020, revenue growth from information-based products and services will be twice the growth rate of the balance of the product/service portfolio in over half of Global 2000 firms
Top BI Trends That Will Dominate Year 2020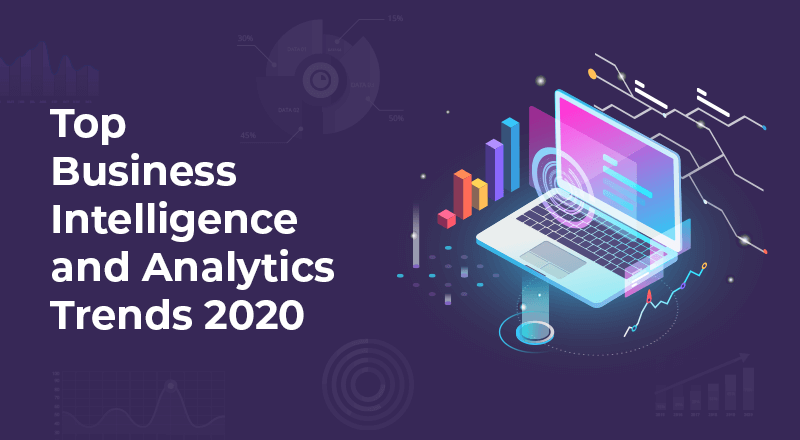 Creating Actionable Analytics
Traditionally, BI focussed on data and insights separately, making users look at two different areas for detailed analytics. Now comes modern-day BI tools that integrate the two portion of BI data and insightful analytics. BI tools are modernized to offer information to users when and where they want to act promptly.
Novel competencies like dashboard extension, APIs, embedded analytics, mobile analytics, etc. have made it possible for users to analyze data and take the corresponding action, all simultaneously. With the new year approaching, it will also be possible to work out specific analytics for an industry segment, department or business, as needed.
The mobile BI and embedded BI feature will help offer competencies wherever the user is stationed, making analytics highly flexible, customizable and swift.
Data Quality Management (DQM)
As the data grows, more important is to ensure the quality of the data being collected, analyzed and used for decision making. That is what is happening! This year saw the increasing collection of data from disparate sources at a rapid pace, thereby, lowering the quality of the same. Data quality management has taken priority by business organizations to ensure the quality and security of data.
The year to come will witness in more force and priority. Data will need to be reliable, precise and complete. Data quality management will offer a set of metrics that will analyze the trustworthiness of data that is being extracted.
Data quality processes will ensure the implementation of different procedures that will offer only good quality data for further analytics. It will filter the bad data right before it moves on for business intelligence and analytics.
Augmented reality is everywhere. No business, no industry is spared from this novel concept of showcasing reality in an enhanced manner. BI is no different. BI clubbed with data science and machine learning will increasingly make use of augmented analytics to offer insightful and detailed analytical information to users.
Augmented analytics will be one of the prime factors that businesses will look at while choosing service providers. Many known organizations are embedding augmented analytics in their services and solutions to offer an enhanced experience to their users.
Voice-Activated Assistants / Digital Assistance
Voice is the next big thing now. You can see voice assistants embedded in our daily lives through wonders like Google, Alexa, Siri, etc. The latest technology to be affected by voice assistance/digital assistants is the BI domain. With voice-related assistance, BI is now being used by organizations of all sizes and segments. Its reach is bound to increase wide, in the coming year.
Voice-driven interfaces or smart assistance is surely growing big time in 2020. Manual intervention will lessen. With the assistance of AI, ML and NLP, today's BI tools are stocked with digital assistants that streamline the entire BI procedure. These BI assistants will start recording voice instructions and convert them into dependable information that can be further dealt with, for insightful and organized information.
Data is the central key to BI. Centrally managed data, data governance, and business analytics are what is coming up now, in a big way. Organizations have now understood the importance of managing and securing data centrally. Implementation of the GDPR rules and regulations played an important role in that and continues to do so.
Data governance and its focus on managing important data assets has always been a priority but will see an increased focus in the coming year. There will be more emphasis on secure data management through technologies, processes, and people.
Abiding by the GDPR guidelines, many regions will necessarily follow a data governance system. Till now, it had been voluntary but maybe almost mandatory in 2020, for many. Modern BI tools will offer support to data governance rules, offering the best of data analytics, well secured.
AI isn't new to anyone now. Its involvement in our lives and in businesses is visible and integrated. But AI's involvement in the world of BI is not much explored yet. And, it isn't far away either. AI has successfully attempted to enhance human intelligence by transforming the way we relate to business information and analytics.
It is a known fact that AI is competent enough to process huge quantities of data quicker than humans. It showcases a distinctive viewpoint in BI, making it simple to discover insightful data that may have been missed earlier.
Organizations now have begun to understand how fruitful it may be, to have AI and BI together. The coming year will surely witness a lot of benefits in terms of a detailed understanding of information. Explainable AI has emerged as a novel way to show a convergence of AI and machine learning models, into the world of BI. The coming times will witness AI authenticating inferences and answering follow-up questions, knowing users in a better way.
Cognitive Computing is today's and tomorrow's technology to address uncertain and vague problems, which deal with human issues. What cognitive systems are trying to achieve is bridge the gap between computing machines and human interactions.
It will consume a large amount of information from disparate sources that are structured and unstructured. By simulating the human brain, it organizes the huge bulk of data and arranges it into useful, adaptable information.
The coming year will witness increasing usage of cognitive computing that will manipulate data coming from various sources like text files, images, emails, video/audio files, app logs, documents and many more.
Technology has, with its goodness, brought along certain negatives that need focus. Digitization is widespread and so are increasing cyber-attacks and threats. Letting it loose in security mechanisms may lead to heavy loss of data and misuse of information.
Organizations now need to deal with security breaches, data losses, risk management, etc. Till now, security wasn't on the priority list of organizations but not anymore. The year 2020 will witness businesses give priority focus to security measures and BI playing a big role in it. Just as in data governance, security is one of the most modern BI trends in major industry domains.
Everything, in business, is moving to the cloud. Cloud BI is becoming increasingly popular and important components of BI are being stored in the cloud. Years till now have seen businesses working with different systems in the cloud, making it a little difficult to maintain multiple systems.
Now comes the time to adapt to a connected cloud strategy, wherein the systems relate to each other and offer flexibility and cost reduction. The poly cloud model or multi-cloud model is gaining importance. The connected cloud strategy will be apt to offer solutions to associated risks and to garner important data from the cloud.
It is the world of teamwork today and BI is not behind when it comes to working together! Collaborative BI has been picking up pace with a fusion of different BI tools and collaboration software. Sharing of reports/dashboards/ analytical information is getting easier, secure and simplified.
The time to come will witness effective decision taking in enterprises, not by individuals, but by groups. Collaborative BI will work seamlessly with self-service BI to offer simplified data access, assessment, and understanding.
Self-service BI (SSBI) isn't new. It has been existing popularly for a long time now. But its acceptance and usage are increasing day by day. Newer features are getting added making users like it more. Data scientists are using self-service BI on an increasing note.
Analytics and reporting are getting easy for users. Business users can deal with BI requirements on their own. It empowers the users to deal with data, as they wish to, in their desired format and time.
The year 2020 will see SSBI slowly replace the traditional BI tools that were a little rigid for users to handle themselves. More than data scientists, self-service BI may prove to be worthy.
Natural Language Processing (NLP)
Conversational analytics along with NLP is getting more important. Users need not be data experts to delve deeper into data and insightful information. The year to come will witness many analytical questions being produced through NLP or voice commands.
NLP empowers users by allowing them to ask detailed questions that weren't possible earlier. These conversational analytical queries can be in detail, drilling down to multiple layered answers. Till now, data analytics was all about visualizing data and now, the NLP feature will get along a conversational effect too.
Machine Learning as a Service
BI and data analytics are on a growing spree, but there will be some organizations that may not be able to afford high-end BI tools. Machine learning as a service comes to the rescue and there is already a good presence of it, this year.
Different machine learning services like NLP, Predictive analytics, data visualization, etc. will gain prominence. For those who can't leverage BI to the fullest, these ML services will serve the purpose.
A known terminology attached to the world of BI – Predictive analytics has been popular for long. With AI, ML, and NLP getting more importance, the significance of predictive analytics has also increased.
The year 2020 will witness equal user participation in judging and predicting the data themselves. Instead of using costly BI tools to do the job, there will be processes that will help them do it on their own. Organizations will garner competitive advantage and thereby, enhance the production value and effectiveness.
With the instantaneous processing of data, newer statistical methods will be executed along with different data modeling/mining algorithms.
With data going big, Big Data is garnering importance. The year to come will witness Big Metadata, with increased volume, velocity, variety and veracity of data – the four V's. The time soon will rely on structured data sets to analyze the information, in an enhanced and justified manner.
The Takeaway – As We Await The Year 2020
The year 2019 has showcased ample progress in the field of BI and Big Data. The trends that have been predicted for the year 2020 show increased focus, widespread technology usage and newer tools to leverage the potential of BI. In the business world, Business Intelligence along with AI, ML, NLP, etc. will rule the tech world.
Surely, an interesting watch coming up to witness cutting-edge BI solutions and services follow the trends!
SPEC INDIA, as your single stop IT partner has been successfully implementing a bouquet of diverse solutions and services all over the globe, proving its mettle as an ISO 9001:2015 certified IT solutions organization. With efficient project management practices, international standards to comply, flexible engagement models and superior infrastructure, SPEC INDIA is a customer's delight. Our skilled technical resources are apt at putting thoughts in a perspective by offering value-added reads for all.