Google Launches "Android 10" – A Simpler & Smarter Version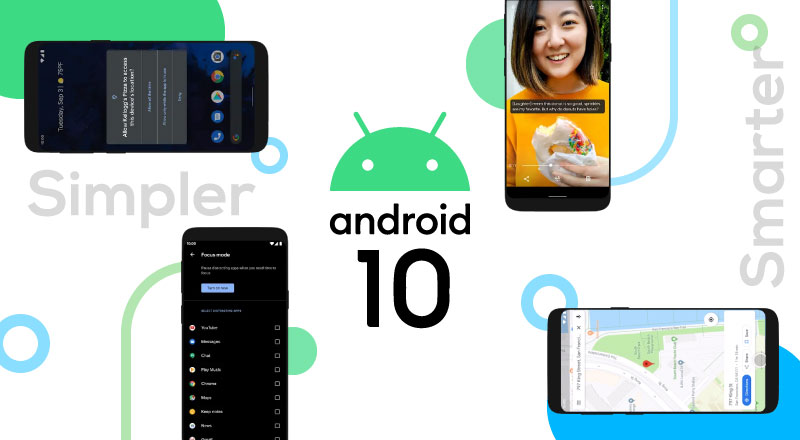 The 10th version of Android is here for the Google's Pixel phone users – Android 10. And, it shall soon be available for other phones also.
Quick Highlights:
Released on September 3, 2019
Gone is the dessert naming convention
Android Queen Cake – Android Q is now Android 10
Redesigned for the first time since 2014
History:
1st beta version of Android Q released on March 13, 2019, on Pixel phones
Beta 3 released on May 7, 2019
Beta 5 on July 10, 2019
One August 22, 2019, there was an announcement that Android Q would now be called Android 10, officially and that ended the practice of naming after deserts
The logo suggests the Android robot logo resting inside the number 0
Official release on September 3, 2019
As a global operating system, it's important that these names are clear and relatable for everyone in the world. So, this next release of Android will simply use the version number and be called Android 10.
– Sameer Samat, VP of Product Management, Android [Source]
Key Features of Android 10, That Are Grabbing Eyeballs
To have the latest version increasingly reachable, comes the feature of Live Caption. It will live-caption videos that are being run, barring a data connect. It is a simple activation – pressing the volume key while playing the video. There will be a caption button that will be accessible through the volume slider.
The Back button has been a standard of Android till now, but not anymore. It is now officially moving away with the latest version. Now comes a completely gesture dependent way of navigating. Swiping up, down, hold, left, right – each one of them has their own significance. They have retained certain traditional Android features but are yet to see for how long.
It had been asked for, since a long time but the time comes now. Through a quick setting, the system-level dark theme can either be turned on or off any time. There is a novel API that can be utilized by the developers to keep their apps in a dark mode even when the system one is turned on. It may take some more time for all the apps to adapt to this, but the key UI has surely adjusted well. Even third-party apps can directly implement a dark theme with there is an active mode.
Circular Notifications Through Bubbles
Android 10 offers a novel Bubbles feature that floats over the screen with a circular notification. It can be utilized to offer content from other apps in popup overlays. Google understands completely how irritating it is to have notifications hovering over. Hence, it wants developers to be watchful of the varieties of apps that utilize Bubbles. It is meant to replace the existing overlay permission which is criticised owing to security concerns. The Go edition of Android 10 prohibits the usage of overlay authorizations.
Creating QR Code for Wi-Fi Network
Most times, it is not advisable to share your Wi-Fi passwords with anyone or any device. Android 10 facilitates this by creating a QR code for the Wi-Fi network or scanning one to join the network, through the mobile device's settings. You need to choose your home network with Share button and a small QR code right there.
Undoing App Removal Changes
Many a time, it happens that you remove an app and then suddenly, don't remember which one it was and need it back. Android 10 helps you by giving you the facility to undo the change a few seconds after the app has been removed. There is an undo button right there at the bottom. Use that and get your app back on the screen.
Accurate Usage of Location Information
As of now, apps get access to your location either all the while or not at all. With the latest version, you can give an app access to your location data only when you are utilizing the app. This surely gains big time on the security aspect and assists in conserving battery.
Till now, it was difficult to see access that different apps have, on your device. Now, with the newest version, it is possible to view the different permissions apps can ask for in different services like calendar, contacts, camera, location etc. It becomes easier to manage and maintain permission access for a variety of apps on the device.
Customizing Alert & Notification Behaviour
Till now, you had to go to Settings to control the behaviour of alerts and notifications in an app. But now, you just need to long-press and you will have dual options – either you select 'alert' or 'silent'. Choosing 'alert' will let the app create sound with a novel alert. Selecting 'silent' will not create a sound and lets your phone just vibrate.
Play with the Look and Feel of your Device
Android has always been a user's delight, mainly because of its flexibility of customization in the overall look and feel. With the latest version, there is even more it offers, in this arena. The new Theming segment offers altering the device's accent colour.
The speed and performance of Android's share menu has been a matter of concern till now but not anymore. Android 10 solves this issue and offers a faster and efficient share menu that loads instantly as soon as launched, because the shortcuts are published in advance.
Succeeding Direct Share feature, there is a novel feature called Sharing Shortcuts that facilitates developers to design a novel choice in the share menu that can share a document – a file or a photo etc. in a part of a distinct app in a much speedier manner compared to what was present earlier. Here, apps can publish their targeted work in advanced and need not be questioned at runtime, thereby enhancing performance.
Foldable Phones Will Upsurge
Google, foreseeing the increased usage of foldable devices, has made Android 10 compatible with foldable related features and needs. It is created in such a way that it works best for foldables of all forms and dimensions. Different platforms have been optimized for these kinds of devices that includes a smooth app functioning even if there are changes in different parameters like modes, displays etc.
Enhanced User Experience with Full Screen Gesture System
With a completely refurbished full-screen gesture system, Android 10 has a lot of new gestures to offer such as swiping up, swiping from the side, swiping diagonally and starting Google Assistant. There is complete support for these gestures and even new ones can be added besides these prime ones. The standard three key navigation persists, as is. There are sensitivity panels further, for regulating the size of the target area to trigger the gesture. Through overlay panels, developers can showcase settings panels for certain precise settings, so that the user need not navigate out of the app for further configuration.
Increased Focus on Security and Privacy
The newest version has an enhanced focus on the security and privacy aspects. There are security patches available for certain set of components that can be accessed through Google Play Store, barring the need for a whole system update. A new way 'Scoped storage' is introduced for storage access permissions and is sure to become compulsory from the next version. Apps will be given permission to extract only those files in external storage that are created by them. Other files can be retrieved through user interference.
On a Parting Note
With a glee, we welcome the latest version of Android – always a favourite. It shall be interesting to watch how Google's own expands its user base, increases its popularity and carves a niche for itself. Though the technology doesn't have the name of a desert, it still looks very tempting though, especially for the loyal Android users!
SPEC INDIA, as your single stop IT partner has been successfully implementing a bouquet of diverse solutions and services all over the globe, proving its mettle as an ISO 9001:2015 certified IT solutions organization. With efficient project management practices, international standards to comply, flexible engagement models and superior infrastructure, SPEC INDIA is a customer's delight. Our skilled technical resources are apt at putting thoughts in a perspective by offering value-added reads for all.