SPEC INDIA Celebrates the Christmas Week With Loads of Events and Happiness
As we celebrate Christmas and inch closer towards the New Year, we @ SPEC INDIA wish you all a very Merry Christmas and a Happy New Year.
Our enthusiastic team planned events each day, clubbed with special themes. All SPECalites enjoyed the entire week, with each day as a special day. Here is a glimpse of what happened during the whole week, day-wise: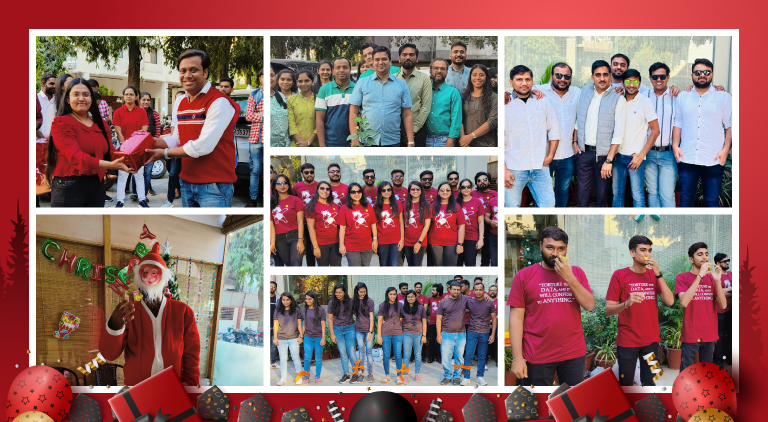 SPEC INDIA started the Christmas week celebration with a 'Professional Day'. All our SPECalites were decked up in formal attire, prizes were awarded for the best dressed, and group photos/selfies were clicked for a wonderful memory ahead.
We celebrated the Green & Blue day with all SPECalites wearing green and blue outfits, getting themselves clicked, and prizes being given for the best attire. We planted saplings to encourage the Go-green initiative. A colorful Christmas tree adorned our premises, spreading festive spirit all over.
Our Twin Day celebration was a day to have double the fun. The whole atmosphere was full of excitement as our taskforce dressed up in twinning costumes. To add to the fun, there was a ramp walk followed by prize distribution.
Coming close to Christmas, we enjoyed the festive tradition of 'Secret Santa' in which we gave gifts to teammates becoming their Secret Santa. As a 'Group Day' celebration, all groups wore their own matching attire. There were various gaming activities and prizes, adding up to the fun.
There was so much fun and excitement in the air, as different teams from SPEC INDIA enjoyed a variety of games. Our team members had a wonderful time cheering each other, laughing away to glory, and enjoying lovely prizes.
Christmas Day Celebration
The culmination of the Christmas celebration week was here. It was a Red/White day and hence the entire task force were dressed smartly in Red and White attire. There was an array of games to play and prizes to follow. Mouth-watering snacks made the evening more joyful. The whole week went by, with all of us having fun and spreading pleasure.
May your festive season shimmer with love, bloom with joy, and cherish with lovely memories. Reminiscing the year going by and welcoming the new year with aspirations, enthusiasm, and a positive spirit!
SPEC INDIA wishes you all the best Christmas ever and a very Happy 2023!