Quarterly Newsletter April 2022

As Your IT Partner We have The Right SPEC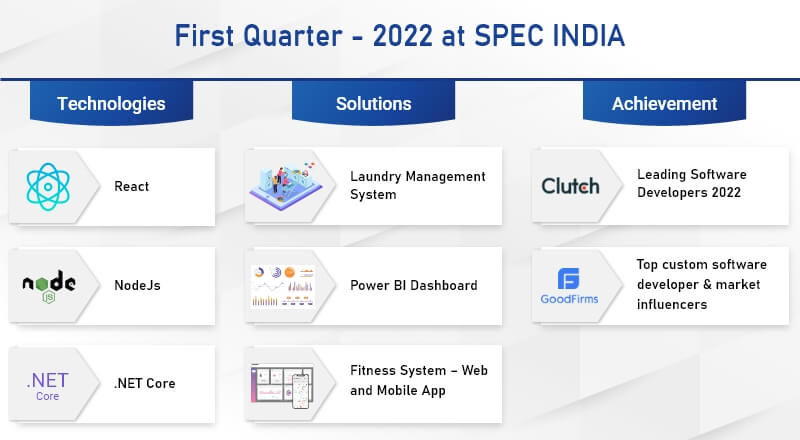 As the world breathes a sigh of relief from the pandemic, we @ SPEC INDIA have had a happening and fruitful first quarter in 2022. The SPEC taskforce has started its operations in an offline mode and shall soon resume office in a full-fledged manner, upsurging the enthusiasm and productive quotient.
We are proud to share that SPEC INDIA has been recognized as an industry leader, by Clutch – an established platform in USA committed to help business segments connect with service providers. Also, GoodFirms has listed SPEC INDIA amongst the 'Top 20 Custom Software Development Companies' in 2022. It has also acknowledged SPEC INDIA as one of the top 3 Market Influencers amongst the leaders of Customer Software Development in 2022.
We delivered a Laundry Management System – POS & Delivery app for a client in the EU. It is based on React Native, React JS, .NET Core, MySQL. It has a detailed garment tracking app that begins from the client location and moves onto the store, washing units, and comes back to the client location. There are salient features like effective management of racks, identifying aging of garments at a particular location, sorting processes for best of operations, marketing ads on a paid basis, store supply requests, lodging, and management of complaints.
We successfully implemented multiple Power BI and Data Warehouse projects for the Retail & FMCG business sector in the USA. Depending upon user requirements, flexible and thorough retail dashboards were created with Power BI that comprising of different analytics and metrics that are of great value to the retail business and offer superior visibility. Categorized in different segments like sales, profit, order, and shipping, the live dashboards depict drill-down details offering better forecasting and timesaving effectiveness. They provides flexible and robust Power BI row-level security features that control access to rows and implements restrictions, depending on user privileges and authentication.
We are working on a fitness system for a USA-based client belonging to the Health & Fitness industry. It is being developed as a mobile app for iOS and desktop application, with Swift, PHP, and Laravel as backend. It includes a variety of modules like a Fitness Goal Tracker for monitoring fitness activities on a personal level, Social Media Profile creation for interaction on a personal/group level, Market Place facilitating the business of buying and selling fitness related products, Reward Programs to build more affiliation through networking circles, Advertisement & Promotions to promote personal/business products and services like fitness food, training videos, etc. through a variety of options.
Our expert technical teams have been garnering increased technology focus on prime technologies like React, Node.js, and .NET Core. We have leveraged the goodness of React in our projects – one-way data binding, virtual DOM, JavaScript syntax extension, conditional statements, and declarative UI being the prime ones.
Node.js has been our forte since a long time with hands-on experience in features such as competence to work with JavaScript, cross-platform compatibility, V8 engine, quick deployment, and microservice development.
Under the Microsoft family, our teams have been making the most of .NET Core as one of the most successful frameworks. Being light weighted, fast, modern, and open-source, it has been on our priority list. Our projects are enjoying the benefits of .NET Core like cross-platform and container support, asynchronous through async/await, unified MVC, and Web API frameworks.