Quarterly Newsletter January 2021

As Your IT Partner We have The Right SPEC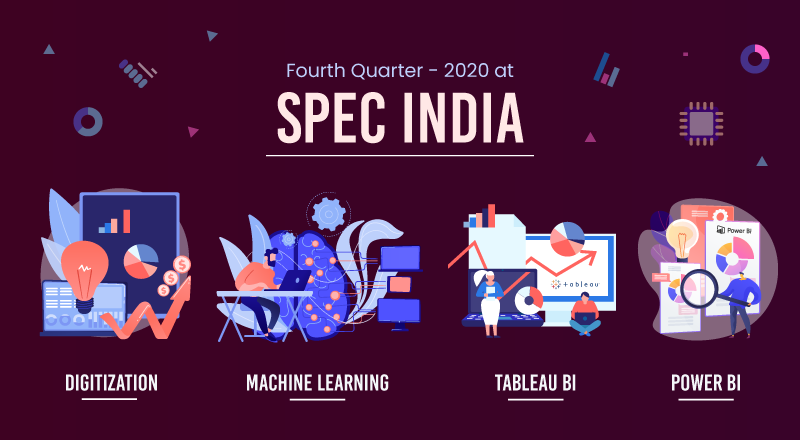 With the onset of 2021, we look forward to a better, healthier, and prosperous one, for all of us. With a hope that life gets back to normal, we @ SPEC INDIA have continued our stint for harnessing our digitization drive all through the last quarter of 2020.
With the implementation of multi-faceted projects, the organization has showcased an increased adoption of digitization post-pandemic. The pandemic has forced the world to adapt to increased digital initiatives and we, as single stop IT partners, have ensured a wide range of digitization projects to ensure the same.
Business Intelligence (BI) has been the primary forte this quarter with many successful implementations.
Our portfolio concentrated on clients belonging to different regimes:
A global, non-profit, financial services organization with a heritage in fintech impact investing and microfinance
A well-known retail franchise operator in the Middle East, showcasing a popular brand portfolio
An international non-profit animal protection organization
A leading board meeting software organization
A multinational financial broker
Tableau and Power BI have been our primary BI technologies in these projects. There has been a stringent focus on data warehousing, data visualization, ETL, data-driven intelligent dashboards for C-level decision-makers. Our task force has unleashed the potential of these two technologies in terms of its key features like the speed of execution, data handling from disparate data sources, data cleansing and integration, real-time data analysis, sharing and embedding dashboards, and many more.
We understand that AI and ML are the front runners in the world of technology and our successful stint at delivering an ML-based algorithm focuses on that. Created for a renowned sales & distribution client organization, this algorithm has been helping big time in enhanced decision making and better data insights.