Quarterly Newsletter June 2020

As Your IT Partner We have The Right SPEC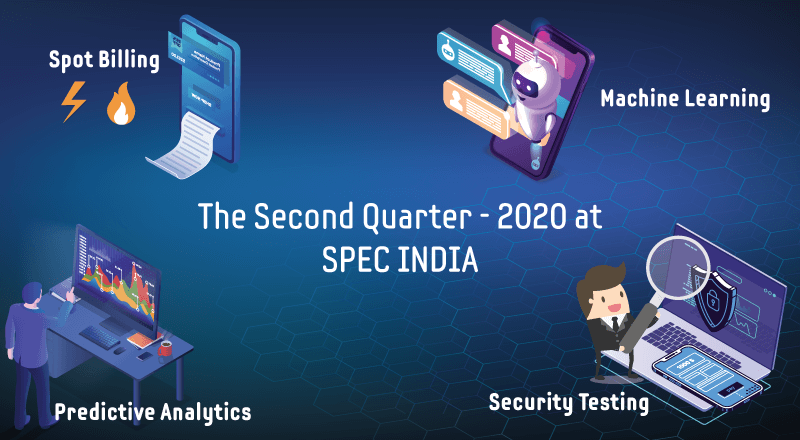 As our dedicated taskforce continues to showcase their skills and responsibility, adhering to the WFH regime, our technological achievements see no boundaries. The pandemic has not deterred us from proving our technical and professional skills in the arena of the latest advancements like Machine Learning, Predictive Analytics, Software Security, Spot Billing Solutions, and more.
Our smart Machine Learning solutions and services have been demonstrating proficiency in the latest areas like AI, Data Science, Natural learning process, Sentiment analysis, Customer churn analysis, Pattern recognition, Data cleansing, and preparation. Leveraging the power of ML, our teams have implemented niche Chatbot applications, showcasing the latest features like round the clock support, fast issue resolution, instantly connect to relevant human interaction, collection of customer data and feedback, and more.
Predictive Analytics is yet another feather in our cap. Our skilled taskforce has been leveraging the ability of predictive analytics to take a superior look at forthcoming trends, ambiguities, and lessen the risk by taking pre-emptive actions centered on analytics. As a part of our business intelligence solutions, Predictive Analytics has been proving its worth through the implementation of the latest tools and technologies.
In the current pandemic situation contact less billing software solution is in demand for the Indian utility sector. Our Spot Billing software solution has been grabbing attention as It offers convenient, secure metering and spot billing at its finest. As a mobile-based solution for billing and payment collection, this spot billing/invoice system is utilized for billing procedures for a range of utility firms like gas distribution, electricity, etc. The solution captures meter reading values and issues spot billing with third-party integration.
Looking at the need of the hour, with the pandemic striking hard, Software security has been on our major agenda. With almost the whole globe working remotely, chances of fraud/cyberattacks /online misuse are more. Our software security testing solutions focus on finding critical security risks and loopholes in security aspects of different applications, ensuring complete security from DDOS attacks, Sensitive Data Exposure, injection flaws, broken authentication, security misconfiguration, vulnerability attacks and more.