Quarterly Newsletter June 2021

As Your IT Partner We have The Right SPEC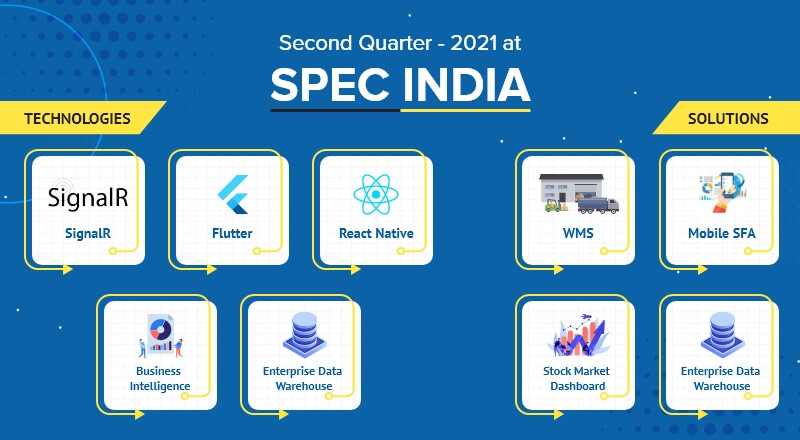 As we embark on the second half of 2021, our determination continues to be focused on delivering the best of technological solutions, no matter how the pandemic treats us. Our task force has been offering the best of productivity sticking to the WFH regime.
This quarter, we successfully implemented an effective Warehouse Management System (WMS) for an esteemed client in the UAE. Our WMS provides a comprehensive solution for all warehouse management and control activities. It is designed with a goal to simplify distribution management, inventory management, and all the warehouse operations right from the process of shipment receiving, inventory, to shipment unloading.
Our business solutions task force also implemented the versatile mobile sales force automation (SFA) solution, for a giant retailer in the USA. Our SFA solution focuses on mobilizing and automating the daily activities of the field force that are on the move. It integrates planning and execution of the sales force with access to real-time business information.
There was a successful implementation of a Stock Market Dashboard with Live Feed for a leading company in the USA. The dashboard has been designed and developed with Microsoft SignalR that is considered an apt technology for dashboards and monitoring apps. This dashboard, in a graphical manner, shows different figures, at a particular time, in different segments. It also shows detailed information about profit and loss by client, open P&L top 10, trading headlines, symbol exposure, currency exposure, deposits, and withdrawals
We are experts in Enterprise Data Warehousing, along with DevOps. Our skilled resources are working on two significant projects based on EDW. We are aiming to offer a one-stop solution that caters to a collection of databases that aggregates data from disparate sources. This data is then available for reporting and data analysis functionalities as an integral part of business intelligence.
Our technical teams have been striving hard to garner expertise in the latest technologies.  Our projects have been leveraging the best of technologies like React Native, Flutter, BI, and SignalR, making the most of its salient features. The technical task force @ SPEC INDIA is always keen to gain knowledge in cutting-edge technologies of 2021.