SPEC INDIA's CEO Milind Shroff Unveils The Insights of the Company: GoodFirms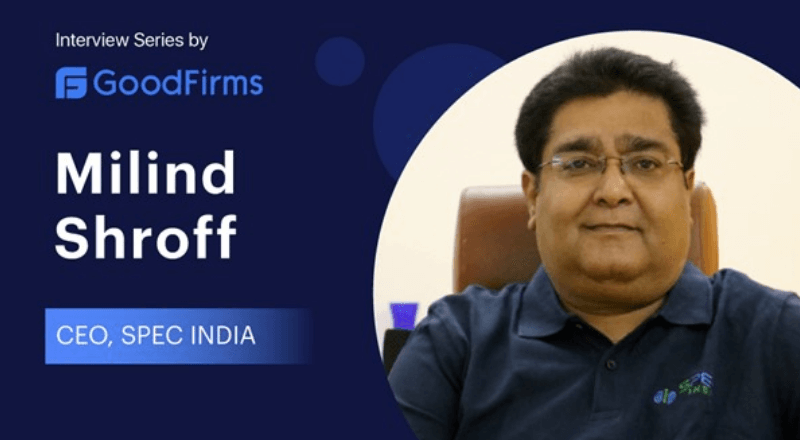 SPEC INDIA is an award-winning IT company with over 30 years of established experience. The company specializes in Custom Software Development, Web & Mobile App Development, Business Intelligence & Analytics, Automation & Security Testing, Legacy Software Migration, Product Engineering, and IoT Solutions.
GoodFirms team had the opportunity to communicate with SPEC INDIA's Founder & CEO, Milind Shroff, and discuss its service offerings and how they anticipate positioning their organization.
To begin the interview, the CEO revealed his roles and responsibilities in the company and expressed that "I am currently functioning as CEO, and my role includes strategic decision-making and overseeing plans that align with defined objectives."
He further gave a brief introduction about the company and mentioned that SPEC INDIA is a global, full-service software development and IT services company with a prime focus on custom software development, BI and analytics, and digital solutions for web, mobile, and cloud. Having a pool of skilled and talented professionals, SPEC INDIA works as a tech partner of many global enterprises, assisting them to streamline business operations, enhance operational efficiency and build digital products that impact and improve the bottom- line.
Our custom software development services help leading brands, SMEs, and startups thrive on their digital journey leveraging SPEC INDIA's years of experience, knowledge base, cutting-edge technologies, and skilled resources.
With more than 250 IT professionals, a global presence in above 40 countries, over 2100 successful projects, and more than 20 Fortune 500 companies as a customer, SPEC INDIA is committed to more transparent present and sustainable growth, the CEO added.
Taking a look back on their journey back which began in 1987, he felt a massive gap between the demand and fulfillment in the custom software market. They started with a few resources and made plans to excel in custom software development. Gradually, they started catering to a local market with a prime focus on customized solutions. Today, they serve a global clientele, satisfying their requirements and enhancing the bottom line. At present, with 35+ years of experience in the IT industry, they are one of the leading software development companies with a steady stream of talent and a high retention rate of clients around the world.
Talking about the company's business model, Mr. Shroff addressed that they are an entirely in-house company with the capacity to expand rapidly and onboard new hires as per requirements. The employees are the company's true strength and can fulfill all the design to development and deployment requirements. He further added that SPEC INDIA is all about people & values, committed to delivering high standards of IT services worldwide to meet modern-day business requirements.
Further, continuing with the interview with the company's unique business ideologies, Mr. Shroff explained that quality is SPEC INDIA's topmost priority, differentiating them from its competitors. They are focused on creating a diverse and inclusive workplace that lets every consultant feel equally involved, and together they embark on a journey to innovate, design, and deliver.
Moreover, the business solutions help their clients significantly optimize business processes and enhance productivity. The excellent 90% client retention rate helps boost customer loyalty and lifetime value. SPEC's tech expertise, after-delivery support, and continuous learning helped the company achieve the market-leading position among the top software development companies in India at GoodFirms.
When asked what industries the company serves, the CEO said that they serve practically every area and segment. Their digital products and services are used by multiple sectors such as Retail & FMCG, Education, Healthcare, Advertising, Travel & Hospitality, Supply Chain & Logistics, Energy & Utilities, Manufacturing, and BFSI.
Furthermore, SPEC INDIA's industry knowledge, best practices, and hands-on experience allowed them to create value-added solutions across all industries. Whether their clients are a startup, running SMEs, or a conglomerate, the professionals at SPEC INDIA help them with the best digital strategy and solutions. 80% of the company's clients are repetitive, marking long-term client collaborations with the company.
The CEO further added that they implement multiple technologies and offer products that help their clients' businesses enhance agility, automation, productivity, and customer experience. They provide product development services to startups and collaborate with mid-sized companies and enterprises to implement digital solutions.
In addition to this, the CEO strongly affirmed that they aim to deliver value by thoroughly understanding the client's core businesses, discovering their requirements, performing business analysis, and suggesting solutions that go best with their objectives.
Mr. Shroff proudly stated that client satisfaction is their top priority. They place emphasis on providing continuous learning and upskilling to their consultants to effectively implement the latest technologies to build modern-day solutions.
The team of developers and designers offers 24*7 SLA-driven support and faster resolution to issues. Team leaders periodically plan internal training sessions for their employees to help them constantly learn, unlearn, and relearn. SPEC INDIA believes in the power of collaboration to help the customers thrive.
Talking further about the support system to the clients, the professionals at SPEC INDIA follow agile and scrum to increasingly develop and deliver. In this manner, they can plan new features effortlessly and plan smaller sprints to calculate tangible progress. They also have retrospective meetings as per the Scrum schedule to review the work delivered, finalize the latest sprints, and strategize practical work assignments. The employees at the company handle customers' queries and issues as effortlessly as possible and truly understand what is driving their concerns.
Discussing the company's payment structure, he told that they follow Time and Material contracts on a monthly billing model and Pay per Milestone at Fixed Cost. A Fixed Cost structure is applied when the clients have fixed requirements or are precise with their needs. Although SPEC INDIA is flexible in pricing models, the company follows a standard pricing structure where the team defines the deliverables of the project. Then, they calculate a specific percentage in accordance with the deliverables. Generally, they keep their bottom amount to $10,000.
Lastly, when asked about SPEC INDIA's long-term plans, the CEO stated that sustained growth is what he is looking for, and he believes there is always room for improvement. Over the next few years, they would want to explore new technologies and trends that would impact the company's development skills and broaden its horizons.
He further added that SPEC INDIA would be looking for opportunities to empower people to create great products that profoundly make an impact on the lives of people.
He thinks that sustainability will be the critical driver of technical innovations, and only digital-led growth will thrive and survive. Hence, he plans to formulate a strategy that would enable the company to handle more work, fulfill the demands of its global clientele, and expand the team to meet the constantly-changing technology and customer landscape.
You can also read the CEO's full interview here. One of the company's many clients has given a positive review on the software development services by SPEC INDIA with five-star ratings.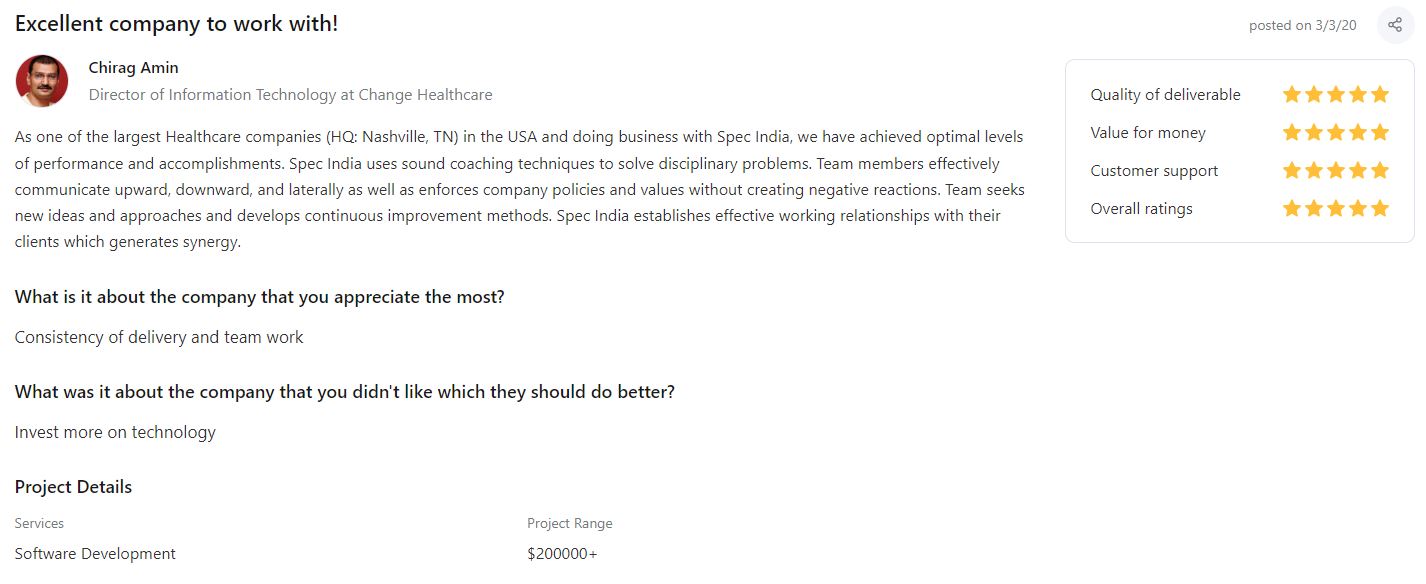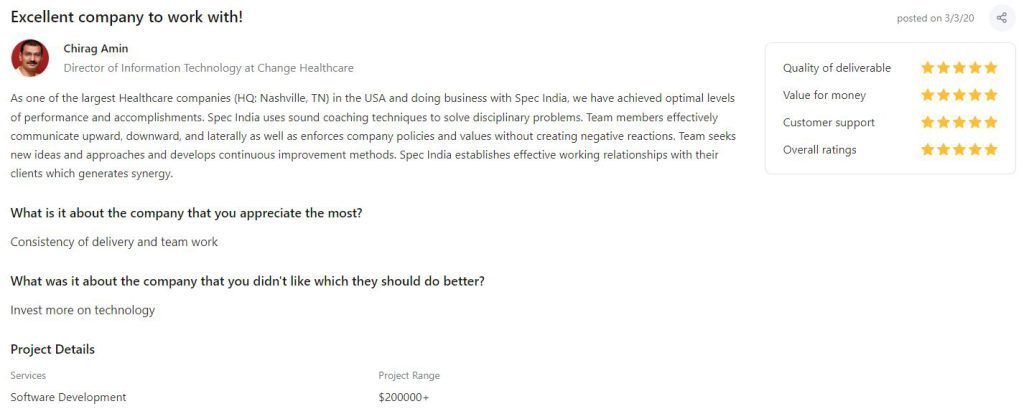 SPEC INDIA, as your single stop IT partner has been successfully implementing a bouquet of diverse solutions and services all over the globe, proving its mettle as an ISO 9001:2015 certified IT solutions organization. With efficient project management practices, international standards to comply, flexible engagement models and superior infrastructure, SPEC INDIA is a customer's delight. Our skilled technical resources are apt at putting thoughts in a perspective by offering value-added reads for all.